The concept of prop firms has been there long since the inception of markets. These companies' lookout for potential traders who show good trading skills and provide funding, desks, rebates, and low fees. A significant portion of profits is split in favor of trade while the firm keeps the rest. At first proprietary trading was available only at the designated office, but with the beginning of the Internet, retail traders can reap the benefits from their home's comfort. 
Highlighting benefits of trading with prop firms
Prop firms have the following services for their traders:
Trading setup.

These firms ensure that their traders have the best possible setup to increase their daily or monthly output. Several trading screens are at one's disposal with powerful computers to scan the markets. 

Fast executions.

Proprietary companies have the best possible latency by using their best tools and VPS services linked directly with the exchange. 

Low fees.

Spreads and fees are kept extremely low. Prop firms cut out a deal with their brokers and get the lowest costs passed down to traders.

Capital.

Many traders come across the problem of insufficient money. It is essential to have at least $10,000 while day trading forex or $25,000 when dealing with stocks. Prop companies resolve such issues as they have a lot of cash offering for the best. Most investors also invest in them, increasing the total assets.

Scaling options.

You can grow your trading capital by showing good performance. Many scaling options available with online prop companies start from as low as $10,000 up to a million.
What is BluFx?
BluFx is an online prop firm with its office in the United Kingdom. The company is unique in being the world's first company that offers subscription-based capital to traders. 
Objectives of BluFx
Since its inception in 2013, BluFx has come a long way to develop a prop trading formula that does not involve paper money. By taking a small fee and keeping the leverage low, funding traders are under discussion by most forums. However, by doing so, BluFx keeps its objectives simple with more accessibility and flexibility. There are no unfair barriers in entering; the process is easy, transparent career paths are available, freedom to trade is on the spot, and professional habits are instilled in traders. 
Steps to Get Funded with BluFx
Unlike other firms that make you go through a tedious process of challenges and verification, getting funded via BluFx is simple. You only need to pay a monthly subscription fee, depending on your initial capital. Take a look at the steps as mentioned by the firm below:
Choose your subscription and make payment.

Go through the onboarding process.

Download and login to MT4.

Start trading.
Features of BluFx
To fully appreciate the advantages offered by BluFx, let us dive into the key features it has to offer.
Account types
Two types of accounts are available with BluFx, i.e., lite and pro, that differ depending on the buying power, trading hours, account growth, profit per payout, and more.  
| | | |
| --- | --- | --- |
| | Lite | Pro |
| Liability For Losses | No | No |
| Profit Per Payout | $625 | $1,250 |
| Buying Power | $75,000 | $150,000 |
| Growth | No | Yes |
| Time | Intraday | Overnights allowed |
| EA | Not allowed | Not allowed |
Table 1: Differences between lite and pro accounts.
The fee for the lite account is €99, while pro costs €299.
Available assets
28 currency pairs are available along with gold to put your strategies to work. The typical position size may vary based on the account balance.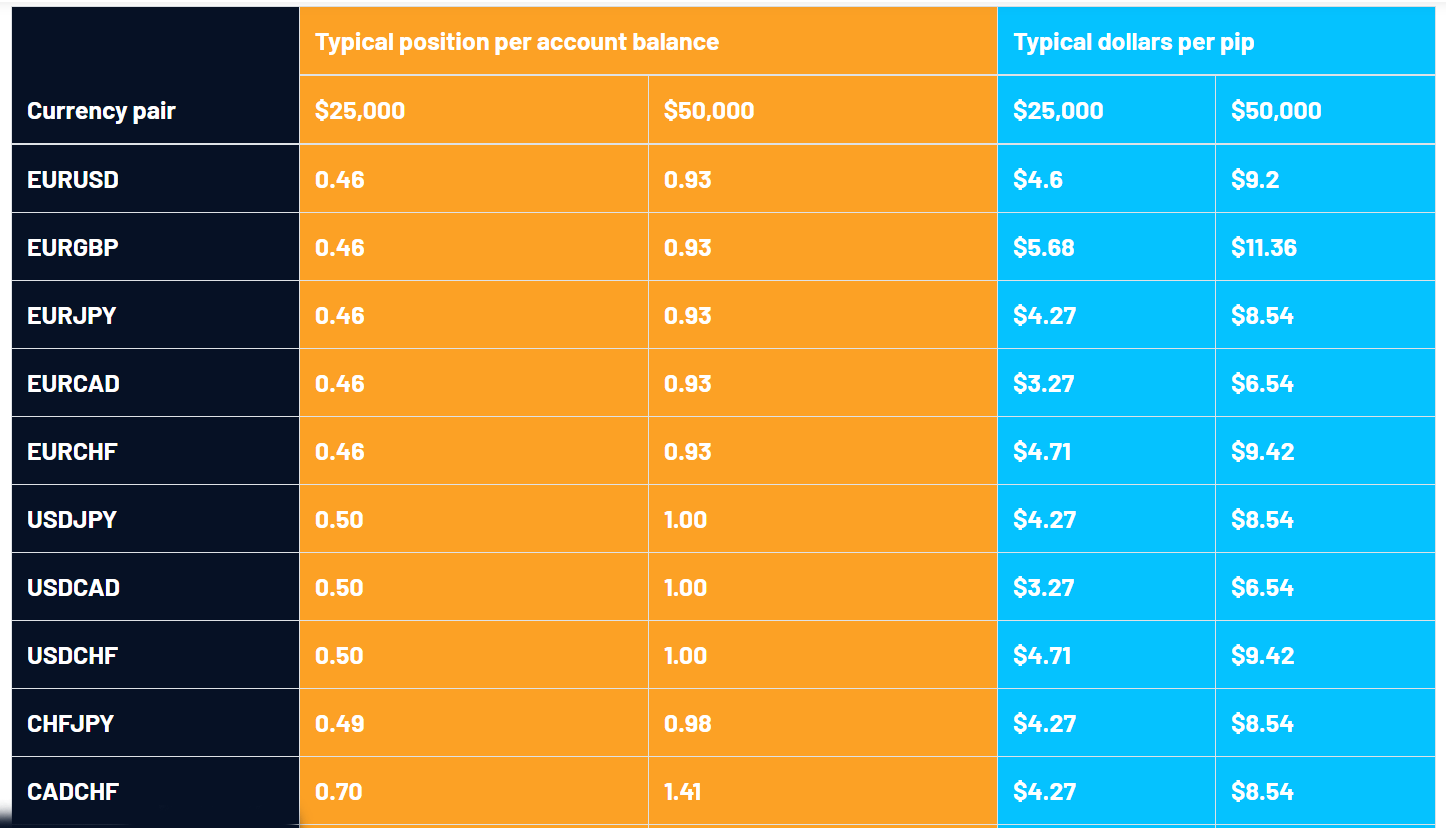 Image 1: Position sizes respective to pairs available on the website are shown.
Scaling 
Account growth is comprehensive at BluFx, available on the only pro, divided into four stages.
Stage 1.

Each trader starts with a $50,000 trading book with similar features compared with the one given to others.

 
Stage 2.

As soon as you make a 10 percent on the initial account value, your equity is doubled. You can not withdraw the profit amount, and it must be kept independent of 5 percent profit withdrawals.

Stage 3.

If you make another 10 percent growing your overall equity to $115k in total, your account value will be multiplied by two once again. Similar to stage 2, you can not withdraw the profit amount to keep the growth.

Stage 4.

Making a 10 percent gain again will get you the final prize of an account worth a million dollars. The fund manager's status will be allocated to you, and no monthly subscription fee is charged at this point.
If you breach the 10 percent drawdown limit, you will roll back to the previous equity level. Their case study suggests that it takes traders around 263 days to reach the status of fund manager on average.
Withdrawal
As with any trader, you will be interested in withdrawal more than potential deposits. Cashing out at BluFx is done under blocks of 5%, i.e., as soon as you make 5% of the initial equity, you are qualified for requesting the money. One is eligible to get 50% of the 5% profit. For a trading book of $25,000 and $50,000, the amount is $625 and $1,250, respectively. 
You can request extraction as many times in a month whenever your account hits the desired target. The processing is done on the 20th of every month while the profits are paid on the 25th.
End of the line
Compared with other proprietary companies, BluFx does have a smart and straightforward recruiting process beneficial for both traders and the company. The leverage and restrictions may not be in the best interest of some, but trading alongside discipline and consistency can earn you big rewards with the firm.