Control Forex is a company that manages accounts for clients in order to make profits. The developers inform us that there is "14,103 earned across all systems." We checked it and it doesn't sound quite right.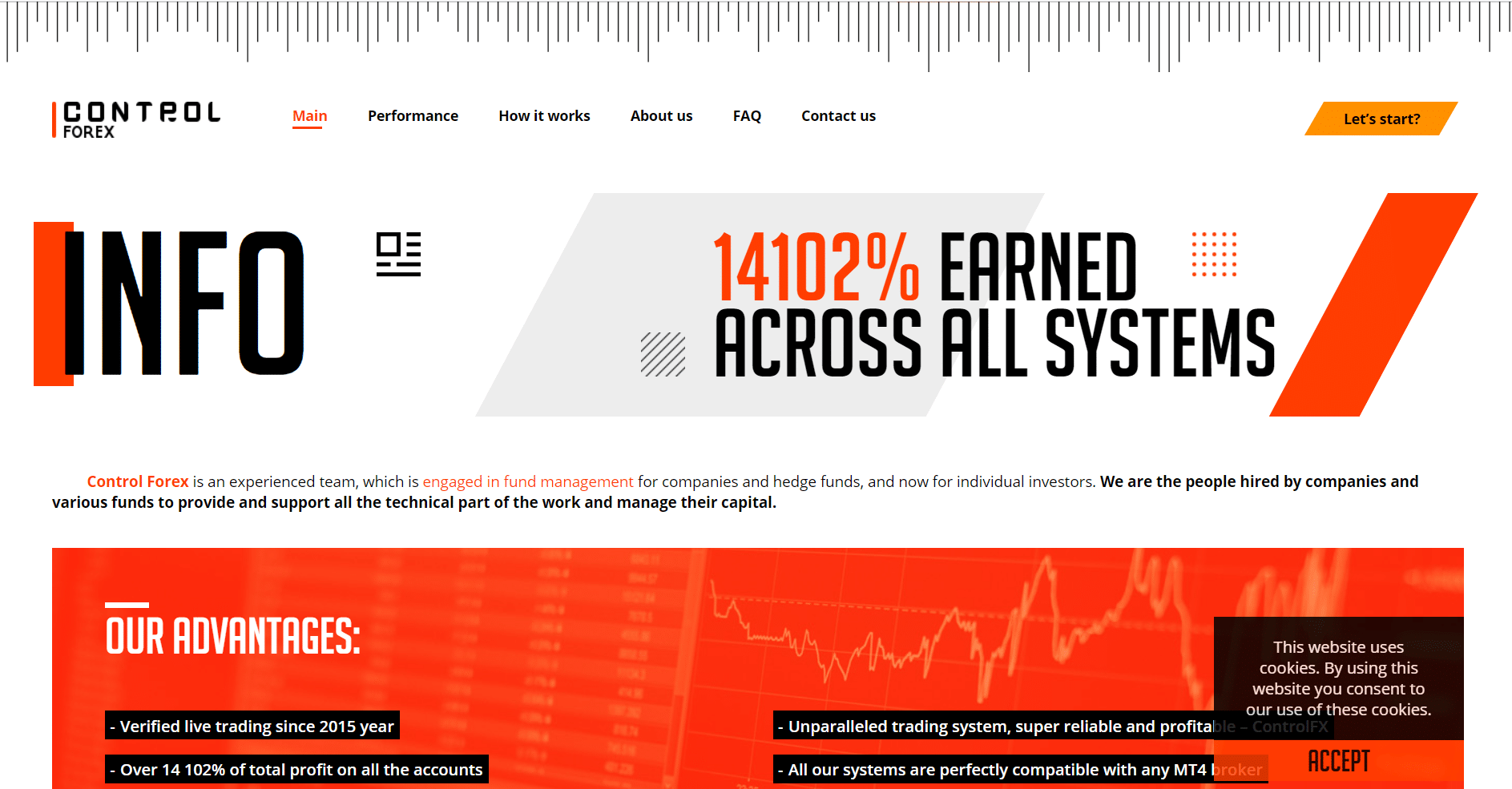 Product offering
The following list unites all details the developers provide about the system and what we should expect from its working. Let's talk about features:
The firm was deployed six years ago in 2015.

We have no proof that the company was legally registered.

The total profit has become 14,102%. 

We checked myfxbook profile and there are much less results.

Instead of ten accounts the developers mentioned we found out only six accounts.

There's an "unparalleled trading system, super reliable and profitable – ControlFX."

The system works only on MT4.

Traders have 13 years of proper experience. 

The ControlFX system can provide up to 50%-200% monthly. 

We can work with 5% risks. It's a high and aggressive number.

"ControlFX is a complex, highly intelligent system that uses the power of 3 servers to maintain its accurate and reliable operation. Each of the servers additionally has a system that ensures its uninterrupted work. In case one of the servers fails, the other two will take over its work, providing a non-stop stable operation of the system for as much time as needed."

We don't understand what the developers want to tell us. This statement is unclear.

The system can trade 25 cross pairs.

The developers show three levels of risk.

Profitability can be as high as 2000% annually.

The system can't be bought.

These results can be reached only on this site.

We have to contact them to discuss details about our account. 

Next, we have to provide them with proper information.

We can control our account all the time.

Control Forex works based on the monthly commissions from profitable orders. We can expect to be charged from 15% to 50%. The deposit on our account should be from $10,000 to $50,000. The fees aren't final. We can discuss them. We are free to copy-trade these signals.
Trading strategy
The robot is based on a Grid of orders with Martingale combo.

The system trades 25 currency pairs. 

We don't know details about the time frames the system works on.
Trading results
The presentation doesn't include backtest reports at all. It's a huge con because the developers have many accounts, so the system should have been tested well before setting in on six real accounts. It looks suspicious.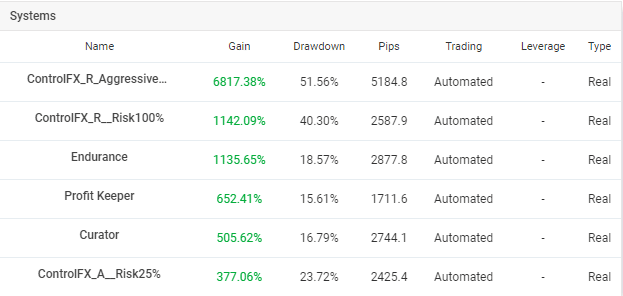 There are only six accounts available. The developers mentioned ten.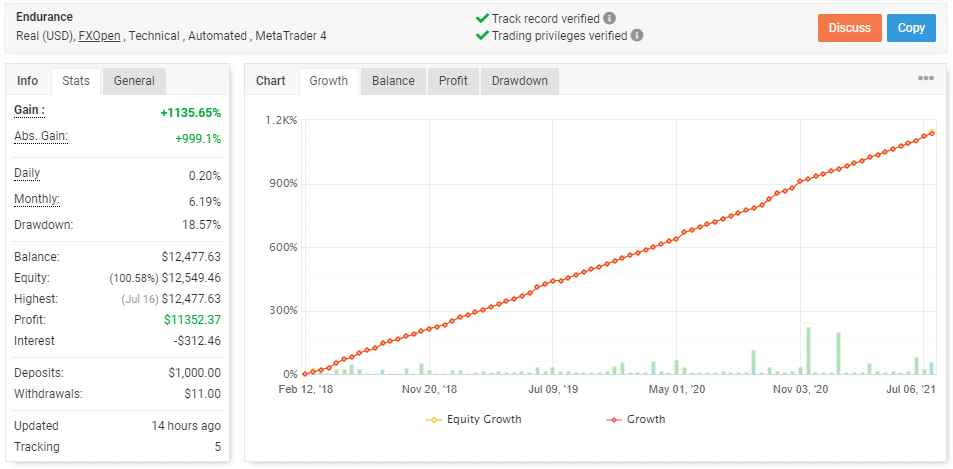 We have a real USD account under EA management when it works through FXOpen automatically with probably 1:500 leverage on the MT4 platform. The account has both a verified track record and trading privileges. It was deployed on February 12, 2018, deposited at $1,000. Since then, the absolute gain has become 1135.65%. An average monthly gain is 6.19%. The maximum drawdown is 18.57%. Five investors decided to track the robot's trading results.
The system has closed 188 orders traded with 2877.8 pips. It's a good number of pips gained. An average win is 52.55 pips when an average loss is -72.48 pips. The win rate is 77% (64/83) for longs and 74% (68/105) for shorts. An average trade length is six days. The profit factor is 2.33. 

We can work with AUDUSD only with this system.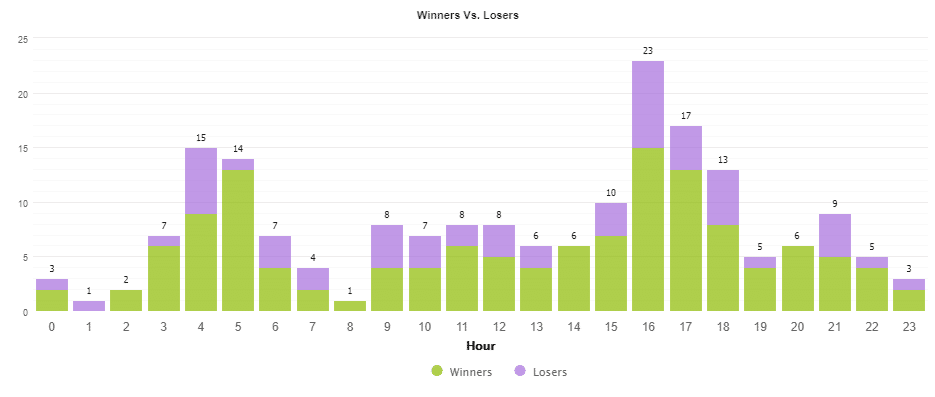 The advisor focuses on trading during several hours of the Asian session and at the beginning of the American session.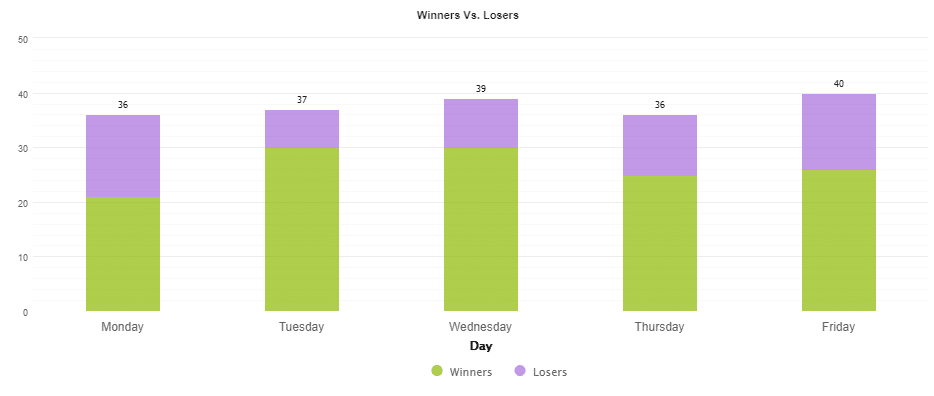 Monday and Thursday are the less traded days with 36 deals.

The system works with significant risks. There's a 7% chance to lose 10% of the account.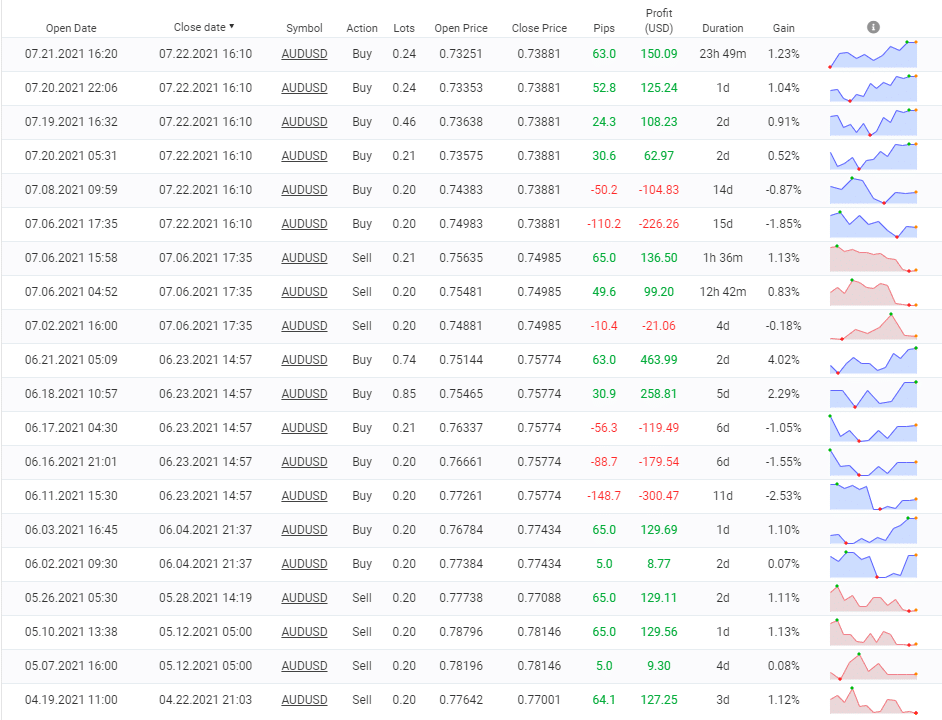 The robot works with Martingale and quite deep SL levels compared with gained profits.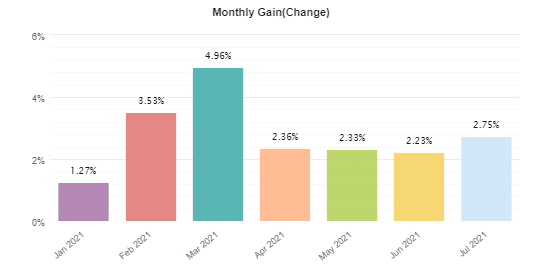 Now, the system provides approximately 2.3-2.7% of the monthly profit.
Customer reviews
We have no clients' feedback provided. It's a huge disadvantage because we have no idea how the system runs on people's accounts and if they are happy.
PROS
Real-account trading results
Typical commission
CONS
No team revealed
No settings explanations shared
No backtest reports provided
Martingale and medium-risk trading with low profitability are on the real account
We have to run an account of at least $10,000. It's not beginner-friendly
No clients' testimonials provided
Verdict
Control Forex is an awkward service. The developers designed a system or systems that execute no-name strategies on real accounts. All of them don't have backtest reports behind them. The service charges commissions and starts working with our account only if we have from $10,000 to $50,000 on them.