Dark Gold is a trading solution that was released in MT5 version on MQL5 on September 23, 2021 by Marco Solito. The last version has been 1.10 since October 25, 2021. The robot was downloaded 377 times. 
Product offering
The system has an average presentation with a few details and other information explained. 
The robot was designed to execute orders completely automatically for us. 

We can use a scalping strategy. 

It trades based on the Support and Resistance indicator. 

"If we Buy this Expert Advisor we can write a feedback at market and get Dark Support Resistance indicator (or a second EA) for Free, for More info we have to contact a developer."

The system works based on the following trends. 

We can use a counter trend strategy as well. 

Clients should follow instructions from a user manual. 

We are allowed to customize settings. 

We have to use it on an ECN account. 

A VPS service is a good addition. 

We can set the leverage as we want. 
The system is available for a low price of $49 for a lifetime copy. There are no rental options available. We can download a copy of the robot for demo usage for free. The dev doesn't support us with refunds if the system starts working worse. 
Trading strategy
It executes a trend and counter trend strategy. 

We can trade Gold, Bitcoin, EURUSD and GBPUSD. 

The robot allows us to work on three time frames M5, M15, and H1.
Trading results
The presentation doesn't include any sign of backtest reports. It's a con because we don't know if the system was tested properly. 

The system has been running a $100 real account on ForexChief with 1:500 leverage. The maximum drawdown was insane -40.6%. Maximum deposit load is 20.2%. An accuracy rate is 69.7%. The absolute growth is 116.24%. We have a low reliability of these signals. 
The system executed 214 orders weekly. An average holding time is 14 hours. 

MQL5 warns us that the data was moderated and it's not relevant anymore. 

The advisor works with Martingale increasing lot sizes on orders. 

The advisor has traded 746 deals. The best trade is $92.79 when the worst trade is -$18.97. The recovery factor is 13.95 when the profit factor is 2.13. 

The system has trading results only on GBPUSD cross pirs.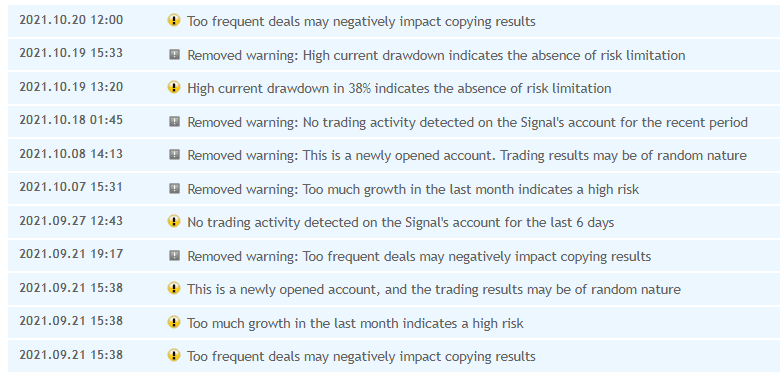 Dark Gold was informed several times that it should have worked more predictable. 
Customer reviews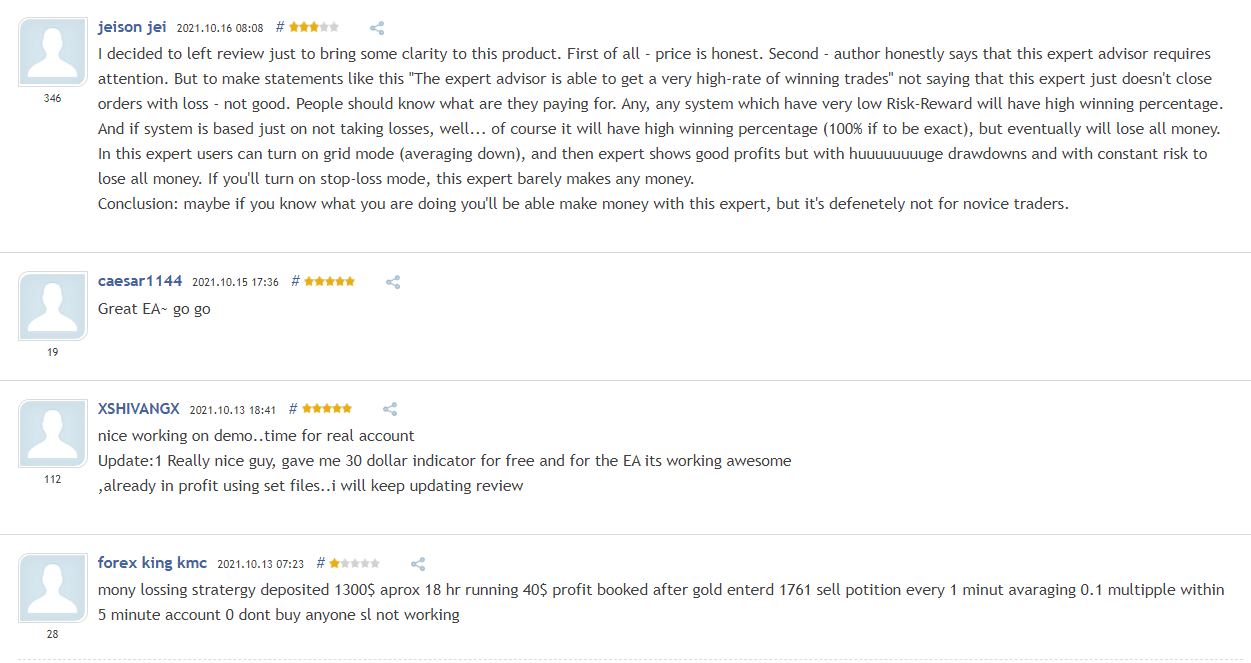 One negative testimonial, as well as positive ones don't look trustworthy. 

Marco Solito is a developer from Italy who has a 148,834 interest rate. It's a great number for MQL5. He has four years of MQL5 experience. His products have a 4.6 rate based on 1215 testimonials.
PROS
Trading results provided
The developer has a solid personal rate
CONS
No risk advice given
No settings explanations provided
No strategy details revealed
No strategy details revealed
No backtest reports provided
There's Martingale on the board
The trading account runs with moderated data
No rental options available
No refund policy supported
Verdict
Dark Gold is a trend advisor that works with Gold, two Forex pairs and crypto. The presentation is short and not quite useful. The developer didn't provide us with backtest reports and the trading results are only for GBPUSD provided. We don't know how the system works with other mentioned symbols. The trading account had its data moderated. We can't suggest you work with it.