Darwin Evolution is a trading advisor that was published on the MQL5 community and can be found only there. The presentation looks average and includes intel about pairs, features, and other information about system performance. 
Product offering
So, let's take a closer look at it. For your comfort, we gathered everything in the list below. 
The advisor can work completely automatically for us. No supervision is needed. 

We have a current price of $999 discounted. 

The next one will be $1490. 

"You can not make a Backtest of this EA, it will open orders without any logic!"

That's funny. 

"To understand the operation, come and read the blog (this EA reflects my philosophy of forex trading … If you like my way of seeing things, then you will like my EA."

Usually, everything is written like this if the system is a dangerous. 

The robot works on demo and real accounts. 

It works closer to manual trading. 

It trades with average risks. 

The system was designed "for a long-term vision, it's not a fast scalper."

The system can not trade every week. 

Open positions can be on the market for days or even weeks. 

It knows how to recover after losses. 

There are more than 8 indicators and filters. 

It can be used with 28 pairs at once. 

The system can be used on any broker house. 

There's a news filter implemented. 

Risks can be set on % to the balance. 

The recommended settings are EURUSD on M1. 

The default risks are 5%. 

The system can trade in both directions at the same time. It's so risky. 

The minimum deposit is $200. 

The leverage should be 1:30.

"You can not make a "real" backtest of this strategy (I am the only one to do it because it is necessary to put the news integrated and import the actual ticks)." So, it can be a fraudulent solution.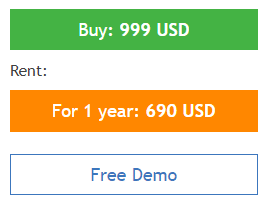 The system costs $999 for a real account copy. The annual subscription costs $690. Both prices are unrealistically high. We can download a robot for demo usage. 
Trading strategy
We don't know for sure what strategies are behind the system.

We can work with 28 cross pairs: AUDCAD, AUDCHF, AUDJPY, AUDNZD, AUDUSD, CADCHF, CADJPY, CHFJPY, EURAUD, EURCAD, EURCHF, EURGBP, EURJPY, EURNZD, EURUSD, GBPAUD, GBPCAD, GBPCHF, GBPJPY, GBPNZD, GBPUSD, NZDCAD, NZDCHF, NZDJPY, NZDUSD, USDCAD, USDCHF, and USDJPY.

The robot can work on M1. 
Trading results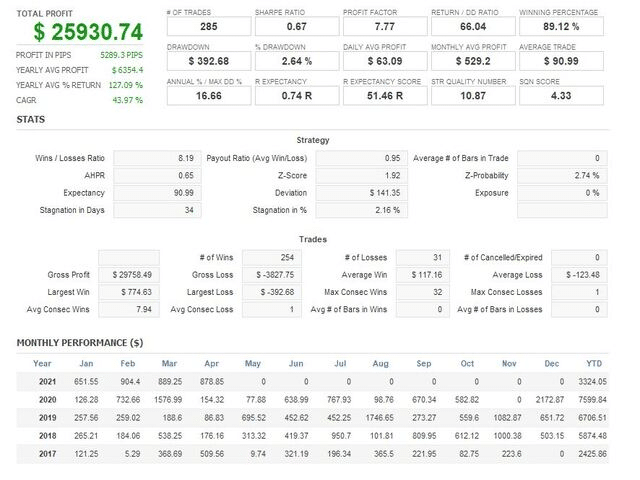 So, we have a test of all pairs at once. There was $25,930 of the profits gained. An average annual return is 127.09%. The robot traded 185 deals with 7.77 of the profit factor. The win rate was 89.12%. We can see that the maximum drawdown was 2.64%. The advisor skipped trading for several months. 

The advisor works on a €5000 account on ThinkMarket with 1:500 leverage with the maximum deposit load of 2.2%. The win rate is 92.9%. The account works for 13 weeks.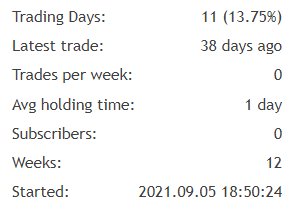 An average trading frequency is low. The robot trades with an average trade length of one day. 

The advisor did not open orders in December 2021. 

Trading frequency is truly low. The last order was opened in November 22, 2021. 

The advisor closed 14 orders with the best trade of €85 and the worst one of -€52.18. The recovery factor is 5.87 when the profit factor is 5.38. 

AUDJPY and AUDUSD are the most traded pairs with 3 orders closed.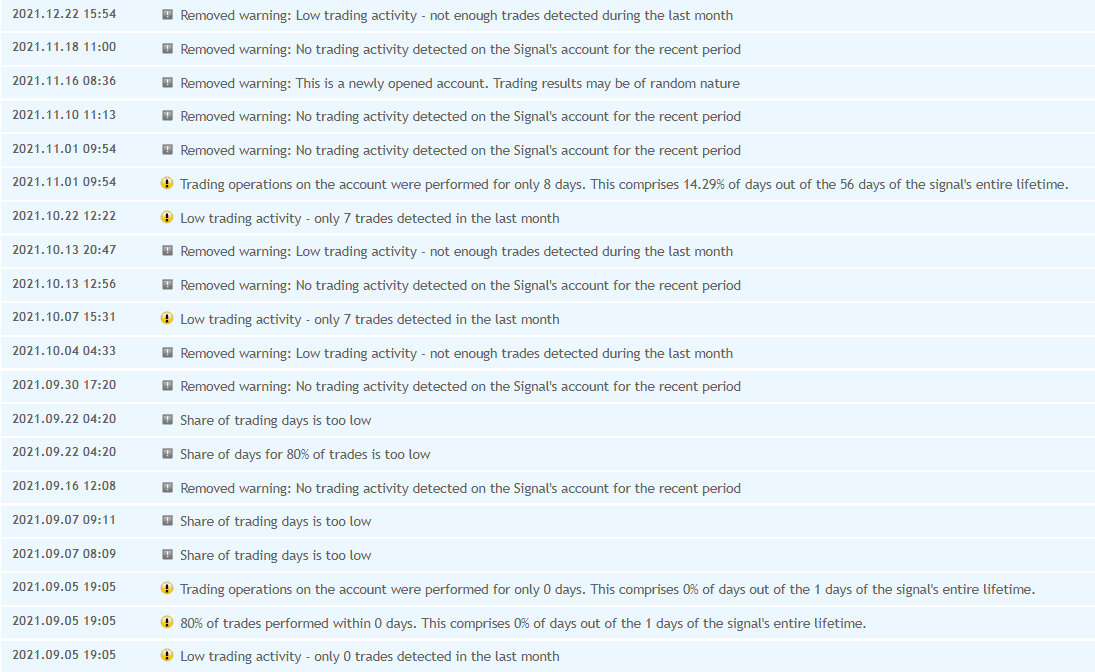 The system is consistently warned for low trading frequency. 
Customer reviews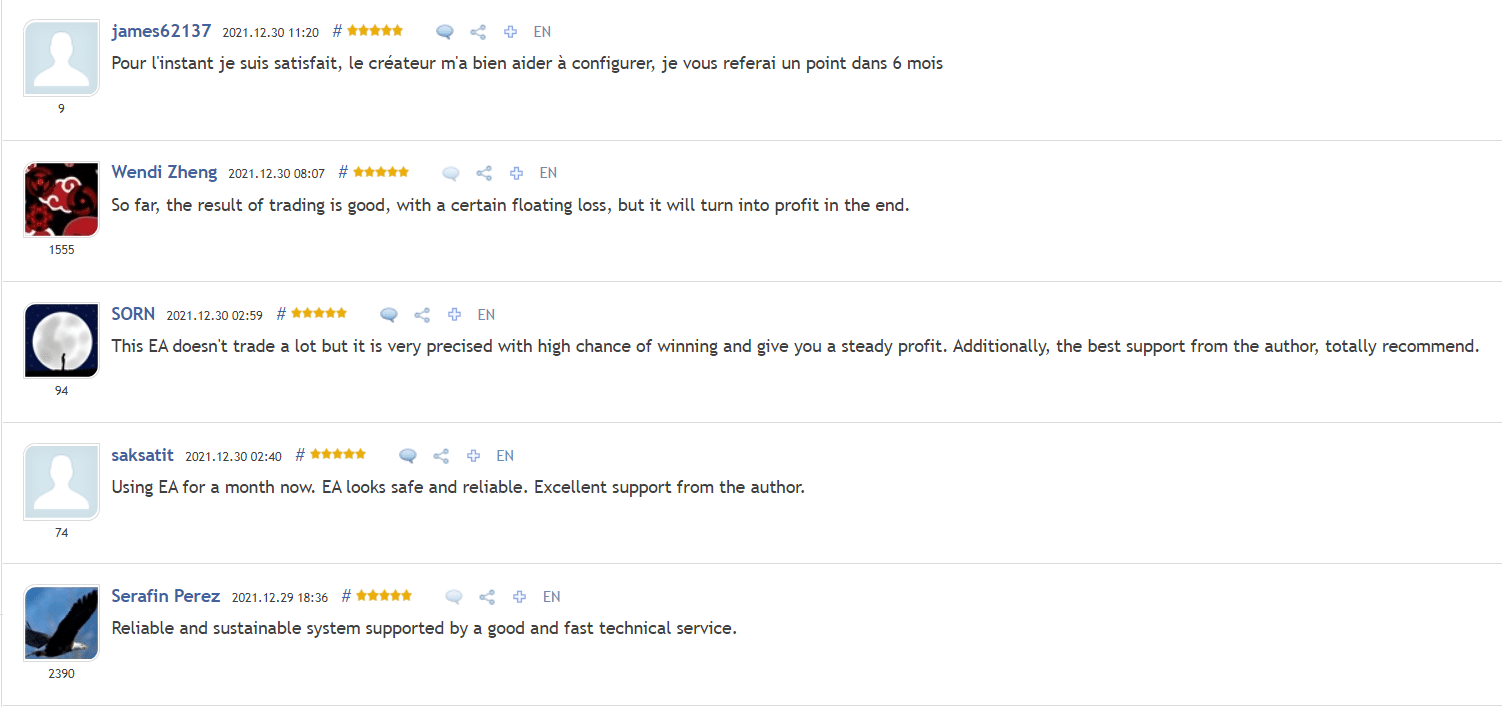 The presentation includes only positive testimonials about people's experience of using the system. 

Guillaume Duportal is a developer from UAE. His portfolio includes one product and fifteen signals.
PROS
Backtest reports provided
Trading results shown
CONS
No relevant risk advice provided
No money-management advice given
High pricing
No refund policy supported
The advisor works with impossibly low trading activities
People testimonials didn't mention profits
Verdict
The system is an extremely-rate trading solution. For that price, we have to work with it for years without drawbacks to get our purchase paid. We don't know if the system will survive that long because we have only three months of trading results.