The world of forex trading has seen a steady increase in the number of forex trading software being offered by developers, of which, forex robots are arguably one of the most popular trading software on the market. In layman's terms, a forex robot is a trading software aimed at automating trading decisions on behalf of the trader. The majority of the popular fx robots available on the market are built around the MetaTrader platform, although there are notable exceptions.
Forex robots are thus very useful for a trader who has a strict mechanical strategy when it comes to trading. However, as with most industries, the popularity of forex robots has seen a flurry of developers advertising similar applications, making bold claims. Traders must be thus careful when they choose such FX trading software, avoiding the ones which look fraudulent. DAXrobot is just one example of the numerous FX robots available on the market, which will be the focus of this review.
DAXrobot: Company and Platform Overview
According to the platform's website, DAXrobot is a CFD exchanging automated trading robot, designed to be extremely user friendly to use. Surprisingly, the website does not have any detailed information about the platform's developers, as well as the company behind which is concerning but not uncommon among different trading robots. The website appears to have been designed professionally, with all details provided about the platform's trading procedure as well as instructions on how to open an account and start trading.
Trading Strategy
DAXrobot appears to be automated trading platform requiring only an initial deposit of $250 to begin trading and making a profit.  After signing up with DAXrobot, users are redirected to a third party website called Daxbase, which appears to be an unregulated forex broker. Both DAXrobots and the DAXbase appears to have the same development team behind them which is definitely a red flag for investors. However, we did not get any information to confirm this.
DAXrobot is an online based trading software which is not required to be downloaded on the user's PC.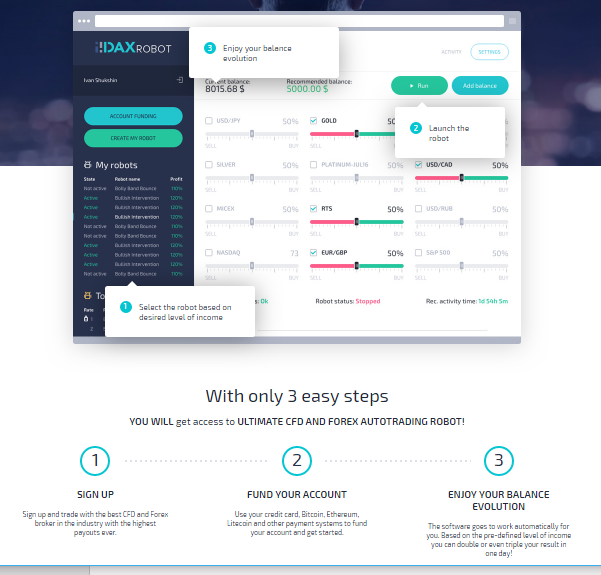 DAXrobot's trading strategy thus appears to revolve around market speculation. More resources are accessible when the speculation sum is increased.
Trading Features
The details of their trading features are highlighted on their website. One striking feature that has caught the eye, however, is the DAXbase Software Adaptability Feature. It allows users on DAXbase to create their own robot which runs by programs selected by the user. No type of coding knowledge is required for this process because it is presented in a helpful tick and drop style interface as seen below.

Users are required to choose two pointers and input their esteem parameter to begin. There are seven pointers available to users. However, a major drawback of this feature is that there is no definite way of controlling the number of concurrent trades at any given time.
Additionally, some of the features that this platform provides, include the following:
24/ 7 Support team available with options of video assistance. A chat system is also present if a visitor wants to ask any simple queries.
Demo trading account available
Withdrawal process is completed within 60 minutes
Copy trading option also available.
Product Offering:
DAXRobot offers users the option to open any one of the 3 account types available.
A Bronze Account with a minimum deposit of $250
A Silver Account with a minimum deposit of $1000
A Gold Account with a minimum deposit of $3000
The Silver Account has a Champion Class feature available which is a web based educational resource.
The Gold Account has an extra feature called Personal Account Manager.
A Demo Trading Account is also Available
Deposits and Withdrawal Options:
The website has mentioned that withdrawals are generally processed within an hour. There are no hidden fees or charges for withdrawals, as promised by the development team.
Depositing Options include:
Visa/MasterCard/Maestro Credit Cards
Wire transfers
Perfect Money
Qiwi
Webmoney
Neteller
Cryptocurrencies such as Bitcoin, Litecoin, Ethereum, ZCash, Monero, Bitcoin Cash, Dash, PrimeCoin, Reddcoin
Backtesting / Verification:
No reliable information related to any historical data on trading results is provided by the developers. Normally forex robot sites include at least one back testing result on an authoritative site like myfxbook. However, the fact that this is absent can be considered as an immediate red flag by many users.
Advantages and Disadvantages of using DAXrobot:
| | |
| --- | --- |
| Advantages | Disadvantages |
| ·       Accepts Cryptocurrencies | ·       No Verified Back-testing Results |
| ·       Easy to Use User-Interface | ·       Not Regulated by Major Regulatory Body |
| ·       Demo Account Available | ·       Initial Deposit Amount is Comparatively High |
| | ·       No Developer Information Included |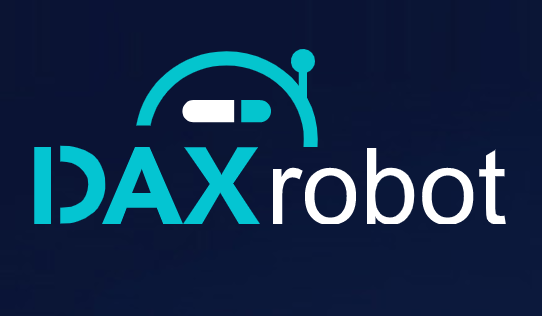 Verdict
After evaluating the above points, it appears DAXrobot has a very low amount of credibility when trading services are concerned. With no upfront company or developer information, no trading test results provided and a questionable trading strategy, it is recommended to exercise great caution if DAXrobot is chosen.