jForex is a proprietary trading platform developed and offered by Dukascopy bank SA, a leading broker and a bank that is based in Switzerland. Tier1 FX and NSFX are the other two brokers that offer the platform. It is suitable for both traders who prefer to trade manually and for traders that use automatic trading systems. The platform is easy to navigate and rich in its features so beginners and more experienced traders will like to use it.
How to start trading on jForex
It is available in desktop, mobile and web versions. Also, it can operate on different operating systems: Windows, Linux, Mac, etc. There is a special version dedicated to PAMM managers, hedge funds and financial institutions. The speed of execution is at the highest level, so the platform is very suitable for scalping. It allows hedging it does not require FIFO (First In First Out) rule while you are trading. The high-security level is guaranteed as it uses Secure Remote Password Protocol (SRP6) that ensures secure transactions and password encryption. The platform is available in multiple languages and you can even change the appearance. The installation process is simple and straightforward. To run the platform you will have to enter your username, password, and pin. If you have entered data correctly you will see the platform workspace that is divided into six functional areas.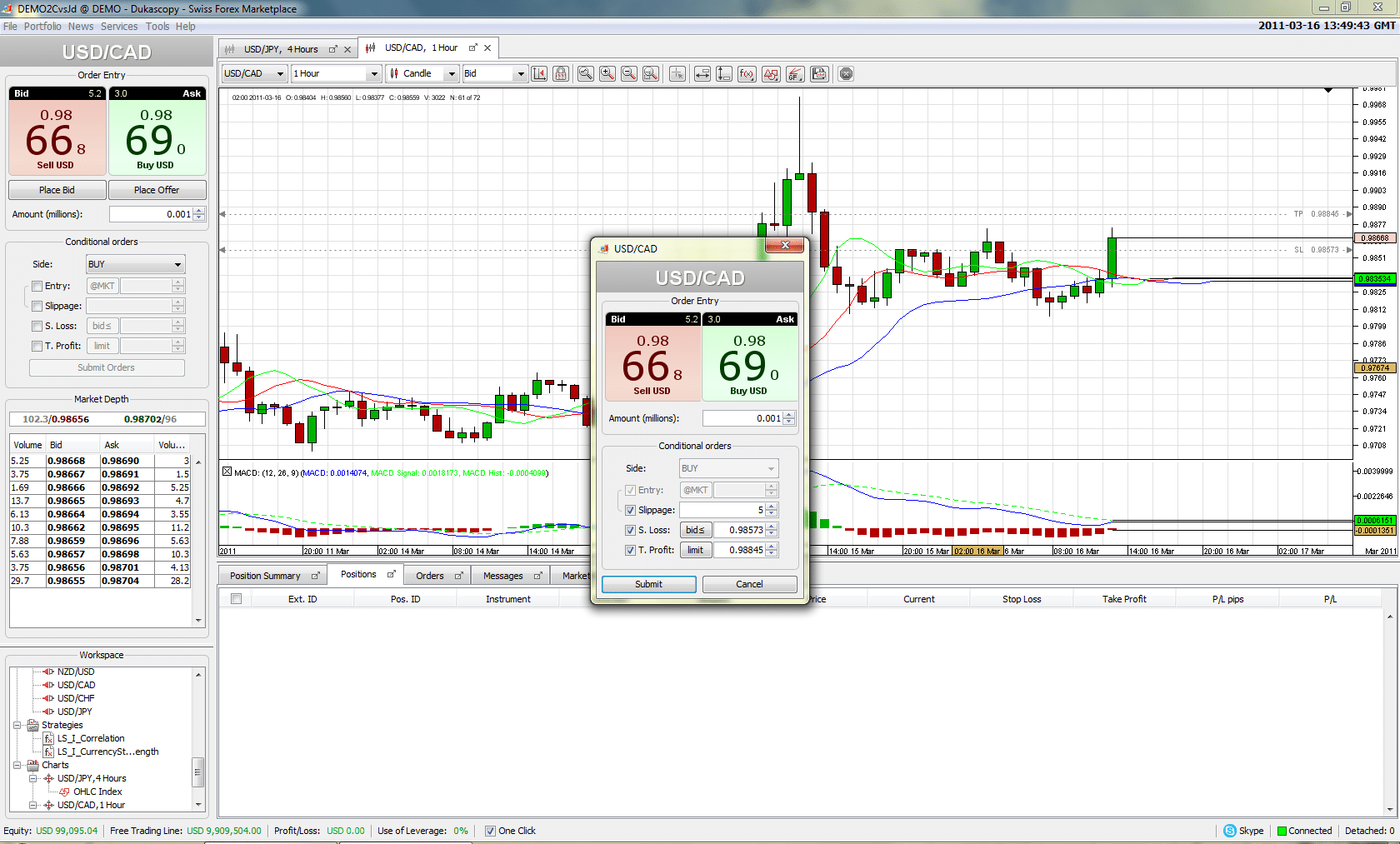 The order panel has a separate section for basic orders and conditional orders. You can enter 2 different markets and 4 different pending orders and it has advanced trail stop function. The money management calculator will quickly calculate the resources you can invest for a selected risk percentage. The Depth of Market (DOM) will show the number of orders on a bid and an ask side. Navigator panel provides an overview of your workspace and it allows you to manage indicators, strategies, plugins, and charts.
jForex has a powerful charting section with 270 technical indicators and chart studies, 13 time-based charts and also Renko, Kagi, Line-Break and Point & Figure charts. Calendar of economic news and events is also included. In the tabs section, you will find the information about your positions, orders, automated strategies and you will receive different trading massages. Finally, the status bar will provide you complete account information.
The trading platform is connected with the trading cabinet. It is a password-protected web-based resource where you can find all your trading reports. A portfolio statement gives you information about your account equity. The intro-day statement summarizes your daily trading activity while the position report gives you a complete insight into your active and closed trading positions. Moreover, it is a place where you can make deposits and withdrawals and change trading parameters like leverage. Also, you can change your password, pin and contact your account manager and technical support.
Strategy and custom indicator development is performed in the widely used programming language Java. For development, you can use any programming tool that supports Java, as an open-source Eclipse. Moreover, the platform provides Visual JForex, a free web-based EA building tool, that is easy to use and to learn and it can be connected to your platform instance. The platform has a back-testing tool with tick historical data. Moreover, you can run the test for multiple currencies. It allows back-testing in visual mode and it includes an optimization tool.
jForex has a community page, it is a place where you can buy and sell strategies, connect with other platform users, rent a programmer or offer your programming services. To open the community account you do not need to have a live account. It organizes monthly trading related competitions for manual traders, automated strategies and article writers and non-trading related fun competitions such as miss contests. The winners and the participants that reach one of the top ten positions will get funded live account as a reward.
Final Thoughts
jForex is a very advanced and intuitive trading platform suitable for manual and automated trading that can be used by beginners and by more experienced traders. It can operate on different operating systems and it is available in desktop, mobile, and web versions. It provides powerful charting features, depth of the market tool and economic news calendar. Custom indicators and trading strategies are developed in the Java programming language. The platform has an active community page that organizes monthly competitions.
---