FXCIPHER is an expert advisor that ensures high profitability and reliability. As per vendor claims, it uses a high-end technology that ensures the accuracy of trades. However, we need to verify this at our end by conducting a thorough analysis of the various performance aspects of the system.  
Product offering
The vendor makes a very brief presentation on the official website, listing all the major benefits and features. We have the links to a couple of live trading accounts and the backtesting data for multiple pairs. Finally, there are the pricing details and a contact form that you can use to send a message to the service team.
One of the most disappointing aspects of FXCIPHER is the lack of vendor transparency. There is virtually no information on the parent company, so we don't know where it is located or who the people working for the organization are. Also, the vendor has not shared any contact details on the official website. 
There is a general lack of information for this Forex robot, and it seems to lack a decent reputation among traders. The live trading results exhibit a high drawdown, which means EA employs a high-risk trading strategy. Therefore, our expectations from this system are not too high. 
You can purchase FXCIPHER for a one-time price of $295. This will give you access to a single software license for any account type. You can change the account number online without any restrictions. Also, you get to use both the MT4 and MT5 versions of the robot. The vendor also provides a detailed user manual and free updates. Each customer also gets access to 24*7 technical support.
 There is a 30-day money-back guarantee for this robot, but it is provided under a condition. Your account's drawdown must exceed 35% even after using the recommended settings. The user has to furnish proof of this fact. 
| | |
| --- | --- |
| Type | Forex EA |
| Price | $295 |
| Strategy | N/A |
| Compatible Platforms | MT4, MT5 |
| Currency Pairs | AUD/USD, EUR/USD, EUR/JPY, GBP/USD, USD/CAD |
| Timeframe | N/A |
| Recommended Min. Deposit | $10,000 |
| Leverage | N/A |
Trading strategy
This EA works on the basis of 2 in-built presets. The first one has been optimized since 2010 and it follows a slightly conservative approach, while the other one aims to enhance the profitability of the system and has been optimized since 2017. You can use FXCIPHER to trade in pairs like AUD/USD, EUR/USD, EUR/JPY, USD/CAD, and GBP/USD. 
The vendor mentions that the EA uses two distinct trading strategies and also mentions that it switches between them based on the market conditions. However, we don't know much about these two strategies, since the vendor has not explained either of them. FXCIPHER also has a drawdown limiting system that lets you specify the maximum amount of loss you are willing to take. In case the limit is exceeded, the robot force closes the trades. 
Trading results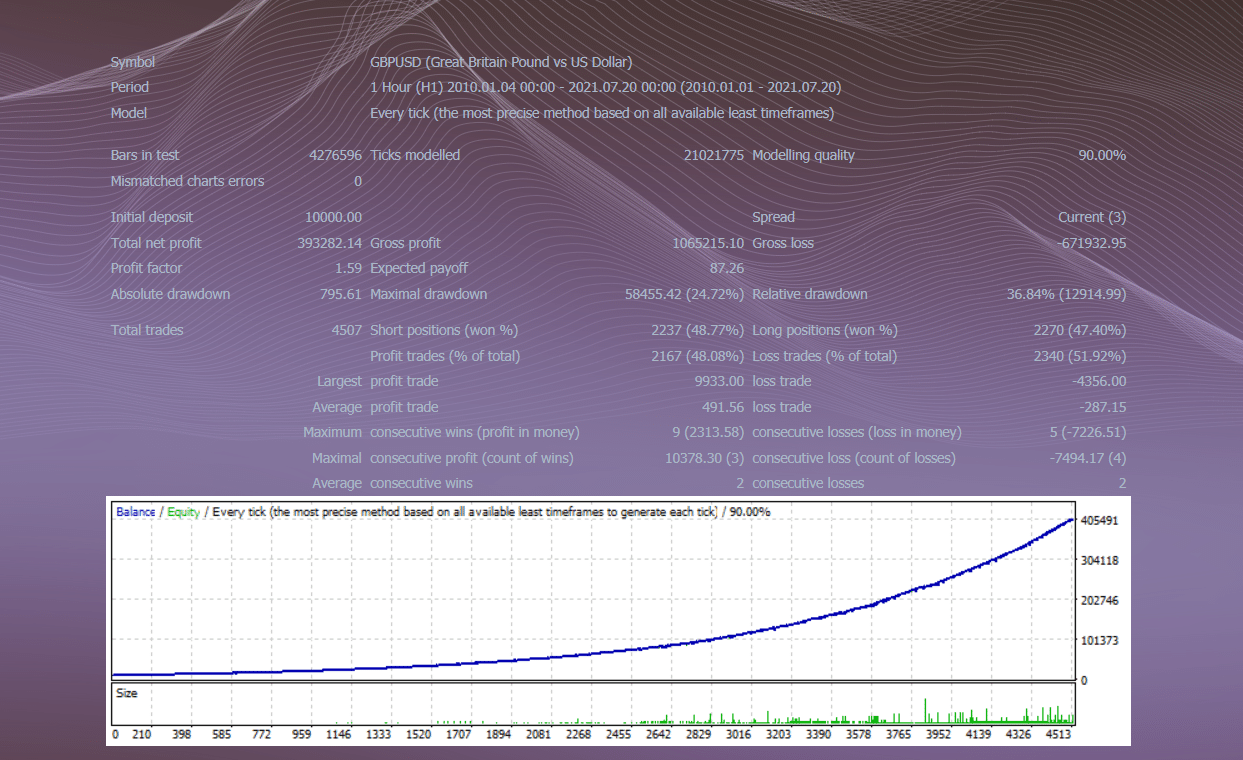 This backtest was conducted on the GBP/USD pair for the H1 timeframe starting from January 2010 to July 2021. The EA placed 4507 trades achieving a moderate win rate of 48.08%. Most EAs have much higher win rates, so this makes us think the EA is not as profitable as the vendor claims it is.
The relative drawdown for this backtest was 36.84%. This is a cause for concern, as it indicates a risky trading approach. There were 9 maximum consecutive wins and 5 maximum consecutive losses for this EA during the testing period.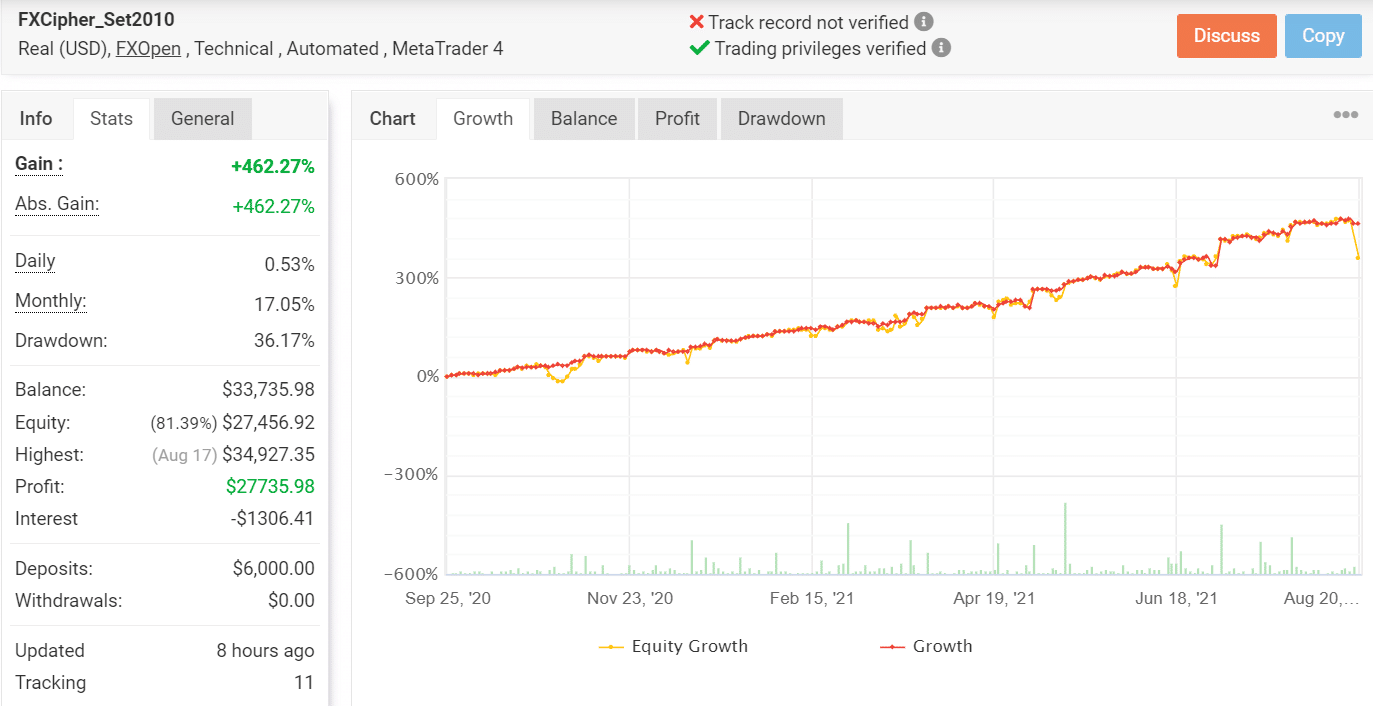 Here we have a live trading account using the 2010 preset. For this account, the EA has a win rate of 49%, which is comparable to the backtesting data. The drawdown is relatively lower at 36.17%, but it's still quite high.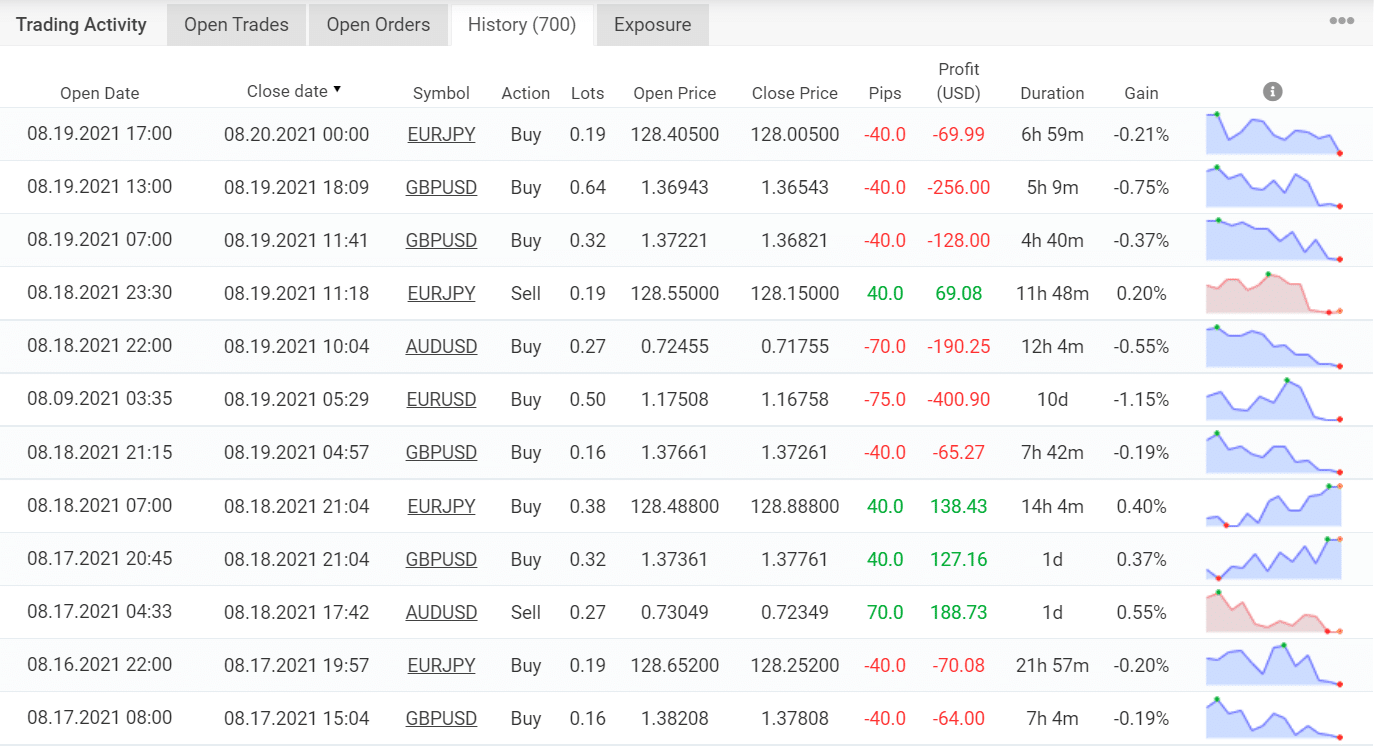 Looking at the recent trades, we can confirm the fact that the EA uses a high-risk strategy. There have been several large losses in recent times, and in fact, the robot has lost most of the recent trades. 
Customer reviews
We couldn't find any user reviews for this expert advisor on third-party websites. Evidently, not many people are interested in purchasing a system that has followed such a risky trading approach.
PROS
Verified live trading results
CONS
High drawdown
Lack of vendor transparency
Lack of strategy insight
Verdict
FXCIPHER is an EA sold by an untrustworthy vendor about whom we have no information whatsoever. The trading results are not that impressive and the vendor does not explain the trading strategy behind the system. Hence, it is better to avoid this robot altogether.