An automated advisor Easy Walker FX recently gained fame among Forex traders due to high rates of return. As shown in some sources, this week the robot was able to get a yield of 2600%. Of course, we objectively try to evaluate the performance of all automatic bots used in the Metatrader 4 trading system. Therefore, we conducted our own analysis of the effectiveness of Easy Walker FX. Are you interested in the real trading results of this adviser?
General data about Easy Walker FX
This Forex robot is a classic scalper that needs to set on a timeframe in M15. The developer pointed out that the best results are achieved when trading on four volatile currency pairs: EUR \ USD, GBP \ USD, EUR \ GBP, GBP \ CHF. Unlike many other advisors, aggressive trading systems are not used in this robot. Therefore, the frequency of opening transactions is small. Drawdowns also allow the deposit to be fully exhausted in the account. Judging by the data from the Myfxbook portal, the real drawdown is up to 12% of the total account.
According to the developers, the automatic robot trades equally efficiently on stable markets (during the flat period) and at high volatility.

What are the negative factors NOT in favor of this advisor?
For an insufficiently experienced trader, this adviser will seem very interesting. First, the staggering results of trading, which are published on the official website. Secondly, simple terms of use.
But, despite the advertising headlines on the growth of thousands of percent, on a real account, the indicators are much more moderate. Only 140% over the entire testing period with a drawdown of 25%. What does it mean? With a lack of funds in the account, those same 25% could completely drain the deposit. And inexperienced users obviously do not have enough skills to use this advisor effectively in tandem with the economic calendar. After all, scalpers are not able to track the fundamental factors of the market.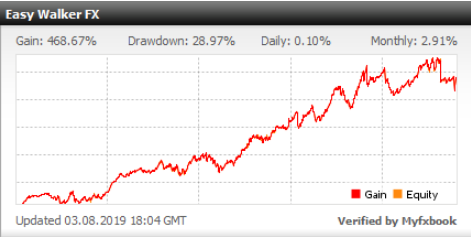 Another factor is not in favor of this robot – the lack of a clear understanding of what indicators the system works with. Neither the official website nor other portals described algorithms embedded in the system. Easy Walker FX trades mainly in the night, Asian session with a stable market. It is rational to assume that the price analysis is based on the basic Forex instruments. For example, the levels of oversold and overbought (Bollinger bands, Stochastic, MA). But there is not a single indicator on the chart after installing the trading system. So can you trust such a forex robot?
In favor of the advisor, you can specify their active use of Take Profit and Stop Loss levels. This means that the probability of a complete discharge of the deposit is negligible. After all, insurance is always used, in which orders are closed upon reaching a certain price level, plus or minus.
Price for Easy Walker FX
Each user should understand that this advisor is not free. Developers position it as a fully proven system. But to start trading, a trader must not only buy Easy Walker FX for $ 349 (at a discount may be $ 199), but also put more than one hundred into the account.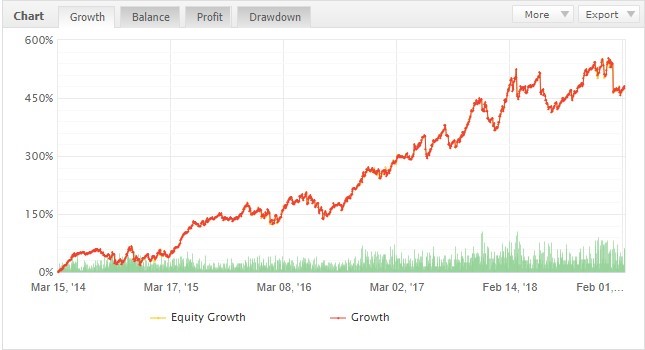 On a demo and live account through the portal Myfxbook Easy Walker shows good results. Clearly, for six months, you can get a net profit of 50% of the deposit and above. But for this you need to eliminate the risks of fundamental factors and have an initial deposit of $ 1000.
If you are ready for this, you can use this Expert Advisor by installing it in the Metatrader 4 trading terminal.

Verdict
We can recommend this advisor to traders who already have some experience and know how to use tools such as the economic calendar. After all, to obtain a positive result of trading, it is important to use analytics, to study forecasts. One robot is not enough to 100% control the deposit and earn.