Forex EAs or Expert Advisors are specially developed software applications, some of which can be automated to trade on the trader's behalf. They utilise a type of binary signals to determine whether a trade is profitable or not.
The main aim of these applications is twofold: Aiding novice traders in making a profit in Forex and provide an alternative to human trading.
The current market is filled with Forex EAs, many of which make bold claims about their profitability. However, one should exercise caution before making any sort of decision. Equity Sentry EA is one such application, which is the focus of our review today.
Equity Sentry EA: Product and Website Overview
According to the official website, Equity Sentry EA is not your typical Forex EA. It is described as a Forex Robot Protection System which aims to protect a trader's forex account against sudden and unexpected drawdowns. In fact, the software is designed to be compatible with almost any other EA to ensure that trading accounts don't suffer large losses in the trader's absence, something that has been plaguing many other Forex EAs on the market.
The website, which looks simple yet sleek, has all the information required for a user to know about the developer. Equity Sentry EA is developed by Rimantas Petrauskas, a developer who is also behind many other apps such as Local Trade Copier, Signal Magician, Trader on Chart, MyMT4Book, Trendline Trader and a multitude of others. Location details related to the company office is also provided.
---
---
One standout feature of this website is that Petrauskas handles the support himself which can delay the response time by a significant margin. However, receiving support directly from the developer is always a good sign.
Features and Trading Strategy
As mentioned above, Equity Sentry EA is not like other generic Forex EAs, describing itself as a "robot protection system". In other words, it does not trade automatically on the trader's behalf. The main aim of this application is provide traders with another layer of protection between the trader's personal Forex account and other Forex EAs associated with it.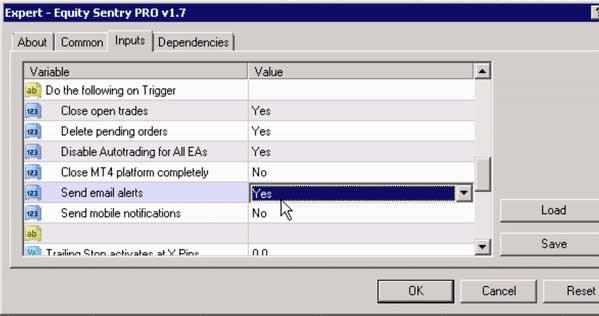 Because of the vast variety of Forex EAs that are being marketed presently, the chances of encountering a fraudulent application have become higher. Thus for any trader running a third party EA which cannot be trusted completely, Equity Sentry EA can apply its protection system to overtake the account. The application can then close the trades and even pause the other expert advisor apps till the situation is rectified.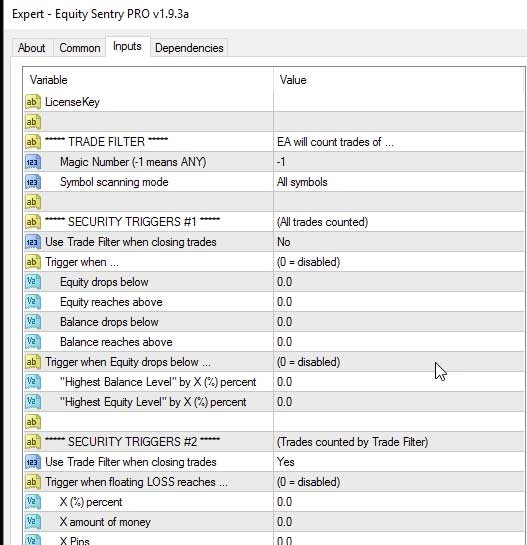 Equity Sentry EA is packed with beneficial features to help monitor a trader's account 24/7 to perform specific operations and safety procedures based on the circumstance. Two standout features are explained in brief below.
Parameters: Equity Sentry EA provides its users with a host of different parameters to allow traders to customise the degree of protection desired. This includes specifying which trigger to use, and what action to be undertaken if the trigger level is reached. For instance, traders can choose triggers such as triggering security actions when the equity drops below a certain level, or even when the balance drops below a specific level.
Safety Actions: Another important feature of this EA is the built-in safety action, that can trigger specific actions to lower risk and avoid incurring major drawdowns. It is equipped with a variety of features, including the following:
Closing charts
Closing MT4 terminal
Sending email alerts
Sending mobile notifications
Disabling auto trading completely
Closing open trades
Deleting pending alert orders
Product Offering
Currently, Equity Sentry EA offers 3 packages to its users. The personal license is priced at €19/ month, while the one year license costs €159/year. There is also a package available for professional traders on a yearly basis, priced at €299.
Advantages and Disadvantages of using Equity Sentry Forex EA
| | |
| --- | --- |
| Advantages | Disadvantages |
| ·       Useful protection features | ·       No Lifetime membership option |
| ·       Affordably Priced | ·       Not required by Traders using reliable Forex EAs |
| ·       Perfect for Novice Traders | ·       Slow Support |