Euro Scalper Pro has a weird presentation. There are no explanations or similar information to help us make the right decision. The main claim tries to convince us that we can "Scalp Forex Like A Pro." These signals are 100% automated. 
Product Offering
We tried to find everything around the site that should tell us what we're looking at:
The system works well without our interventions in its working process.

We can work with it through the MetaTrader 4 platform.

It works with only a EUR/USD currency pair, probably because of low spreads.

The vendor doesn't charge any additional fees.

We can start working without previous trading experience.

The system doesn't require much time to be set on MT4.

We can use it on a VPS or home/office PC.

Copy-trading software executes orders from the main account on ours automatically.

We aren't sure that they are going to close this service in the near future.

The developers provide support within 24 hours.

There are thirteen language icons for people who are comfortable reading the presentation in their own language.

These signals can be owned for free. We have to follow several simple steps: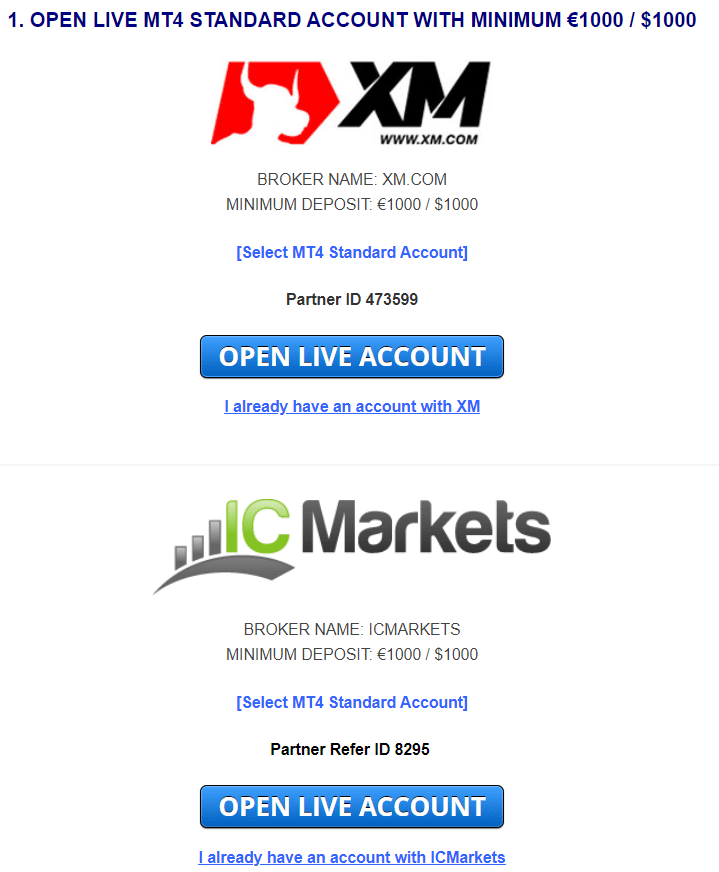 There are several XM or IC Markets registration offers. If our deals are closed with profits, the link referee makes some commission money.

The account should be registered and deposited at $1000 or €1000.

We need to send our real account number to the developers to get approval. 

We have to be sure that a partner ID is filled correctly.

There are membership options provided. The 30-day membership costs $197. The annual membership costs $1997. The original price was $2364. Now, we have a 15% discount. The offer can be paid via PayPal or Debit Card. There's no money-back guarantee provided. This price ($197) for 30 days is several times more expensive than the similar on MQL5. 
Trading Strategy
The main strategy is scalping.

EUR/USD is a single currency pair supported.
Trading Results
We couldn't find any backtest reports to be convinced that the developers really own the system that makes these signals. It's a very important part to be sure that the account will be safe. 
Instead of third-party verified real-account trading results, we have a video of them. There is no big deal to make a video like this, but it's hard to make this happen on the live account. In addition, the trades were performed with a 0.1 Lot Size. So, there's a $1000 account. It's nothing for signal service that asks for $197 monthly.
Anyway, it would be better to check all details:
How long the account is live.

The absolute account gain.

An average monthly gain.

Information about leverage.

Details about drawdowns.

A win-rate for both directions.

A size of an average win and loss deal.

How many orders, pips, and Lots are traded.

An average trade length.

The Profit Factor.

What direction is more preferable to trade.

Checking if there are Hedge, Grid, or Martingale strategies.
Customer Reviews


There are many positive reviews as screenshots are placed on the site.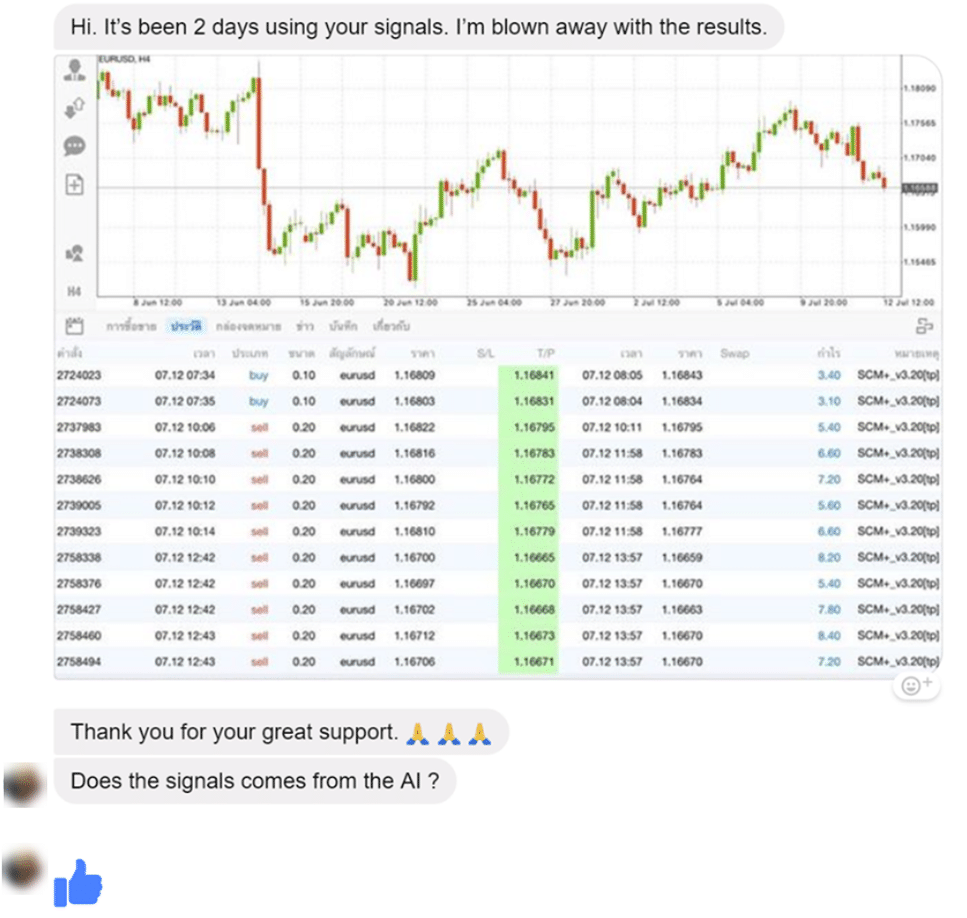 It's a single screenshot with positive results from the terminal.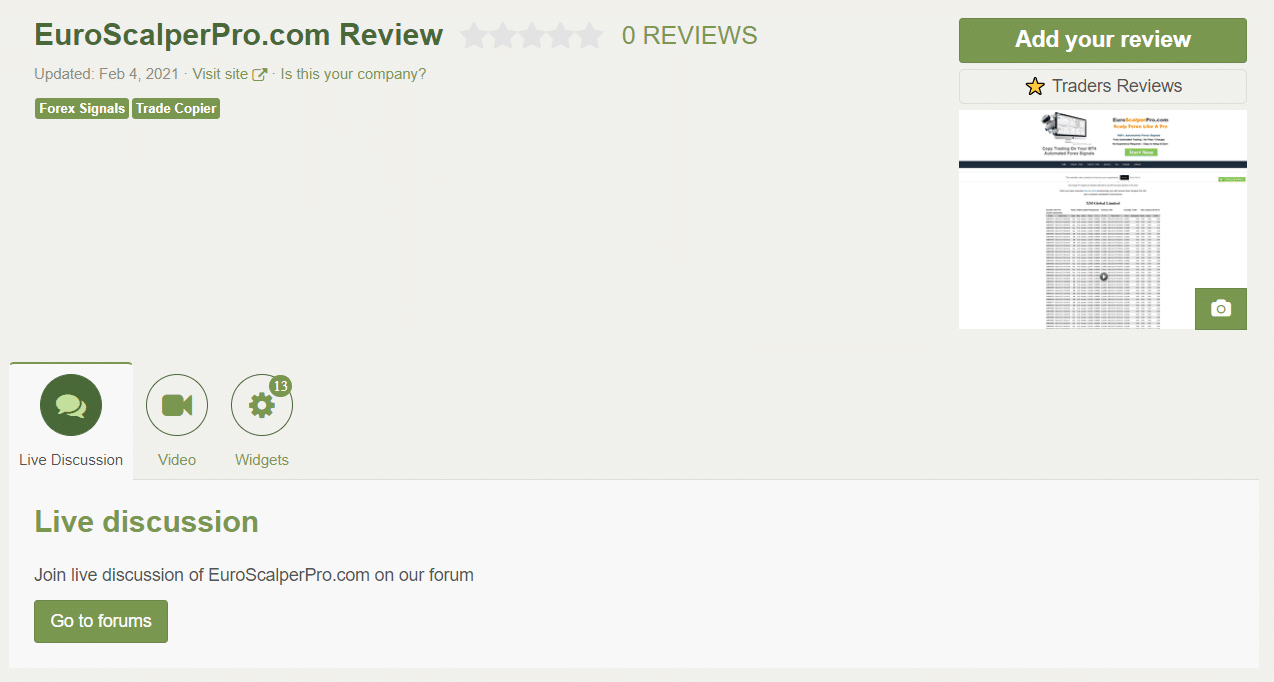 There's a company page on Forex Peace Army without comments and rates.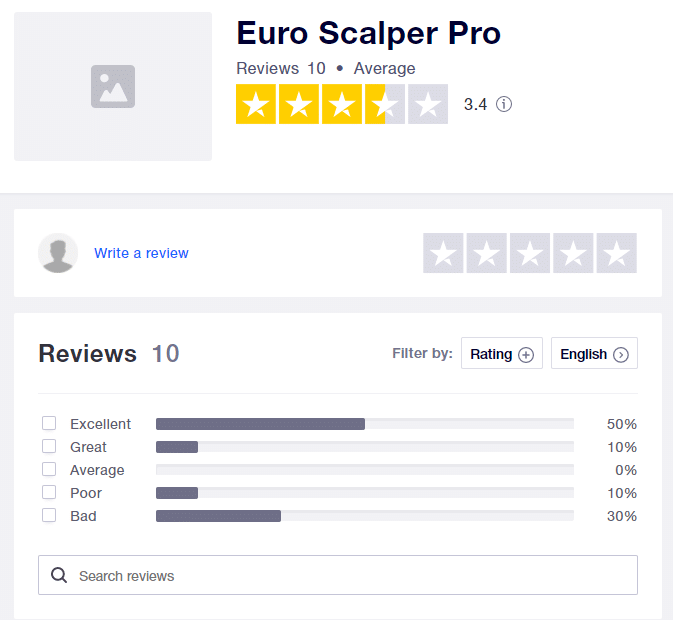 On the Trustpilot site, we have a page with a 3.4 rate based on ten reviews.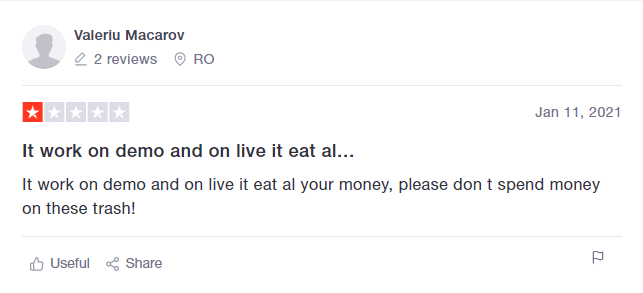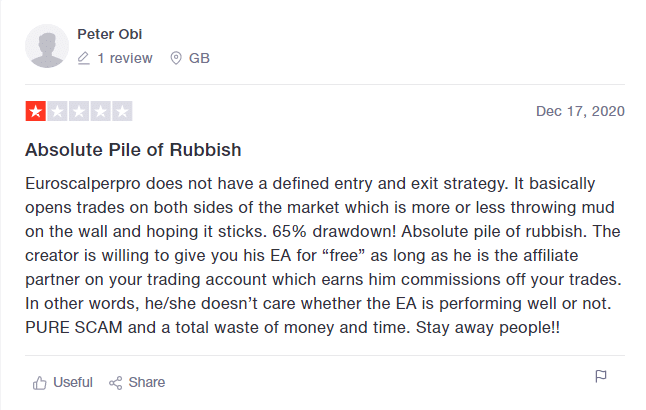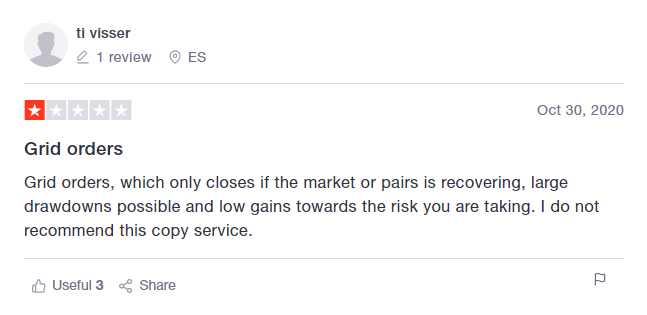 The clients noticed that the service could make money on the demo account, but when it goes live, everything changes. The signals experience significant and long-term drawdowns. The system is based on a dangerous strategy – Grid that is not only risky but also requires much free margin to support orders on the market when the market goes in an opposite direction.
PROS
The signals are available for free if we register using a referral link
CONS
No team revealed
No settings explanations provided
No money-management advice provided
No monthly profit expectations provided
No pips counter published
No backtest reports provided
No verified-trading results provided
The subscriptions cost much
No money-back-guarantee provided
Much negative feedback on Trustpilot
There's a Grid strategy on the board, according to people's comments
Verdict
Euro Scalper Pro is a service that "has" only a demo account to prove its profitability. It doesn't look trustworthy. As for a "no-presentation" company, the service costs insane money. Scalping signals cost $30-$50 monthly on MQL5, not more. We do not recommend this signal service to the public.