Welcome, everyone! Today's review will be about a new signals provider that aims to earn between 90 and 150 pips (free service) or 300 and 150 pips (paid signals service) per month. The dev promises up to 80-90% winning ratio and good accuracy of their signal service. Forex GDP represents itself as the 'best live Forex signal provider' that is designed to help us 'trade with confidence' on our trading accounts.

The devs believe that:

Although the grammar of their slogan is not very impressive, they want us to know that they put a concerted effort into every signal they provide.
Is it a good signals service to invest in 2021? What are the weaknesses and strengths of Forex GDP?  That is what we are going to discuss in our Forex GDP review.
Product Offering
The Forex GDP website is some sort of hybrid between a blog and a Forex GDP sales page. In the blog section of their product presentation, there are general educational articles and short trade signal analysis articles that give more insight into their strategic approach. Although this kind of info is useful for traders, it does not provide any information about the trading approach or what the devs are looking for in terms of trade setups.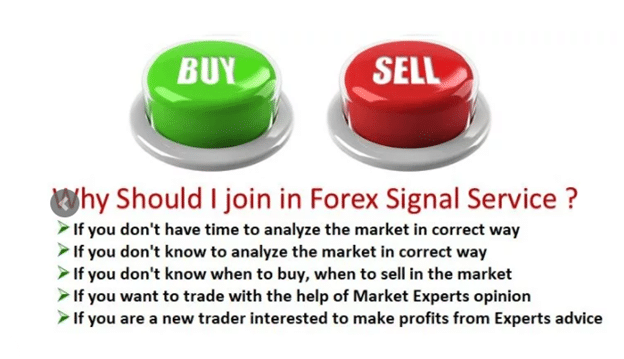 Their website consists of several subcategories: Forex Signals, Signals Results, User Reviews, Telegram, News Calendar, Contact page, Education, FAQ and Know Us pages. From their 'know us' page we know that Forex GDP was started 'by a young and vibrant team' in 2015. Their team has over 20 years' experience in working now with Major banks, Liquidity providers, Financial Institutions, and various Forex brokers. Unfortunately, we do not know their names as well as do not know where their headquarter is located.
To get in touch with support traders need to email [email protected] or contact them via Skype: forexgdp. In addition to this, they provide their Instagram (they have over 12,4K of subscribers) and Facebook (over 23K of friends) contacts on their website. They also provide a link to their YouTube Channel, but for some reason, it does not work.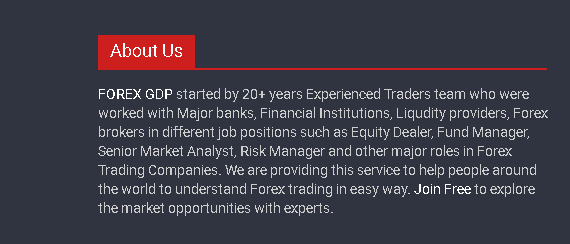 From their FAQ page, we could gather the next information:
The win rate of their signals is 80-95%

Their signals service is available in 3 packages, two of them are paid ones

A free signals service (1-month plan) is a good option for traders to try the service and decide whether their service is good or not

Traders can use any trading account to use their signals

Signals are directly sent to traders' WhatsApp in the form of an Individual chat message

According to their FAQ page, if a losing signal is provided by any of their analysts, then this analyst is not allowed to provide the next signals. Another analyst will provide the next signals to protect traders from a thread of bad trading decisions. Taking into account how good their analysts are, it is odd that we do are not introduced to any of them
SL and TP depend on the market; SL ranges between 10 to 100 pips, when TP ranges between 300 to 600 pips

Signals have a 1:1 to 1:5 risk-reward ratio. It depends on the market condition
There are 3 options for traders to choose from: trial (free plan), premium membership, and supreme membership: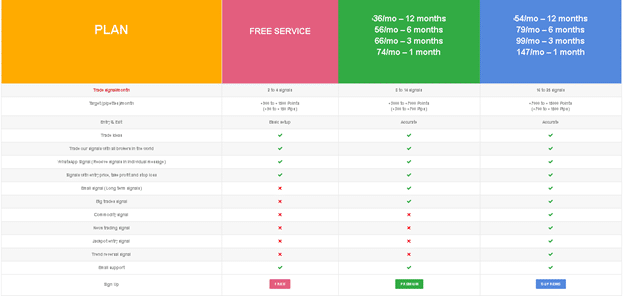 Free service offers 2-4 signals and 90-150 pips per month. It has a basic entry and exit setup. Signals are sent via WhatsApp only. Customer support is included.
Premium membership is available for $74 per 1 month. It provides traders with 8-14 signals and 300-700 pips per month. It provides traders with access to trend reversal signals and bid signals. Signals are sent via WhatsApp and email.
Supreme membership costs $147 per month. It offers 16 to 25 signals and 16 to 25 signals monthly. It offers different trading strategies, email support, and much more.
Payments are accepted via Credit Card, Debit Card, Paypal, Skrill, Neteller, Perfect Money, Web Money, Western Union, Thailand Bank Transfer.

Trading Strategy
It is Forex signals provider service

Big Trades, News, Commodity, Jackpot, and Trend Reversal trading strategies are used

All timeframes are supported

All currency pairs are supported

Lot size depends on the trading balance. Thus, if you have a $1000 balance, then 0.10 lot is the maximum running Lot for trading $1K

Trading Results
The Forex GDP does not provide us with any live verified trading results of their system. There are neither myfxbook, fxstat nor fxblue trading results that could be verified. Instead, the dev provides us with one hundred fifteen pages of trade analysis blog posts to explain to us how the services have been performing. We cannot check the viability and productivity of this trading service. We can't trust them blindly, relying on simple screenshots only.
Customer Reviews
ForexGDP.com has its page on the Forex Peace Army website. It has 3,8 out of 5-star ratings based on 42 reviews written by customers.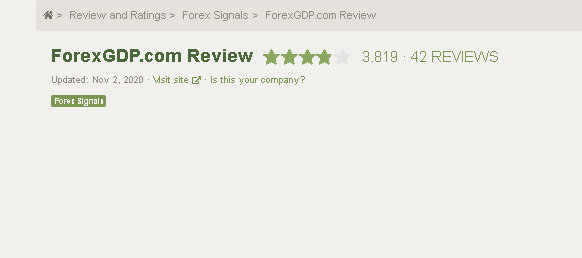 The last 4 customer  reviews are positive ones. Clients claim that the developers do their best to provide 100% accurate Forex trading signals. Another client says that free signals are good, but premium is better.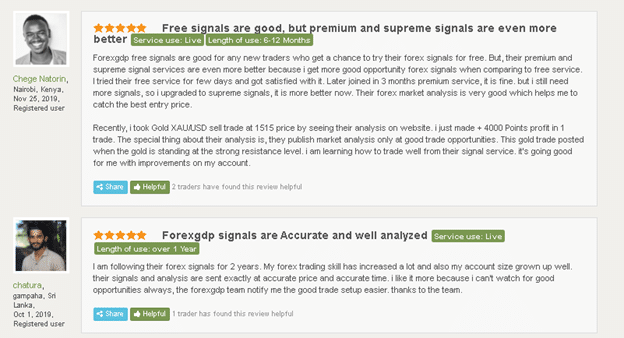 The 1 star review is from a trader who asked for a refund and didn't get it. He got 6 signals and lost 5 of them. He claims that it is a 'terrible signal' service.

PROS
Multiple trading strategies
Customer support
Free signals service offered
CONS
No verified trading results
No money-back guarantee
High pricing
Lack of vendor transparency
Verdict
Undoubtedly, Forex GDP has potential. However, we have some concerns in terms of vendor transparency and trading approach. If the vendor does want to be taken seriously, he has to provide verified trading results. Providing this sort of important information is a must in 2021.