Euronis Scalper was launched on 7th August 2021. It is a scalping bot that works on the Metatrader 4 trading platform. Experienced traders generally do not recommend using scalper bots, so we need to analyze every aspect of the system in order to determine whether it is reliable or not. 
Product offering
There is no official website for Euronis Scalper. The only source of information for this EA is the MQL5 website where it is sold. Here, the vendor has not attempted to provide the maximum information possible, rather they have listed the advantages offered by the robot and shared some suggestions about choosing the broker, as well as the installation. We also have information on the trading pairs, risk levels, and input parameters.
The developer behind this EA is Denis Sotnikov, who is based in Russia. We have virtually no information on this person and their work history. It is not clear whether they work alone or as a part of a team. There aren't any other EAs built by this person and according to their MQL5 profile, they have zero experience in developing robots.
The lack of information about this robot, coupled with the lack of vendor transparency makes us think that we cannot expect decent results from Euronis Scalper. It is available for the price of $499, which is excessive for a robot that was launched only recently. You have the option of renting the EA for a monthly fee of $100, or you can test its performance by downloading the free demo version. Unfortunately, the vendor does not provide a money-back guarantee. 
| | |
| --- | --- |
| Type | Fully-automated expert advisor |
| Price | $499 |
| Strategy | Scalping |
| Compatible Platforms | MT4 |
| Currency Pairs | EUR/USD, GBP/USD, USD/CHF, USD/CAD, USD/JPY, EUR/AUD, GBP/AUD, AUD/CAD, EUR/CAD, CHF/JPY |
| Timeframe | N/A |
| Recommended Min. Deposit | $300-500 |
| Leverage | 1:30 (low risk), 1:100 (standard risk), 1:400 (expert risk) |
Trading strategy
Euronis Scalper follows a scalping strategy without using Martingale or Grid. For making entries, it uses limit orders and take profits. Both virtual and hidden stop loss levels are available with this robot. If you wish, you can use the netting and hedging modes while trading. Euronis Scalper has some custom indicators, but the vendor hasn't explained any of them. 
You can use the EA to trade in pairs like EUR/USD, GBP/USD, USD/CHF, USD/CAD, USD/JPY, EUR/AUD, GBP/AUD, AUD/CAD, EUR/CAD, and CHF/JPY. It has three different risk modes, namely low risk, standard risk, and expert risk. The vendor recommends using different leverages for the risk levels. Although the minimum deposit is $100, the vendor suggests using at least $300-$500 for proper lot adjustment. The recommended ECN brokers are FXOpen, ActivTrades, FXPro, Pepperstone, Weltrade, and ICMarkets.
This is a scalping robot that looks to take advantage of minor price differentials in the Forex market. Scalping is a high-frequency trading strategy that requires you to be attentive at all times and is time-consuming. It takes some expertise to consistently profit from this strategy and novice traders would not find it suitable. 
Trading results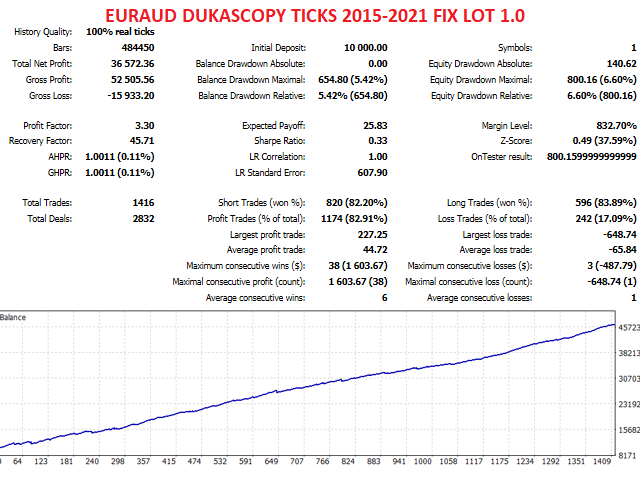 Here are the results for a backtest conducted between 2015 and 2021 using fixed lot size. There were 1416 trades placed during this test, with the EA achieving a win rate of 82.20% and generating a total profit of $36572.36. The profit factor for this backtest was 3.30 while the relative drawdown was 6.60%.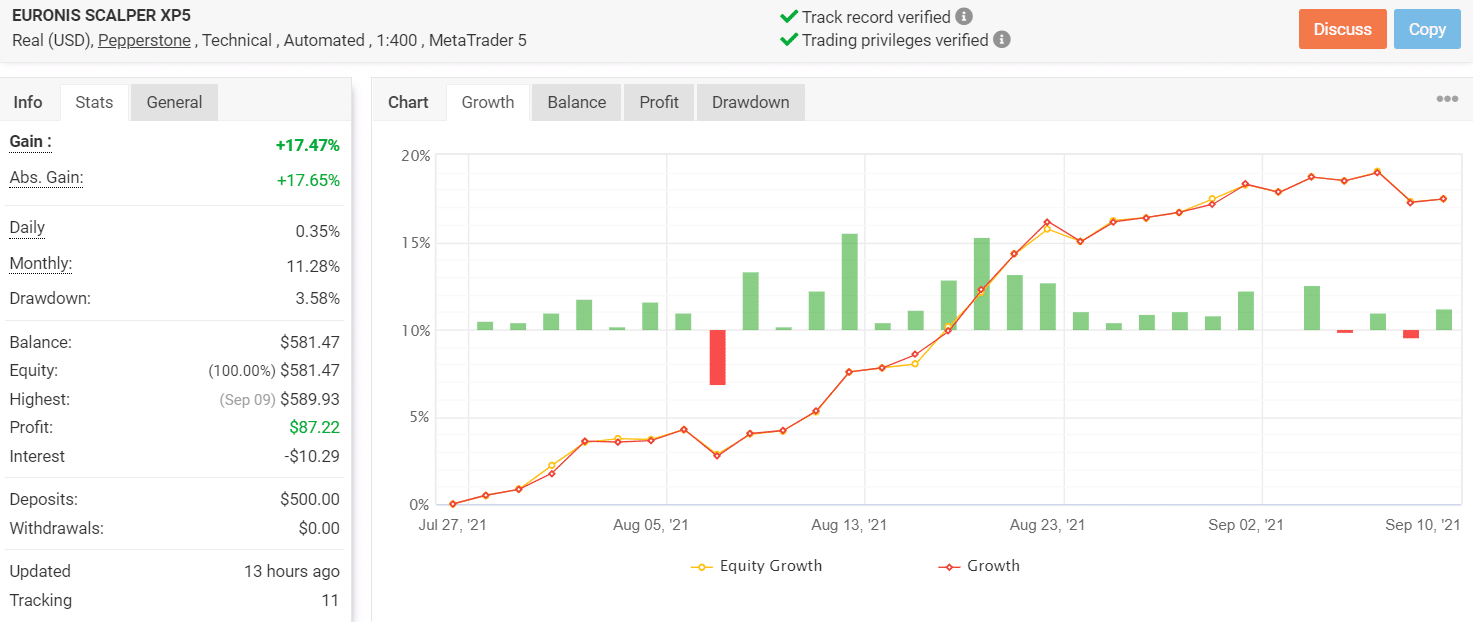 Since the vendor hasn't shared the link to a verified trading account on the MQL5 product page, we had to do our own digging to find this account on Myfxbook. Having been launched on July 27, 2021, this account has a very short trading history.
Euronis Scalper has conducted only 108 trades through this account, winning 70% of them and generating a small profit of $87.22. Thus, it is clear that the robot is only capable of winning small profits and it might take a lot of time before you can accumulate a significant amount of gain with this system.
Customer reviews

There are no authentic user reviews for this EA on third-party websites. We found some reviews on MQL5 where the users have complained about the slow frequency of trading, the unstable profit, and the high spread.
PROS
Verified trading results
CONS
Short trading history
No money-back guarantee
Lack of vendor transparency
Verdict
This is an overpriced robot for which there is no refund policy. Trading with it can be risky because it doesn't have a long track record of winning profits in the live market. The lack of user reviews on third-party websites is yet another reason not to invest in it.