Night Hunter Pro is a trading advisor that was released on the MQL5 community by a lady-developer Valeriia Mishchenko on June 15, 2021. The last update was 4.82. We are here to check everything up. 
Product offering
We have grouped up all details in the following list. We'd like you to take a look at it. 
The system works completely automatically. 

The system can work with high risks. 

There are five copies left for $699. 

The next price will be $799. 

The main strategy is advanced scalping. 

There's a smart entry and exit algorithm. 

This system is focused on long-term stable growth.

There's only a strict rule-based approach to trading, allowing to maximize return while having risks under control. 

The supported currency pairs: GBPUSD, EURUSD, EURCHF, USDCAD, USDCHF, CHFJPY, AUDCAD, EURCAD, and EURAUD. 

The only time frame to work stable is M5. 

The robot can work on MT4 and MT5 terminals. 

The EA is FIFO compatible. 

The EA does not use martingale or grid.

It only enters a trade with pending orders and uses a stop loss for each trade. 

We can set the system on a single chart. 

There's an advanced news filter. 

The system can set GMT offset. 

There's a negative swap filter. 

EA must be attached to ONLY one M5 chart, EURUSD is recommended. 

We have to use recommended pairs only. 

A user guide will be provided. 

The system must be used on the hedge accounts only. 

We have to use it only on a good broker. 

A VPS service is a must.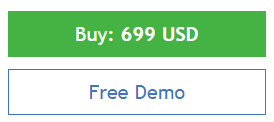 The system can be bought for $699 for a lifetime copy. There's no rental option. We have a possibility to download a demo copy of the robot. 
Trading strategy
The strategy details aren't revealed. 

The advisor works with the next pairs, GBPUSD, EURUSD, EURCHF, USDCAD, USDCHF, CHFJPY, AUDCAD, EURCAD, and EURAUD.

The time frame is M5. 
Trading results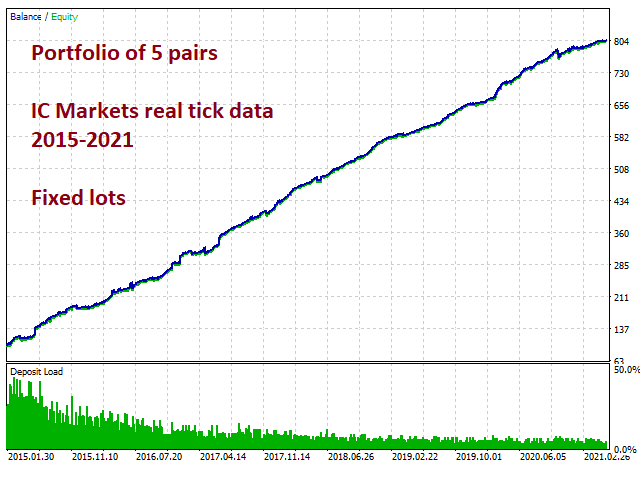 There's a portfolio of five pairs. The data was received from IC Markets based on six years of trading activity.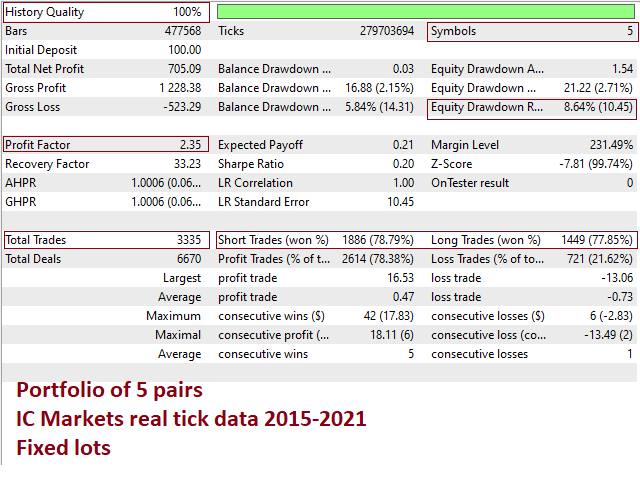 The history quality was 100%. An initial deposit was $100. The total net profit has become $705.09. The profit factor was 2.35. The maximum drawdown was acceptable – 10.45%. There were 3335 deals traded. The win rate was mostly the same for both long and short directions: 77% and 78% respectively.
We'd like to note that the system must be used on the verified account. It's such an important part because it allows us to know what we should expect when we set the advisor on our account. 
The system has been working on a real USD account on Valutrades automatically with 1:500 leverage on MT4. The account has a verified track record. So, we can trust this data. It is showing a 2,21% gain in the course of a 3 months period. It was deposited at $5,000. An average monthly gain is 0.78%, when the maximum drawdown is mostly the same – 1.07%. 

The advisor has traded 324 orders with 327 pips obtained. An average win is 2.90 pips when an average loss is -3.36 pips. The system's profitability is 69%. An average trade length is over eight hours.

The advisor doesn't work predictably with six cross pairs. GBPUSD is the most traded pair with 140 orders. Alas, it's not profitable. 

The robot works only during the night session. 

It's rare to see that Friday is the favorite day for a scalper to trade. 

The system works with low risks to the account balance.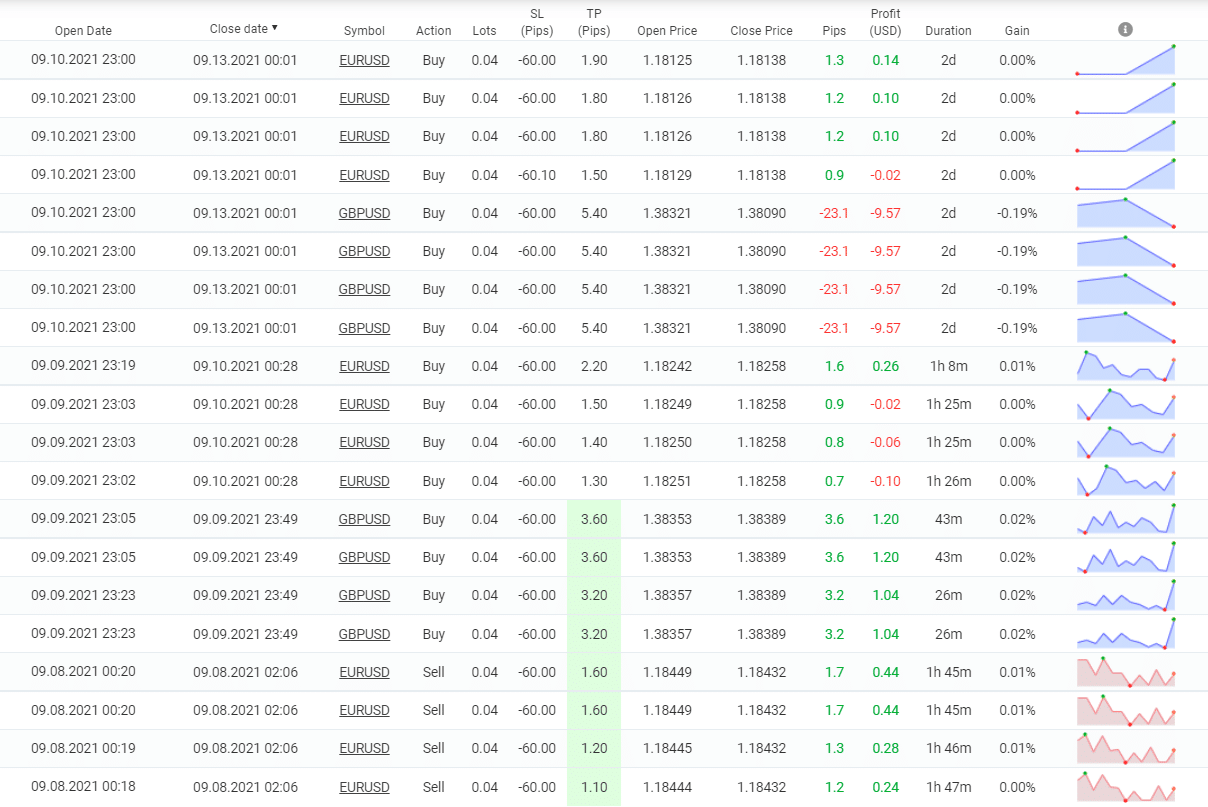 The advisor uses a mid-sized Grid of orders to make more profits.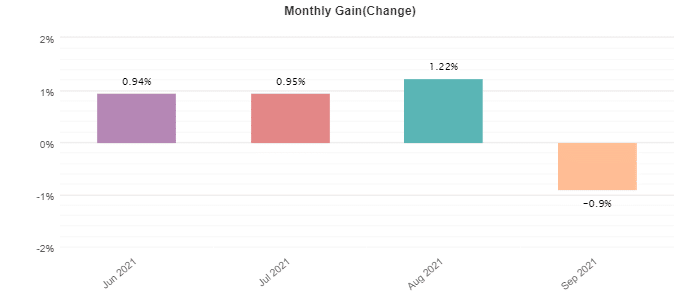 The system started September 2021 from solid losses that are equal to a typical monthly profit. 
Customer reviews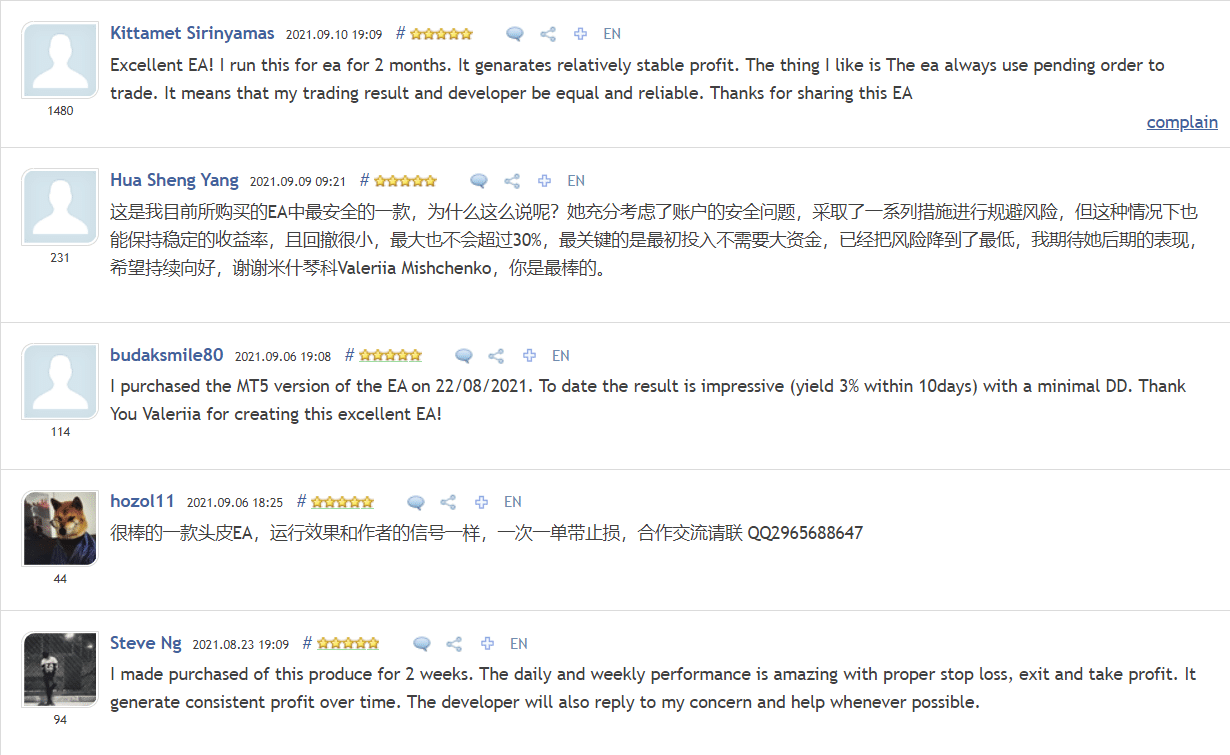 We have nobly positive feedback that doesn't match the trading results we have just seen. 
PROS
Backtest reports shared
Trading results provided
CONS
No strategy explanations provided
A Grid of orders strategy on the board
Trading results don't look well in September 2021
High pricing
No rental options provided
No refund policy provided
There are many weird testimonials written
Verdict
Night Hunter Pro is a quite new trading advisor that works at night, cutting little profits when the market is calm. Alas, for this type of system, there should be higher profitability and win rate. It's pretty common to have 90% of the win rate on such advisors. So, it's not the best deal for the price it is offered to the public.