Forex Alpha EA is another trading automation tool. Developers designed this new automated trading robot to better adapt to any market round-the-clock conditions. In terms of software, the product is trivial. It is compatible with all brokers working on the MT4 platform. They state that the system is capable of producing "double-digit profitability figures even during the worst economic crisis."
If a trader wants to contact support, there is a standard contact application form. They haven't provided any direct email addresses. It also raises questions about the reliability of the entire system.
All electronic assistants experienced a significant crisis during the global recession. This is logical because the overall exchange activity has seriously fallen. With the revival of forex, many alternative providers have appeared. The increased business activity required proportional efforts from the creators of the software.
Forex Alpha has a very controversial input. The creators do not provide any information about who they are, where they are, what kind of forex achievements occurred with the help of their products. There is a link to the page "about us", but this page does not exist, apparently not yet written or legal entity in the process of registration. This is one of the main claims. The market is oversaturated with robots and trade automation. All things being equal, it is something that needs to be fixed so that the community, at least, has a basic understanding of the authors of the product. With hundreds of different robots, it is very difficult to think about buying one that does not have transparency.
There are 6 reasons why the creators of the Forex Alpha Expert Advisor believe that their trading robot stands head and shoulders above their competitors. This is clearly stated on their website. These reasons include an advanced money management system, compatibility with brokers, round-the-clock support, multi-currency trading, ease of use and an adaptive trading strategy.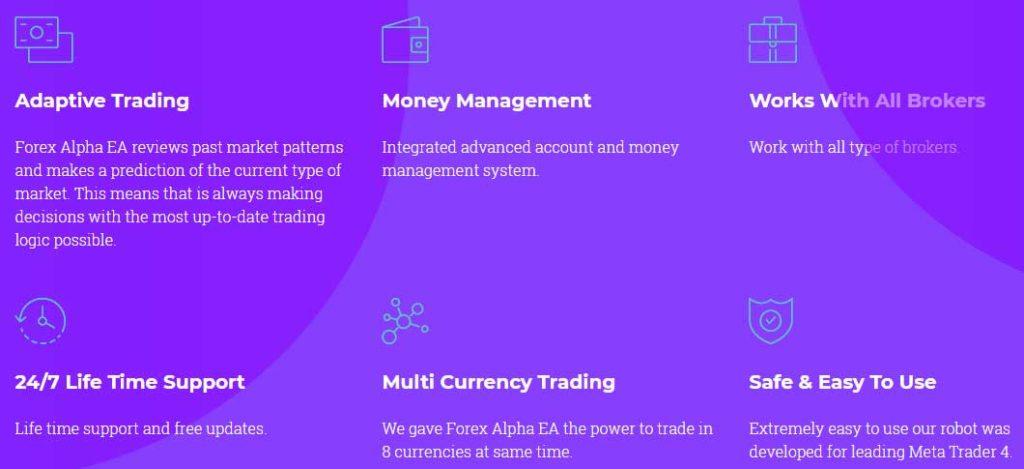 Forex Alpha EA Trading Strategy
The development team believes that they have created a trading system that can benefit from the smallest movements in the market because they have "the most modern trading logic of all possible." This programmable trading logic consists of "automatic levels of leverage (leverage)." They announced a unique feature in which the software automatically changes the leverage depending on the effectiveness of the transaction. If the transaction works well, then the leverage will grow, but if the transaction is unprofitable, it will be limited at a predetermined level.

There is no comfortable confidence in how this works yet. Analysts and advanced traders would like to see an example of this in action, to make sure that this is not just marketing jargon. It requires much denser and complete statistics from the largest number of real traders from different conditions.
This thesis is the only thing the vendor sells as a trump card. The site does not carry any special training manual exploring the issue. Moreover, in the process of searching for information, no detailed techniques for the application of a conditionally unique robot were found.
Overview
Type of software: Forex trading optimization robot
Proprietary Product Price: $199
Timeframe: H1
Pairs: Euro-US Dollar, Australian Dollar-US Dollar, Euro-Swiss Franc, Euro-British Pound, Euro-Yen, US Dollar-Canadian Dollar, US Dollar-Swiss Franc, US Dollar-Yen.
Forex Alpha Expert Advisor is currently available for a single price of $199. At this price, traders get access to one live account, unlimited demo accounts, free updates, and a 60-day money-back guarantee. There is also a "20OFF" coupon, which gives traders access to a 20% discount for a limited time.
It is also worth noting that this company is not associated with Pure Alpha, which is a separate robot from another developer.
Forex Alpha EA Trading Results
The supplier provides any trader with only one FX Blue account and several different performance tests. There are no Myfxbook accounts, which is disappointing because Myfxbook provides the most transparency when it comes to confirmed trading results. Most practicing market analysts claim that FX blue is less reliable. Many strange trading accounts were noticed on this platform, which only strengthens skepticism about the efficiency of the assistant.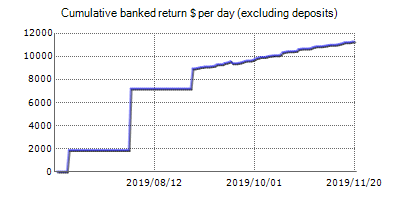 The FX Blue account provided by Forex Alpha EA developers shows an increase of 320% in just 100 days. This gives a monthly income of more than 50%, the percentage of winnings in a transaction is more than 70% compared to 34.5 transactions per day. The average transaction duration is 32 hours, and the drawdown is 39%.
The figures presented are large, but without Myfxbook statistics it is very difficult to guarantee similar results in constant trading. It is not known whether real clients will be able to reproduce them.
Customer reviews
Given that the product has appeared on the market relatively recently, there is currently no response from customers. It is hoped that if the trader decides to test the program with serious money, the database for this assistant will soon be replenished with relevant reviews.
Verdict
The vitality of the Forex Alpha expert advisor is controversial, but the project is curious. The website looks good, it is concise and does not contain any notorious advertising spam. Vendors provide some interesting information about their strategy, but there is no certainty in the final trading results. As with any other assistant, trade based on your skills and not on full automation. The claimed innovative approach causes certain problems. It does not work as a pattern of other assistants, but the real data should be based on an array of facts. When Forex Alpha has a large selection of users and market behavior, then it's worth giving a final verdict. So far this product is raw, controversial, but with potential, so you should consider the news about it in fx digests.