Forex Auto Millions – Platform Overview
According to the website of the Forex Auto Millions, the forex robot offers a completely automated service that is capable of trading on autopilot 24 hours a day. The website provides the traders with an email address for complaints and support, but no other contact details have been provided.
The platform, however, does not offer any information about the company behind the product or the developer behind its coding. While this practice is not entirely uncommon in the forex market, lack of transparency is a cause of suspicion. The website does not offer any information or guidelines for the use of the product.
The website of Forex Auto Millions shows money back guarantee offered by the company. If the user is not satisfied with the product, they can ask for a complete refund within 60 days of purchasing the product. However, the lack of reviews by users fails to affirm if the company provides a refund.

Trading Strategy
Compatible with the MetaTrader 4 trading platform, the forex robot runs of the EUR/USD currency pair 1-minute chart. Working on a fixed stop loss, the robot does not employ grids, martingale or hedging. The Forex Auto Millions robot can be used on autopilot mode 24 hours per day.
As for the trading strategy followed by forex Auto Millions, the website only provides answers to some simple questions in the FAQ section. The lack of information about the trading strategy employed by the robot depicts a lack of transparency, which is perceived as a major red flag by many traders.
---
---
Backtesting or Trading Results
The platform of Forex Auto Millions claims that in 8 years of backtesting, the robot made $46,125,309, from a deposit of just $1,000; indicating towards a 99% win rate. However, the website provides just a screenshot of the trading results and no link to testing platforms like myfxbook or fxblue. Lack of trusted sources fails to establish the credibility of these results.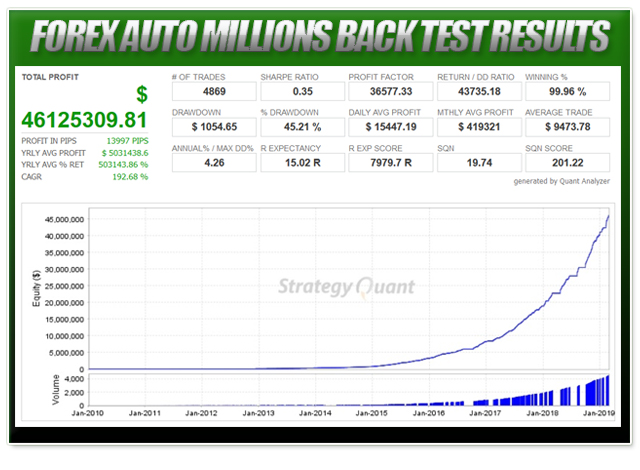 Advantages
Compatible with the MetaTrader 4 trading platform
24/7 Customer Support
Decently Priced at a One-Time Charge of $99
Disadvantages
No Information on Trading Strategy
Lack of Credible Backtesting Results
Absence of Information About the Background of the Company
User Reviews
The reviews of Forex Auto Millions online are scarce, offering very little user experience reference. Diving into a product without knowing how it has fared for other traders can be highly risky.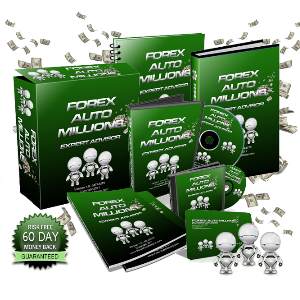 Verdict
The market is flooded with Forex Robots that make great claims but end up proving to be ineffective. The lack of reliable trading results and scanty information about the trading strategy raise questions on the proper working of the software. The anonymity of the developer and company of Forex Auto Millions further makes the product less credible. Thus, traders are advised to be cautious about this product and look for alternatives if possible. Users should carry out thorough research if they plan on using this robot.