Forex Paris is a Forex automated trading system launched on 23rd March 2021 that has a dynamic algorithm through which it has reportedly shown more than 99% profitability on a backtest. Since there are several Forex robots in the market that claim high profitability and consistent results, a thorough analysis needs to be conducted for each and every aspect of this Forex EA, before we form a conclusion about its trustworthiness.
Product Offering
There is no official website for this Forex EA. On the MQL5 page of Forex Paris, the vendor has provided us with a very brief explanation of what the robot is about, without touching on some of the most important points. We have some information related to currency pairs and timeframes, as well as the various input parameters of the system that you can modify. The vendor has also provided a broker recommendation and shared the link for a Telegram group.
Forex Paris has been developed by Ruben Octavio Gonzalez Aviles, a trader based in Switzerland who has built other robots in the past. These include systems like Miami Static, Kyoto, Cairo, etc. We have no other information available on this person, so we don't know what kind of background he has or whether he has a team working under him.
We are not impressed by the overall presentation and feel that some important information has been withheld. At this moment, our expectations are not too high for this Forex EA. You can purchase this robot for $349, which is pretty standard compared to other Forex EAs on the market. There is the option of renting it for 1 month at $199. Moreover, the vendor has a free demo version of the software available for those who wish to test its performance.
Forex Paris
| | |
| --- | --- |
| Type | Fully-automated  |
| Price | $349 |
| Strategy | Not disclosed |
| Compatible Platforms | MT4 and MT5 |
| Currency Pairs | GBP/USD, EUR/USD |
| Timeframe | All |
| Recommended Min. Deposit | Not disclosed |
| Leverage | Not disclosed |
Trading Strategy
Forex Paris uses a 2-in-1 dynamic and adaptive algorithm for placing its trades. Several trades are opened in a single week and they are closed usually on the same day. This algorithm does not use averaging, grid trading, smart recovery, and martingale, so there are no chances of you losing large percentages of your portfolio with the trades. 
With every trade, the robot takes profits and stops losses. The vendor recommends keeping the default values, although they can be modified. There are two distinct algorithms in this robot for the EUR/USD and GBP/USD pairs.
Forex Paris has a dynamic lot functionality that allows it to select a lot size based on the account balance. You have the option of changing other parameters like maximum lot, maximum spread, take profit, stop loss, etc. 
No information is provided by the vendor about the trading strategy used by the Forex EA, which is somewhat disappointing. We have no idea what kind of indicators this system uses or how it spots profitable trading opportunities. The absence of a proper strategy explanation might be taken as a red flag by some traders.
Trading Results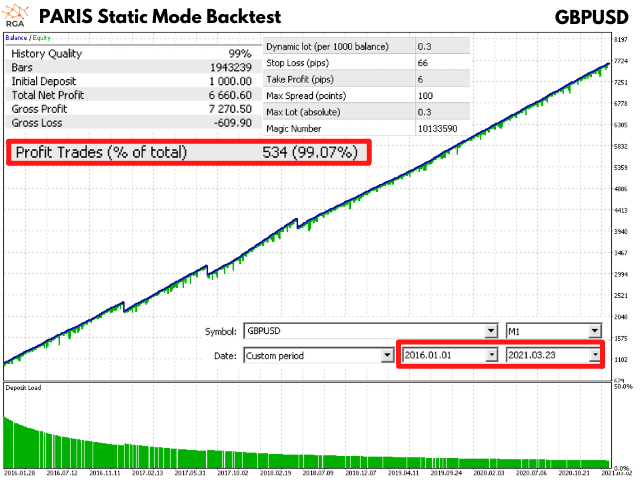 This is a backtest conducted on the GBP/USD pair for the static mode of Forex Paris. Here, an initial deposit of $1000 was made, from which a total net profit of $6660.60 was generated over the period spanning from January 2016 to March 2021. 
The robot managed to win 534 trades during this backtest, which represents profitability of 99.07%. We expected to find some live trading results to compare the backtesting data with, but unfortunately, there aren't any. This raises some concerns about the robot's profitability because you simply cannot trust a system only based on historical performance.
As we know, decent historical performance does not necessarily indicate that the robot will be profitable in a live trading scenario. As such, we cannot say with confidence that Forex Paris can win you steady profits in the foreign exchange market.
Customer Reviews

On the MQL5 page, we have several customer reviews on this Forex EA. These are not verified by third-party websites, but we can see how the users have complained about suffering from consecutive losses. They have also expressed their dissatisfaction with the prepayment service. 
PROS
Backtesting data shared
Separate trading algorithms for EUR/USD and GBP/USD
CONS
Trading strategy not explained
No verified live trading results available
No money-back guarantee
Verdict
In the end, we would like to say that Forex Paris is a scam service that you definitely shouldn't consider buying. It is a newly launched system with no proven track record, so you have no way of determining whether it can be a success in the live market or not. You simply cannot risk your hard-earned money investing in a system that has nothing to show as proof of its performance.