Comparing its performance to a reliable highway truck, Forex Truck claims full compatibility with any broker. The Forex robot is devised to work on the Metatrader 4 and the Metatrader 5 platform. Does this automatic trading system allow your investments to flourish? Find out all about this new Forex trading system and our recommendation on using this robot.
Product Offering
Forex Truck website offers very little information about its developers and their location. We could see that it is powered by Forex Store, which also has several other Forex robots like FX Stabilizer Pro, XFX EA, etc. Other than this information there is no mention of the vendor anywhere on the website. The lack of transparency raises a red flag for this EA.
Forex Truck
| | |
| --- | --- |
| Type | Fully-automated EA |
| Price | $277 |
| Strategy | Not disclosed |
| Compatible Platforms | MT4, MT5 |
| Currency Pairs | USD/CAD |
| Timeframe | Not disclosed |
| Recommended Min. Deposit | $1000 |
Forex Truck is priced at $277. This includes a lifetime license for use of this system for any account, MT4 and MT5 compatibility, a user guide, and 24/7 technical support. A money-back guarantee of 30 days is offered by the vendor.
Trading Strategy
According to the vendor information on the strategy used, two blocks are used together to ensure trades end in profit. While the first block opens orders and identifies entry points, and uses a fixed lot size, the second block uses varied lot sizes in situations that require the increase.
The vendor does not precisely name the type of strategy used which makes it difficult to assess how effective the system is. Further, there is no mention of the time frame used. Only a single currency pair, USDCAD is focused on by this system.
We could not find any recommendation on the minimum amount that can be traded using this Forex robot. Although we are skeptical about the strategy's effectiveness given the ambiguity in explaining it, the vendor maintains that it can minimize drawdowns and ensure your funds are safe.
Trading Results
Forex Truck's official website displays historical data testing of the system (backtest) to help traders understand the effectiveness of the expert advisor. We were disappointed with the modeling quality of 90% used for the testing. This does not provide accurate details on aspects such as the spreads, commissions, etc. A 99% modeling quality would help in providing precise information.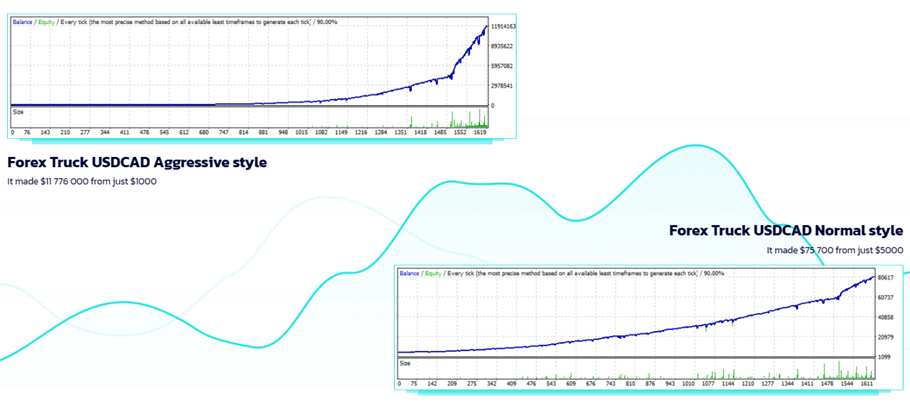 Plus, a real and live account (USD) of Forex Truck verified by the Myfxbook site is displayed on the main webpage.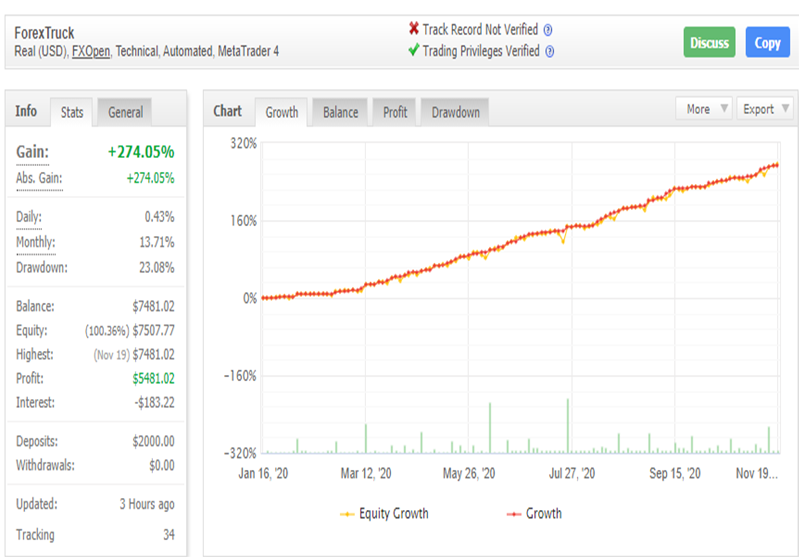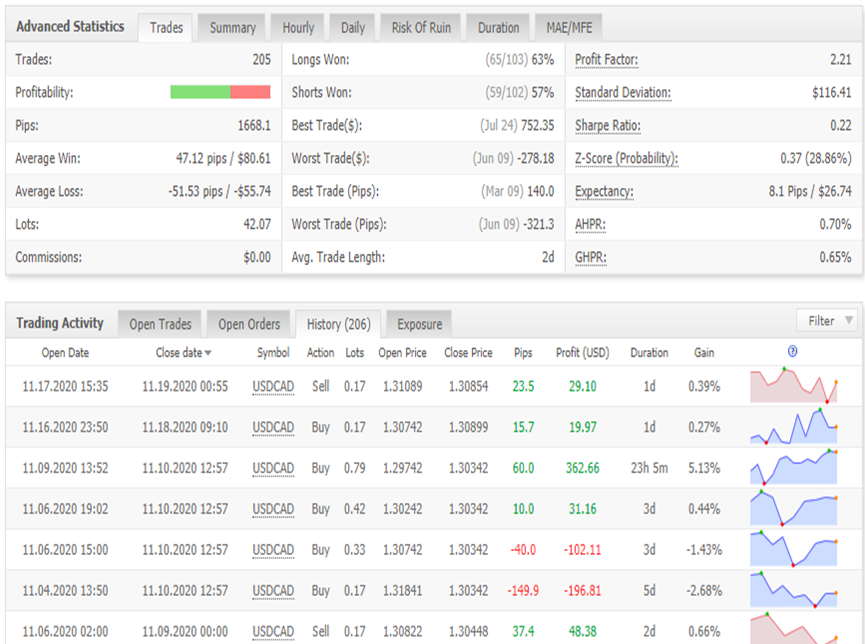 The gain is 274.05% with a monthly gain of 13.71 and a daily gain of 0.43%. A drawdown of 23.08% is worrying as it poses big risks that an average trader cannot think of. And, a total of 205 trades have been completed for a period starting from January 20 up until now. The profit factor is 2.21. From the trading history, we could see that the lots sizes are huge which can be too risky for the average traders as well as the professionals. 
Customer Reviews
We could not find user feedback for this Forex robot in any of the reputed sites, such as myfxbook, Trustpilot, etc. The lack of user feedback shows the low exposure level and reach this product has. It is also indicative of the fact that users have not found the robot system attractive and efficient enough to try it out and post the results. 
PROS
Live verified Myfxbook account
30 days money-back guarantee
CONS
Strategy not explained properly
Price is expensive
User feedback is not available
Verdict
Wrapping up our Forex Truck EA review, we are not satisfied with this Forex robot. The reasons for this are aplenty. Some relevant and important reasons include no vendor transparency, lack of proper strategy, and expensive price. Even the live account verified on the Myfxbook site does not have a verified track record, which is another red flag. The large size of the lots indicates that the strategy used comes with very high risk. We could not find any redeeming factors in the Forex robot making us refraining from recommending this automated trading system.