ForexSignals.com was founded in 2012 by trader Nick McDonald. It is an educational trading community that is primarily aimed to become the knowledge base for both beginners and more experienced traders. During the last eight years, it has become a leading educational platform in the Forex industry. Today it has 40 000 users that are served by nine trading professionals and educators. 
Though their name suggests a signal providing service, it is a trading educational community where all aspects of the trading can be learned similarly to ForexMentor.com. Inside the trading room, the educators will be available to answer all your questions. The service is committing that it can make you a successful trader. It shows you exactly how to trade and how to identify the trends. They are creating the signals that you need to follow. Also, they teach you the methods they use for generating the signals. So, the users have an opportunity to use the signals and learn the strategy that generated the signal.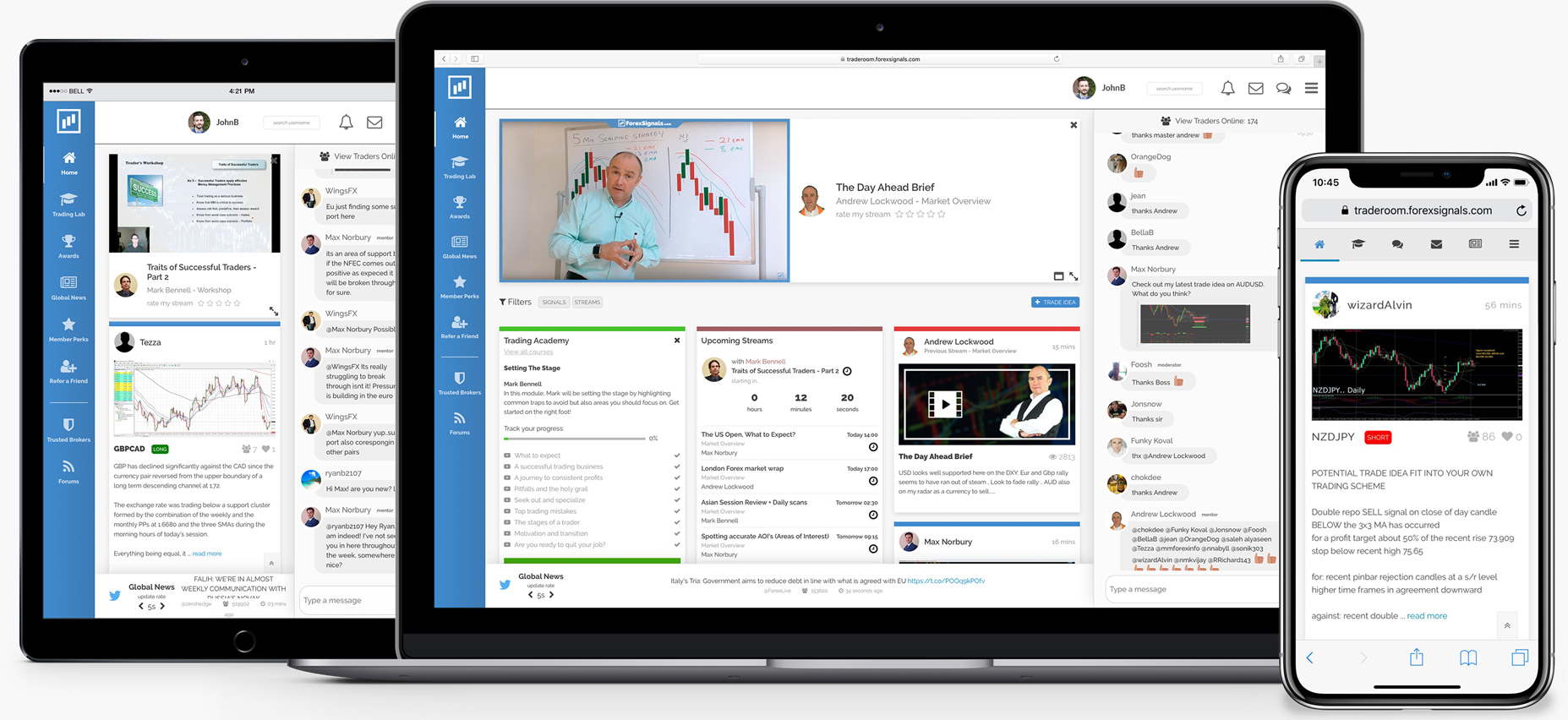 ForexSignals.com Features
A user has an opportunity to learn three different trading strategies: Naked trading strategy, FX propulsion strategy, and Trend surfing strategy. The Naked trading strategy is a swing strategy without the indicators based on price action and on support and resistance levels that can be used for all trading instruments. It comes with an EA that will help you to better find the setups. FX propulsion strategy is a scalping strategy that can be used for all trading instruments. It uses the indicator that shows the trend direction and comes with an EA that shows the trends over different time-frames in the table. Trend following strategy follows the trend and it is created to provide long-term trading opportunities and it can be used for all trading instruments. For all strategies, ForexSignals.com provides educational videos. Moreover, along with the strategies, and EA is provided and it will assist you in managing your money. 
When you learn the strategy Daily live streams will help you to spot the strategy setups. Sometimes strategy patterns are obvious but in some cases, it is difficult to spot the setup especially if you have just learned the strategy. Within the community where you will find more experienced traders and mentors, it will give you more confidence to enter the trades generated by the newly acquired strategy. Mentors analyze the markets in every session and they will inform you about the trading opportunities. 
Live messaging is available to community members to interact and to share their thoughts about the market and the trading opportunities. Global news service is primarily important to fundamental traders who trade based on news, however, technical traders should also pay attention. The news feed is available in the trading room and it alerts you when the news appears. The news feed is also available in their tweeter account. 
ForexSignals.com have their video library where you can find many educational videos that can be very useful for the beginners. These videos can be also found on the company's Youtube channel that has 150k subscribers. The community organizes a monthly contest where $1500 price is shared between the top three traders. To winners are determined on a combination of earned pips, profit, draw-down, ability to follow strategy and money management rules. 
Pricing
A monthly subscription costs $97 and it includes live trading room access, pro trading videos academy, daily live trading sessions, trading signals, weekly hot-picks, global news stream, interactive workshops, and access to pro-trading tools. A six-month subscription costs $297 and includes everything that is in a monthly package, plus exclusive brokerage access, personal trading feedback, and one to one with the mentor. A yearly subscription costs $567 and includes everything that is in a six-month subscription, plus a direct line to mentors, Trend Surfing EA and license key for Forex Tester 4. Free 7 day trial is available while further 7 days can be refunded if you are not satisfied. 
---
Verdict
ForexSignals.com is an educational platform that has been in the market for eight years. It counts over 40 000 subscribers and offers in-depth educational courses, access to professional trading tools, and professional mentoring. Their trading room is also a social and informational platform. The service is aimed for less experienced traders and it is available on a subscription basis with 7 days free of charge trial period.