FX Premiere provides many services like signals, access to the forum, news feed, educational courses, and others. The company runs its business from Belize, where its headquarters are. For more details, please, read an FX Premiere review.
Product Offering
The signals have a solid list of the features:
There's access to over 50 Forex signals from different sources daily.

The system generates signals for 15 Forex pairs and gold.

An average signal frequency is from 2 to 15 ones daily.

They have the same format: Entry Price, Stop Loss, and Take Profit levels.

The system also provides approximately five Gold signals every day.

Trades are protected by one Stop Loss and have several Take Profits to make money all the way.

There's a pip counter in the channel.

The signals can be bought by Card and PayPal.

We have to provide our card and personal information if we're going to pay on the site.

The subscription can be canceled anytime.

Standard and Premium packages are featured by a download-free BUY/SELL indicator.

The signals are the execution orders.

The vendor provides 24/7 welcome support.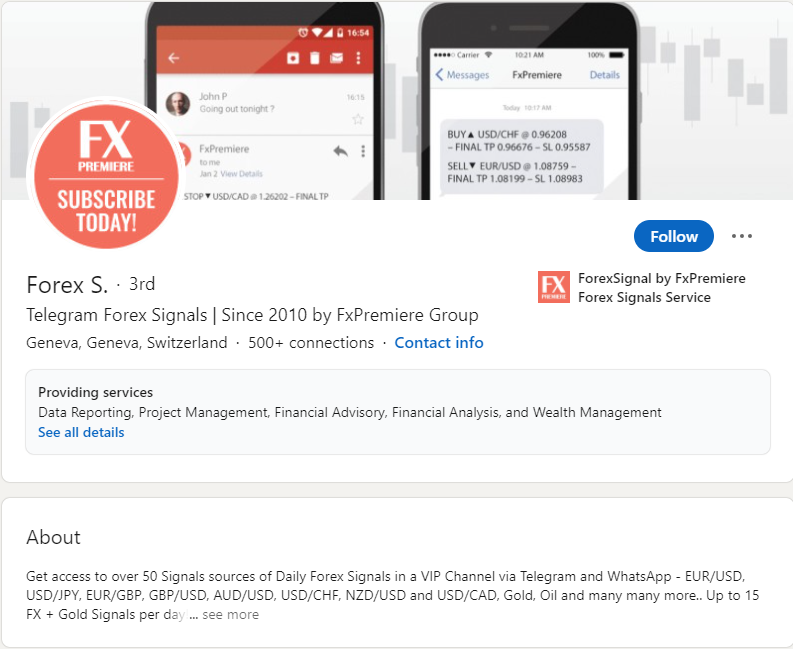 FX Premiere has an account on LinkedIn.

We are allowed to write them in the Live Chat to talk to a representative.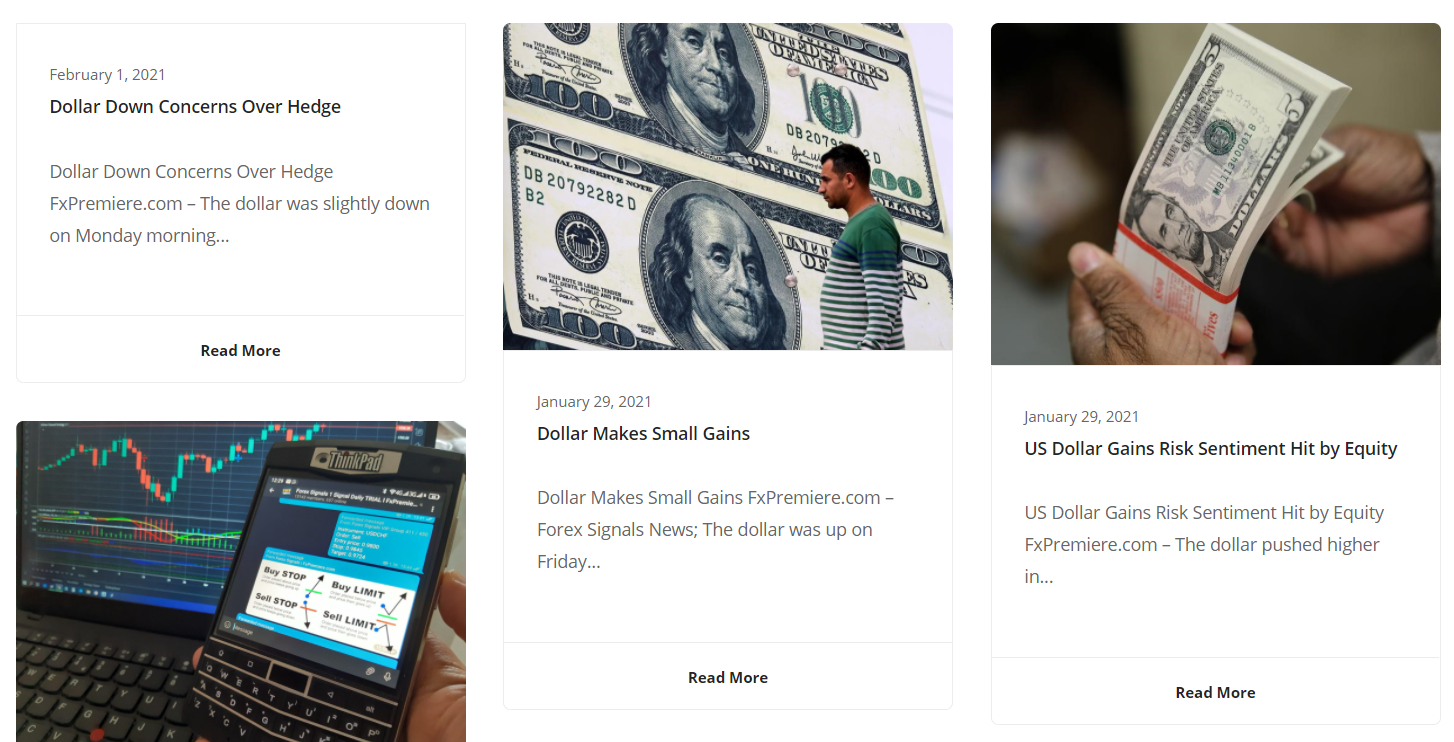 The blog has some posts that are published quite often.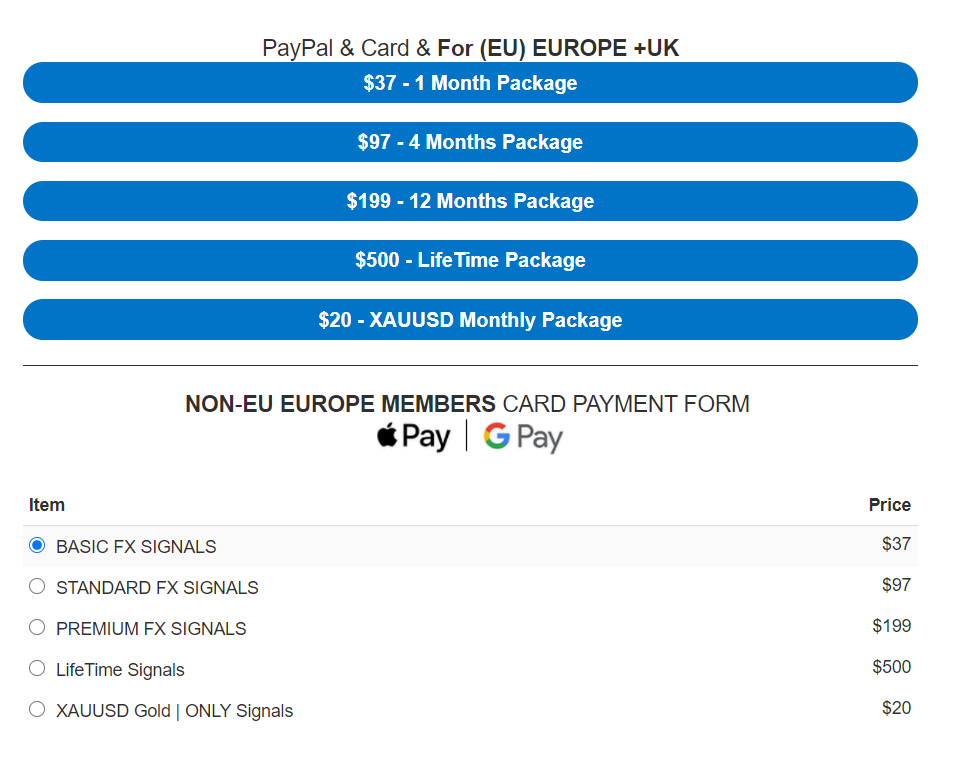 There are five packages: One, Four, Twelve months, Lifetime, and Gold. The one-month Basic FX Signals pack costs $37. The four-month Standard FX Signals pack costs $97. The annual Premium FX Signals pack costs $199. The Lifetime pack costs $500. Signals for Gold we can buy for $20. It's low pricing for Gold signals.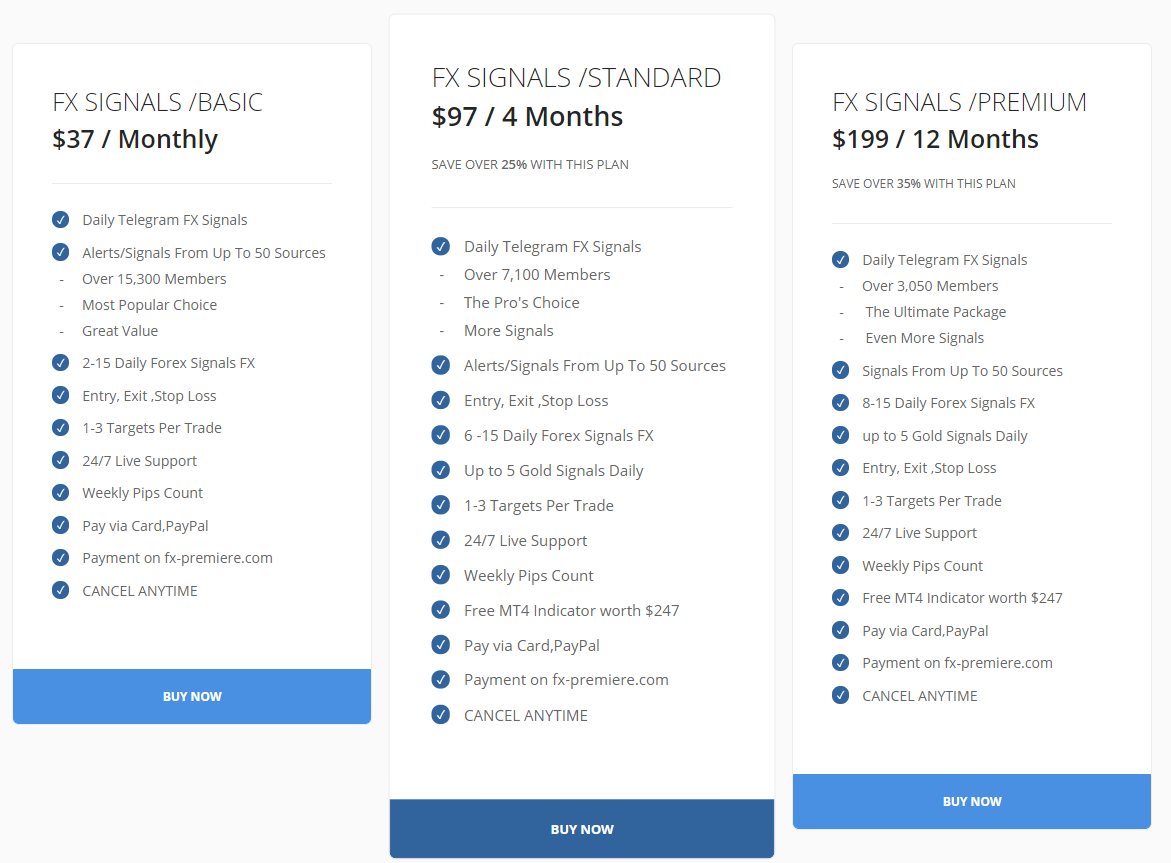 The pricing is completely acceptable, and it correlates with similar services across the web. 

We can buy only Gold signals for $19.99, as was mentioned before.
Trading Strategy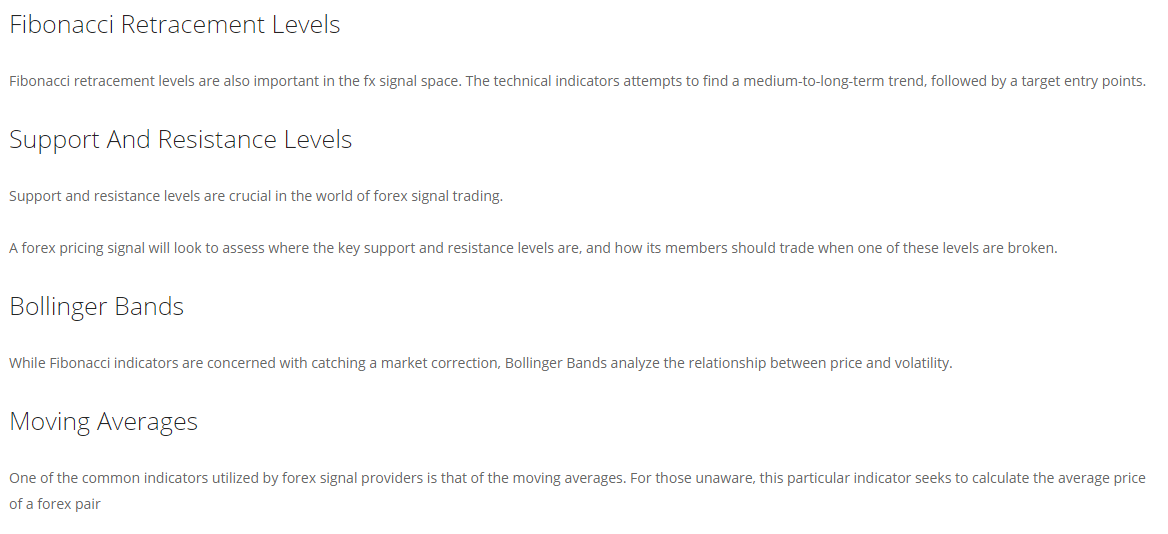 There are packages of indicators based on which these signals are generated: Fibonacci Retracement Levels, Support and Resistance levels, Bollinger Bands, Moving Averages.

They're trend-based indicators. So, most signals will be trend-trading ones.

Of course, high impact news affects trading activities.
Trading Results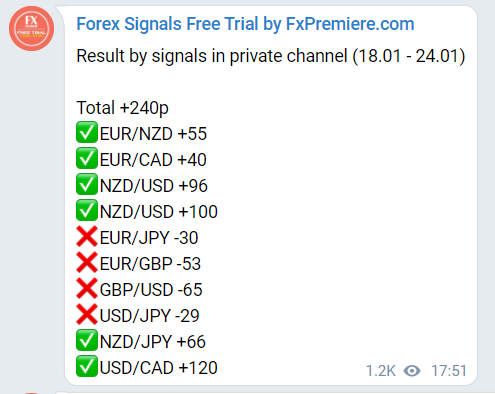 The vendor hasn't published a gained pips report for the last week of January 2021. They are results from the pre last one. As for over 13000 subs channel the trading results had little views – 1200.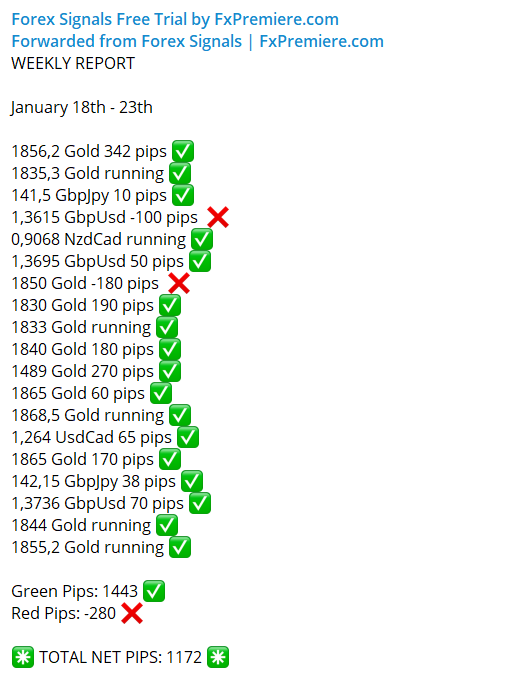 This report took the same period of time but had other symbols and profitability. So, it's unclear where the right one is.
Customer Reviews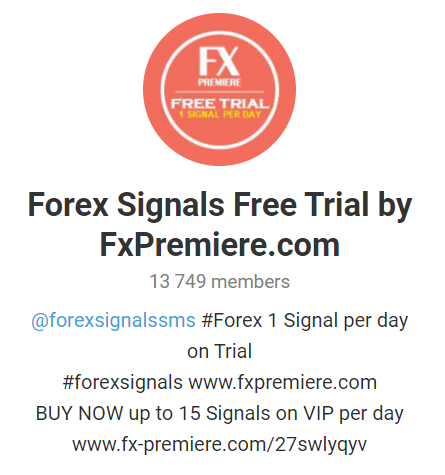 The company has a Forex Signals Free Trial Telegram channel with 13749 members.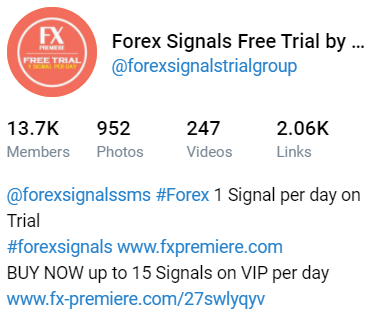 It has 13749 subscribers, 952 photos, 247 videos, and 2060 links.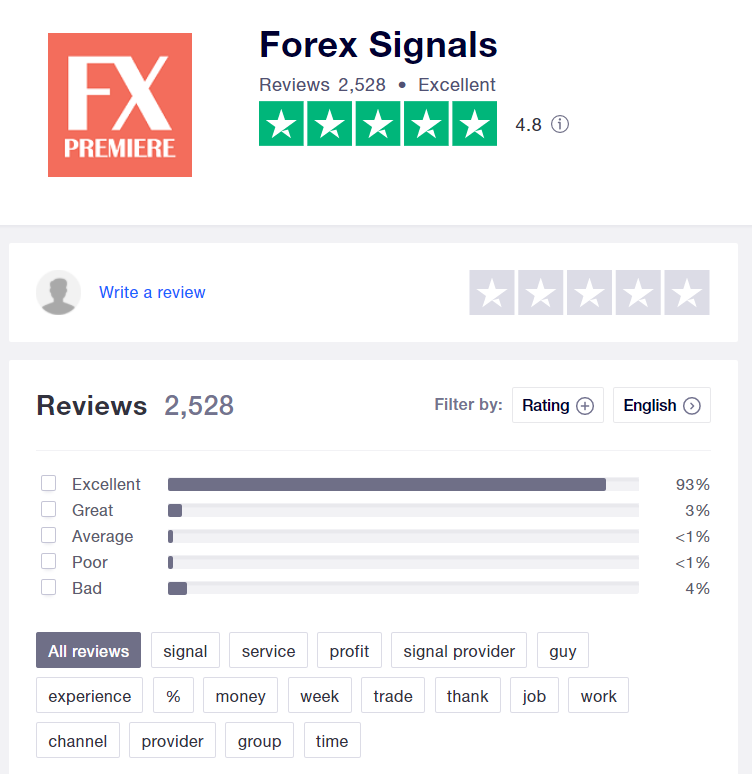 The company has a solid page on Trustpilot with 93% of the 5-star reviews, and the average score equals 4.8, based on 2528 reviews.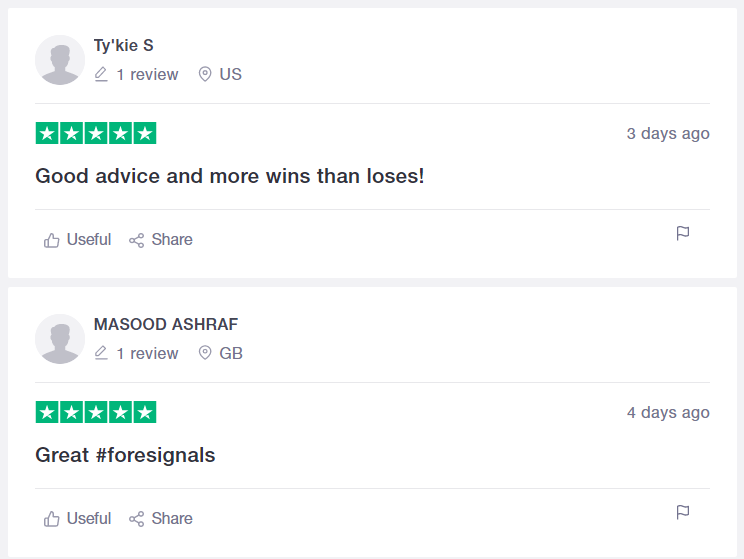 The last posts were from faceless people with a single review on the board.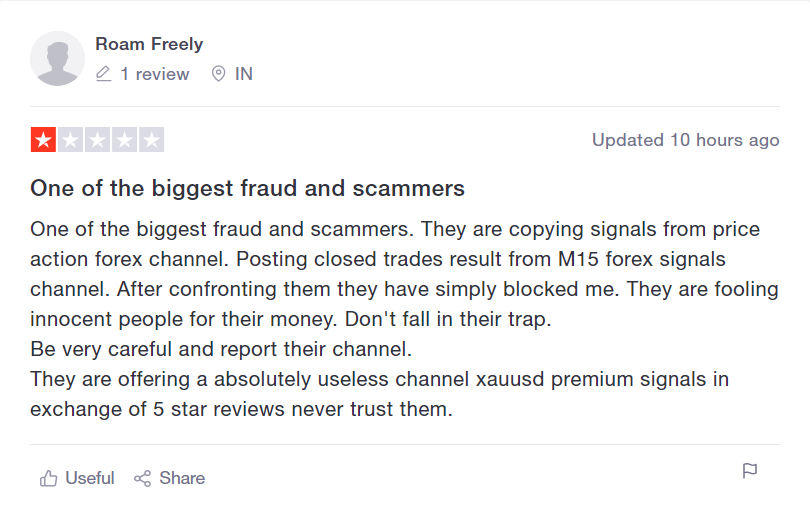 These signals aren't generated by a company and most likely were bought from providers.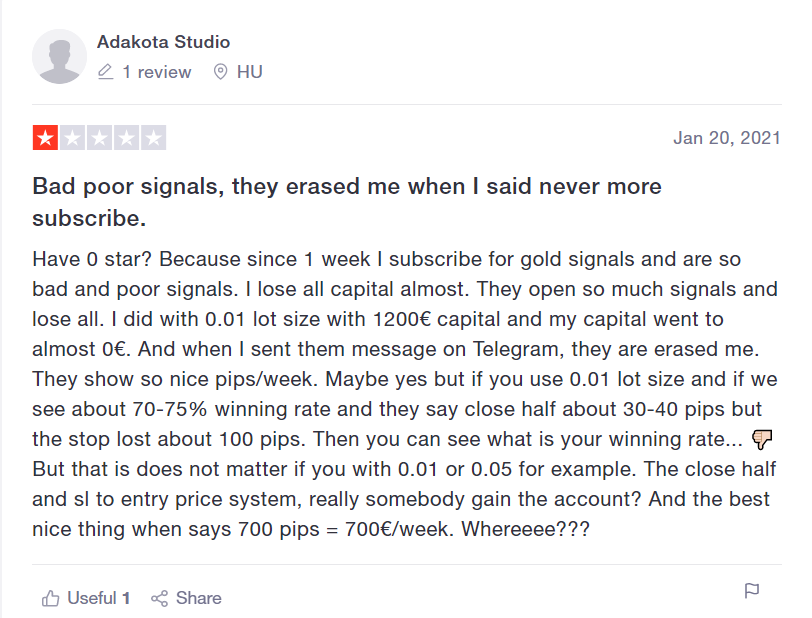 As we can see, the Gold signals have poor quality and forced the investor to lose a significant amount of funds.
PROS
There are indicator explanations
The developers created a channel to deliver Free signals
This channel has over 13000 subscribers
Affordable pricing
CONS
No team revealed
No settings explanations provided
No money-management advice given
No copy-trading software provided
No backtest reports provided
No verified trading results provided
There are only pip counters as trading results
Trustpilot page has much negative feedback
Verdict
FX Premiere is a mediocre signal service. On the one side, we have strategy explanations, but at the same time, we don't have backtest reports and trading results. Lacking verified trading results forces us to think that the vendor doesn't make profits trading these signals. It's a huge con because if they don't trade them, they don't know how good they are and if the signals cover spreads, commissions, swaps, and so on. Pricing is not sky-high, but there's no refund policy provided. Customer reviews inform us that the developers most likely don't generate signals on their own and buy them from third-party companies and analysts.