With the advent of automation, the world of Forex trading has transformed. Now you have expert advisors and robots that can place trades on your behalf using pre-programmed strategies. But, because there are so many companies offering such trading systems these days, it can be difficult to decide which one you should trust.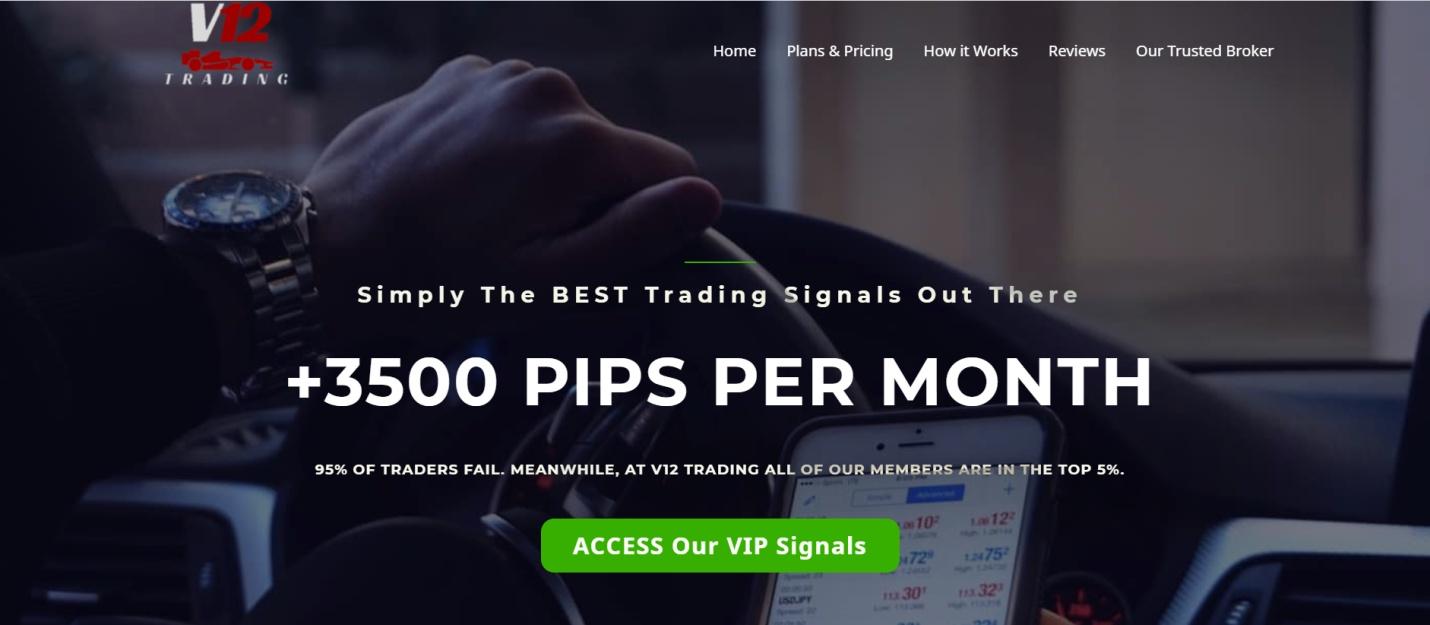 V12 Trading is a Forex signal provider that promises more than 3500 pips every month. It claims that its members are the cream of the Forex trading community and that its win rate is as high as 88%. While these claims are quite exorbitant, it is necessary to perform an in-depth analysis of each aspect in order to verify them.
Product Offering

V12 Trading started out in 2019, but we still don't know anything about the traders or developers who are working with the system. No information is provided about its history or location, so we can say it doesn't give us much in terms of vendor transparency. When Forex traders invest in a signal provided system like this, they want to make sure that the people sending them are qualified and experienced and V12 Trading has no way of ensuring that.
The website provides two separate email addresses for emergency support and general inquiries. There is also a phone number you can call and a Telegram group you can join to get more information. Trading alerts are sent through the Telegram app and you can use this information to place trades using the MT4 platform.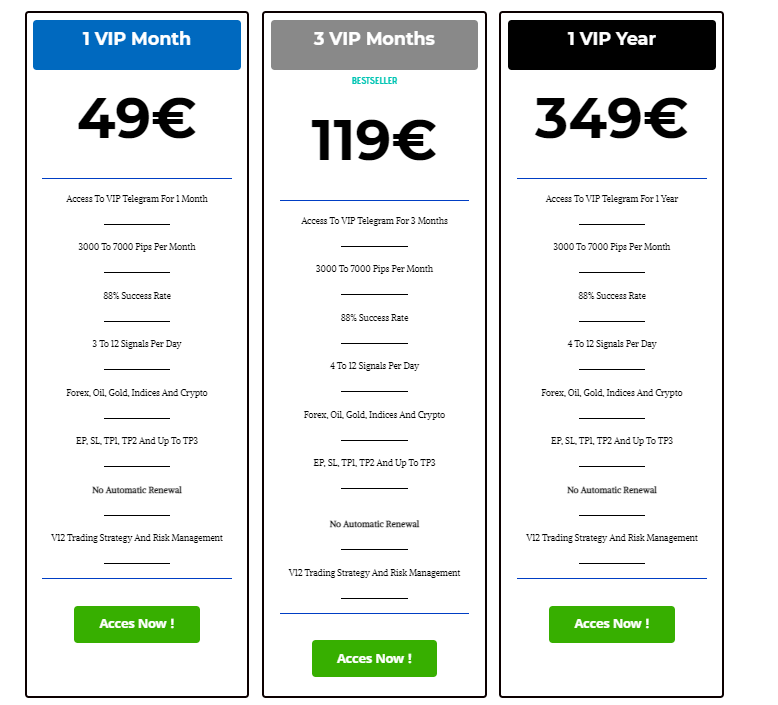 V12 Trading offers three plans called 1 VIP Month, 3 VIP Months, and 1 VIP Year, and the prices for these are 49 Euros, 119 Euros, and 349 Euros, respectively. The features offered by these plans are more or less the same, with the last two providing 4-12 signals per day as opposed to 3-12 signals for the 1st one. No money-back-guarantee is offered, which tells us that the company is not ready to stand behind its promises.
V12 Trading
| | |
| --- | --- |
| Type | Fully-automated  |
| Price | $49 |
| Strategy | Pip Locking |
| Compatible Platforms | MT4 |
| Currency Pairs | All |
| Timeframe | Not disclosed |
| Recommended Min. Deposit | 250 Euros |
| Leverage | 1:400 |
Trading Strategy

When it comes to the trading strategy and methodology of V12 Trading, there is much ambiguity. On the website, we found a section where the strategy is mentioned as pip locking. It tells us that with every trade, there is a dynamic stop loss that you need to adjust as the trade advances from one take profit point to another. 
Hence, more than one take profit is provided by this system and upon reaching each of these, the stop loss needs to be modified to confirm the profits. This is similar to a manual trailing stop and while we appreciate the company explaining all this, it doesn't tell us much about the actual strategy. 
Since V12 Trading gives us very little information about the developers and trading history, we expected it to furnish some details about the strategy. Technical details are something every Forex trader looks for, so this comes as a major disappointment. 
Trading Results 
Verified trading results are crucial when it comes to assessing the efficiency of a Forex signal provider as they tell us about the profitability, win per trade, profit factor, etc. For V12 Trading, we only managed to find some unverified screenshots showing positive results. Since these are not verified by a third-party website like Myfxbook, there is no way to tell whether they are authentic or not.
If V12 Trading wants to be taken seriously in the Forex signal provider industry, they should start sharing their Myfxbook trading accounts. This would tell us that it is an authentic service that is capable of delivering results.
Customer Reviews
On the V12 Trading website, we found a screenshot of a chat where a user has praised the services offered by the system. But, other than that, there are no user reviews to be found on third-party websites like Trustpilot or Forexpeacearmy. This is a major red flag because it tells us that this company does not have much of a reputation or that not many people have been helped by this system.
PROS
Flexible pricing plans
CONS
Lack of vendor transparency
No verified trading results
Lack of information about the strategy used
Verdict
While V12 Trading makes a decent presentation on the website about what the service is about, there is not much else for a Forex trader to go on. It has several shortcomings, like lack of vendor transparency, no strategy insight, absence of verified trading results, etc. All of this, combined with the fact that there are no user reviews about V12 Trading, tells us that this system is not to be trusted.