FXEURGrid is a Forex expert advisor, which is exclusively focused on the EUR/USD trading pair. It is a grid trading application, which has been termed as a high risk approach by many in the forex market. The website, which appears decent, does not provide any clear information related to the vendor or the developers behind it. This can be considered as an immediate red flag, as transparency is a valued virtue when it comes to forex EAs.
On some further inspection, we found out that the developer team behind this application has also developed other Forex related applications such as ForexBot28. However, this remains unproven and unverified and the website does not provide any extra information to clear this doubt.
Product Offering
Strategy: Grid Trading
Timeframe: Multiple
Pairs: Only EUR/USD
Price: $220
Customer Support: Free, 24/7
---
The FXEURGrid robot is priced at $220, which includes a lifetime license, a User manual, free updates as well as prompt customer support. One of the highlights of this product is the 30-day money back guarantee scheme.
Trading Features and Strategy
As apparent from the name of the fx robot, it employs a grid trading strategy, which is one of the riskiest trading approaches in the forex market. Along with martingale trading, it is known for blowing up trading accounts in no time. However, the vendors point out that a special drawdown limitation function. This feature ensures that the system does not compromise a trader's entire account. However, just like the trading strategy, this feature is also not explained in depth. The application also provides three different modes: Safe, Normal and Aggressive.
Trading Results
Accounts on authoritative sites such as myfxbook or fxblue are the accepted norms expected by any prospective customer. Backtesting results on such sites help to solidify the legitimacy of a particular application.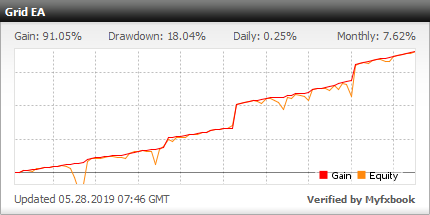 In this case, the vendor provides a mxfxbook account which has been active since September of last year. However, this account is a live account, which means not much real money has been invested into the software. This is of course an area of concern.
It shows a gain of 88% with a drawdown of 18%. The average trade duration is 4 days.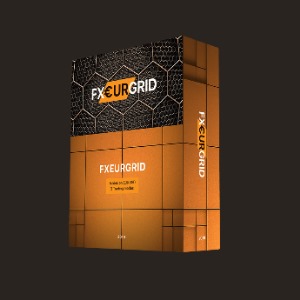 Verdict
Despite some good features, this forex robot does not have the required level of transparency that prospective customers want. No information related to the ownership, the trading strategy and other information related to its trading history is available. Thus, it's very difficult to ascertain the legitimacy of the application at this point. Because of the prevalence of frauds and other Ponzi schemes, investors and customers have to be really careful while selecting such applications. Thus, traders are advised to conduct their own independent research before they approach FXEURGrid.