FxPro Dragon is an FX robot that works independently and with other EAs as per the vendor. This FX EA identifies the right moment for opening orders instead of opening frequent orders. Although this MT4 tool is capable of working on multiple currency pairs, the vendor claims to have chosen the pairs that work best to ensure stable profit.
Product Offering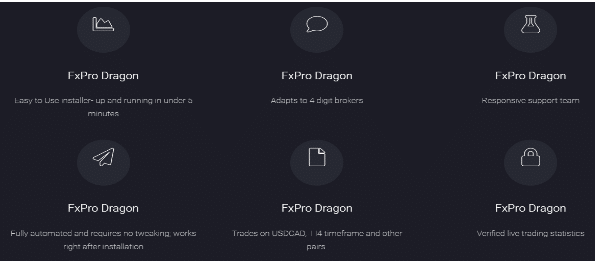 Claimed to be an EA that is devoid of any emotional stability, this FX robot works in a fully calculative environment. The vendor assures that you will have full control of the system without putting in much effort allowing you to spend on other important tasks. 
The website has only the bare minimum info needed for a trader looking to purchase an FX robot. Explanation of the EA, its features, live results verified by FXBlue, backtests, and an email address for contact are all present on the home page with no additional sections.
We are disappointed to note that there is no info on the developer or the team behind this EA.  The customer support options are also inadequate with just an email address provided for contact. The absence of vendor transparency raises a red flag. 
FxPro Dragon
| | |
| --- | --- |
| Type | Fully-automated EA |
| Price | $129 |
| Strategy | N/A |
| Compatible Platforms | MT4 |
| Currency Pairs | USD/CAD |
| Timeframe | H4 |
| Recommended Min. Deposit | N/A |
| Recommended Deposit | N/A |
| Leverage | N/A |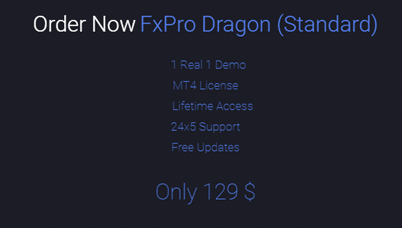 Priced at $129 for the standard package, this EA comes with one real and one demo account, an MT4 license, free updates, and lifetime access. 24/5 support is also included with the package. A premium package is also on offer at the rate of $169 and it includes 3 real and 3 demo accounts. The vendor does not offer a money-back guarantee which makes us suspect the reliability of the EA. 
Trading Strategy
No explanation is provided for the trading approach used. Instead, the vendor claims that the EA uses detailed facts and other data for its analysis. The automated Forex trading approach along with a programmed analytical system can help in making the Forex signals take over the trade orders. You need to provide the scales, parameters, and limits for the transactions after which the signal handles all your transactions. USDCAD is the key currency pair this EA focuses on.
Important features that the vendor claims this FX EA to have include, easy installation guide, adaptation to 4-digit brokers, support team, and does not need tweaking for better trade entries.
Trading Results
Backtesting results are present for this MT4 tool. Here is a screenshot of the strategy tester report done for the USDCAD pair on the H4 timeframe.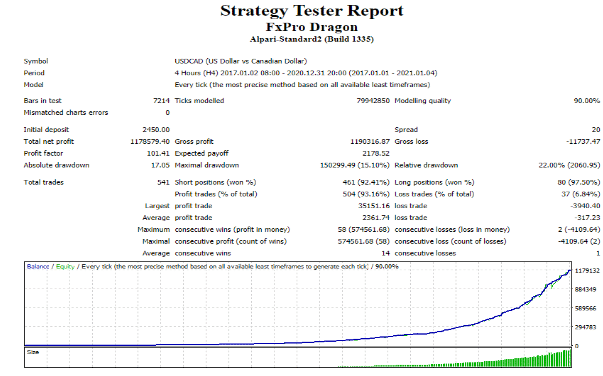 From the above screenshot, we can see that for an initial deposit of 2450, a total net profit of 1178579.40 is achieved for the testing done from 2017 to 2021. We are not satisfied with the 90% modeling quality as it does not provide info on the spreads, slippage, commission, etc. The account shows a profit factor of 101.41 and profitability of 93.16%. A drawdown of 15.10% is present. 
A real account trading results verified by the FXBlue site is present. Here is a screenshot of the trading stats and statement.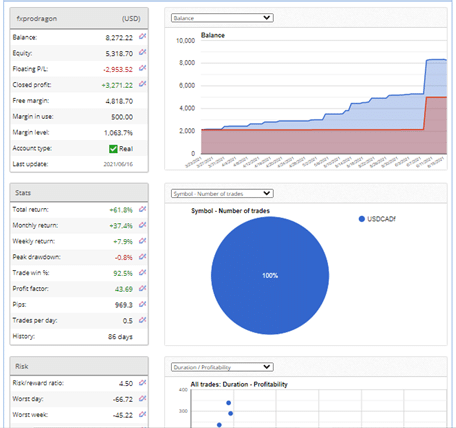 A balance of 8,272.22 and equity of 5,318.70 are present for the account that started trading in March 2021. The total deposit up until June 2021 is 5001. A total profit of 61.8% and a peak drawdown of 8% are present with a profit factor value of 43.69. A total of 969.3 pips are present for this account. 
While the drawdown is low, the total returns are not as high as shown in the backtesting results. Further, the profitability is not comparable to the high percentage seen in the backtests. A high risk to reward ratio of 4.50 is present which further confirms that the strategy used is not effective.
Customer Reviews
We could not find feedback for this FX EA on trusted sites like Forexpeacearmy, Trustpilot, etc. We prefer such sites as they provide an unbiased view of the system. We can find about the performance, support, and other key factors related to the MT4 tool. The absence of user reviews indicates this is not a popular ATS.
PROS
Fully automated system
Verified trading results
CONS
Strategy is not disclosed
Small sample size
High risk-reward ratio
Vendor transparency is not present
Verdict
FxPro Dragon is an ATS that claims to provide stable profits with its automated trading algorithm. Our analysis of the FX EA reveals several shortcomings that indicate this is an unreliable system. The lack of explanation of the trading approach, absence of vendor transparency, poor results in trading performance, and absence of money-back guarantee are definite indicators that this system is not trustworthy.