The presentation of an AX Trader trading advisor was published a week or so ago on LeapFX. It looks like it's the ultimate robot. The main statement informs us that "Get This Powerful NEW High Frequent Trading Currency Robot That Can Hand You Up To 39% Profit Per Month AUTOMATICALLY." We can't and don't like to trust it blindly.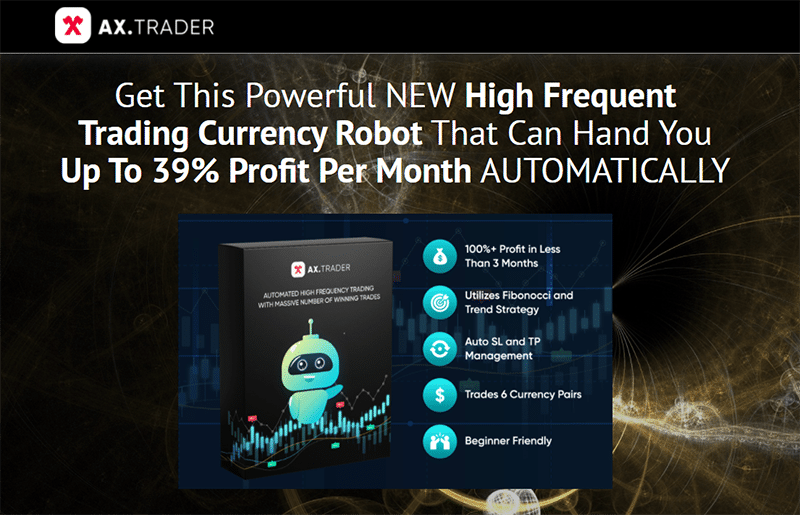 Product Offering
There are approximately ten lines provided about the system and its features:
The advisor can execute deals automatically.

The robot allows trading with EURUSD, GBPUSD, AUDUSD, USDCAD, USDJPY, and USDCHF cross pairs. 

We can use it on the MT4 trading platform.

The monthly profit can be up to 39%.

We have a built-in news detection technology that aids in profiting from extreme volatility. 

We can rely on an installation guide and support.

There's auto money-management applied.

The robot works well with the default settings. We need to customize nothing.

The system can manage all open trades from calculating entry points to closing deals.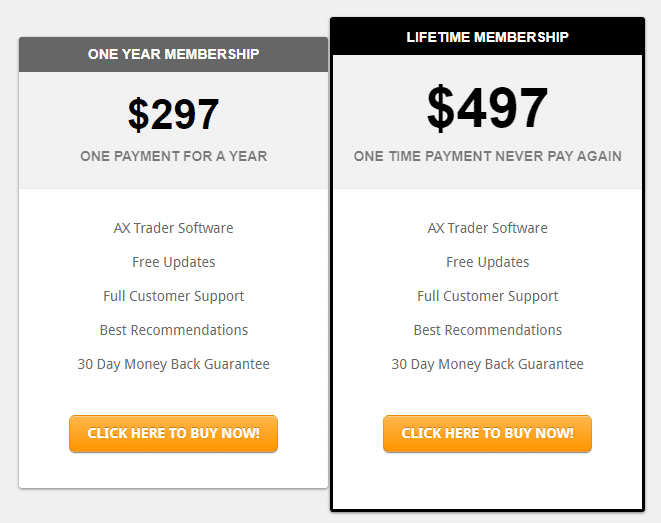 LeapFx standardized their offers. This one is not an exclusion. The 12-month subscription costs $297. The one-time-payment license costs $497. The package includes AX Trader Software, free updates, full customer support, best recommendations, and a 30-day money-back guarantee. 
Trading Strategy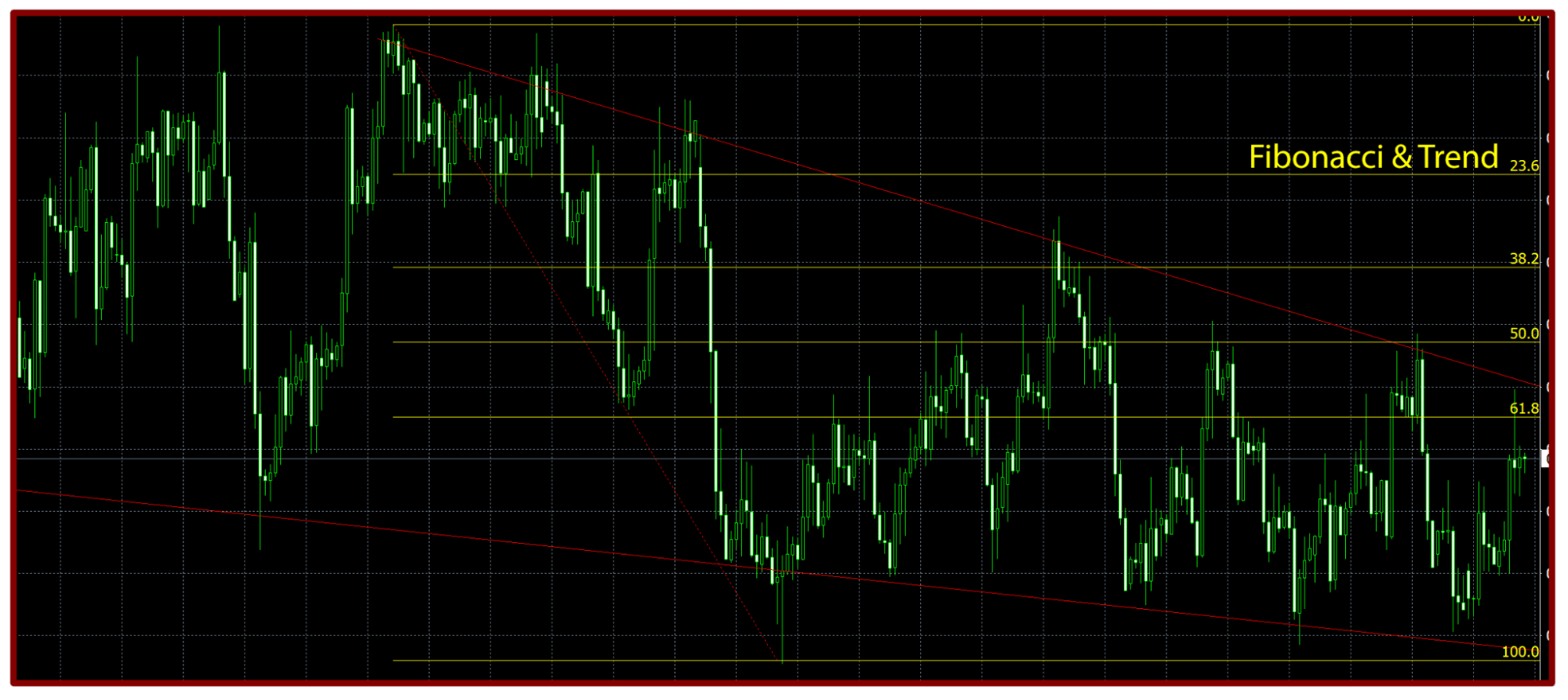 "AX Trader is engineered to determine the direction of the overall trend while dynamically adjusting its entry points utilizing data from Fibonacci calculations."

From this screenshot, we should be convinced that the system works with Trend and Fibonacci strategies, but it's not clear.
Trading Results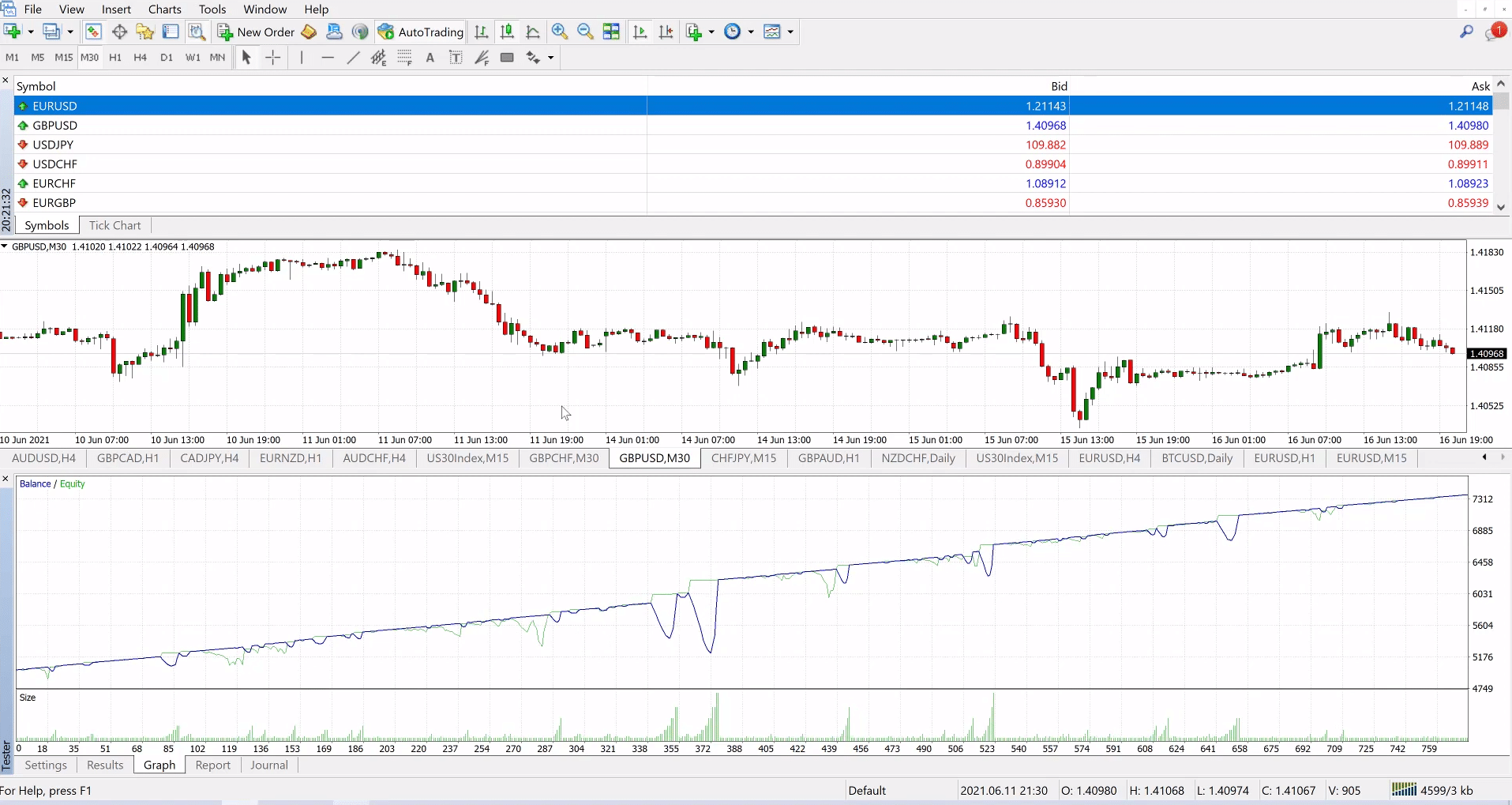 We have a video with how the backtest report was formed but without a final table with details.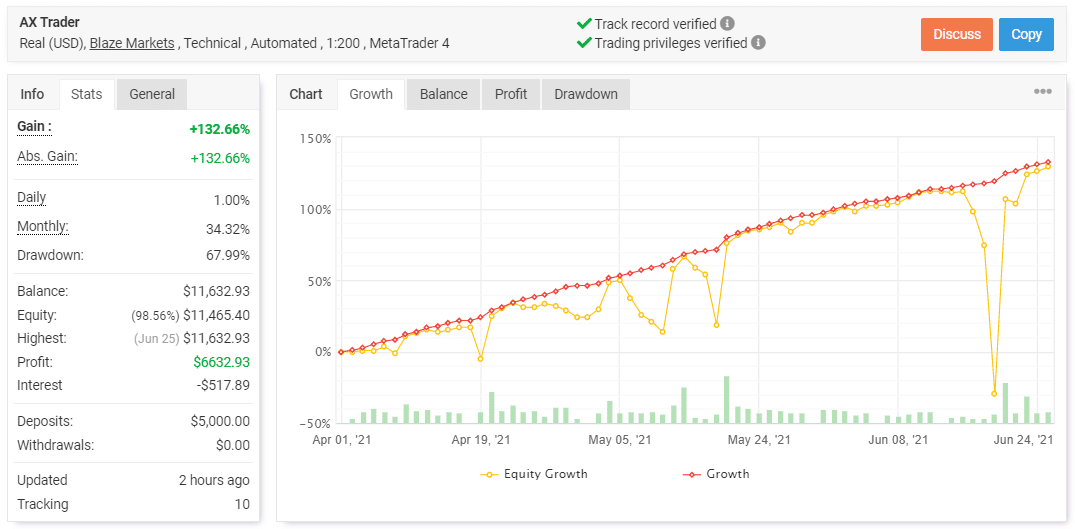 The advisor runs a real USD account on the Blaze Markets broker automatically. It's a weird choice of a broker. The robot works automatically with 1:200 leverage. The platform is MetaTrader 4 platform. The account has a verified track record and trading privileges verified. The account was created on April 01, 2021, and deposited at $5,000. Since then, the absolute gain has become 132.66%. An average monthly gain is 34.32%. The maximum drawdown is sky-high – 67.99%. The account is tracked by 10 people.

The advisor has traded 5821 orders with only 4377 pips. Since our last visit, the account has lost 1700 pips. An average win is 8.10 pips when an average loss is -27.11 pips. The win rate is 80% for Longs and 78% for Shorts. An average trade length is 13 hours and 34 minutes. The profit factor is 1.63. 

We can trade six currency pairs. GBPUSD is the most traded cross pair – 1358 deals with $1640 of profits.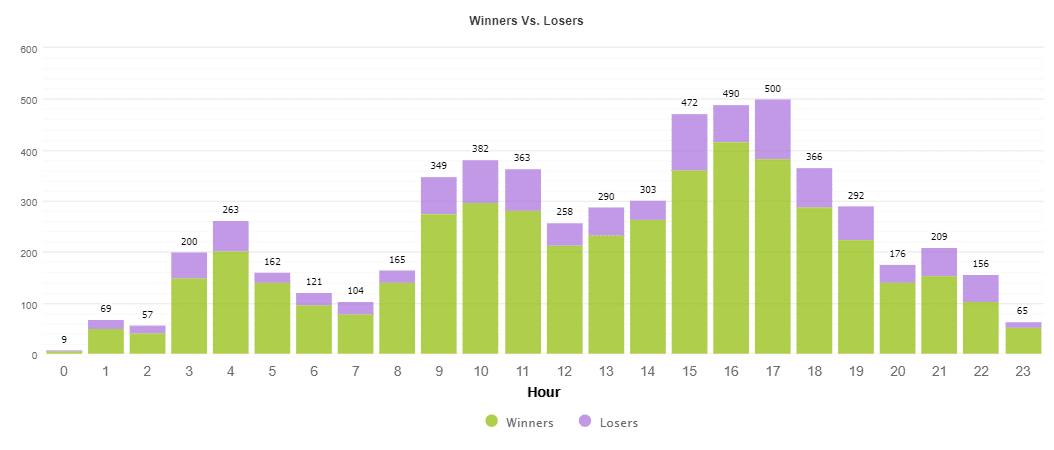 The advisor focuses on trading opening hours of Asian, European, and American sessions.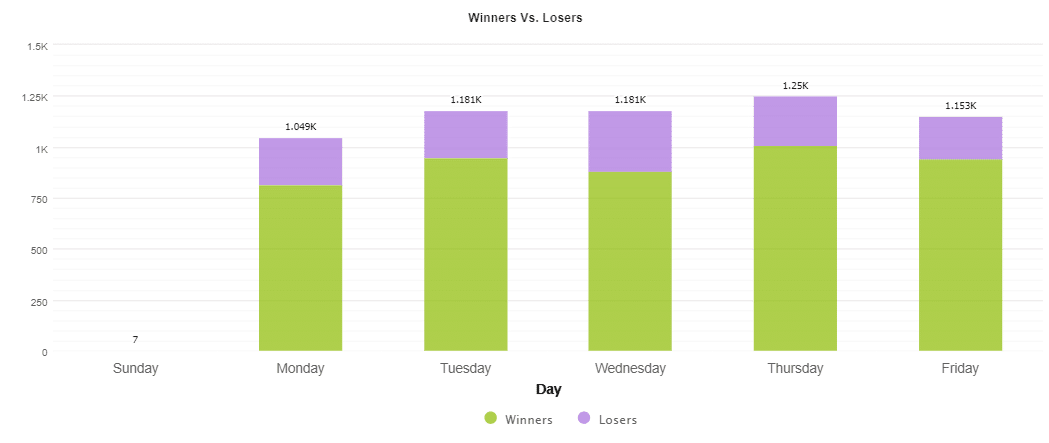 It trades almost equally during a week.

The advisor runs the account with acceptable risks to the balance.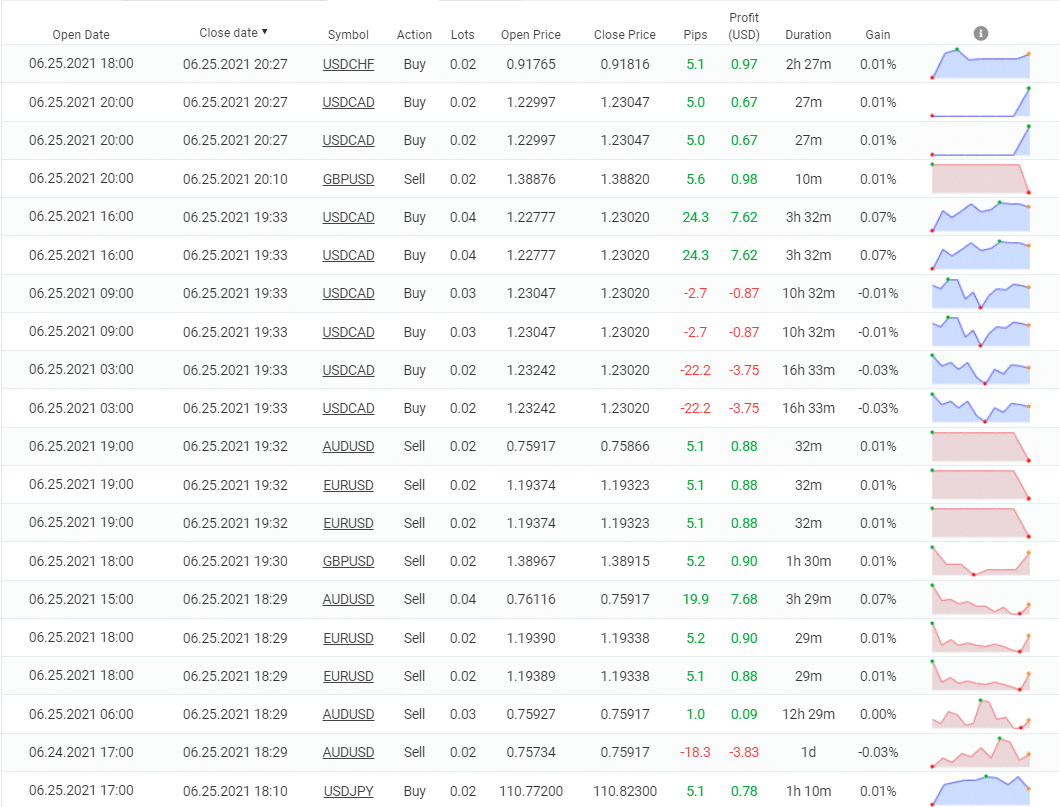 It looks like a combination of Scalping and Grid with Martingale strategies.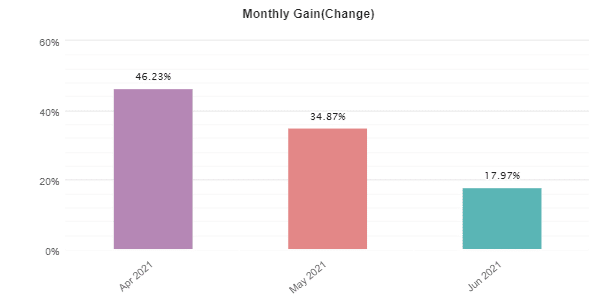 The first two and a half months are profitable. 
Customer Reviews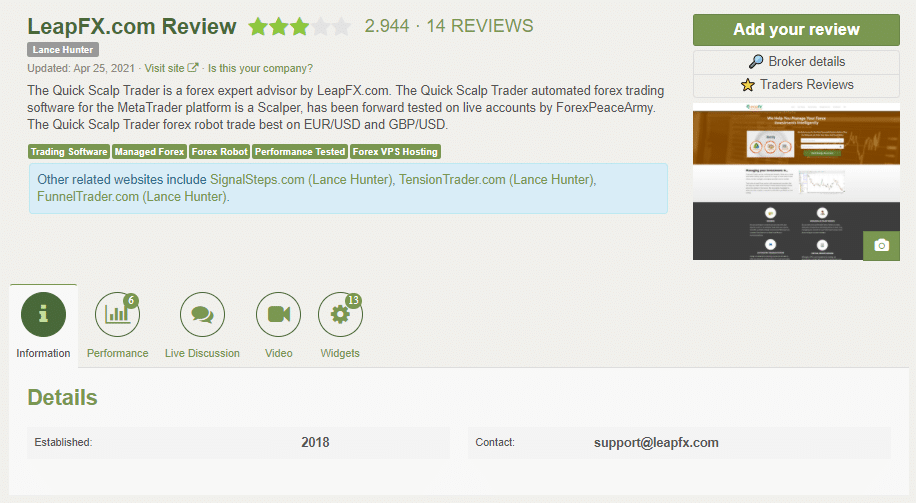 We have a page of LeapFX, the mother company, on Forex Peace Army. The final score is 2.944 based on 14 reviews.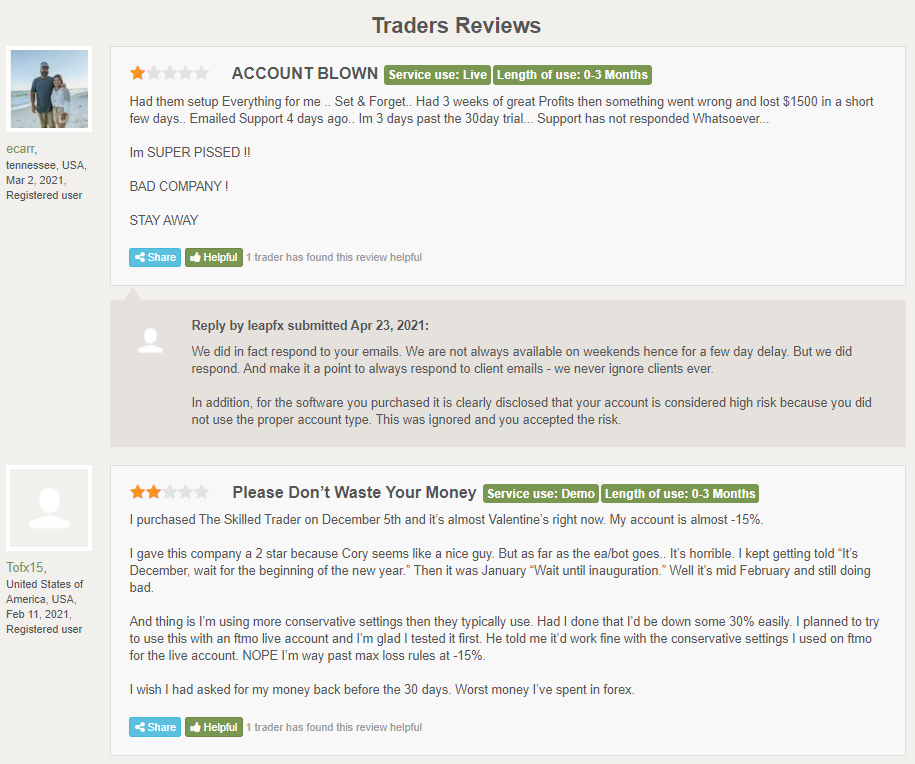 We have nothing written about AX Trader. The last comments just inform us that the people couldn't manage to be profitable with this system.
PROS
The quiet-known robot company - LeapFX
Real-account trading results provided
A 30-day money-back guarantee provided
CONS
No settings explanations provided
No risk advice or money-management advice given
No backtest reports provided
The system is too young to tell about its trading results for sure
We have no testimonials about the system
Verdict
AX Trader is a trading solution of LeapFX. The robot was released several weeks ago and had several months of real-account trading results. From them, we know that the robot executes Grid with Martingale, probably, on the Price Action strategy. We have no testimonials and comments about how the system works on client accounts provided.