For traders who are not comfortable with overnight risks and long-term trading, scalping offers a definite advantage. But, not everyone can make profits with this style of trading as it needs active participation. Fortunately, the scalping robots help eliminate this criterion with the automated trading setup.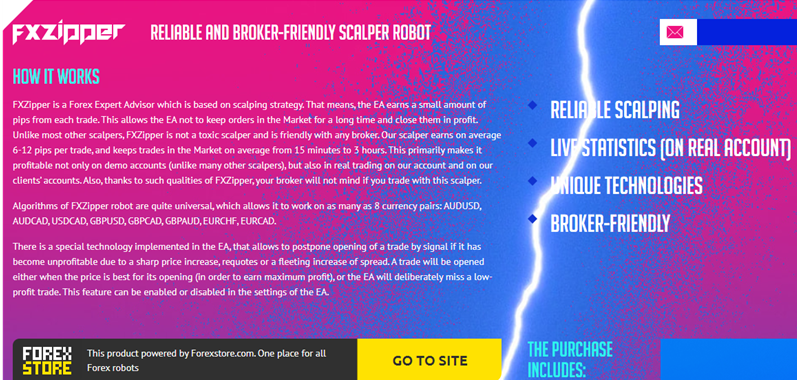 FXZipper belongs to the scalping category of Forex robots. Claiming to be a safe scalper that is compatible with any broker, this system assures profits on demo and real accounts. This FXZipper review gives a full-fledged analysis of the automated Forex trading system, enabling you to make the right choice of EA.
Product Offering
As one of the Forex Expert Advisors focusing on scalping strategy, FXZipper guarantees reasonable profits in pips from every trade. An average of 6 to 12 pips can be achieved with this system. The duration of the trades made ranges from 15 minutes to 3 hours. Due to the short timeframe, the expert advisor works well with demo accounts and real accounts.  
Compared to other Forex robot systems available on the market, the website presentation of this system is very simple and short without any unnecessary fluff and elaborate explanation of the system and its effectiveness. 
Although we could not find info on the developer, this system is a product of Forex Store, which has several other Forex products using different strategies. But, just like the other systems, this Forex robot does not reveal the developer or the team behind it. Nor is there any mention of the location or contact number. This lack of transparency makes us suspect the authenticity of the system and its reliability.
Table FXZipper
| | |
| --- | --- |
| Type | Fully-automated EA |
| Price | $345 |
| Strategy | Scalping |
| Compatible Platforms | MT4, MT5 |
| Currency Pairs | EURCHF, EURCAD, USDCAD, AUDUSD, AUDCAD, GBPUSD, GBPCAD, GBPAUD |
| Timeframe | M15 |
| Recommended Min. Deposit | $1000 |
| Recommended Deposit | $2000 |
| Leverage | Any |
FXZipper is offered at $345 with a 30-day money back guarantee. The package includes a single lifetime license on any account, MT4 and MT5 compatibility, a user manual, free updates, and 24/7 friendly support. 
Trading Strategy
This scalper robot works on eight currency pairs. As per the website info, this scalper system uses a special technology that allows a delay of a trade entry by signal if the robot suspects it is unprofitable because of a sudden spike in price, spread, or requotes. 
Instead, the trades are opened when the optimal price occurs and if this does not happen, the EA will just miss the trade with low profit. On trading recommendation, the vendor recommends using accounts that have minimum spread, like the ECN and others, which are available easily on any broker.
Trading Results
This system provides backtests and live trading results on the official website. Nine backtests are displayed with each working on a different currency pair and registering profits ranging from as low as $5285 to as high as $125046.
For backtesting done over 5 years on a deposit of $2000, the modeling quality is 99.9%. The timeframe for the backtesting report shown below is 15 minutes. From the results of the strategy tester report, we could identify a profit factor of 2.05 and a drawdown of 12%.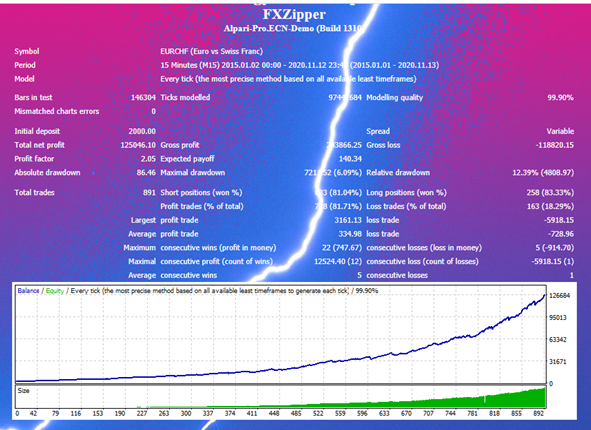 A live trading account is also displayed on the official site that links to the myfxbook page. With the track record and trading privileges verified by the myfxbook site, here is a screenshot of the trading results: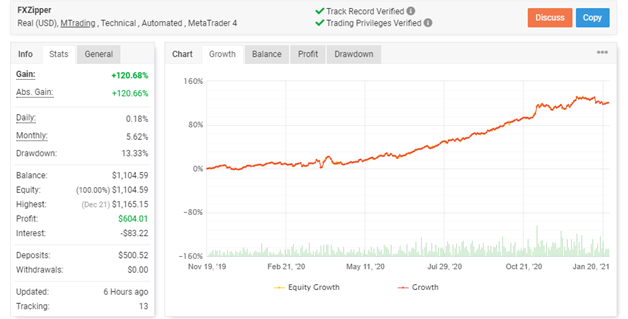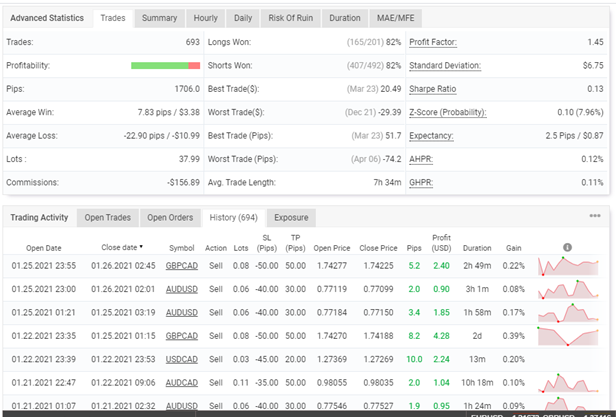 From the verified real account (USD) results, we could find the gain percentage is 120.68% and the absolute gain percentage is 120.66%. Other significant details include a daily gain of 0.18% and a monthly gain of 5.62%. A drawdown of 13.33% is shown for a deposit amount of $500.62 and a balance of $1,104.59. 
From the growth chart, we could see the account started trading on November 19, 2019, and over 14 months shows a profit factor of 1.45. Comparing the backtests and the real account results, the profit factor and drawdown are mostly similar. What we are concerned about is the lot size, which is high and ranges from 0.03 to 0.11. The high lot sizes indicate the risk involved.
Customer Reviews
We could not find any feedback from users on trusted third-party sites, such as Forexpeacearmy, Trustpilot, etc. Feedbacks help users know about the important aspects of a system, such as the performance, the support offered, and more. Without credible user feedback, this Forex robot comes off as an unreliable system.
PROS
Fully automated system
30-day money-back guarantee
CONS
No vendor transparency
There are no user feedbacks
Price is expensive
Risky trading strategy
Verdict
Summing up our FXZipper review, we find that this scalping robot has certain downsides that do not make it a reliable system. Vendor reputation is an important criterion that traders use to decide on choosing a system. The lack of transparency regarding the developer and the location makes us suspect the reliability of the system. Our suspicions are further confirmed by the lack of user feedback for this Forex robot. Despite providing verified trading results and backtests, the expensive price tag and huge lot sizes make this a system that we would not recommend.