Gold Miner is a Forex EA that claims to be able to endure large drawdowns and recover your trading account. It was launched on 31st December 2020 and works with both the MT4 and MT5 trading platforms. 
Product Offering
We don't have an official website for Gold Miner. It is sold on the MQL5 website by Nguyen Nghiem Duy, a Vietnamese trader who has developed systems like Forex Miner, Grid EA Pro, Night Vision Scalper EA, Red Dollar EA, and others in the past. He has also published several signals for the Forex robots designed by him.
Apart from this, we don't have any information available for the vendor, and there is no way we can verify his trading experience or credentials. But there is a long list of automated trading systems developed by this individual, so we can say that he has some development experience at least. Since this is a brand new system, however, we don't know what to expect from it. 
Gold Miner can be bought for $49, which is extremely cheap compared to the other Forex EAs available on the market. Most Forex robots carry a high price tag and traders often hesitate to invest so much money for software, but this one can be afforded by new and experienced traders alike. You also have the option of renting the Forex EA for 1 month at $30. 
A free demo version is available in case you wish to test run the system before using it to trade in the live market. There is no mention of a money-back guarantee, which is somewhat disappointing.
Gold Miner
| | |
| --- | --- |
| Type | Semi-automatic |
| Price | $49 |
| Strategy | Grid |
| Compatible Platforms | MT4 and MT5 |
| Currency Pairs | NZD/USD, AUD/USD, USD/CHF, USD/JPY, EUR/USD, USD/CAD, GBP/USD, XAU/USD |
| Timeframe | All |
| Recommended Min. Deposit | Not disclosed |
| Leverage | Not disclosed |
Trading Strategy
Gold Miner searches for areas in the market where the prices of major sellers and buyers are concentrated. Short-term price movements usually originate from these areas. This Forex EA applies a Grid strategy, which is considered risky by some Forex traders. However, the vendor claims that this system is able to survive in periods of large drawdowns owing to the unprofitable orders overlapping.
With Gold Miner, you can not only trade in gold, but also volatile pairs like GBP/USD, USD/CAD, USD/JPY, and others. When a profit or loss target is reached, the EA automatically closes the orders and stops trading. This often occurs on a Friday, which is considered a risky day for Forex traders. 
The vendor recommends using this strategy in combination with the Trend arrow indicator for following the trends. We would have liked to see some further technical details about the trading strategy. Although the grid strategy has been mentioned, we would have liked to know how exactly the system applies this scheme and what makes it different from the normal grid strategy.
Trading Results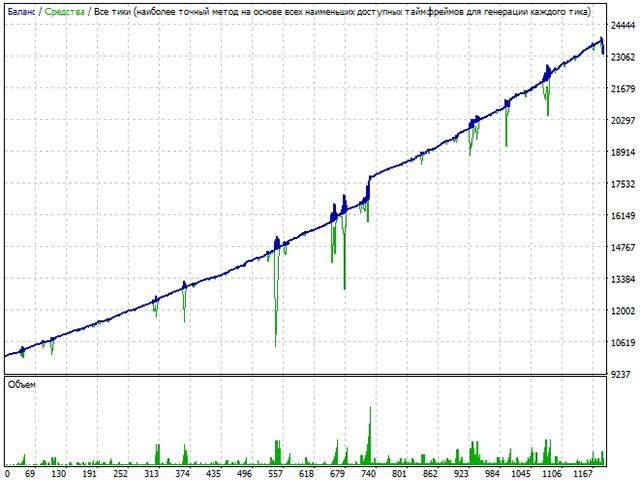 We don't have the backtesting data for Gold Miner on the MQL page. Without backtesting data, we cannot determine whether the system can survive long drawdown periods like the vendor claims. Many Forex traders look for backtesting results before investing in a system and this will no doubt disappoint them.
While the vendor has provided a screenshot of what seems like a backtest, it is something that can be created with a charting tool, and we have no way of verifying its authenticity. All reputable Forex EAs furnish live trading results and backtests that are verified by third-party sources. Without either of these, we cannot gauge the ability of the system to generate profits. 
Since neither backtesting data nor live trading results are available, we don't know about the key parameters like win rate, profit factor, drawdown, gain percentage, etc. So, basically, the vendor is asking you to trust them blindly without any evidence. 
Customer Reviews
There are no customer reviews on the web for Gold Miner. Like any other product, Forex EAs are reviewed by users on third-party websites, and traders often consult these to determine whether a system can be trusted or not. Since this Forex EA was launched quite recently, we suspect not enough people know about it, as of now.
PROS
Automatic order closing based on profit/loss target
CONS
No verified live trading results
Lack of technical details about the strategy
No backtesting data
Verdict
After analyzing the various aspects of Gold Miner, we have reached the conclusion that this is possibly a scam service. First of all, the grid strategy comes with its fair share of risks, and the vendor has not provided any live trading proof that shows the system generating profits in real-time. Also, the trading strategy is not explained clearly, and there are no customer reviews for this Forex EA. So in spite of its affordable price, it is a risky endeavor to invest in Gold Miner.