FX Scalper X is a new Forex expert advisor that introduces itself as an effective trading tool able to turn $100 into $150 000 for 11 months of trading. Its developers claim that this robot was designed to 'grow your forex account over time'. This EA is said to be an easy-to-use MT4 tool for both experienced traders and novices.
In this FX Scalper X review, we are going to analyze this EA, its trading results, vendor transparency, and software reliability to decide whether this robot is worth to be installed onto traders' accounts.
Product Offering
The FX Scalper X presentation looks unprofessional. It is poorly organized and involves very little to no information about the product, its developers, or what trading strategy the system uses to generate profits. From the very first sentence, the dev claims that there is 'NO MARTINGALE, NO HEDGING, NO GRID TRADING' strategies behind the FX Scalper X robot.
From the very brief website presentation, we could gather the next information about the robot:
It's a 100% automated trading tool

It runs on MT4 platform

It trades on M1 timeframe

It could generate $150K from the deposited $100 in 2020

The dev claims their product can 'DOUBLE, TRIPLE, QUADRUPLE YOUR TRADING ACCOUNT'

The minimum required deposit to start trading with this robot is $100

It's a good choice not only for experienced traders but for beginners too

The robot is delivered within 24 hours after purchase

It's easy to install EA

The vendor provides Instagram and Telegram contacts to get in touch with the FX  Scalper X team
FX Scalper X EA is available to buy on the website of the developer. There are 4 licenses available for traders. These packages include 3 EAs for the price of 1 (FX Scalper X, FX Scalper XX, and FX Scalper XXX). Oddly, but we know nothing about the rest 2 EAs – FX Scalper XX and FX Scalper XXX. How do they differ? What's included? What currency pairs do they support? No answers.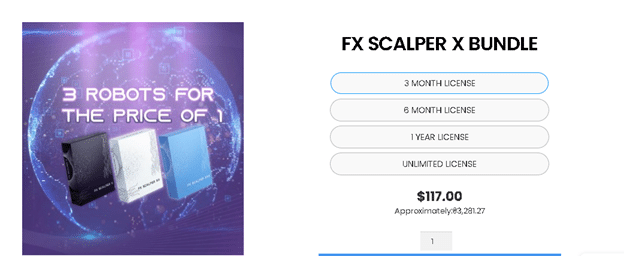 So, the vendors offer a one-lifetime license and 3 subscription packs. The lifetime license costs $277. The three-month pack is available to buy for $117, a 6-month license for $157 and the 1-year license is sold for $197. Unfortunately, we couldn't find any intel about what is included in these packages. There is no information provided on the website of the developer. Moreover, a money-back guarantee is not mentioned. The dev wants only to sell out his EAs and he does not carry about traders' needs or expectations. His goal is to earn money by selling out the digital copies of the FX Scalper X robot. His approach looks suspicious. Most of the scammers act the same way.
Trading Strategy
There is no word mentioned about the trading approach behind his expert advisor. The dev only said that his or her EA does not use any risky trading strategies like Martingale, Grid, or Hedging. Lack of transparency and information raises a red flag for this EA. From the backtest reports we've found out that the robot runs on the M1 timeframe and trades 4 currency pairs: EUR/USD, EUR/JPY, GBP/USD, GBP/JPY. Recommended deposit is $100.
Trading Results
The vendor provides 4 backtest reports on his website. This one is EUR/JPY report performed on the M1 timeframe with 99, 90% of modeling quality. The backtesting started in January 2010 and ended in 2020. There were 3,639,075 bars in the test. The account was deposited at $100 and for ten years of trading, it could generate $32035411, 58 of profit. It traded 18966 trades and won 9591 out of them. Its win rate for both short and long positions was small – 50, 18%, and 50, 95% respectively. Its maximal drawdown was 0, 60%.  The profit factor was 2,14.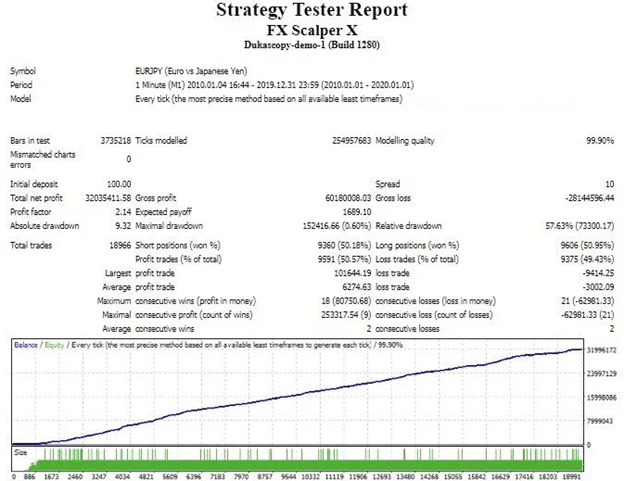 On the official website of FX Scalper X Robot, we have the link to 5 live trading accounts on myfxbook.com. Four of 5 trading accounts are Demo ones. FX Scalper X was registered on myfxbook on November 29, 2020.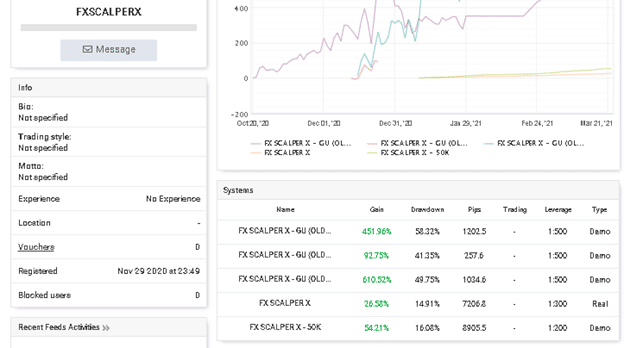 Let's analyze a real trading account – FX Scalper X. It's a real USD account that works under LQDFX brokerage. It trades on the MT4 platform with 1:300 leverage. The account is active for 3 months. On January 12, 2021, the day when the account was added on myfxbook, it was deposited at $2850. For 3 months of trading, it has generated $757 of profit. It has completed 1968 trades winning 1490 out of them. Hence, the profitability of the robot for this trading account is 76%, with the system winning 77% of short trades and 74% of long trades.  Its monthly gain is 10, 70%. The peak drawdown was 14.91%.  As you can see, the robot trades with low drawdowns, which is good for trading.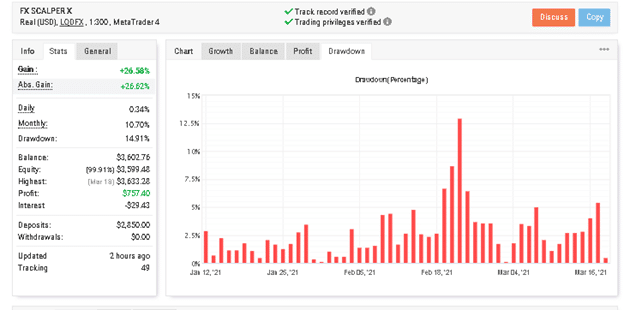 The robot's profit factor is 1.68. The average loss is twice higher than the average win (-22.73 pips / -$2.34 and 12.13 pips /$1.26).
As you can see, the robot uses  Grid to recover after losses: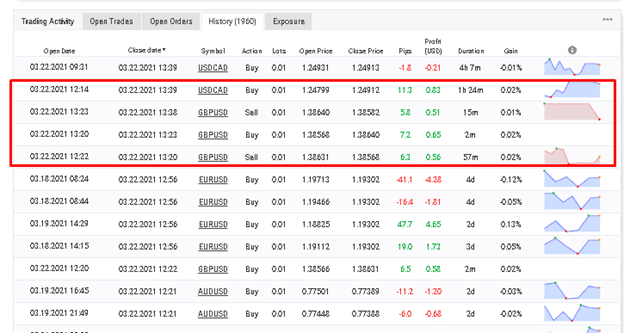 It trades 5 currency pairs. The most profitable one is GBPUSD – $245.80.

Customer Reviews
There are no customer reviews about the FX Scalper X robot on the web. Probably, it is because the EA is too young or traders do not trust its developer and consider the robot is a total scam.
PROS
Backtesting reports provided
Verified by myfxbook.com trading results provided
CONS
Zero vendor transparency
No info what the FX Scalper X packages include
No money-back guarantee
No strategy explanations provided
No setting details provided
The robot uses Grid for trading
No customer reviews
Verdict
We trust neither its dev, nor the robot. It is a total scam. No information could help us to understand how the system works. We do not know who is behind this EA. The vendor doesn't provide a money-back guarantee for FX Scalper X EA. There is no customer review anywhere on the web. Stay away from this suspicious expert advisor.