Happy Gold EA Company and Website Overview:
According to the description provided by the development team, Happy Gold EA is part of the entire Happy Forex EA class of software, which also includes applications such as Happy Forex. It is described as a FIX Trader software, developed by the BJF Trading Group and is compatible with MetaTrader 4 Tools, indicators and Expert Advisors. One of the highlights of this platform is the low latency rates which helps process orders through the FIX API rather than the Metatrader 4 platform.
The website looks professionally designed, with separate pages describing their services, affiliates and also separate spaces for blogs and FAQs. Pricing details are mentioned clearly on the main sales page, which also provides us with a list of advantages of using this platform.
Product Offering and Trading Strategy
| Product | FOREX EA |
| --- | --- |
| Developer | Happy Forex Team, Creators of Happy Market Hours and Happy Forex Robots |
| Broker Compatibility | Supports ECN Brokers with 4 or 5 Auto-Quotes detection |
| Recommended Brokers | AccuWebHosting VPS, Tickmill ECN Pro |
| Recommended Account | ECN Account With a $100 Minimal Balance |
| Refund Policy | YES |
The Happy Gold EA is available at $299, for which a user gets 1 licence for an unlimited number of demos and live accounts, along with a free monthly renewal of the licence key sent directly to the user's email. The platform also provides a refund policy, something of a rarity when Forex EA are concerned, within 30 days from the date of purchase.
---
Happy Gold EA Trading Features and Strategy
The platform emphasises its low latency rates for the faster processing of orders, which is especially beneficial when fast paced "news trading".  Apart from that, the platform also boasts an Immediate-or-Cancel order feature which can instruct the broker to cancel any order which cannot be filled immediately.
After initially exploring the application, it seems that Happy Gold EA uses the trend strategy along with a modified ZigZag indicator, working exclusively on the XAU/USD chart with a 30 minute time frame. In layman's terms the modified Zigzag indicator first compares between the inputted EA parameters with the extreme high and low point of the price scale.
According to the team, they guarantee an 89% success rate and provide some verified results on their page to back their claims. Additionally, it uses a hard stop loss of -24 pips and the max open trades are always set to one.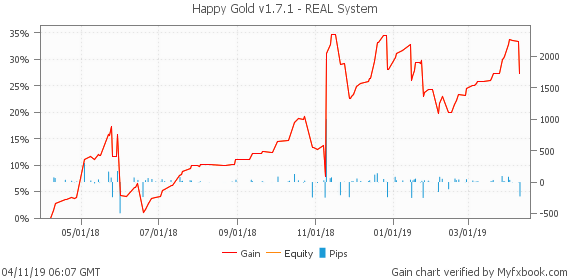 Overall Happy Gold EA has been a profitable EA since early 2010, adjusting constantly to the ever-changing market with 100% market evaluation and implementation. These settings can, of course, be changed to accommodate the trader's preferences and requirements.
Back Testing/ Trading Results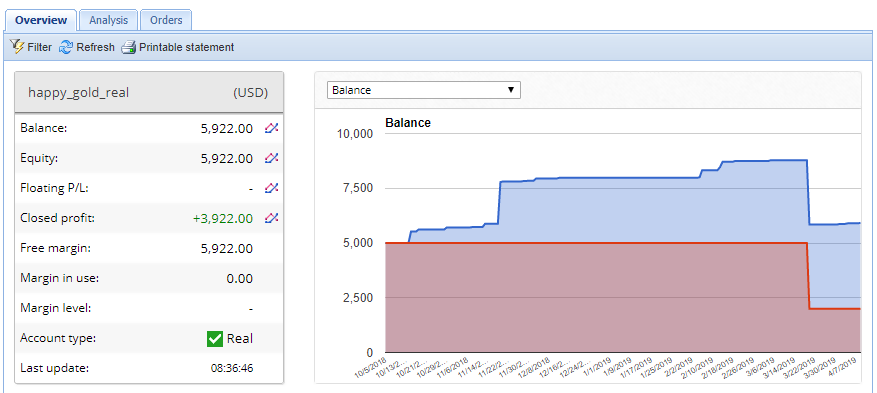 Apart from the screenshots provided on the website, there is a singular account provided by them on fxblue.com, for a period beginning from 10/05/2018 to 04/07/2019. There is a steep rise of almost $2000 experienced between 11/18/2018 and 11/19/2018. The closed profit of $3922 indicates a total return of 79.9%. However, the peak drawdown % is not given.
Advantages of Using This Platform
Known Developers with other proven software on the market
30 Day refund policy
Regular Updates
Bonus on Purchase that includes full access to other EA's falling under the same eco system
Disadvantages
Lack of reliable user reviews
Only one price option