The Forex Steam describes their forex robot as a "powerful and super reliable" algorithmic trader. It further adds that the fully automated trading software has 'over 25 years of experience,' in the industry effectively making it the 'longest running robot' currently available. According to the website, enthusiastic traders gain access to the trading software by paying a one-time license fee of $117.99 after which they can enjoy the 94%+ daily profits that increase by about '5-10% annually.'
According to the Forex Steam website, their trading software was developed and regularly updated by the "most active group of developers" and even goes ahead to share their names and photos on the page.
But how true is the information shared on the Forex Steam website and how reliable are its developers? We get to answer this delving deeper into its operations and trading strategy.
---
---
What is the trading strategy used by Forex Steam?
Ordinarily, you would expect a forex robot company to have the choice of a reassuring trading strategy among their key selling points. This is however not the case with the Forex Steam website. There is no mention of the Forex trading strategy, or any other, that their trading software uses.
Safe for a lone blog that offers advice on what seems like the software's default trading settings, the website or its developers make no mention of their trading approach. They don't mention whether they use aggressive strategies like grid and martingale or more conservative ones. Neither do they explain whether they have a risk management plan in action.
Backtest results
When buying the forex steam software you go in blind. They don't provide links or screenshots of backtest results that you can benchmark on to estimate the performance of the autotrader. Neither do they provide for a free trial period to test the effectiveness of their acclaimed system.
Similarly, while you would expect such a trader without backtesting results or free trial period to have a license that supports both demo and real accounts, Forex Steam is silent to this. Even more suspicious is the fact that the autotrading company doesn't offer a money back guarantee despite the huge risks and uncertainties that their algorithm exposes a trader to.
Live account performance results
Forex steam doesn't have a Myfxbook account where they can upload verifiable trading history for their Real or Demo trading accounts. Instead, they provide links to a 'trading history' page that they claim is updated daily and a true representation of their account's performance. On the website, they hail the performance of their accounts claiming that it has recorded 30 consecutive wins.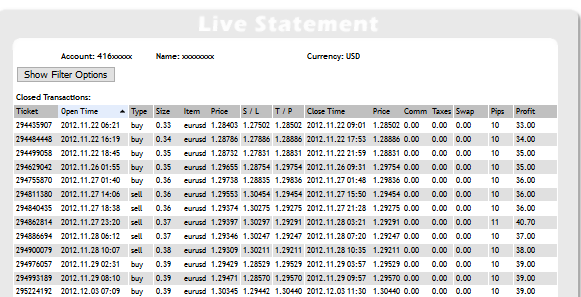 The biggest downside to lack of a Myfxboopk account is that any other trading history they provide isn't fully and independently verified, making it unreliable. Additionally, Forex Steam claims, in one of their blogs, that their auto trading system is designed and set to trade multiple currency pairs. However, the 'trading history' provided only shows the system trading EURUSD pair.
Reasons to keep away from Forex Steam automated trader
Misinformation: Forex Steam website claims to have been actively involved in the forex industry for over 25 years and even refer to their trading system as the 'longest running robot.' This statement is not true. A quick WHOIS Database search for the Forex Steam domain name shows that it was registered in July 2010 and not over two decades ago.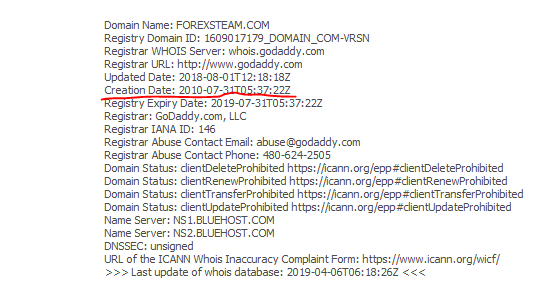 Fake developer identities: Having established such an effective trading system and being in the trade for so long, you would expect the Forex Steam developers to be celebrated industry experts. The opposite is true. Even worse, the names and pictures of the 'developers' on the website are randomly picked from the internet.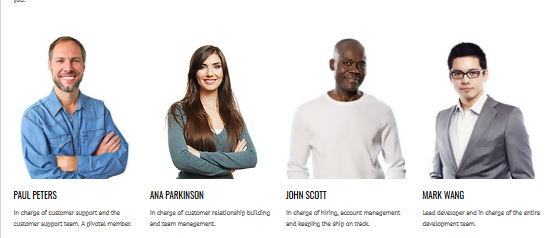 Distorted figures: There is a reason traders don't trust or pay much attention to trading history results derived from demo accounts. They aren't a true representation of a real trading account given that they don't factor in such market variables as broker requotes and spreads.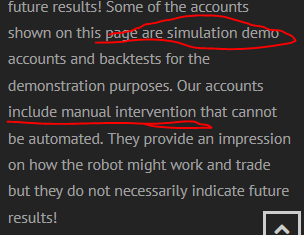 Plus they can be tweaked and manipulated by developers to report desired results and Forex Steam admits to using such tactics. The website claims that some of the trading information used on the website is derived demo accounts and includes "manual intervention that cannot be automated."
Vague explanations: According to the Forex Steam website, their trading system accuracy in beating the markets has been increasing by 1% every year, starting in 2015 when it yielded 91% until 2018 when it posted 94% win rate. It further claims that their system will help boost profitability by between 5% and 10% annually. They, however, don't explain how they achieve this making us rule this out as a pure exaggeration of facts.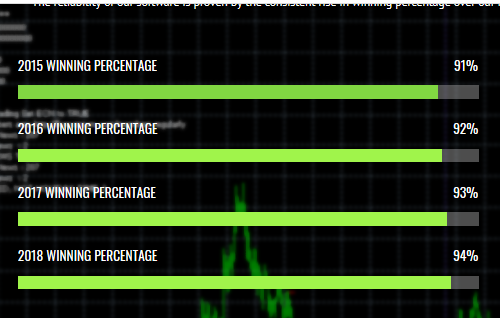 No PAMM accounts: With such an effective trading algorithm, expert developers stand to make more money managing PAMM accounts than selling them to the public for $117.99. It is therefore suspicious that even after developing such a comprehensive tool and being in the trade for over two decades, these Forex Steam 'developers' have never found the need to offer PAMM services.
No customer reviews: If Forex Steam was as effective as their website administrators want us to believe or actively involved in the industry for even a decade, they would have established a massive following. They also would have client reviews outpouring from various independent sites. The fact that they don't have current or past clients reviewing their services, positive or negative, further confirms the fact that the website doesn't paint the true picture for the trading system. It also raises suspicion with the legitimacy of the "customer reviews" posted on the website.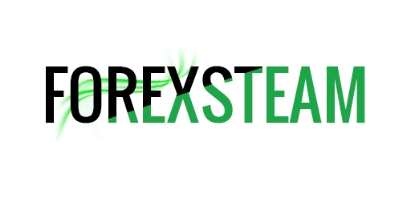 Verdict
Forex Steam trading system IS A SCAM! Most of the information posted on their website is either misrepresented or blatant lies. With no verifiable links to its trading system' history or user reviews, it is impossible to confirm whether their acclaimed "trading software" even exists. We recommend that you stay away from the website and not to even consider them as an option when searching for an automated forex robot.