Forex market has always been an enticing prospect for traders who want to make it big. With a high degree of volatility, and several options to choose from, it is the largest traded market daily in terms of volume, dwarfing that of other tradable markets such as stocks or CFDs. While many traders who have the required experience, skill and knowledge, have earned a fortune through forex trading, most traders are not so lucky.
This is where automated trading systems come in. Recently there has been an influx of automated trading applications, such as Forex EAs or FX robots. Almost all such applications are designed for aiding a trader achieve profitability, by either providing them with signals on what trading decision to take or execute the trades according to the parameters set. One such Forex EA is Knox EA, which is the focus of this review today.
Knox EA: Company and Website Overview
Knox EA is a forex robot application that mentions an "award winning strategy" as the main reason why they can rise above the competition.  It is MetaTrader 4 And 5 compatible, automated trading robot currently consisting of two separate forex robots which will be described in detail below.
The website appears professional enough, which also mentions that they are the winner of the 2016 Forex Expo. However, after conducting some research, it appears as if the website was created in 2018, which is certainly an area of concern.
Knox Forex EA is owned by Quantpartner Limited which is Bulgaria based and developed by Robert Jan Teuwissen. Information related to the physical address of the office and contact information are also included. This is encouraging since the majority of forex EA applications do not provide such information.
However, another key area of concern remains the anonymity of the developer team behind the product, particularly when the website boasts of bringing together "high end experts in the financial arena".
Product Offering
Knox EA offers two Forex EAs:  Interbank Forex Robot and Equi Knox Forex Robot.
Currency Pairs Available: AUD/NZD, AUD/USD, CAD/JPY, DAX30, EUR/CHF, EUR/NZD, GBP/NZD and GBP/USD.
Both the Interbank Forex robot and the EquiKnox Forex robot are priced identically at €499.99 with a monthly rental fee of €59. Both products offer one EA license and One Trading Account.
The minimum account size depends on the parameters entered, although traders are recommended to start from at least $3000. Traders who want to start with a smaller account size are advised to use Knox EA indicators.
One of the key areas of concern is the absence of information related to the trading strategies employed by each robot, which are priced similarly. Transparency is always preferred when it comes to the product offering, a perfect way to instil confidence in customers. Knox EA does not quite succeed in this aspect.
Knox EA also provides a Managed Account service, provided by Chelton Wealth.
Knox Forex EA Trading Strategy
In spite of a FAQ page where some simple queries are answered, the website does not provide a detailed explanation of the trading strategy in use. This is a red flag, as customers deserve to get a minimum level of transparency while purchasing a product of this nature, especially if it's steeply priced.
Backtesting / Trading Results
One of the major characteristics of a reliable forex trading application is the level of transparency on offer, especially when it comes to back testing. There is no direct link provided by the vendor for testing accounts on sites such as myfxbook or fxblue. Instead some screenshots are provided, including results from an Open MAM account and two demo accounts.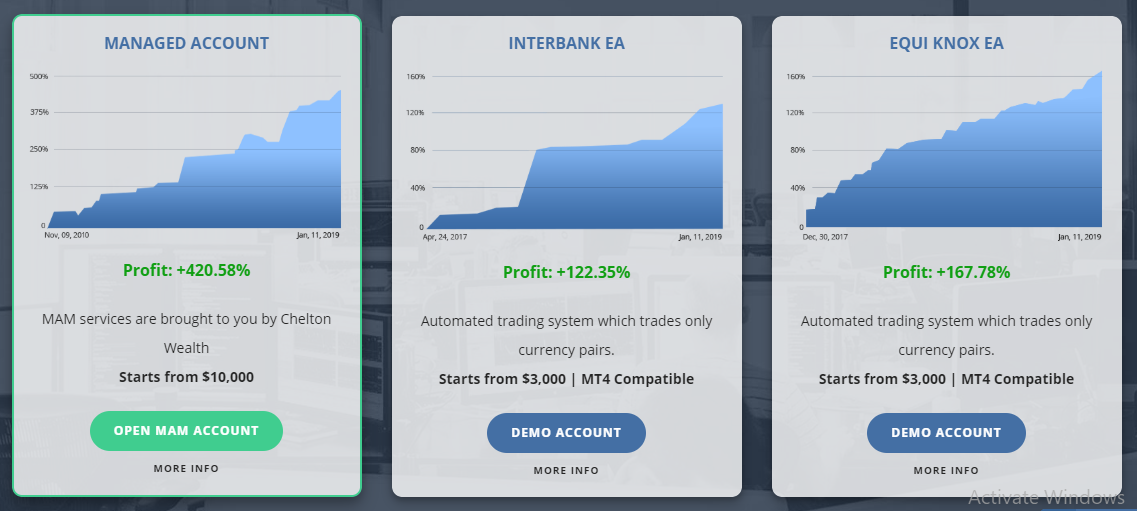 The above screenshots lack credibility, as they cannot be considered as legitimate backtesting. The lack of accounts on myfxbook or FX blue is another key area of concern.
Advantages and Disadvantages of Knox Forex EA
| Advantages | Disadvantages |
| --- | --- |
| Compatible with both MT4 and MT5 | Lack of proven/verified test results |
| Transparent Information Concerning Ownership | Anonymous Team |
| Scalability | Priced High |
| Several Currency Pairs | No information Regarding Trading Strategy |
| | |
| | |
---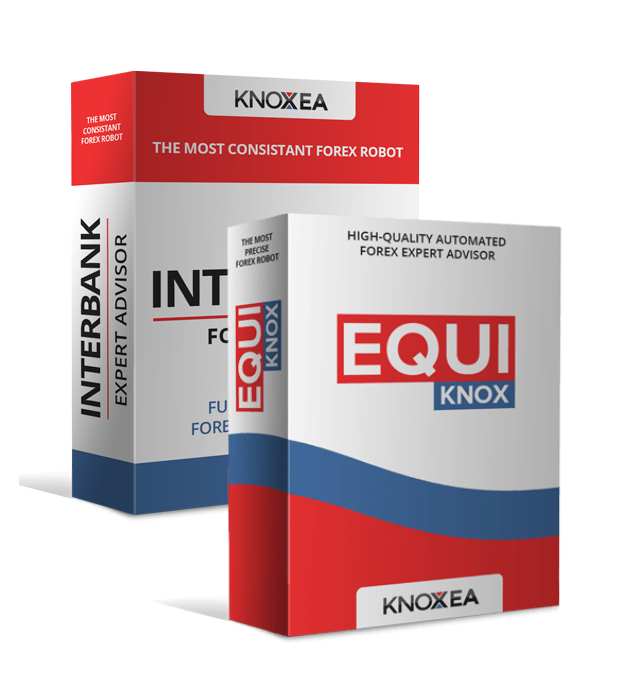 Verdict
After evaluating the above aspects of this forex EA, Knox EA appears to be just another Forex trading EA with an uncomplicated procedure behind it. However, the above mentioned lack of information concerning key areas of forex trading can cause doubts in any prospective customer's mind. Hence, customers are advised to conduct a good degree of market research before making any concrete decision.