The vendor alleges that Luna is a very efficient night scalper and one of the best EAs you will find in this market. It was created following many years of experience trading live with the mean-reverse strategy. So, the developer has made sure to include the best pairs and techniques. 
Product offering 
Find below the features that this EA is providing:
It trades on multiple currency pairs, such as GBPUSD, GBPCAD, GBPAUD, EURAUD, USDCAD, USDCHF, AUDCAD, EURCAD, EURUSD, EURCHF, GBPCHF, EURGBP, AUDUSD, and AUDJPY. 

It includes a news filter to ensure it doesn't trade during high-impact news events.

All pairs are run from a single chart.

Risky trading methods like martingale and grid are not used without a stop loss.

The system integrates a correlation filter, a swap filter, and a rollover filter to prevent overexposure to similar currencies, trading during high swap-cost days, and big slippage during rollover, respectively. 

It has an Individual performance monitor, which automatically reduces the risk of pairs that are not performing well. The trading instruments are reset to normal if they begin making profits. 
Luna has 4 distinctive pricing packages. A lifetime license currently goes for $349. The available rental options are sold at $129, $199, or $249 if paid monthly, biannually, or yearly, respectively. Like other EAs being sold on mql5, Luna does not feature any money-back guarantee.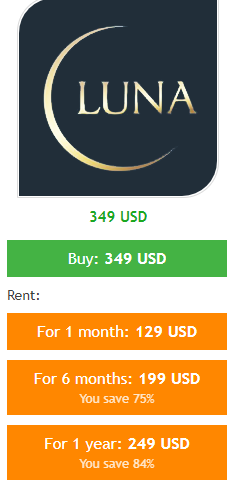 The creator of this trading tool is called Wim Schrynemakers. He is part of Profalgo Limited, a company we know nothing about. Wim is based in Malta and has been in the business of developing EAs since 2005. So, it's not surprising that his portfolio on MQL5 is awash with trading systems like Viper EA, Gecko, Advanced Scalper, Night Owl, AutoGenEA, etc. 
Trading strategy 
Luna is said to use night scalping, but the vendor does not elaborate on this strategy. So, it's not clear if the system places orders throughout the night or trades at specific periods. The mean-reverse is also used, but no further information is provided.
Trading results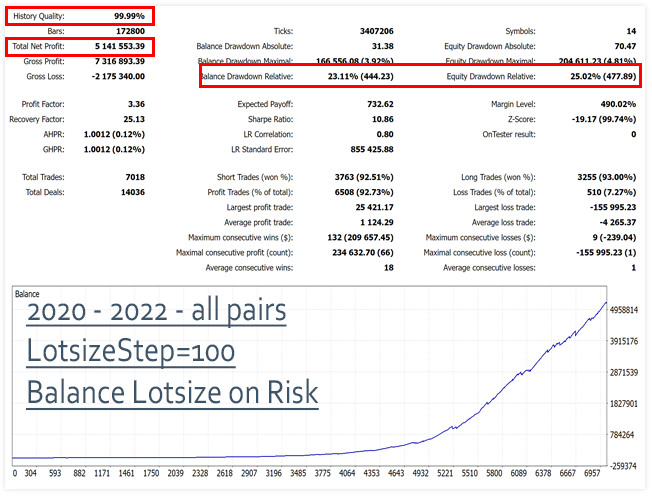 According to this report, Luna was backtested on all currency pairs it supports using 2020-2022 market data. As a result, a total of 7018 trades were completed, attaining impressive win rates for both short (92.51%) and long (93%) trades. Consequently, a net profit of $5141553.39 was realized. The profit factor, which was 3.36, showed that Luna was a lucrative tool. There was a low drawdown of 23.11%, indicating that the trading risks were not that high.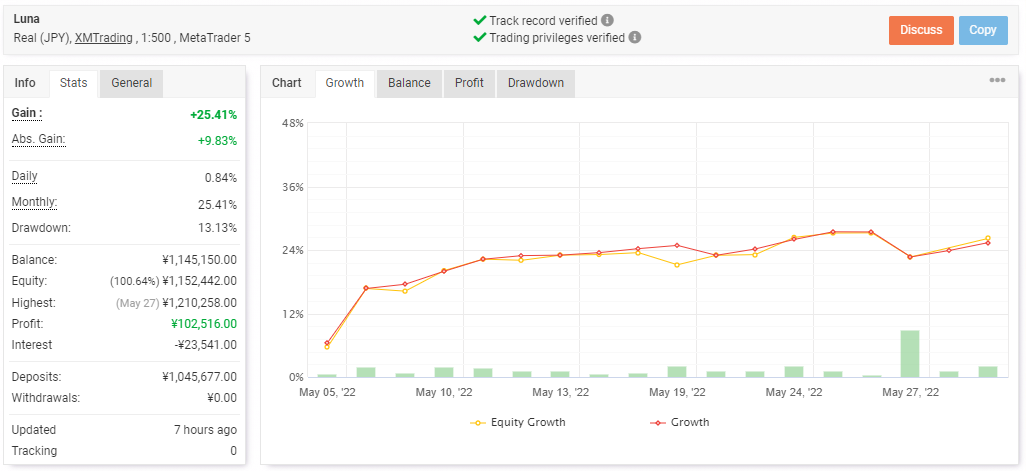 This real JPY account is less than a month old, and so far, the EA has used a deposit of ¥1045677 to carry out 78 trades. Subsequently, it has generated a profit equivalent to ¥102516. Therefore, the account's value has increased by 25.41%. We even have a risk/reward ratio of 1:1.9. It means that for every dollar the system risks, it gains almost 2 dollars back. 

The current success rates for the long (79%) and short positions (81%), along with the profit factor (1.55), are slightly lower compared to the outcomes in the backtest report. The pips won so far are 300, whereas the traded lots are 63.79. In general, the robot holds an order for 3 hours and 6 minutes.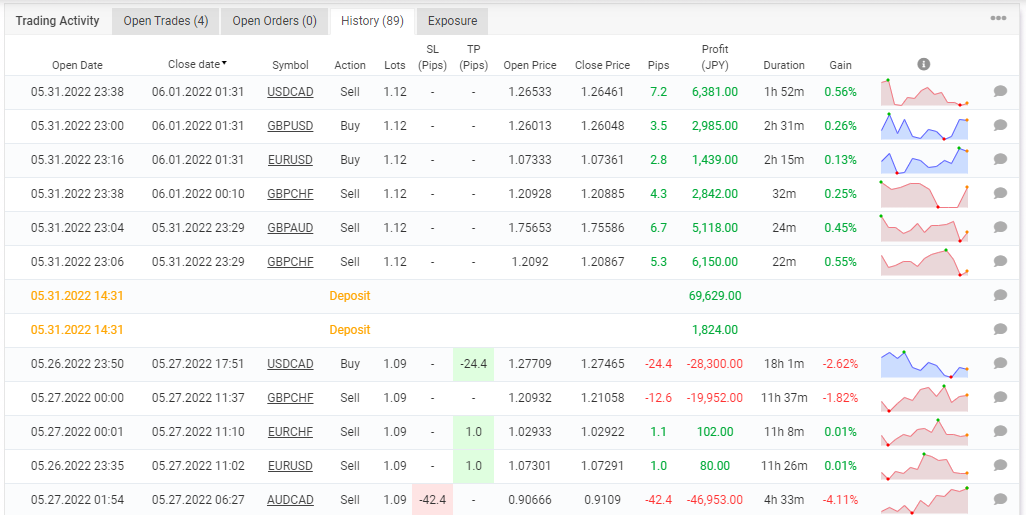 Large lot sizes are used in trading and SL and TP levels are not attached to all orders. Many trades have brought in profits, but the few unsuccessful ones have caused the account to lose significant amounts of money. 
Customer reviews
Traders currently using Luna seem satisfied with it. Each of them has given the service a 5-star rating, mainly stating that it works and has an excellent recovery factor, low drawdown, and nice profit.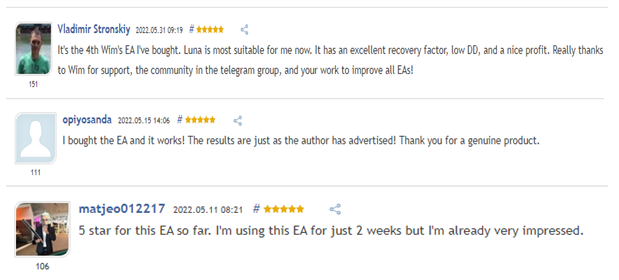 Pros
Includes backtest and live trading data
Works on numerous currency pairs
Satisfied customers
Healthy risk/reward ratio
Cons
Expensive plans
Inadequate strategy explanation
Short trading history
Lack of a money-back guarantee
Verdict
The developer does not hide the live performance data of this EA, which is commendable. Traders have also showered the tool with praise, a sign that it is effective. However, the system has been trading live for less than a month, so the current outcomes may change dramatically with time. Lastly, you cannot ask for a refund if the robot fails to perform as expected.