Perfect Score is a Forex expert advisor that was launched in the MQL5 market on December 29, 2020. Its logo is a squirrel keeping high scores. We can easily guess that it's a developer's approach to demonstrate the high profitability of his EA.
Perfect Score EA was designed to provide traders with a smooth trading experience with minimal risks. The robot trades at the opening of the London Stock Exchange and allows trading with a fixed or automated Lot size. So, traders are free to adjust the robot to build a good trading plan that will suit their trading preferences.
Product Offering
Perfect Score is advertised as an effective trading system able to provide consistent profits without any prior experience needed. Thus, the devs convince us that their product is a good investment solution for both experienced traders and newbies.
Perfect Score EA has not an official website. Its developer, SERGEI RIEBIN, located in Russia, sells his EA on mql5.com. Sergei has a high 14456 rating among the mql5 community.

He has over 1,3K of subscribers. About himself, Sergei says that he's a longtime professional algo trader. Sergei has already developed 13 products that could be run either on MT4 or on the MT5 platform. To list some of them are Golden Bot, To The Moon EA, Rocket EA, Boss EA, and more.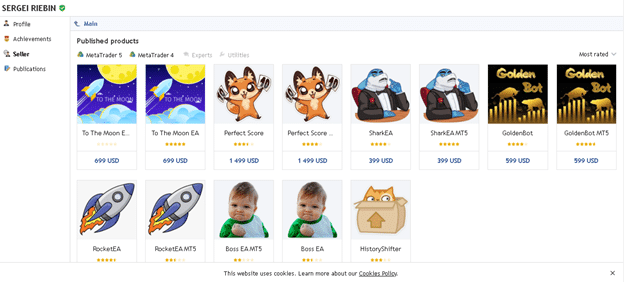 Perfect Score expert advisor is sold for an extremely high price of $1499 on MQL5. A three-month renting option is also available for $399.  The vendor offers a free Demo account for those traders who want to test the robot before purchase.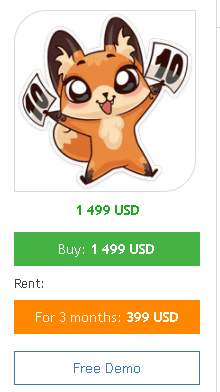 A money-back guarantee is not included. It is odd as for an EA that costs $1,5K. It means that in case we are dissatisfied with the performance of this EA, we won't be able to ask for a refund. We need to trust the dev blindly.
Trading Strategy
It can work both on MT4 and MT5 trading terminals

The EA  runs on M5 timeframe

There are default parameters for EUR/USD M5

Recommended deposit to start trading with Profit Score EA is only $50

Traders can easily adjust the system (Lot size) to suit their trading needs and preferences

It does not use any indicators

The robot uses short term reversal patterns in a trading system

It does not use any risky trading strategies like Grid, Martingale, or Arbitrage

Perfect Score EA has a built-in high Spread protection system, allowing you to trade with a fixed or automatic Lot size

It sets Stop Loss and Take Profit levels to care about every trade

The dev provides a link to their Telegram channel:

The system is compatible with all brokers, thus you can easily choose any broker you'll be comfortable trading with

The expert advisor was backtested with 99, 90% tick data using variable spreads

The robot is easy to set up and use

To get proper trading results, the developer warns us that GMT settings should be set correctly according to your broker GMT Offset: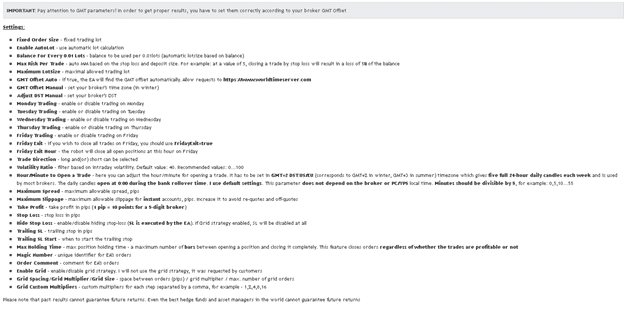 We appreciate that the vendor provided setting recommendations and requirements. Most developers neglect this important aspect and traders buy a cat in a bag. There are explanations about Take Profit in pips:1 pip= 10 points for a 5 digit broker. It's a major pro, which would play a big role for their prospective customers as well as current traders. In addition to this, there is a Trailing Stop Loss for those who want to fix their gotten profits.

Trading Results
The developer provided a screenshot of a 20-year backtest of the EURUSD currency pair on the M5 time frame. The modeling quality was 99, 90%.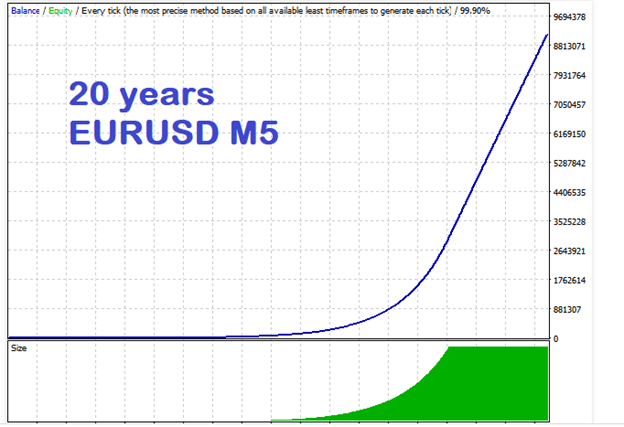 The account was deposited at $300 and generated $9138280, 82 of profit. For 20 years of trading, the robot traded 1655 trades and all of them were winning ones. It is impossible in Forex trading.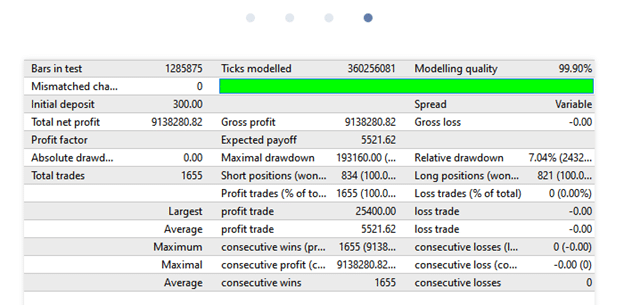 Moreover, the past trading performance does not guarantee future results. Thus, we'd like to analyze the live trading performance of the robot on a verified trading account.
This trading account was added to myfxbook on March 05, 2020. That day it was deposited at $350. It trades with 1:300 leverage and ICE-FX brokerage on the MT4 platform.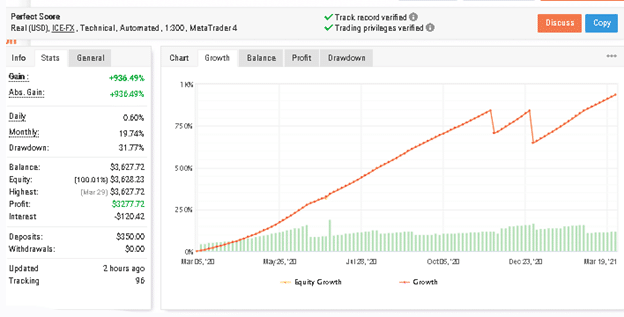 Its total gain exceeds 936%. The monthly and daily average gains are 19, 74%, and 0, 60% respectively. The peak drawdown was 31, 77%. We cannot say that it's good, as the drawdown above 30% is dangerous for trading accounts. However, as you can see, the robot trades with low drawdowns. From January 14, 2021, the drawdown of this EA has fallen from 20, 8% to 0, 22% we have today.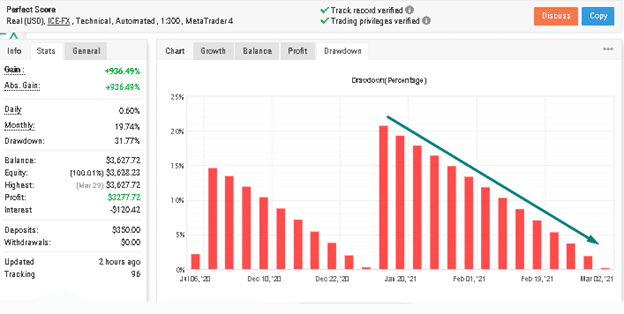 This EA could generate over $3,2K of profit. Now, the total balance is $3, 627, 72. It traded 108 trades and won 106 out of them, which means that the robot has a high win rate of 98%. The average trade length is 1 day. The average loss in pips (-200.00 pips/-$579.90) is significantly bigger than the average win (19.93 pips/$41.86).

The system trades with low trading risks to the account balance.

It trades at the LTE opening hour, from Monday to Friday.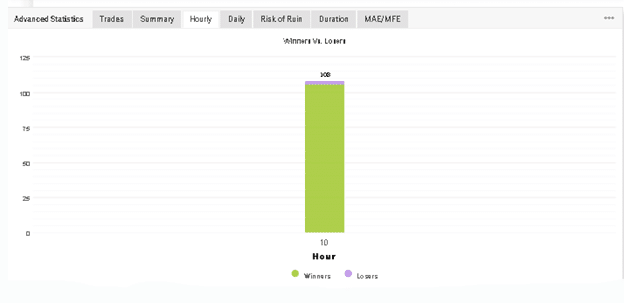 All trades were closed automatically after reaching TPs. In addition to this, the EA's Stop Losses are set at 200 pips and Take Profit ones at 18-23 pips.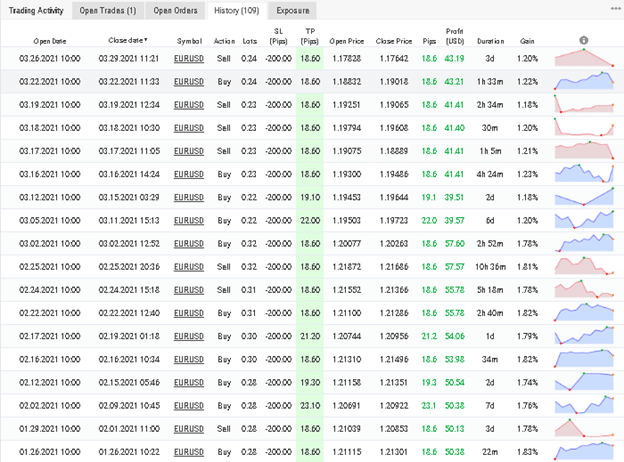 So, to cover one loss of 200 pips, the EA has to win 9-11 deals in a row. In case the robot has 3 losing SL deals in a row, we'll need one month of profitable trading to recover.

February and March 2021 trading results are positive.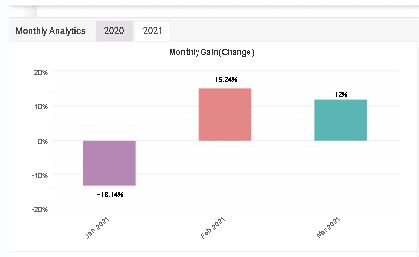 Customer Reviews
There are 95 customer reviews on MQL5. Their average rating is 3,5.

Most traders claim that Perfect Score is a risky trading solution with bad results in live performance.   



Besides negative reviews, there are plenty of positive ones: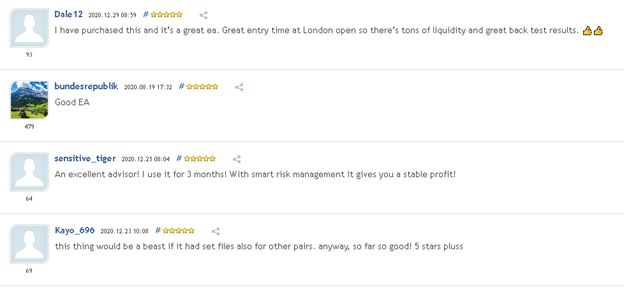 There is no single logic. However, taking into account the extremely high price of this EA, we expected to see a higher rating.
PROS
Backtesting report provided
A real trading account has been running since March 2020
Setting recommendations provided
CONS
No money-back-guarantee provided
Sky-high pricing
The software has only a 3,5 rating on MQL5
SL is set at 200 pips
Verdict
The robot has been running a live trading account since March 2020. For 1 year of trading, it could generate over $3, 2K of profit. Its SL is set at 200 pips when TP ranges between 18-23 pips. It's a risky trading approach, as in the case of 3 losing deals in a row, we'll need 1 month to recover. The other drawback is its sky-high pricing. Not every trader can allow himself to pay $1,5K for an EA that does not even include a money-back guarantee.