What to expect from an Effective Forex Signals Service?
An effective Forex Signals Service is a software application that can automate trades on behalf of a trader with the help of some Forex binary signals. There are several types of Forex Signals Services available on the market, but not all of them display the same level of effectiveness. Thus, it's very important to research well before making any kind of decision. For a Forex EA to be efficient, it must meet the following points:
Secure and Safe Payment Processing
Identifiable Developers with Proven and Verified Trading Results
A brief explanation of the Strategy being used
Any refund or money back program.
This review will focus on a similar Forex Signals Service, called Profit Forex Signals.
Profit Forex Signals: Company overview
Profit Forex Signals describes itself as a forex auto trading service with fully audited and verified trading signals that are compatible with several Forex brokerages. The signals are offered at rates between $100 to $1000 per month.
Upon further investigation, we find that the company behind Profit forex signals is owned by a Serbian businessman named Ninoslav Golubovic.  The names and details of the other employees are also mentioned, which includes his wife Anna, who is said to have an experience of 8 years as a forex trader. The identity of the employees, all supposed forex expert traders, could not be confirmed online.
When it comes to the website, it appears to have been professionally designed, with a compelling sales presentation that includes all the details. With past rumours floating on the internet questioning the website's honesty, the claim that their trades have been 99.99% accurate since 2010 seems highly implausible and falsified. They also claim to have single pip returns, which averages close to $200,000 per year.
Trading Features and Strategy
According to the company itself, their trading style is a tried and tested one, with guaranteed results. However, not much technical or explanatory information is given about the strategy in use. For a website that claims a high degree of transparency, this should be an immediate red flag to most users.
Profit Forex Signals Offerings:
Profit Forex Signals offers 4 subscriptions plans, Standard, Professional, Ultimate, Pearl. Details are given below, as presented in their website.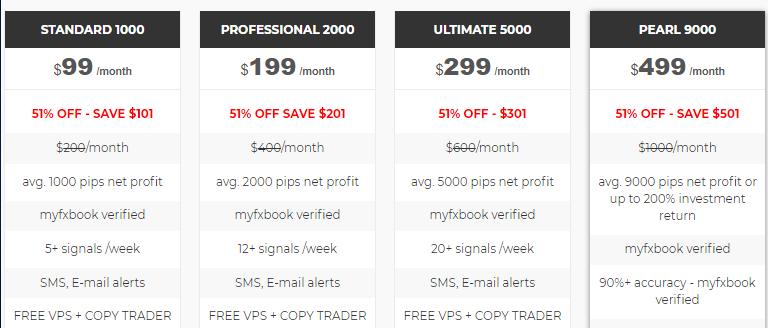 Trading Results
There is currently just one real account provided by the vendor on myfxbook.com, which is supposed to be one of the most reputed sites for trading tests. The details are attached in the screenshot below.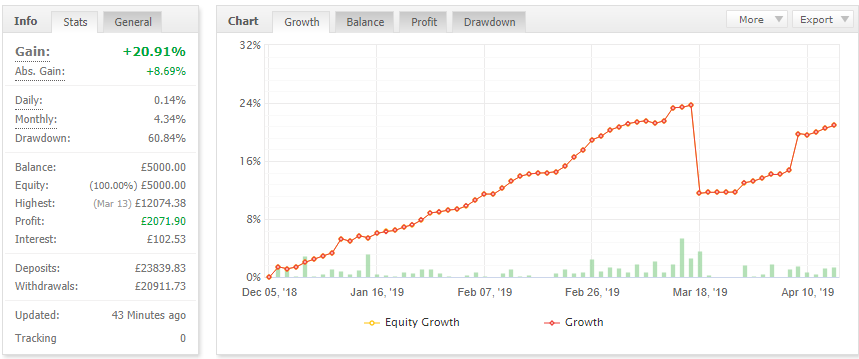 As one can see, the above real account has gained 20.91%, over a period from Dec 2018 to April 2019 with a high drawdown of 60.84%. All of these point to a very poor trading performance compared to other similar FOREX EAs.
Negative User Reviews and Feedback
If the numerous reports and testimonies from swindled customers and traders are to be believed, then the application has a negative reputation in the community. It is widely believed that owner Ninoslav Golubovic is running a fraudulent business on the pretext of selling Forex signals. There have been confirmed reports about the fake awards mentioned on the homepage, along with several negative user reviews. Some of them are attached below.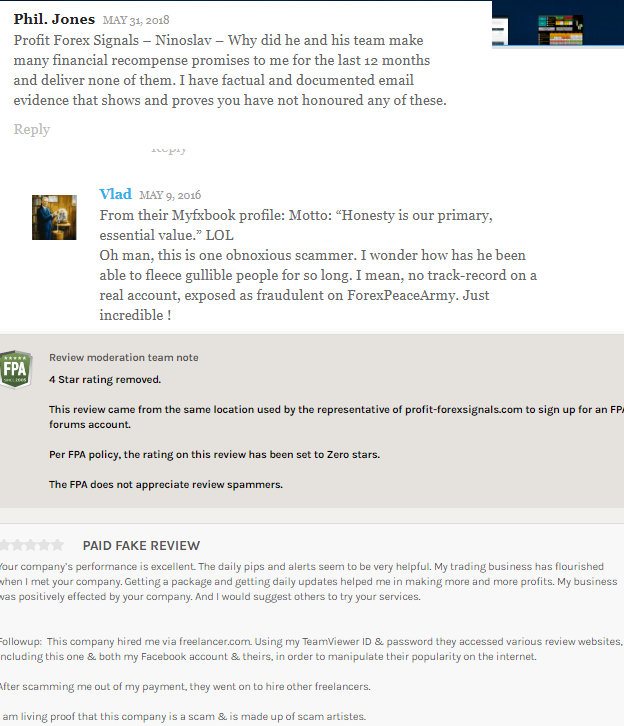 As seen above, the owner has also been accused of paying freelancers for posting fake reviews. The platform has received a warning from the FCA as well, all of which are huge red flags for any trader.
Advantage
Disadvantage
Professionally Designed Website
·       Falsified Myfxbook Account
·       Disappointing trading Results

·       Has received warning from regulators

·       Negative User reviews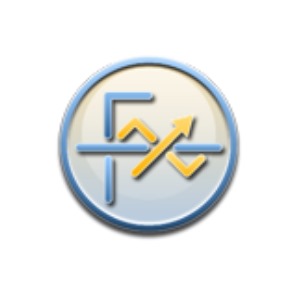 Verdict
After evaluating the features, trading strategy and other factors, it is not recommended to go for this Forex Signals Service. The fact that there are numerous testimonies from ex-users regarding how they got swindled, as well as reports of fraudulent activities committed by the owner, should be regarded as a red flag and thus should be avoided.