1000pip Builder is a service for organizing passive earnings in the Forex market. You pay for a subscription → receive notifications (signals) with the parameters of the nearest transaction → use the recommendations and get high chances of winning. The first record about the 1000pip Builder service was on Facebook on December 11, 2018, and the official site appeared in early 2019. Let's try to figure out what conditions 1000pip Builder developers offer, what is unusual here and how realistic is it to make a profit. If you are not interested in the review, go straight to the conclusion. There are our opinion and assessment of the reliability of the project.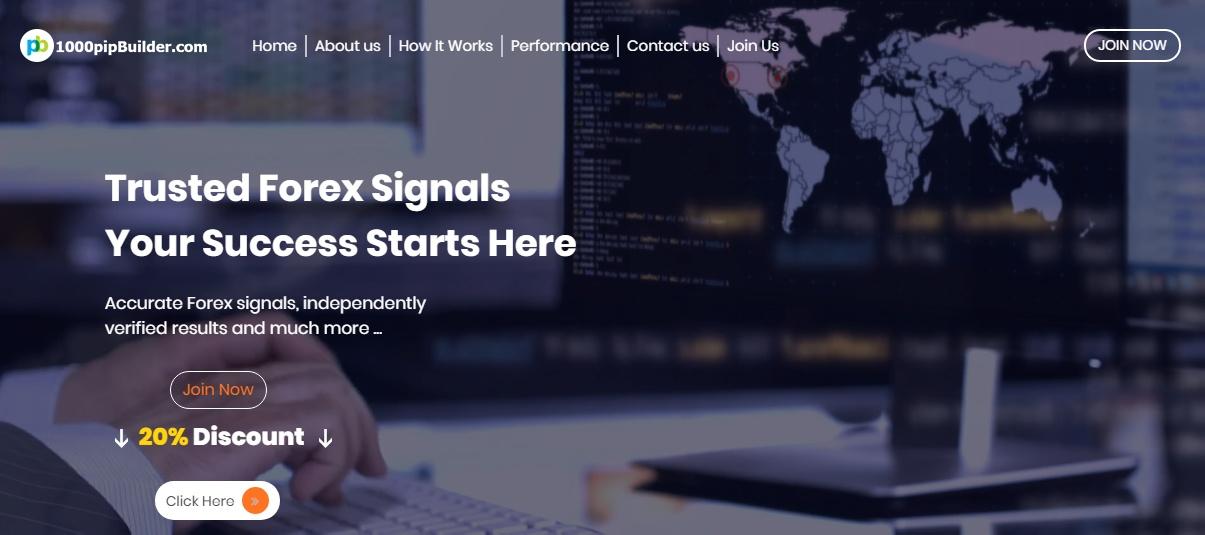 1000pip Builder History
Some Bob James was born, who an unknown year went to work in some London financial company. This company was incredibly successful, and Bob worked in it for ten years. During this time, he managed to: gain experience in Forex trading, learned to teach Forex earnings, well understood technical and fundamental analysis. The acquired skills allowed Bob to find great trading opportunities and turn them into big profits. That'sThat's all. If you want to make money with Bob, join the 1000pip Builder service and hurry to start trading.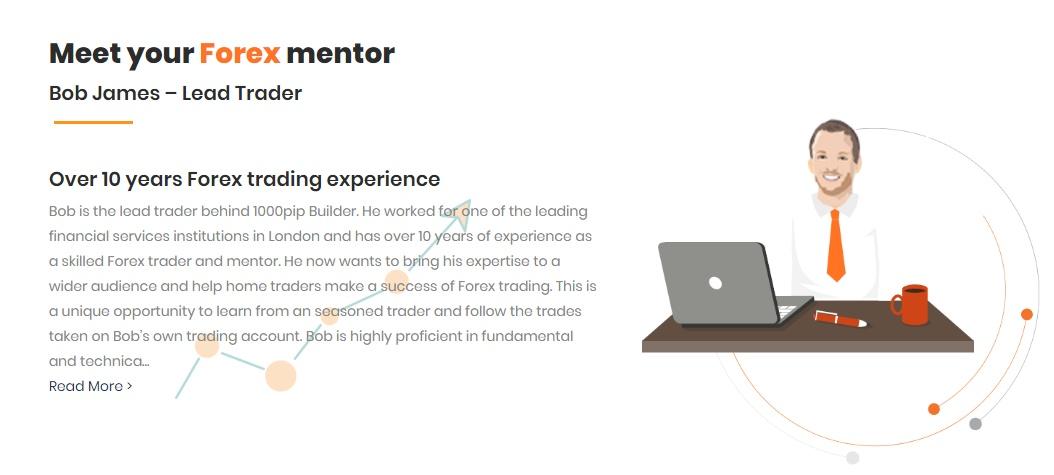 Note: we are not trolling or criticizing projects due to minor flaws. The history of the 1000pip Builder service is taken from the official website and retelling from the position of facts. That is, we removed all the beautiful descriptions and demonstrated that there is nothing behind these signals. We do not know who founded the project, what qualifications this person has, and whether they can be trusted. Information about Bob James cannot be verified, so already at this stage, we consider the signals 1000pip Builder an unreliable way to make money.
Profit mechanism
According to Bob James, his trading signals will be useful to two categories of traders. Beginners who want to get a tangible monetary advantage over their colleagues at the start of a career. Experienced traders who have spent a lot of effort on forex to no avail and are now counting on compensation. 1000pip Builder – these are daily alerts that will come five days a week and will help solve all problems. It works as follows:
Bob independently does all the difficult work: conducts analytics and finds a favorable moment to enter the transaction.

Bob opens a deal in his fund.

Immediately after opening the transaction, you will be sent an email and SMS notifications with the details of the active position. The entry point, Stop Loss, and Take Profit size will be displayed.

You set the given parameters and earn.
Bob is located in the UK and trades during the European, American, and Asian trading sessions – that is, you can get a signal at any time of the day or night. If 'sit's difficult for you, you can only open part of the positions. Bob claims that 'sit's also possible to make money (profit will be good, but less than usual). It'sIt's not clear what kind of profitability to count on since this parameter is not prescribed anywhere on the official website.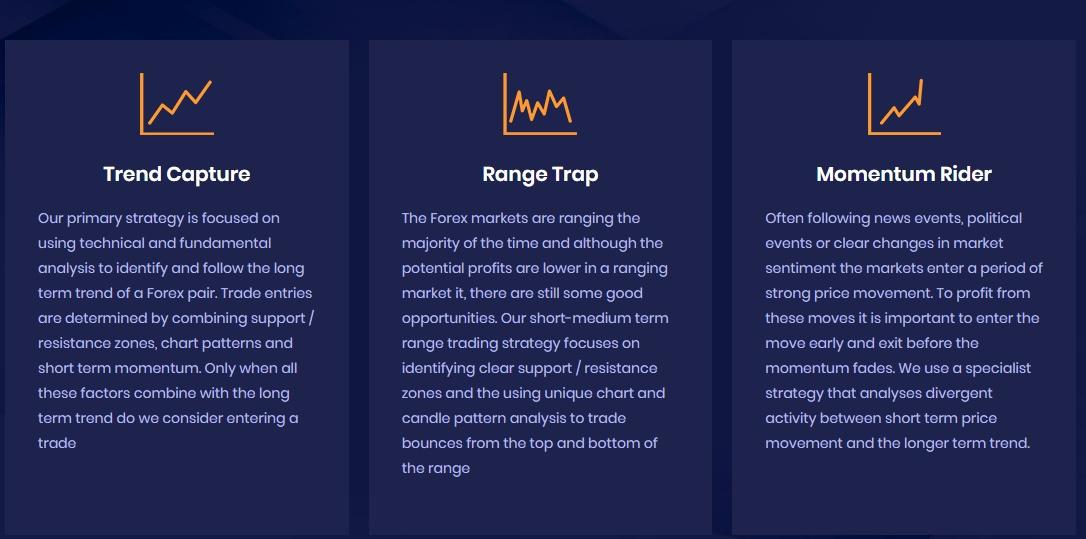 There are no details on the involved trading strategy that will generate signals. There is only textual communication of the fact that in 24 months, the algorithm used brought 6500 points with a minimum drawdown. The analysis is based on a combination of technical and fundamental analysis, which will allow us to identify long-term trends and open short-term positions using support or resistance levels. As a confirmation on the website published several blurry screenshots that make it impossible to evaluate the performance of signals. Also, Bob does not have a blog or any statistics confirming his expert status. All that remains is the blurred concept, under which you can substitute a million existing trading systems.

Beginning of work
To receive trading signals, you do not even need to go through the registration procedure. It is enough to choose a tariff plan, click on the "Join Now" button, fill out the payment form, and confirm the order. My account is not provided. Also, the 1000pip Builder service does not have any guarantee that allows you to return money in the test period. That is, you buy a product that no one knows who created, that incomprehensibly works (and does it work at all) and which cannot be tested in advance. Doubtful product.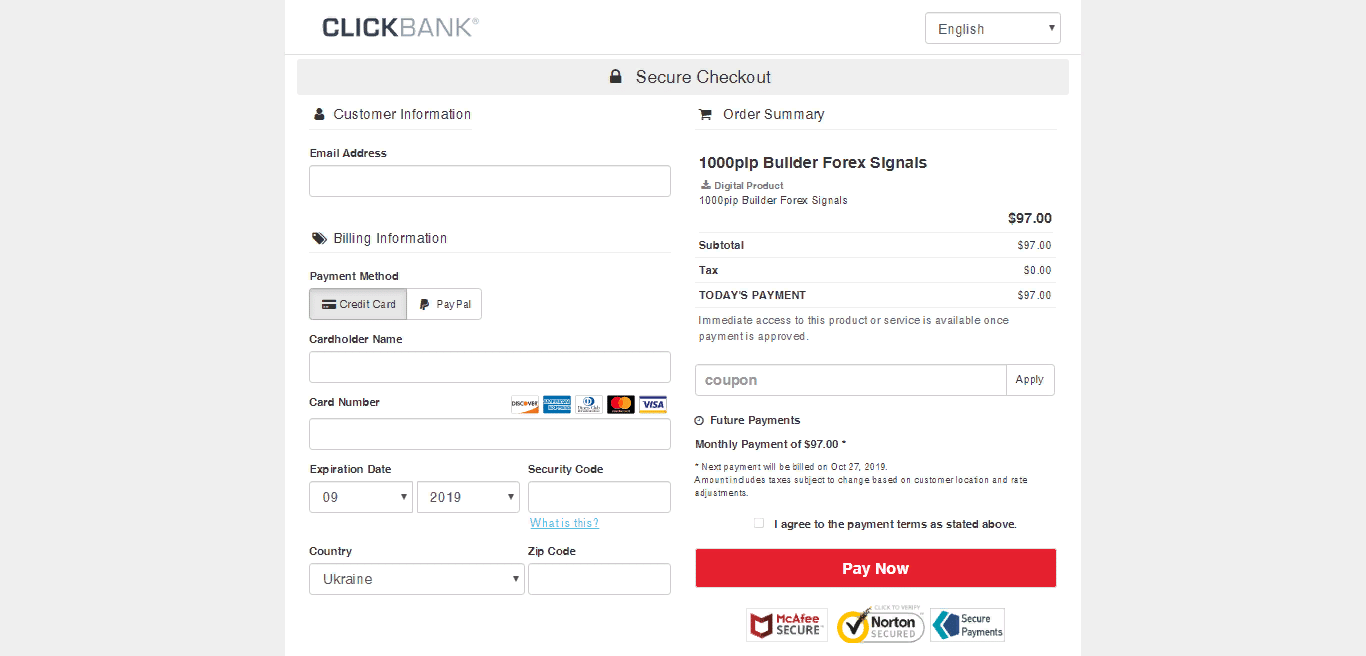 1000pip Builder Pricing
Trading signals 1000pip Builder can be issued for one, three, or twelve months – these are tariff plans with the same set of options that differ only in cost. For a month of subscription you need to pay $97, for three months – $227, for twelve months – $697. And another interesting point related to payment: by default, signals will be sent by email and duplicated in SMS messages. Moreover, the standard price of the tariff plan includes only email messages. Separate payment is provided for SMS notifications, the amount of which is not registered on the site. Bob says that not everyone needs SMS, and if you belong to this number of people, let him know about it. Only after that, he will tell you how to disable SMS and work with signals only by email. Why not do it right away?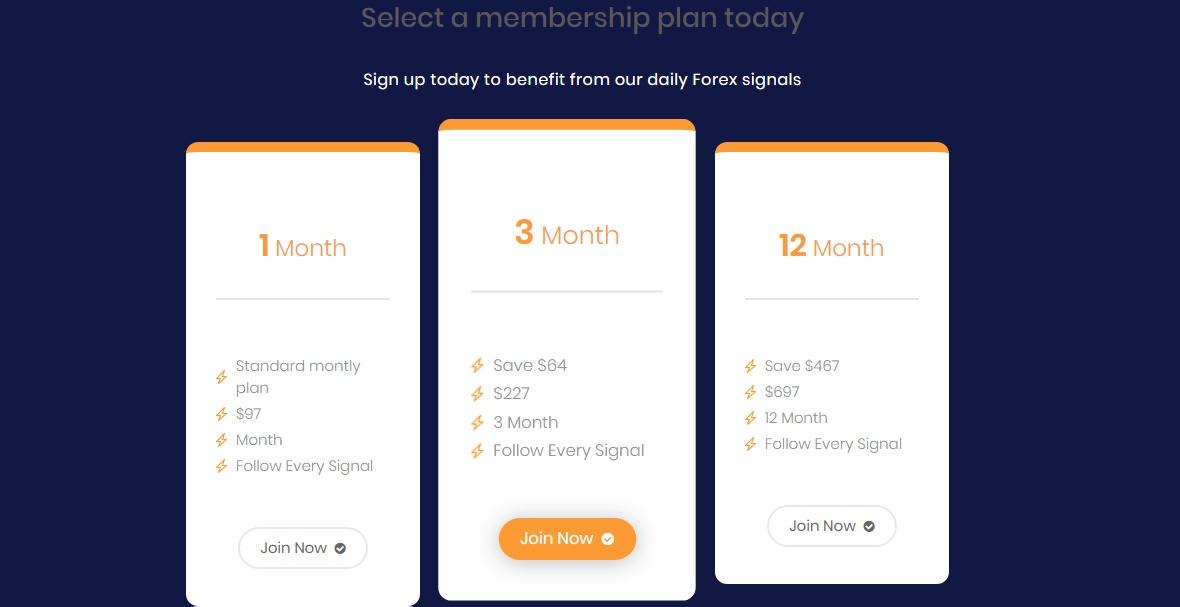 User Agreement Nuances
Here are a few key points that you need to pay attention to before paying for a product:
All information on the 1000PipBuilder website is published for educational purposes only – this is not personal advice or investment advice.

If you use the proposed trading signals, then you assume all risks and liability for the losses incurred.

1000PipBuilder signals have not been tested in the real market, and therefore the author can only assume that they can make a profit.

The site administration reserves the right to unilaterally change the content of the site, the software used, the procedure for sending emails and any other details at any time. All this can happen without notifying users and without the consequences of any kind of liability.

For the resolution of all disputes, it is necessary to apply to the courts of England, Wales, Scotland, and Northern Ireland. However, where exactly is unclear. On the site, 1000PipBuilder is registered at this address: London, United Kingdom (that is, somewhere in London). There is such an address: 1444 S. Entertainment Ave, Suite 410 Boise, ID 83709. These are the coordinates of the ClickBank intermediary service, which only accepts payment and is not legally associated with 1000PipBuilder. You can try contacting this address: Jubilee House 32 Duncan Close, Moulton Park, Northampton, United Kingdom, NN3 6WL is the registered office of Traders for Fair Trading Ltd, which appears in the 1000PipBuilder User Agreement. The only nuance is that 1000PipBuilder is part of the Traders for Fair Trading Ltd group, but legally these organizations are most likely not connected.
 In a simple language, the user agreement says the following. If you use the 1000PipBuilder trading signals, you will get someone else's deals that have never been tested and do not guarantee a profit. You can be disconnected from the process at any time. And you won't even find a court where you can theoretically file a complaint to protect your interests. Here is a sentence.
1000pip Builder Reviews
It makes no sense to analyze this parameter since almost all negative comments are cleaned up due to a generous affiliate program that allows you to get 50% for each new referral. That is, people promote 1000PipBuilder trading signals not because of their effectiveness, but due to the ability to make money on newbies or gullible traders. We are against this.
Verdict
1000pip Builder - these are useless trading signals that are actively promoted through an affiliate program and incur only a loss. Here there are all the signs of a cheap information business that every decent trader should go around the tenth way. There is a website made on the knee, minimal functionality, high-profile promises, and the absence of any specifics. We immediately anticipate criticism of all supporters of this resource and offer this bet: show Bob this article and ask him to provide his signals for the test for free. We will publish every transaction and offer our sincerest apologies if we draw the wrong conclusions. While this is not there, we do not recommend the 1000pip Builder service and see only cheating here. Good luck to everyone and beware of a bad investment!