Pterodactyl Forex Robot is a trading advisor that was designed by Forex Robot Trader. On the Forex Peace Army website the company has received many negative testimonials about its robots that aren't usually profitable or don't work at all. So, we have decided to check the system out, especially backtest reports and trading results.
Product offering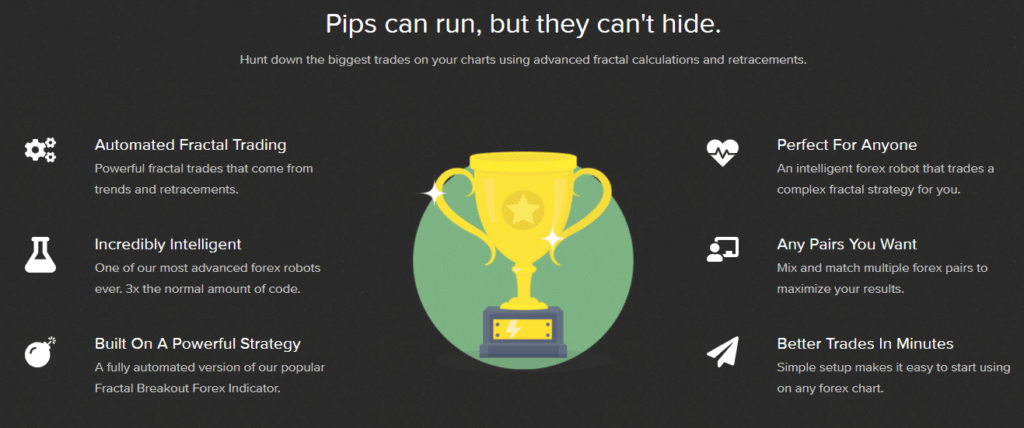 The presentation includes various details about how the system acts on the market and what features it has. We grouped them up in the following list. 
The developers designed a robot to let it work on the market automatically.

It uses "Fractal Trading" to seek trading opportunities on the market. 

The system was designed around "Fractal Breakout Forex Indicator."

We may start trading without previous trading experience. 

Trading is possible on any cross pair. 

Setting the system out takes several minutes. 

"Trend strength and retracements unite with the power of fractals. The Pterodactyl Forex Robot evaluates the strength of a particular trend and calculates the best time to enter the market based on retracements. Once a retracement is observed it plots fractal set ups and trades them for you automatically."

It opens orders with a high frequency. 

We can expect to trade over 100+ deals monthly. 

It works with several time frames at once. 

Scanning goes through all time frames to find trading opportunities.

There is robust stop management and trade closure features. 

The advisor removes false signals from being executed. 

We can manage risks that the account uses in trading. 

The system protects our open orders from the broker eye.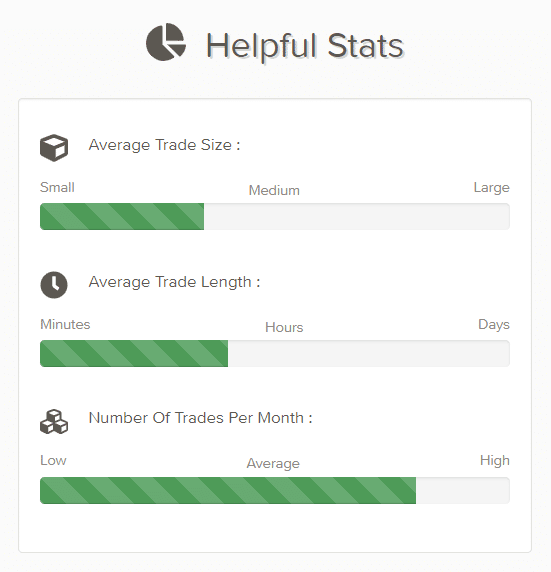 The presentation doesn't reveal data that is behind these claims.  

The system can be available for $49. There's a 75% discount applied. The start price was $199 but we have never seen it running. We have no details published about what the package includes. It's not professional. The offer isn't supported by refunds. 
Trading strategy
It works around a trend strategy and its indicators. 

The cross pairs to trade weren't mentioned. 

We have no explanations about time frames. 
Trading results
Another con is that the presentation doesn't include backtest reports. It's weird because we do not know if the system was tested before being released. So, we don't know why the devs didn't publish the backtesting reports.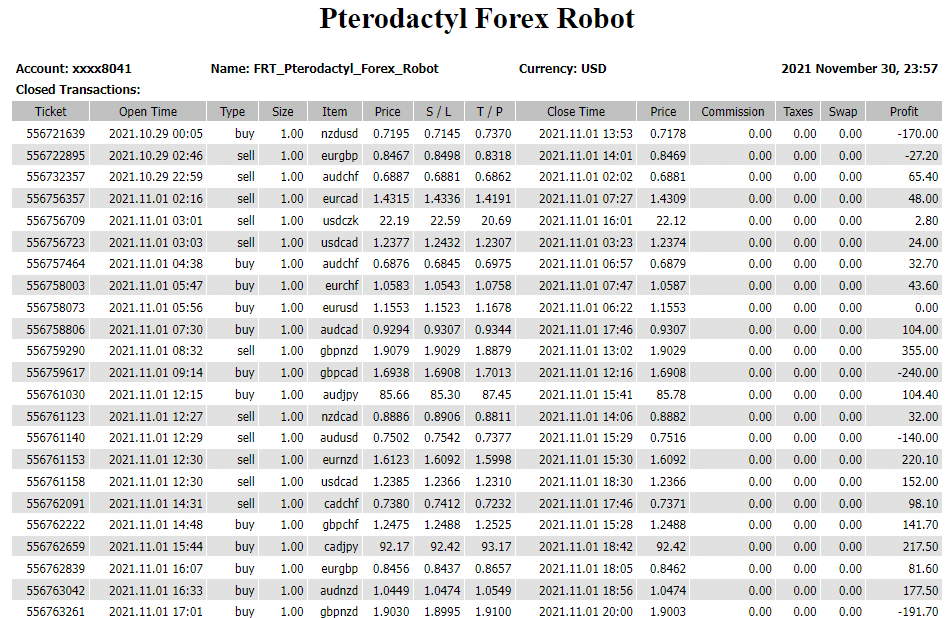 The devs claimed that those reports are trading results. We don't think so. First of all, this report wasn't formed from a real account. This means that the system has never seen real market conditions. We don't know why the developers avoided providing verified Myfxbook, Fxblue, FXStat, or MQL5 trading results. There are various features like charts, tables, and diagrams that help visualize the data.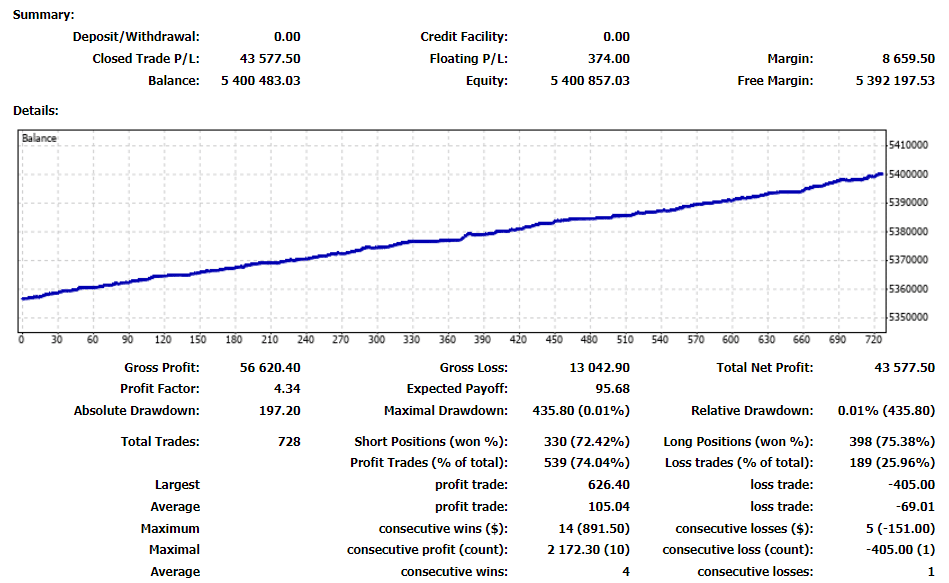 The devs try to convince us that their account has $5,392,197 on the balance. This is not right. The gross profit is $56,620., while the profit factor is 4.34. It almost doesn't experience drawdowns. There were 728 deals executed with 72-75% of the win rate. The win streak was four orders. 
Customer reviews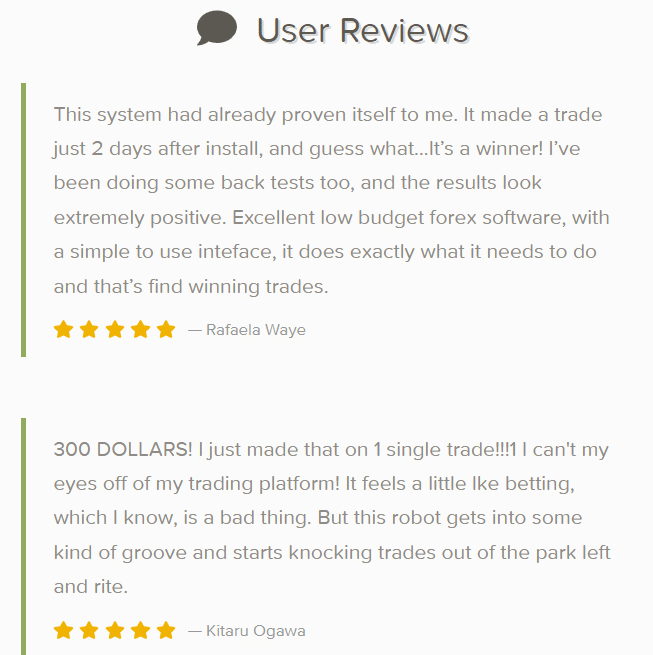 The presentation includes positive testimonials from people who are happy and completely satisfied with this service. 
The company has a page created on Forex Peace Army. There is a wall of negative user reviews warning us not to rely on the products offered by the company, as they do not work with most brokers, have multiple issues, and bring losses.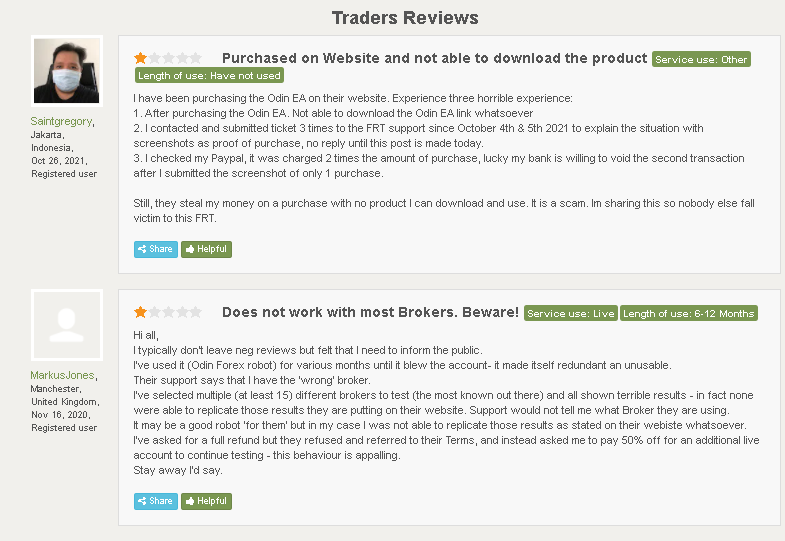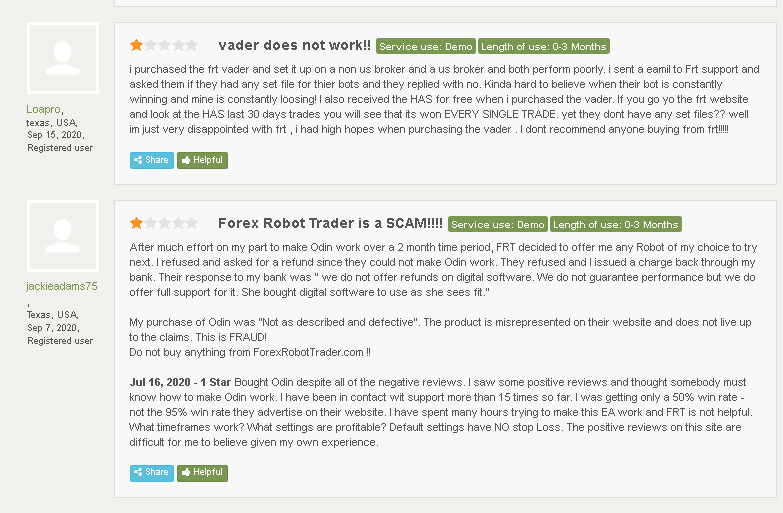 CONS
No team revealed
No risk advice given
No settings explanations provided
No money management advice given
No backtest reports or verified trading results provided
No refund policy supported
Verdict
Pterodactyl Forex Robot is a trading solution from FRT that has never shared verified trading results or provided backtests. The presentation also doesn't include a refund policy. We could note many negative testimonials written about the mother company. People balim them for many activities that can be treated as fraudulent.