Scalp Pro Indicator is an indicator that was designed by the Sinry Advice company. The developers are quite known on the Forex market. They usually design robots but this one is an indicator. They claimed that the system provides "Steady profit in your trading with the most trusted and downloaded tool in 2020 that generates a 65% win rate. SCALP PRO – Combination of Top Forex Indicators." We are going to figure out if this is true. 
Product offering
The presentation is short and a little informative. It was a challenge to find everything we have to tell you to make a wise decision about the system.
The indicator only informs us when it's the right time to open an order. We have to handle this manually.

It works with low time frames to spot trending opportunities.

We can learn something new from the system to start trade better.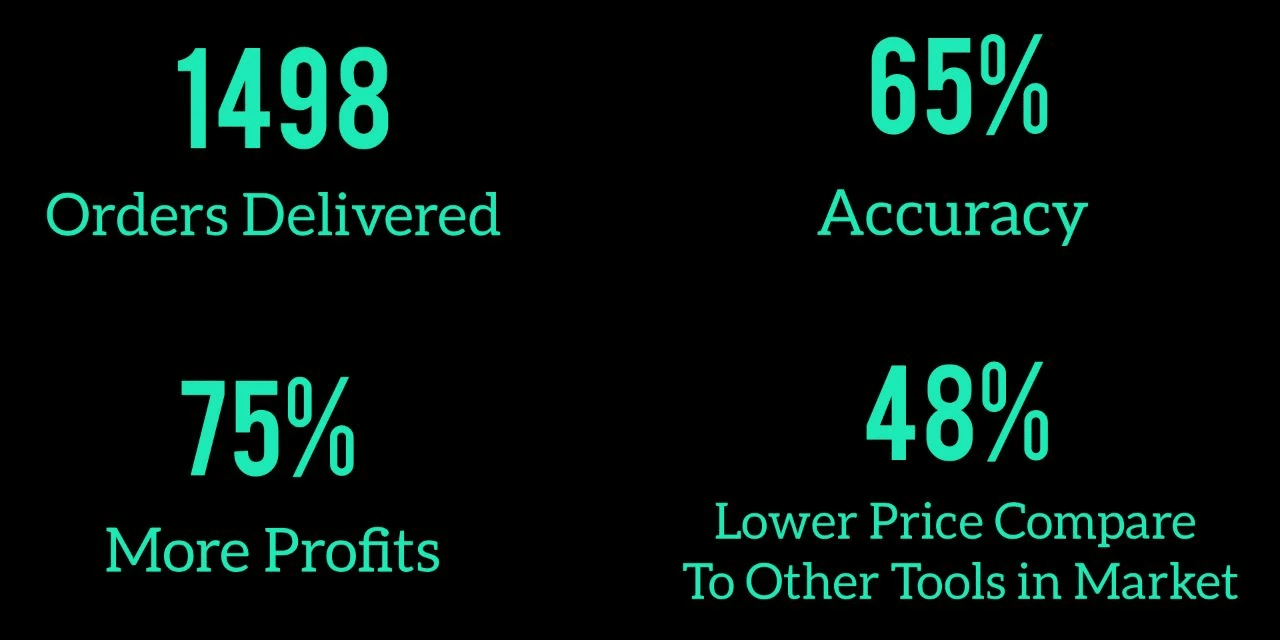 The developers cycle these statements from one presentation to another.

The system uses a price action strategy to find opportunities.

There are "daily auto-updates on daily-weekly support and resistance points."

The main time frame is M15.

We have a video provided of how the system should be customized and work in general.

After we buy it, the devs send us all the required information.

There are also three indicators pre-installed on MT4. 

These details aren't revealed.

If the confirmation was received from all of them at once, we could open an order.

The profits are usually short in pips.

"We can combine scalp with moving average."

"The third and final component of the SCALP PRO Indicator is a combination of three moving averages which are already installed in your MetaTrader 4 platform."

"Suppose the first two indicators give you a signal look for last confirmation, which is a cutting line of 12-EMA and 32-EMA. For example, if the12-EMA cuts the 32-EMA upwards and is near to the edge of the lower channel and close to support levels, this will be a BUY signal."

The core Simple Moving Average was charted based on a 200-period.

We are allowed to close orders manually as well if we note that there is a support or resistance level close.

We have to decide what risks we can trade with.

The devs said there should be verified results.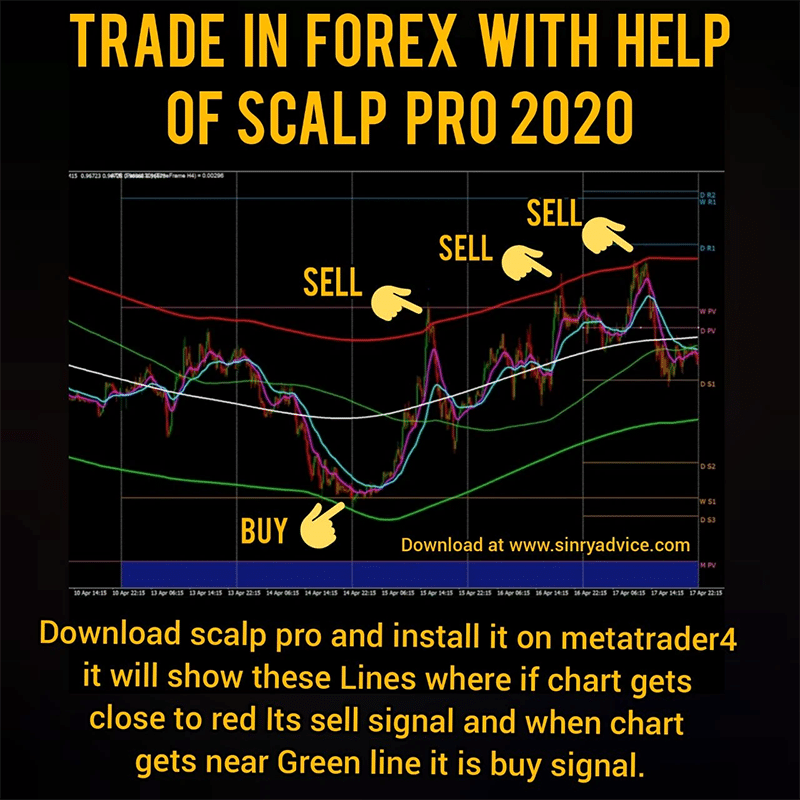 This screenshot shows how the system calls us to open an order.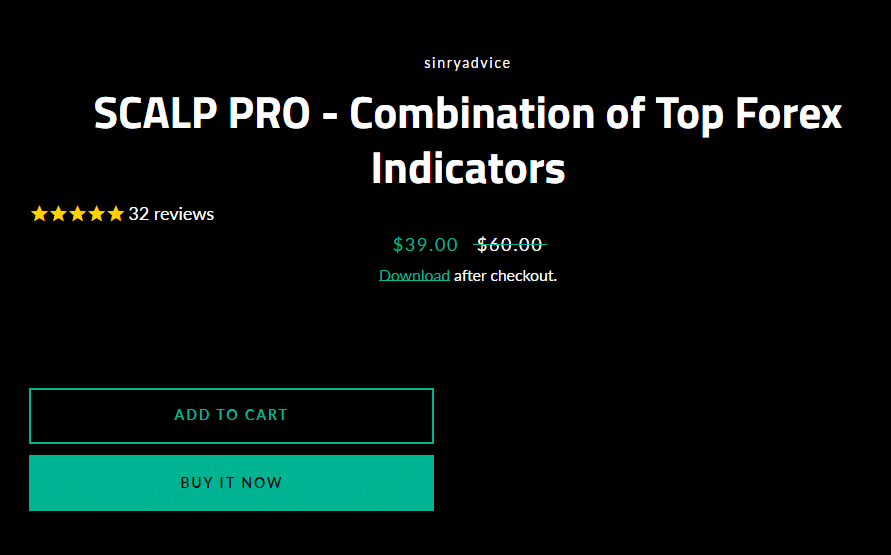 The offer is just one line long. It's unprofessional. We can buy the system for $39. The $60 price has never existed. Most likely, the package includes some licenses to work on demo or real accounts.
Trading strategy
The indicator spots trading opportunities based on the Price Action strategy.

We can work with any cross pair.

The best time frame to trade is M15.
Trading results
The presentation doesn't include backtests. So, how do they know that the system works properly? Usually, the testing phase is a must option before releasing the system. It doesn't allow us to know how it handled past data and from which broker.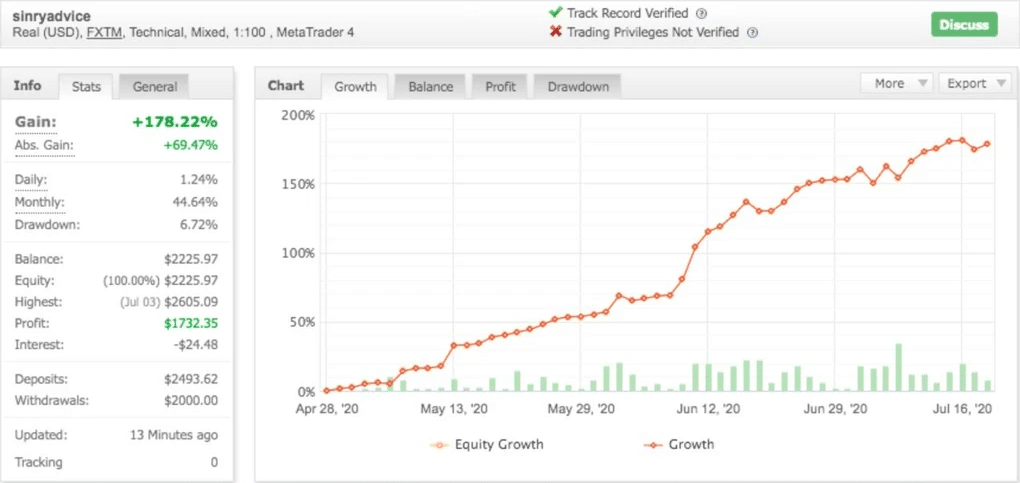 We have only this screenshot instead of verified trading results on the real or demo account provided. It's only a screenshot of the account, which we couldn't find on myfxbook. It's a scam to mention it without providing a link to it. It was deployed on April 28, 2020, deposited at $2493 and withdrawn at $2000. Trading activities were stopped over a year ago. The absolute gain was 178.22%. An average monthly gain was – 44.64%. The maximum drawdown was 6.72%. We wouldn't like to trust them blindly.
Customer reviews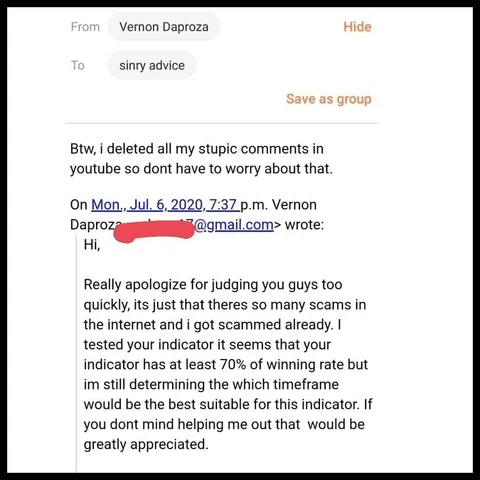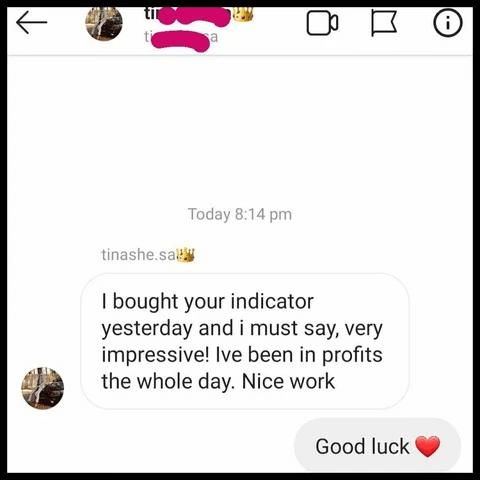 The presentation includes some testimonials that look fake. It's impossible to trust screenshots because they could be taken from conversations of the devs and their friends. Only verified ones are relevant. 
PROS
A well-known design company is behind
Affordable pricing
CONS
No risk advice given
No settings explanations provided
No backtest reports provided
No trading results shown
The screenshot of trading results is one-year-old
The devs provided unverified testimonials
Verdict
Scalp Pro Indicator that is based on the price action strategy has neither a good presentation, backtest resorts, nor trading results. Without this important data it is impossible to believe the developers and their claims of the system's efficacy and profitability. We are sure that the devs must take a step forward and publish trading results. The price is affordable, but we don't have verified testimonials from clients.