MetaTrader 4 and MetaTrader 5 (MT4/5) are two of the most popular financial market charting platforms on the planet. However, the uninformed person may be forgiven for believing such software is only reserved for self-directed traders.
Whether you're a seasoned speculator with years of experience or don't know what a pip is, MT4/5 has something for everyone to profit from the markets. One of these inventions is social trading, a form of investing that's been around since around 2010.
Let's explore more about this concept and how it works with MT4 and MT5.
Social trading in MT4/5
Social trading is an umbrella term for copy trading and mirror trading. The former is the most prominent type we see nowadays, although both are pretty similar.
Nonetheless, social trading describes the practice of low or no-experience investors coming together and copying positions in real-time from designated expert traders on a platform. 
Social trading services have user interfaces comparable to social media networks, where users can interact with each other by chatting, asking questions, and exchanging ideas. With the MetaTrader platforms, social trading is provided through their product called Trading Signals. 
Here, users can subscribe to a list of thousands of signal providers for free or through a monthly subscription. However, rather than taking particular buying/selling recommendations that need manual execution, this facility permits real-time automatic copying of the expert trader's positions as with any copy trading service.
Trading Signals is available in the MQL4 and MQL5 communities (for MT4 and MT5, respectively), which you can access online or using the corresponding charting platforms. 
Like any respected copy trading service, MQL4 and MQL5 show advanced performance statistics of the signal provider, such as percentage growth, profit, equity, deposits/withdrawals, drawdowns, account age, recovery factor, reliability, profit factor, and even trading history.
Below is a screenshot of how the service displays this information for each signal provider on the MQL5 platform.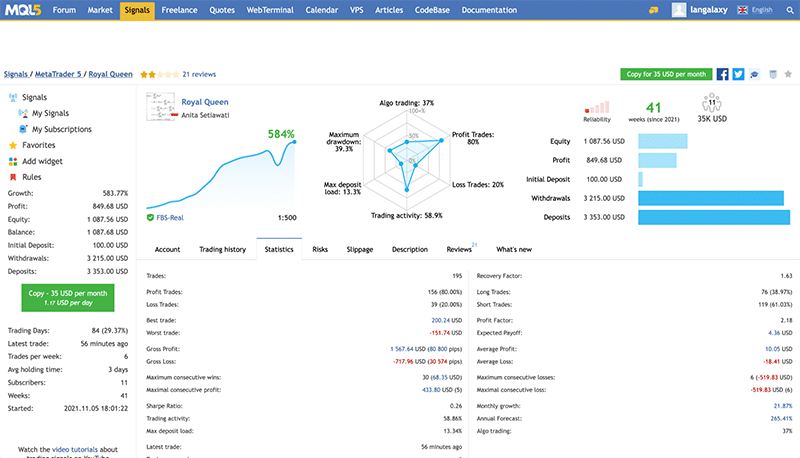 This information is understandably crucial in ensuring you subscribe to the least risky trader. MQL4/5 carefully screens its signal providers for credibility and will remove anyone if their results from the previous month are less than satisfactory.
The Trading Signals service also allows anyone to become a signal provider and receive additional monthly income from investors.
Benefits of social trading with MT4/5
MQL4/5 provides a gateway to one of the largest copy-trading communities in the world, which has become a staple among forex traders. Here are some of the main benefits of social trading through this platform.
For signal providers, MT4 is used by nine in ten forex brokers, meaning the accessibility is widespread. Although the usage of MT5 is far less, this is still growing.

MQL4 and MQL5 showcase thousands of free and paid signals, allowing for a comprehensive and exciting variety.

Signals are provided on both demo and live accounts.

Investors can subscribe to countless strategy providers.

Anyone with a proven profitable track record can become a signal provider and earn additional income with their own subscription rate.

At $15 per month, MetaTrader offers a built-in VPS (virtual private server) for users to experience uninterrupted and fast execution with barely any latency.
The set-up process for signal subscribers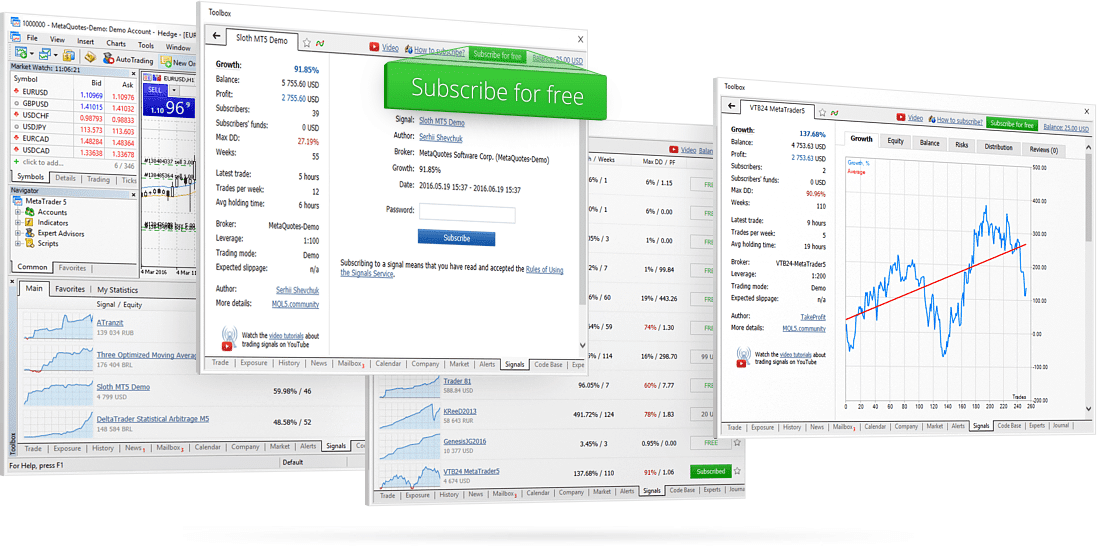 You can sign up to MQL4/5 via a broker (if they have a copy trading account) or through either website of MQL4/5. The three main prerequisites for following a signal provider are:
Installed MT4/5 trading platform with an active account

An account from MQL4.com or MQL5.com, which you sign up for online with your email address and a unique username

The MQL account should be funded to pay the subscription fee, which can be done via VISA/Mastercard, UnionPay, WebMoney, Neteller, PayPal and ePayments 
After meeting these requirements, users will have access to all the available signal providers where they can review their performance one-by-one thoroughly before subscribing. By default, the most successful signals will be at the top of the list. 
If following more than one signal provider, you can allocate different deposit amounts from one screen. Before deciding to copy, users must configure particular risk and spread parameters for each provider.
The set-up process for signal providers
You will need a live account from an MT4 or MT5-supported broker as a potential signal provider with profitable results. The longer and more conservative your track record is, the easier it becomes to attract followers, increasing your earning potential.
Experienced traders register through the MQL4/5 websites as a seller and need the MT4/5 software pre-installed. Unlike when you're copying signals, providers need to submit more personal data, including contact details and identity documents. 
During this process, you create a username for each of your live accounts (if you have more than one) and set your price. After that, your signals will be linked to the MT4/5 showcase section, making it publicly available for users on the platform to subscribe.
Curtain thoughts
Ultimately, it's a win-win situation for everyone involved. As a signal follower, you piggyback off the skills of more experienced traders who make you money by charging a fee. 
For successful traders with reliable strategies, becoming part of social trading can provide another income avenue, taking pressure away from having to generate profits for themselves.  Yet, copy trading isn't perfect and has its flaws, particularly if you're following the signals.
Even if one doesn't have knowledge of any financial market, it does help to have a crash course of sorts, with particular attention to trading costs, performance statistics like drawdown, and other risk factors.
Social media platforms are known for having providers with some impressive results, although these may be highly risky and unsustainable. Therefore, you should fully understand all the dangers and choose signals after proper due diligence.