The MetaTrader 4 is a popular trading software that is offered by most forex brokers. The software, commonly known as MT4, was developed by a company known as MetaQuotes. It is offered by most forex and contracts for difference (CFD) brokers. In this article, we will explain the idea behind MT4, how it works, its differences from MT5, and some of its best features.
The MT4 concept
Running a forex and CFD brokerage is an expensive thing. In the past, companies had to develop their own software, run their marketing programs, and even have a team of full-time IT developers. Today, most companies outsource all these functions. They buy an already-built software, hire an external marketing agency, and use platforms like Upwork and Fiverr to source employees.
MetaQuotes is one of the biggest trading software providers in the world. It builds both the MT4 and MT5 software and then sells them to brokers globally. The partnership with companies is simple. It brands the software for the firms and then handles all the software updates that are needed. 
As a result, companies are able to save money since they don't need to build and maintain their software. This explains why most forex brokers operate as lean organizations with just a few staff. 
The MT4 software comes in a number of formats. It has desktop software that can be installed on most computers. There is also a web option that can be accessed through most browsers. Also, there are mobile applications that can be installed on most Android and iOS phones and tablets. 
How to install the MT4
There are several ways to install the MT4 software. First, if you are a mobile user, you can just go to the app store and download it. 
Second, if you are a desktop user, you can visit the MT4 website and then download the software. When you do this, the software will automatically create a demo account for you.
Finally, you can download the software from your broker's website. After creating an account, the broker will give you a link to a page where you will find the software.
In most cases, we recommend that you follow the latter process. By so doing, you will get the real software that you will use to trade. 
Alternatively, when you use the second option, you can link it with your existing brokerage account. 
Parts of the MT4
There are several parts of the MT4 software. In the upper part, there is the navigation part, which is made up of options, like file, view, insert, charts, tools, window, and help. 
Slightly below that section, there are several buttons, which provide shortcuts for key sections of the software. Some of the most commonly used buttons in this section are new order, chart types, and trendlines.
On the right side, there is the market watch section. This is a section that has the available currency pairs and other assets that are offered. In most cases, the software will show just a few of these assets. To expand all, you should just right-click and then click show all.
Below that part is the navigator window, which also provides several shortcuts, like accounts, subscriptions, indicators, expert advisors, and scripts.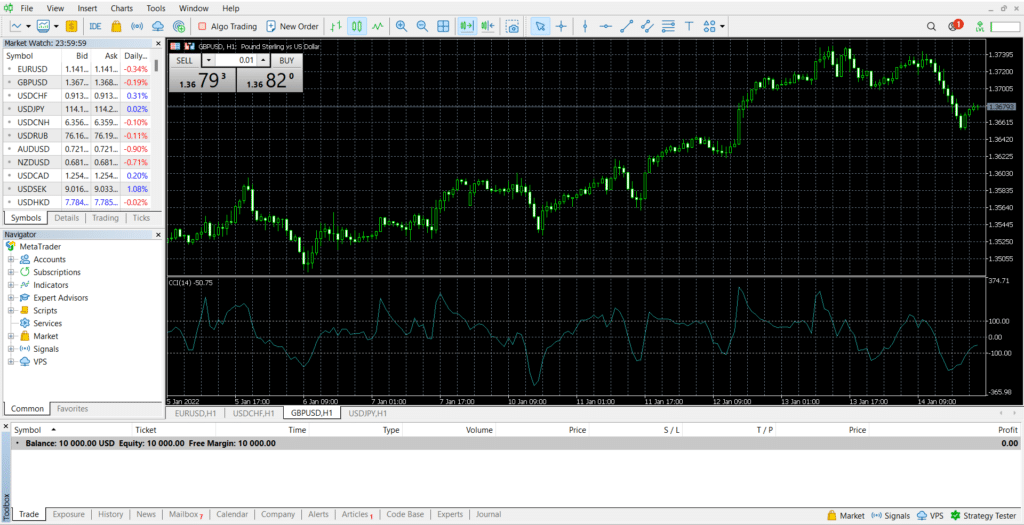 Finally, at the lower side of the software, there is the toolbox tab where you will see the account balance, exposure, history, news, mailbox, calendar, and the codebase.
MT4 vs. MT5
The MT4 and MT5 have a close resemblance. However, beneath the surface, there are several differences, which explains why most brokers offer the MT5 to their most advanced customers.
First, the MT4 comes with fewer pending order options. It comes with just buy and sell stop and buy and sell limits. The MT5, on the other hand, comes with these four and other options like buy stop limit and sell stop limit.
Second, the MT4 comes loaded with fewer indicators than the MT5. Some of the extra indicators it comes with are the Variable Index Dynamic Average, Fractal Adaptive Moving Average, and Triple Exponential Average. 
Third, the MT5 comes with an inbuilt economic calendar. With it, one does not need to use external calendars such as those offered by companies like DailyFx. The MT4 does not have an inbuilt calendar.
Additionally, the MT5 comes with additional charting features like the Elliot Wave charting tools. The MT4 does not have them.
Top MT4 features
Like most charting software, the MT4 comes loaded with a number of features. First, the software comes with an inbuilt panel for developers. You can access it by going to tools and then Metaquotes Language Editor. As shown below, this editor allows you to do many things, like creating a custom indicator and expert advisor. It also allows you to create these products from scratch or to simply use the existing templates.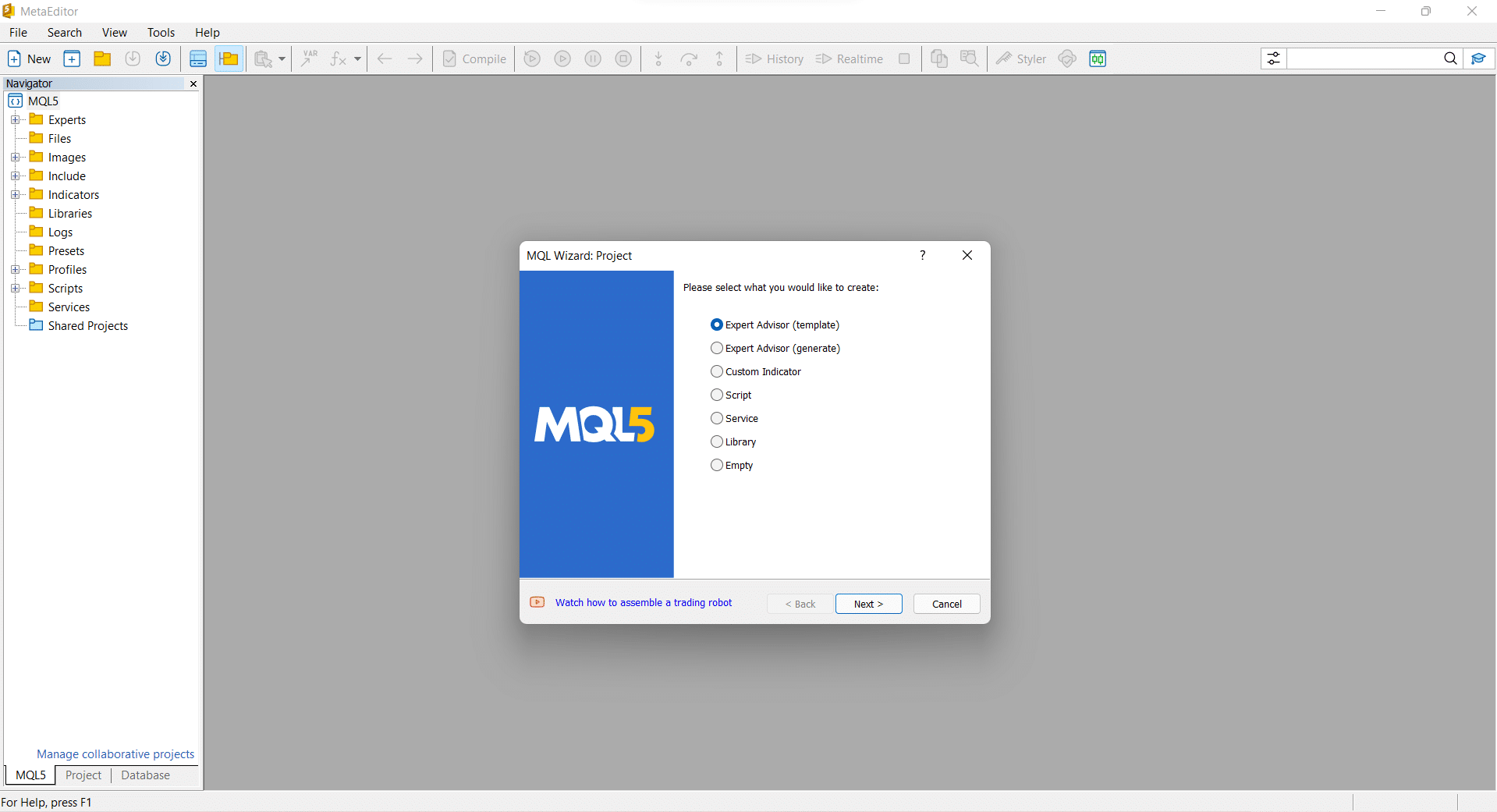 Second, the MT4 software comes with a strategy tester feature. This is an important feature for anyone who uses expert advisors or robots. It simply allows them to use historical data to test the performance and efficacy of their robots.
Third, it has a bunch of inbuilt indicators that you can use to analyze all markets. The most commonly used indicators are the Moving Average, Relative Strength Index (RSI), and the MACD. It is also possible to install custom indicators in the MT4 software.
Fourth, it is possible to link a virtual private server (VPS) in the MT4 software. A VPS is a useful tool that helps to ensure reduced lag in data. It also ensures that the software is operational most of the time.
Final thoughts
The MT4 software is a popular tool that most people who have traded forex have encountered. It is easy to use and is mostly recommended to all types of traders. It is also a highly customizable software, which you can add useful products, like expert advisors and indicators. We recommend that you learn and master both the mobile and software version of the MT4.