The robot that we are reviewing today is Sweet Profit Robot. It looks pretty legit as far as first impressions go, but upon digging a little deeper, all the fault lines become too apparent. So, is this robot worth one's time and money? Let's find out. 
Product Offering
The robot is designed to simplify a trader's tasks and claims to earn hundreds of dollars every day. It is promoted as a robot that is user-friendly for traders of all types and breeds, even to amateur beginners, and requires hardly 20 minutes to set up. The robot's home page suggests that it requires very little input from the trader. It is highly customizable and one can change the settings based on one's preferences.
Additionally, it comes in two packages – standard and premium. The former is available for $99 while the latter for $169, both being monthly charges. Another claim that we get from the website is that there is no other robot that can match its performance. Now, that is an audacious move on their part, given that they don't provide much information regarding their backtests. 
| | |
| --- | --- |
| Minimum Balance | $100 |
| Leverage | 1:500 |
| Trading Platform | MT4 |
| Currencies | All Major Pairs |
| Built-in Filters | Yes |
Trading Strategy
There is not a whiff of information on the site's homepage about the trading strategy that the robot utilizes. All that it says is that it uses 'technical analyses based on various Algorithms,' which is no more informative than saying that water is wet. It goes on to say that due to the algorithmic nature of the robot, great trades are taken generating profits upon profits. 
One must understand that just because a robot works on algorithms (which all of them do), it doesn't mean it beats the market every time. If that were the case, the developer won't be selling it and instead using it himself/herself to make money. Similarly, there is nothing regarding the time frame that the robot works best in. The only thing we know is that it should be used at default settings. 
When there is such a dearth of information, any trader would be wary to continue, let alone pay for the robot. 
Trading Results
Now, let us finally get to the live trading results, which mean the most to any trade, all things considered.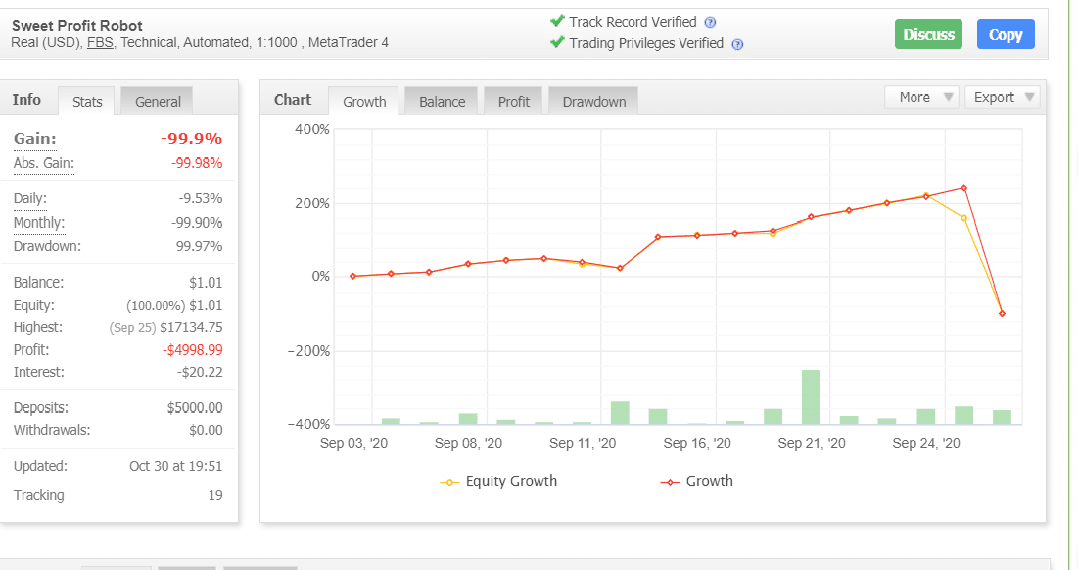 As one can see from the image above, things don't look that great for Sweet Profit Robot. This is what happens when things go south without intervention, they keep going south. Everything from average win to gain percentage and profits are in free fall, while things that should be going down are going up, such as drawdown and average loss. The risk of ruin for every single trade has been near 100%. 
Much of that can be laid at the feet of the market downturns this year, especially after March. But, that is exactly the kind of situation that ungoverned and reckless strategies lead to, especially when there is a high risk-to-reward ratio. 
Customer Reviews
There aren't any customer reviews to speak of in the online trading community. The reason for that seems obvious – nobody has used this robot yet. That goes to show that traders have been wise in making their decisions and haven't fallen prey to such scams. Without any legitimate backtests, strategies, or live trading results, it is no wonder then that anyone would want to purchase such a robot, that too at such exorbitant prices.  
PROS
Trades all major pairs
Compatible with all financial markets and MT4
CONS
No information on trading strategy
No positive customer reviews
Abysmal live trading results
Very expensive monthly package
High risk-to-reward ratio
Verdict
Sweet Profit Robot is perhaps the worst robot that we've ever reviewed. Not only does it not have anything working for it, be it in terms of trading results, customer reviews, or trading strategies, it also appears that traders have paid no attention to its schemes and fake claims. We don't recommend this robot to anyone.