Telegram Connector developers pledge to save traders from the trouble of having to look at their phone 24/7 to track their trades. With this software, users can connect their signal providers' Telegram group with their trading accounts. As a result, they can get updates on every trade executed throughout the day.
The software is designed to read all signal configurations posted by telegram signal providers, and is updated frequently. As per vendor claims, 1186 users have purchased Telegram Connector's VIP package and 1255 clients have given positive feedback.
Product Offering
There is nothing unique about Telegram Connector's presentation on its official website. The developers highlight what the software does, how to set it up, separate features, and pricing plans. FAQs, customer feedback from Trustpilot, and a contact us form are also presented. 
Developers of this system are unknown. We could not find any pertinent information about them on the system's website. The evident thing is that the vendor is from Denmark as this is indicated on the site. 
The product has 3 subscription options. To get the basic plan, a trader is required to pay $34.99 monthly and receive 2 MT4 or MT5 accounts. The pro package costs $49.99 monthly and comes with 5 MT4 or MT5 accounts. When users subscribe to the VIP offer (79.99%/month), they receive 10 MT4 or MT5 accounts. All of these pricing plans feature unlimited telegram signals and signal groups, and lifetime updates and support. The developers reiterate that free trials are not offered.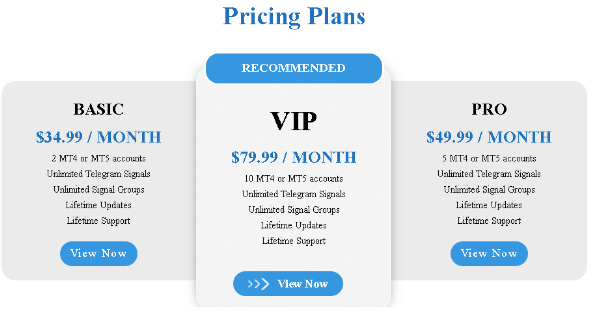 Trading Strategy
Telegram Connector acts as a linkage between a signal provider's Telegram group and the user's account. It then obtains every trade that the signal provider places in the Telegram group. This ensures that the user receives information on each trade deal made. 
The system's features are described below:
Executes signals from Telegram groups within seconds

Manages a trader's risk on every trade 

Has a build-in multi language tool

Manages risk on every asset 

Trades on various types of instruments including commodities, FX, indices and cryptocurrencies

Applies different SL and TP rules

Is able to read numerous take profit levels and carry them out

Incorporates build-in signal analytics module

SL and TP levels are customizable

Allows a trader to choose to either work with an instant or pending order signal

Enables a trader to set their own expiry period on pending orders
Trading Results
The developers have not provided backtesting results. Seasoned traders normally prefer trading with EAs that have backtest data. Such kind of data is essential as it helps them to gauge the effectiveness of the system's strategy in generating profits in the long-term. The fundamental theory is that any strategy that was efficient in the past, will most likely work well in the future. In this case, the vendor denies the user the chance to make an informed decision about whether to invest in the system or not.
Notably, users have the option of buying a backtester from the vendor. The Telegram backtester makes it possible for the trader to determine the profitability of the signal provider.
Live Trading results are also missing. So, it is hard to prove if the system performs the way the vendor claims. 
Customer Reviews
User testimonials for this software are available on Trustpilot. The reviews are mixed, but a majority of them are positive. The website gives the feedback a rating of 4.2 for a total of 52 responses. Markedly, 15% of users feel that the system is bad while 2% of them believe it is poor.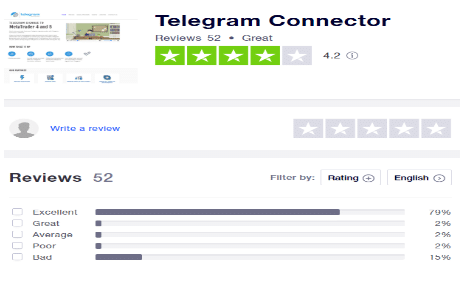 We took note of some grievances from several users. One of them indicated that the software used to disconnect often. Another cited encountering challenges installing the product and being charged for a system that was not working.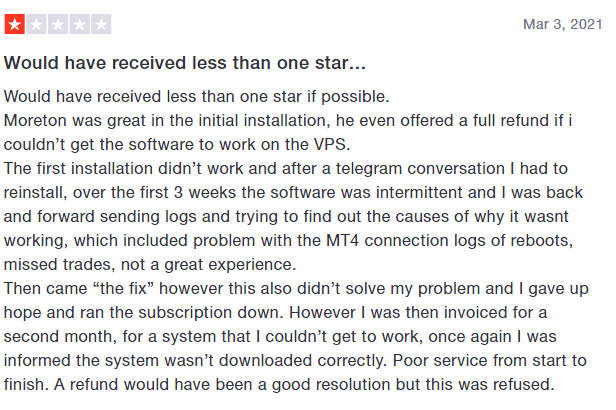 PROS
Manages risk for the trader
CONS
Live Trading results and backtest data are not provided
Vendor transparency is lacking
Money-back guarantee is not offered
Verdict
After our thorough review, we have concluded that Telegram Connector is not worth investing in. The lack of live trading statistics and backtest data raises red flags about the software's ability to generate profitable results for the user. The absence of vendor transparency is another drawback that puts the reliability of the system into question. Since traders cannot get a refund if they are unsatisfied with the product, it is better not to trade with Telegram Connector.