Trend Signal is a service providing a trading strategy called Sniper for Forex traders. As per vendor claims, one can use this strategy to turn a £2000 account into £9000. It is also claimed that this strategy, combined with the support and training provided by Trend Signal, has enabled several traders to earn steady gains from the Forex market. However, this is something that we need to investigate independently.
Product Offering
The presentation on the official website is a bit disorganized. We have a list of benefits offered by the strategy, followed by some customer testimonials. In order to learn more, one has to complete the registration process first, which is a bit odd. Ideally, the vendor should have provided more details on the home page itself.
Trend Signal Ltd. is a company located in Bedfordshire, United Kingdom. It was founded in 2003, and its team consists of IT professionals and traders with a combined experience of 90 years. The main individuals heading this company are Managing Director Jerry Miller, Director Adrian Buthee, Associate Directors Zoran Vucenovic and Sam Lewis, Business Development Manager Lewis Clamping, Marketing, and IT Executive Jeven Singh, and others. 
Taking a quick look at the website, we can see that the vendor has not shared any verified trading results. Additionally, the company only reveals strategy details for the members only, which is a major red flag. A reputable company should furnish the maximum possible information on the website for the general public. 
The vendor has not revealed the pricing details on the official website. This makes us think that the company might have some hidden charges we don't know about. Trustworthy vendors are always transparent when it comes to the pricing details, so it is possible that Trend Signal is a scam service. To claim a refund, you need to apply within the first 14 days, and this is not enough time to check the performance of the strategy.
Trading Strategy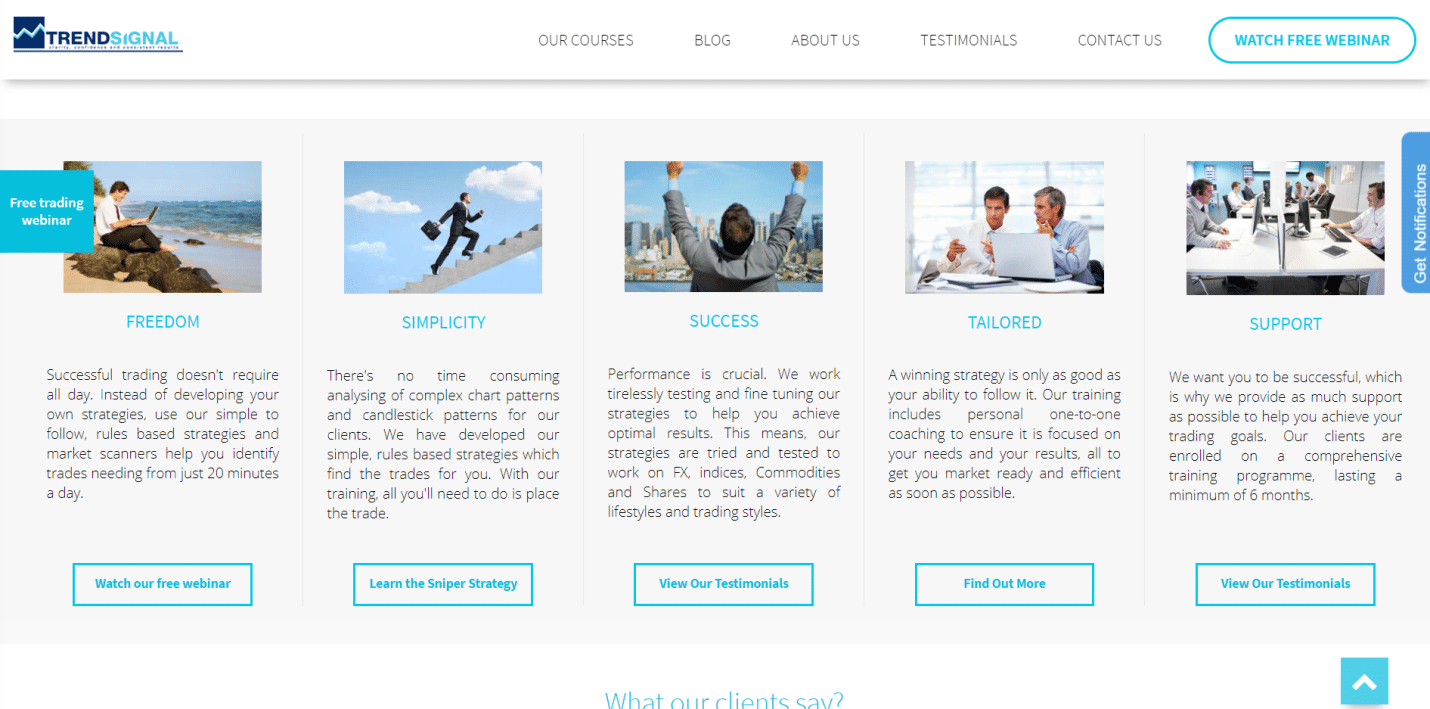 We don't have an explanation for the Sniper trading strategy offered by Trend Signal. The vendor has made some tall claims about the strategy being highly profitable but has not explained how it works. We cannot possibly recommend users to spend their money on a trading scheme they know nothing about. The vendor should have mentioned what indicators are used with this strategy, what timeframe it is suitable for, etc. 
We don't know what currency pairs this strategy is compatible with, and it is not known how much minimum balance you need to get started. According to the vendor, you don't need to analyze complex chart patterns while using this strategy. We feel like they are just trying to lure in unsuspecting traders by making empty promises. Seasoned Forex traders would never invest in a strategy without any kind of insight. 
Trading Results
The vendor has not shared the live trading results on the official website. The absence of live trading results is a major red flag that we cannot ignore.
Since there are many scam EAs, strategies, and signals being sold on the market, Forex traders always look for trading results that are verified by third-party websites like FXBlue and Myfxbook. When a vendor publishes the results for their system on these websites, it functions as a mark of authenticity. Since they have no opportunity to manipulate the results, you can see the true performance of the system.
Trend Signal has no kind of verified track record whatsoever. Thus, it is extremely risky to invest in the Sniper strategy solely based on the promises made by the vendor.
Customer Reviews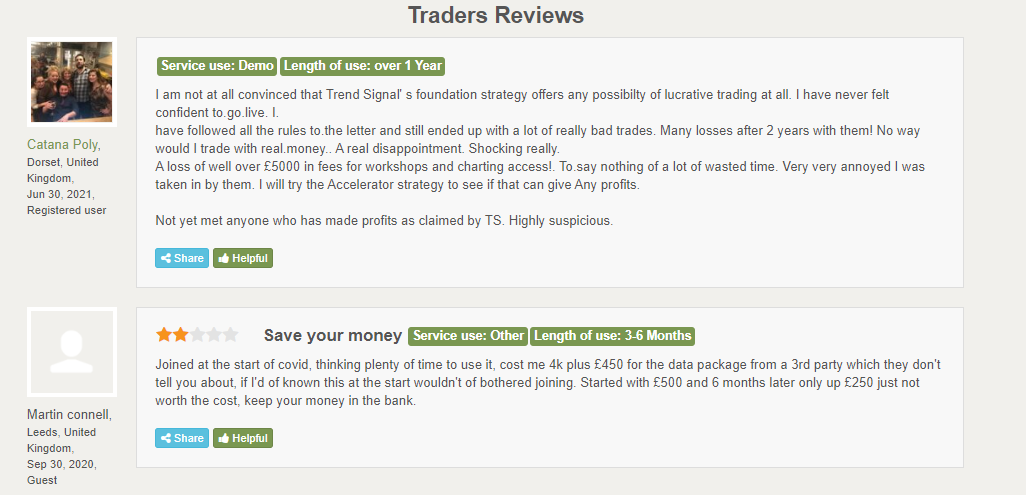 On the Forex Peace Army website, there are a total of 32 reviews for Trend Signal, with the average rating being 2.73. Thus, it is evident that most users are not pleased with its performance. As you can see, traders have complained about suffering continuous losses while using this strategy. One user has also stated that there are hidden costs for this service.
PROS
Identities of team members revealed
CONS
Lack of strategy insight
Pricing details are not shared
Live trading results are not provided
Verdict
Trend Signal is a service you should stay away from. We don't know how this trading strategy works or how much it costs. Moreover, there is no verified track record of this strategy winning profits in the live market.