You're probably scouting for the best expert advisor in the market right now to help achieve better income goals. And you might have sampled a few options, but you feel like something is missing.
Well, you can only know a particular product suits you after you give it a try. But, for what it's worth, all traders have had challenges when choosing the right trading robot at some point in their career. Hence, you shouldn't fret if you cannot make the right choice faster.
And now that you're here, it would be worth your time to learn why you should test the trading robots before the ultimate decision. In this article, we take the decision further by illustrating how to identify and test expert advisors.
A short introduction to expert advisors
For those with some trading experience in the financial markets, you know how painstaking it could be to take and monitor positions.
A typical trade requires several hours, most of the time spent analyzing the market, finding trading opportunities, and opening and closing positions. But after doing this for some time, you'll notice that you can automate specific tasks using specialized algorithms.
Based on specified parameters, the algorithms scour the market for trading opportunities and either notify you or open a position automatically. These algorithms are what the market calls expert advisors (EAs) or trading robots.
Furthermore, the EAs can manage risks by adding close conditions like limits, stops trailing stops, and trailing limits.
You could choose to assign the trading robot to a specific task, such as monitoring price action. Equally, you relieve yourself of everything and let the EA find potential trading opportunities and open/close positions.
Some expert forex traders rely on EAs as primary companions. But to others like you, the programs could be mere tools to improve individual trading skills. More often than not, this comes down to the ability to choose the right EA.
What to do before choosing an expert advisor
MetaTrader 4 or MT4 is one of the most familiar trading platforms on offer by several brokers. The platform's most enticing quality is simplicity and the ease of integrating expert advisors.
Even better, the platform enjoys the support of a vibrant community, including developers who create exciting programs to automate recurring tasks. Nonetheless, it is often a struggle to pick the right EA, especially for beginners, because of too many options.
Worse still, some forex robots include fancy descriptions designed to mislead. Thus, how can you choose an appropriate and reliable EA in such a scenario?
Educate yourself
Whether you're a beginner or a seasoned trader, due diligence is the best virtue to possess. It expands your understanding of the product and helps you better achieve desired goals.
But, most importantly, prior research on automated trading systems prevents you from falling prey to swindlers.
Usually, some developers make wild claims intended to catch beginners' eyes. For example, they'll tout the EAs' ability to make users rich quickly.
However, taking time to educate yourself will open your eyes to the lies behind glitzy advertisements. More crucially, it would be best if you viewed due diligence as the necessary first step when choosing an expert advisor.
Check the vendor's background
This might not be easy but if you can, verify the information the vendor provides. Fortunately, platforms like MT4 oblige developers to provide as much background information as possible.
The idea here is to clear any doubts in your head about the robot's authenticity. While at it, also check the star ratings of the automated trading system. Each EA levels up after a positive review, so the more positive reviews, the better the star rating. Usually, a highly rated EA implies reliability and usefulness.
Utilize the backtesting tool in MT4
Most trading robots often come with test results in their description. But as mentioned earlier, this could be part of the glitzy advertising ploys some unscrupulous vendors use to trap unsuspecting traders.
The only reliable technique to verify the automated trading system's capability is by doing your own tests. Unfortunately, you're more likely to end up on the losing side if you avoid this step.
Thankfully, some forex robots come with offers for trial. Others offer a less sophisticated version cheaply to facilitate testing. 
Those EAs that come with a free trial are ideal because you get the hang of the actual program before spending. 
Most importantly, backtesting EAs before purchase enables you to know if the program is right for you. This is because each trader has a particular system with which they approach the market. A forex robot is inappropriate if it disagrees with your trading style.
Furthermore, backtesting will show you how the robot deals with changing conditions in the market. For example, some EAs appear sophisticated but easily cower in a choppy market.
But, how do you test forex robots?
Backtesting a forex trading robot appears complicated when you are new to the market. But from the preceding, this is a necessary skill if you are to choose an appropriate and reliable expert advisor. 
Follow the steps below to test an expert advisor.
Step 1: download the expert advisor
You can find tons of EAs on the MQL5 website, some of them free. In this illustration, we will show you how to test VR Smart Grid.
VR Smart Grid is a forex robot for MT4 and MT5 that builds a smart grid that enables you to trade the trend and against it.
So, begin by downloading the EA and storing it in the platform's data folder under the "Experts" tab, as shown below: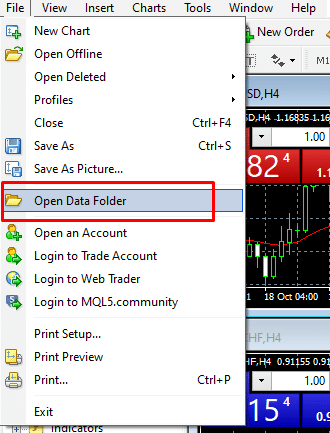 Then, restart the MT4 platform and check if the EA appears in the "Experts" folder:

Next, we will backtest this EA.
Step 2: use MT4's strategy tester
Another reason MT4 is popular is the breadth of features on offer. For example, the strategy tester feature enables users to evaluate an indicator or expert advisor quickly.
Start by opening the "View" tab at the top left corner and navigate to "Strategy tester." You could also press the control key + R.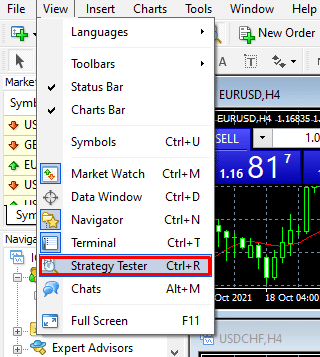 On clicking, a window will open at the bottom of the platform where all the magic happens. In the window, you can select the target forex robot (in this case, VR Smart Grid), the currency symbols, the period (e.g., H1), and the time frame (e.g., one year).

 All done, click "Start," and the testing will begin, as shown below.
Step 3: analyze the test results
Navigate to the "Report" tab and pay attention to the modeling and accuracy figures. The tab will also display simulation errors and a profit factor, and expected payoff. The results should indicate the direction you will take regarding the expert advisor.