Automated trading style when trading positions are copied form the trades opened by another trader (or by expert advisor) is called copy trading (or signal trading). This type of trading is very popular because it does not require any trading knowledge to become successful, the only thing you have to do is to choose the right signal provider.
ZuluTrade is a very popular online social and signal providing service available at www.zulutrade.com that allows you to copy the trades from experienced traders. It is also available as an android and an iPhone mobile application. It provides copy trading service not only for forex but also for commodities, stocks, indices, cryptocurrencies and binary options. The service provider is headquartered in Greece and regulated by HCMC (Hellenic Capital Market Commission). Founded back in 2007, today it counts over million users that execute trade volume over 800 billion dollars.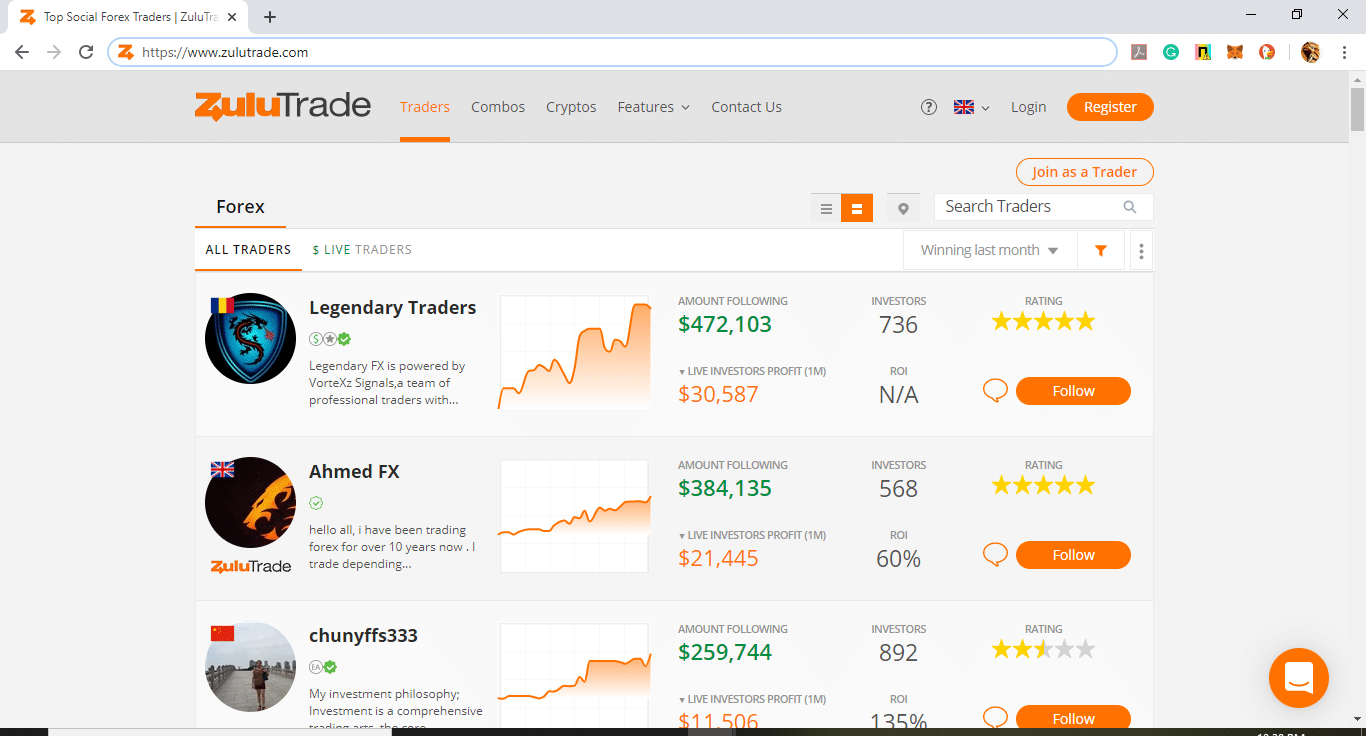 Account opening is very easy you just need to sign up to the platform. You can open a demo account for free. Depending on the broker the funding requirements vary, with a minimum of just $1. ZuluTrade trade charges commission per trade as an addition to the broker spread. In case you choose AAAFx broker, owned by ZuluTrade, the commission will be 0. When you open the account you may set account leverage up to 1:1000. Though higher leverage can increase your earnings, it can also increase your drawdown levels, so I would not recommend you to use the leverage that is higher than 1:100. Additionally, if you leave your trades opened overnight you may be charged (or profit) a swap fee. The only disadvantage is that certain brokers are not accepting this copy trading service.
A demo account is fully functional as it is aimed for practice and to open it you will just need to enter your personal data. Live account is available in two versions: profit sharing is recommended for beginners and classical is recommended for advanced users as it allows manual and customized copy trading.
Platform users are divided into two groups: signal providers and followers. Signal providers are the traders that are sharing the trades and followers are the users that are copying their trades. For every signal provider, a complete trading statistic is provided. You can see which broker is he using, what is his win rate, net profit pip profit, how many followers he has and how much resources have all followers invested. You may also see a brief description of his trading strategy and what is accumulated earning of all followers together.
A classical account offers many interesting additional features. You may decide whether you will accept the provider's signal. You can automatically lock the profit when a certain level is reached. Communication with the provider is also available. Margin Call-o-meter is measuring the chance of burning your account. You are able to create the scripts that form the parameter for trading bots. The economic calendar provides you the information about news releases. ZuluGuard protects followers from erratic trades opened by the providers.
Becoming a signal provider can a good way to earn extra money. To become ZuluTrade signal provider you must keep historic drawdown of less than 30%, average pips per trade must be greater than 3 and you must trade on the platform for more than 12 weeks. To get more followers.
I would advise you to upload a nice profile photo and briefly describe your trading strategy. Also, you should trade a real account. Avoid scalping and trading during the news announcements. It is very important to communicate with your followers and promptly answer all their questions and you will see that it is a good way to build trust. Also, try with a demo account first just to see how experienced signal providers trade and talk with their followers.
Thus, ZuluTrade is a leading social and copy trading platform that counts one million users. Trading signals are offered for forex, commodities, indices, stocks, cryptocurrencies, and binary options. The service is regulated by HCMC and is available in web and mobile versions. As a trade follower, you may choose from the respectful list of signal providers and you have an insight into their trading performance history. To become a signal provider you have to pass ZuluTrade criteria which can be a good way to earn some extra money.