Advanced Hedge is a fully automated EA that alleges to have a system that recovers losses. It works on different currency pairs, crypto, metals, and indices. The system has been tested from 2019 to the present day in different market conditions. We review the other characteristics of the EA to help you decide if it fits your unique trading needs.  
Product offering
The robot has several features:
It uses the 15-minute timeframe. 

The recommended minimum deposit is 3k.

Focus is on the EURUSD and GBPUSD currency pairs. However, you can also optimize it to trade metals, crypto, and indices. 

It works on the MT4/5 platforms, and uses any broker.

Is not sensitive to spread or slippage. 
Advanced Hedge is the product of a developer called Ho Tuan Thang from Vietnam. He is also the creator of Advanced Bollinger, Advanced Fibo Levels, and Advanced Fibo Levels indicator. Ho doesn't have any trading experience, though. Trusting him to develop lucrative trading strategies for Forex would thus be naïve and unwise. 

Advanced Hedge is being sold cheaply at $49 on mql5. This is a discounted price, and the vendor informs us that it is only for 2 additional sales. He further says that only 3 copies out of 10 are left at a cost of $149. After that, he will raise the price of the EA to $249. A money-back guarantee is not part of the package, a sign that the product may not be effective.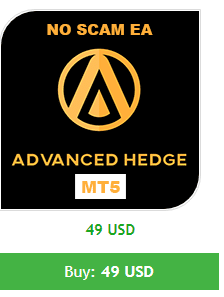 Trading strategy
As the name implies, Advanced Hedge applies the hedging trading strategy. In essence, this method focuses on protecting a trader's position in a currency pair from unfavorable price movements. So, it seeks to minimize losses by opening one or several currency trades to offset an existing position. 
Trading results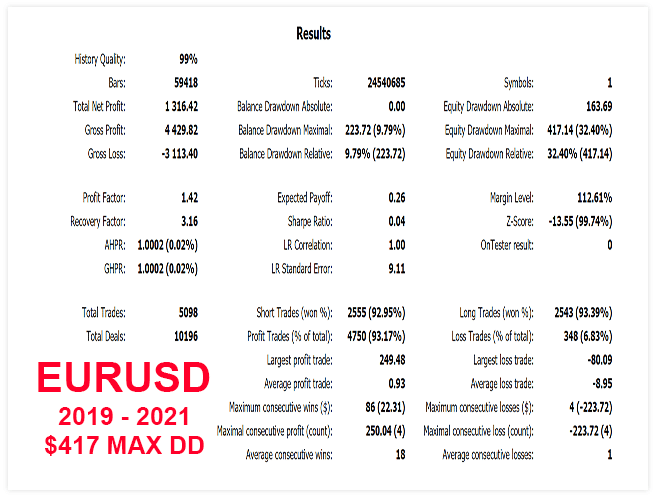 According to this report, Advanced Hedge underwent testing for two years, between 2019 and 2021. The modeling quality was 99%. Although the robot had some impressive win rates for short (92.95%) and long positions (93.39%), it generated a huge drawdown — 32.40%. There's no doubt that the strategy implemented was dangerous.
A total net profit of $1316.42 was realized from 5098 trades. The EA was more likely to end up with losses than wins. This is demonstrated by an average loss trade of -$8.95 that was substantially higher than the average profit trade of $0.93.
The developer does not have an account on a site like Myfxbook.com. He has featured a screenshot that shows us the alleged performance of the EA in the live market. But we have a problem. The data lacks credibility as its authenticity has not been confirmed. Even then, let's just see what the statistics say.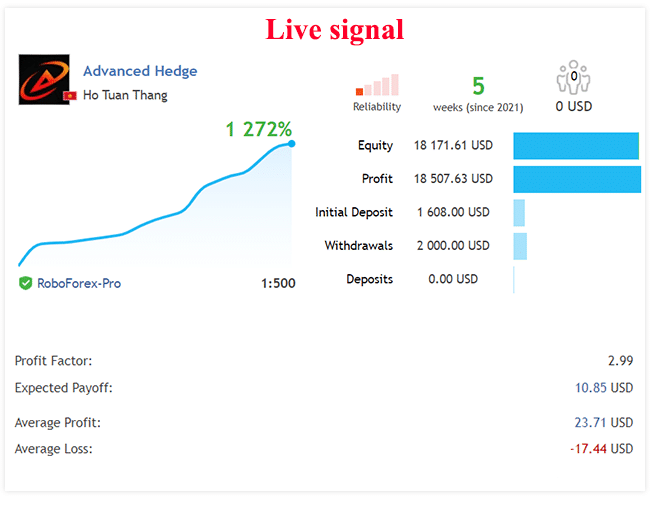 We have an account with a 1272% growth rate. For the 5 weeks the EA has been active, it has managed to increase the deposit of $1608 by $18507.63. The amount withdrawn so far is $2,000. The average profit is $23.71, and the average loss is -$17.44. 
Customer reviews
We have a total of 8 testimonials for this EA on mql5. A majority of the comments are positive. However, we suspect that the developer has deleted negative reviews. This may be in an attempt to cover up the inefficiencies associated with his system. So, we advise you to ignore the available reviews since they aren't impartial. 

PROS
Cheap pricing
Backtest results are featured
CONS
Risky trading strategy
Available customer reviews are unreliable
There are no verified trading stats on myfxbook or fxblue
The vendor has zero experience in trading
Verdict
Advanced Hedge is not a wise trading choice. Based on the backtest results, we can tell that the hedging strategy in use is risky because it generated a high drawdown. This may be the reason why the developer is not willing to use it to conduct live trading on Myfxbook.com. His lack of trading experience also reinforces our fears of his inability to develop workable strategies. So, your account may get burned by using his tool.