Altredo Forex Robots is a website offering Forex EAs, automated trading strategies, and indicators. The trading software is based on a neural network algorithm and it promises steady monthly profit, high daily profitability, and precise market forecasts. As per vendor claims, the advanced strategies and indicators offered by this platform help you gain an edge in any market.
Product Offering
On the official website, we have a list of all the robots, strategies, and indicators available on the website. Each of them has been explained thoroughly through videos and some of them even have links to live trading accounts. There are several sections on the website for different markets for which robots and indicators are available. Contact information has been provided in the form of a Telegram channel link, phone number, Skype ID, and email, and you can contact the service team by filling out a contact form.
Altredo, the company behind all these products, is based in the USA. It was founded on 1st January 2009 and has a team comprising of 1-10 members. We don't have the exact address of this company, and not much information on it can be found on the website. So as far as vendor transparency is concerned, Altredo Forex Robots fails to impress us.
After going through the website, we can see that the vendor has shared as much information as possible on the various products. Live trading results have also been provided, and the overall presentation looks professional. Hence, we expect this to be a legitimate company providing quality Forex indicators and robots.
The prices of the products range from cheap to extremely expensive. While systems like Forex Robot Multi Currency Scalper and Forex Account Rescuer are priced at $360, others like NinjaTrader and Thinkorswim cost $1500. Refunds and cancellations are not provided for any of the products, which comes as a disappointment.
Altredo Forex Robots
| | |
| --- | --- |
| Type | Fully-automated  |
| Price | Various (from $360 to $1500) |
| Strategy | Scalping, Arbitrage, etc. |
| Compatible Platforms | MT4 and MT5 |
| Currency Pairs | All |
| Timeframe | Not disclosed |
| Recommended Min. Deposit | Not disclosed |
| Leverage | Not disclosed |
Trading Strategy
There are various trading strategies used by the robots sold on the website, and one of them is Arbitrage. The Arbitrage robot uses a quantitative analysis algorithm and it does not place its trades based on political and socio-economic events. According to the vendor, it helps you earn a stable profit over time.
Then there is the Forex Robot Ideal Scalper EA that looks for scalping points while following a low-risk and high-profit approach. None of the systems use the Grid or Martingale strategies. All currency pairs are traded by these robots and the recommended deposits are different for each.
Trading Results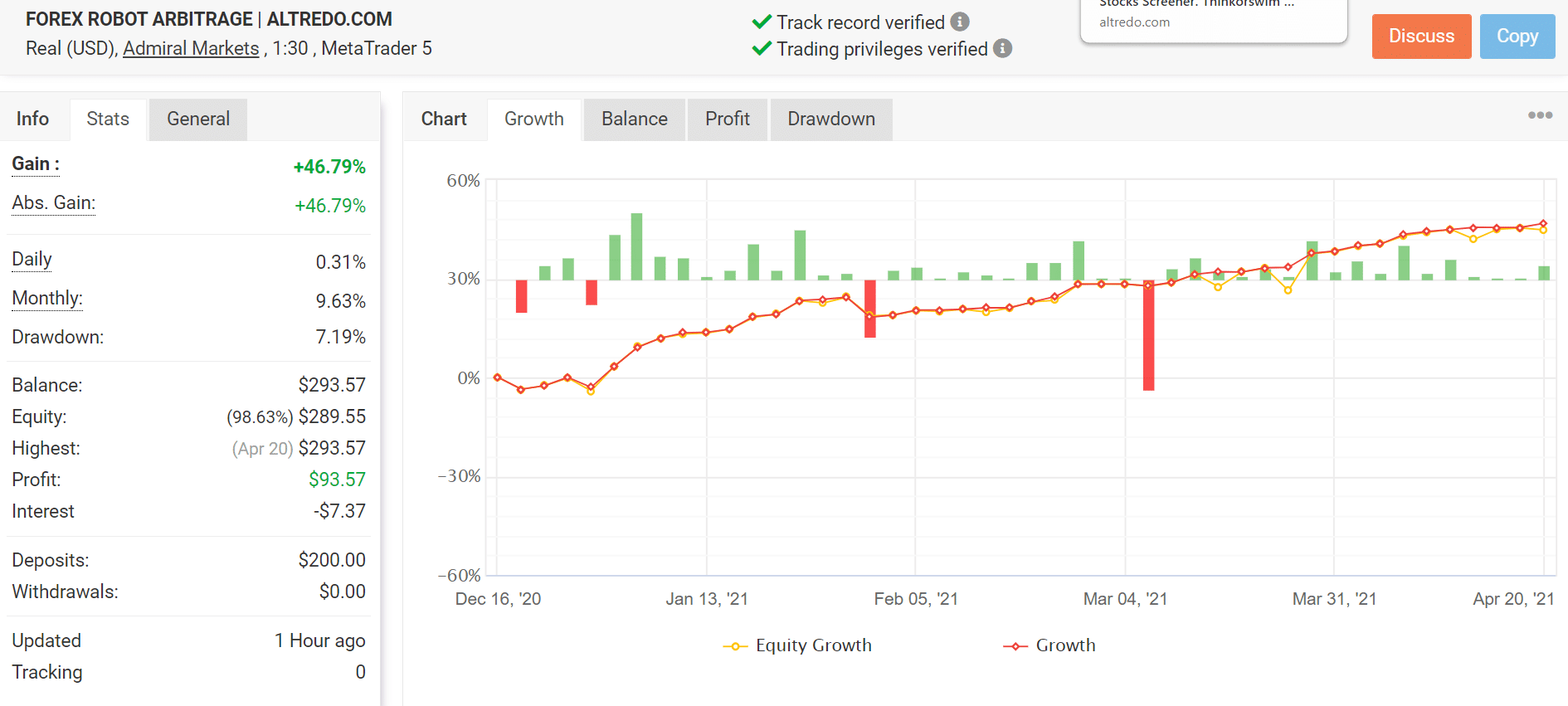 Out of all the Forex EAs available on the Altredo website, live trading results are provided only for the arbitrage robot, so we can no way of determining whether the other systems are capable of providing consistent profits in the live market. This particular trading account was launched on 16th December 2020, and to date, only 96 trades have been placed through it.
Out of these, 77 have been won, which means the profitability of the account is 80%. It has an average win of 19.21 pips/$1.63 and an average loss of -30.88 pips/-$1.70. Currently, the total profit generated through this account is $93.57 which accounts for a time-weighted return of 46.79%. 
The daily and monthly gains are 0.31% and 9.63% respectively, while the drawdown is very low at 7.19%. This tells us that the chances of suffering huge losses while trading with this robot are pretty low. It has a profit factor of 3.91, which is much higher than what most Forex EAs have. It should be noted that the trading history and open orders cannot be accessed for this account, since the vendor has set them to private. 
Unfortunately, backtesting data is not available for any of the robots. Experienced, as well as novice Forex traders, look for quality backtesting data before investing in a system, because it gives them an idea about its robustness and reliability. The absence of the same might deter them from investing.
Customer Reviews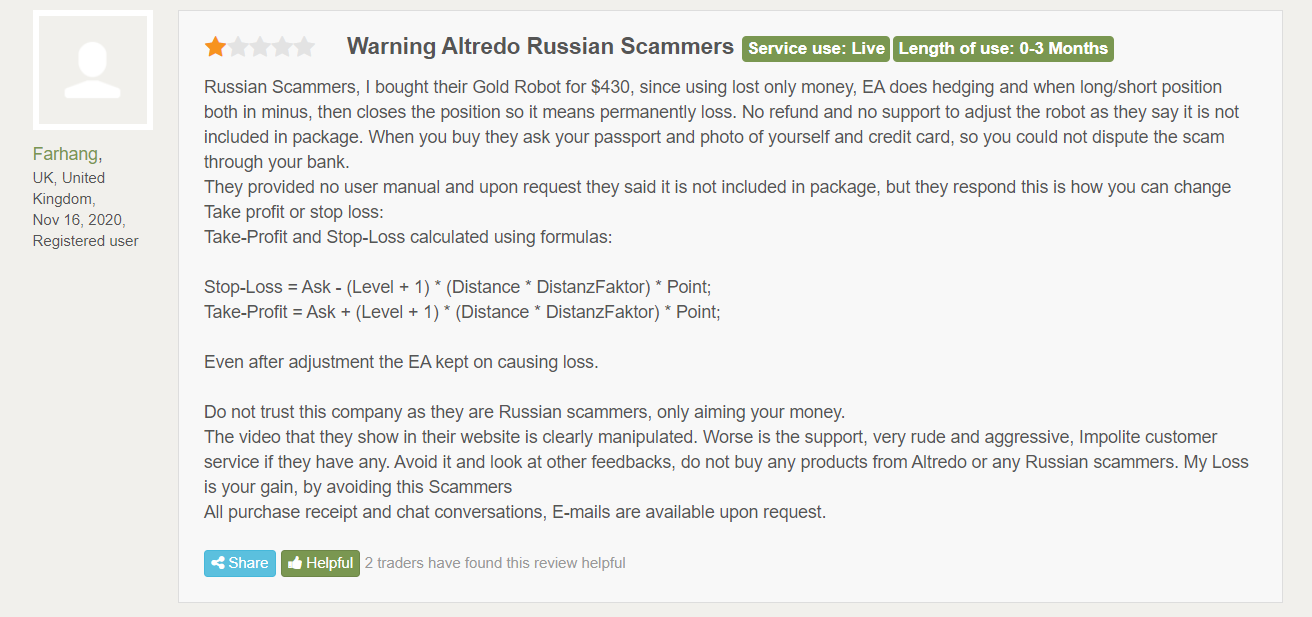 On the Forex Peace Army website, we came across several negative user reviews for Altredo Forex Robots. One user states that this is a scam service that does not provide users with any support or refund. They have mentioned that the customer service representatives are extremely rude and that the EA keeps suffering from losses even after readjusting the parameters.
PROS
Strategy explanation
Works on multiple platforms
CONS
Verified live trading result only available for one EA
Negative customer reviews
Lack of backtesting data
Verdict
Altredo Forex Robots seems like a scam service since the live trading results for many of their robots have been discontinued and some of their products are overpriced. This company does not provide any refunds for its products either, so it would be wise not to trust it.