Happy Trend is one of the trading solutions that were designed by a Happy Forex company. The presentation is several pages long and doesn't include extended explanations. We have to use our experience in trading to explain them well.
Product Offering
There are some features and explanations of the robot provided:
Happy Trend can work on the MT4 terminal fully-automatically for us.

There's a News Filter that allows skipping trading during the determined hours.

The money-management system can capture a correct trend move.

The robot sets dynamic Stop Loss and Take Profit levels.

The system can be used by traders with various trading experiences.

We are allowed to work with it on any size of the account.

News Filter draws markers on the chart to inform us.

We can use UseTrailingStop, TrailingStop features

The robot can be used on the next systems: Windows 7, 8, 10, Mac OS, and Linux.

We are allowed to use it on Micro, Mini, or Standard types of the account.

ECN accounts are good for profitability.

There are 4 or 5 digits auto-quotes detection.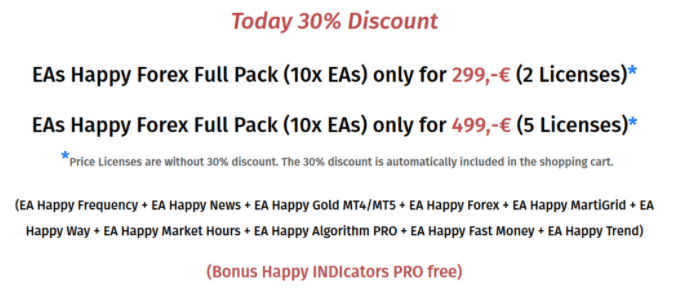 We have the same offer as many other Happy products. It includes a 30% discount. The two-license pack costs 299 EUR when the five-license pack costs 499 EUR. In addition, we have many EAs, but most of them are scams now. We can rely on free lifetime updates and upgrades, a 30-day money-back guarantee. Most likely, there'd be a user guide.
Trading Strategy
The main strategy is Trend trading.

It works with four symbols: AUDUSD, GBPUSD, USDCHF, USDJPY.

The backtest tells us that the main time frame is H1.

The minimal deposit required is $100.
Trading Results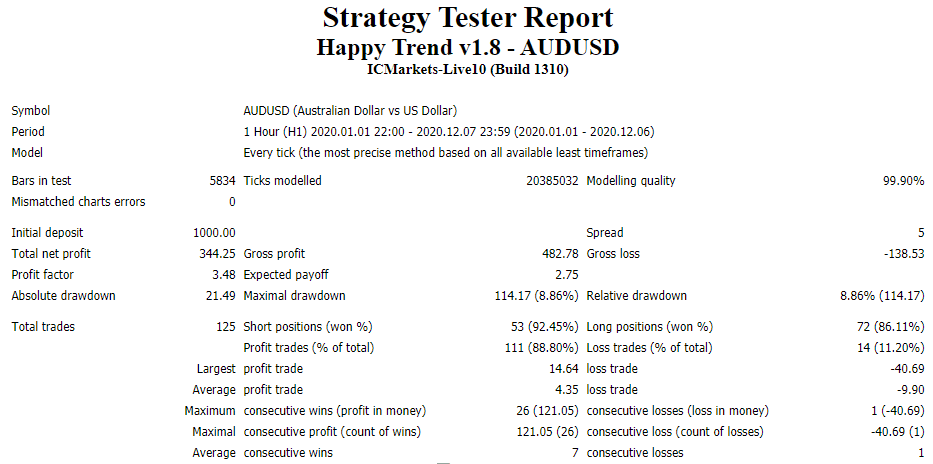 There are many reports provided. It's a AUD/USD backtest report on the H1 time frame. The period of data was from January 2020 to December 2020. The modeling quality was 99.90%. The spreads were five pips. An initial deposit was $1000. The total net profit has become $344.25. The profit factor was 3.48. The maximum drawdown was only – 8.86% ($114.17). The robot has closed 125 deals. The win rate was 92% for Shorts and 86% for Longs.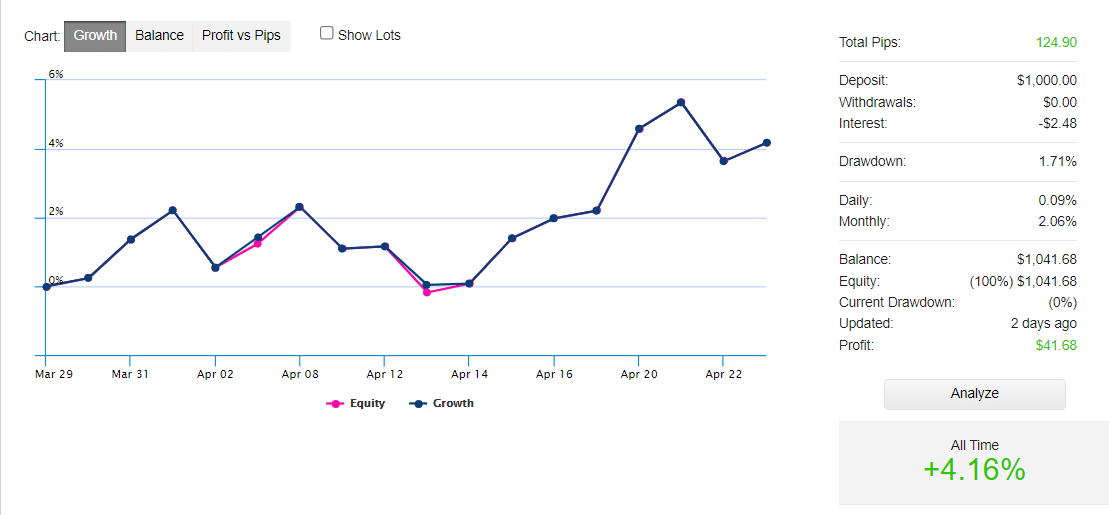 There's an account that is verified by fxstat, not myfxbook like other products of Happy. Its' a real USD account created on March 29 and deposited at $1,000. The total number of pips is 124.90. A monthly gain is 2.06%. The maximum drawdown is 1.71%. The all-time gain is +4.16%.

The robot trades four symbols. The most traded and the most profitable currency pair is EUR/USD, with 19 deals and 80.60 pips. As we can see, the profit factor is only positive for EUR/USD – 2.44.

The updated version of the EA was uploaded just several weeks ago.

The robot traded 56 deals. The win rate is 85.71%. It works with all directions equally – 28 deals both. The best trade was $8.83 when the worst trade was -$16.86. An average trade length is over five hours. The Profit Factor is 1.67. An average profit is 4.64 pips when an average loss is -12.53 pips. 

EUR/USD is the most traded symbol – 33.93% of the placed deals.
Customer Reviews

Happy Forex has a profile on Forex Peace Army. There were five reviews written. The total rate is 3.5 from 5.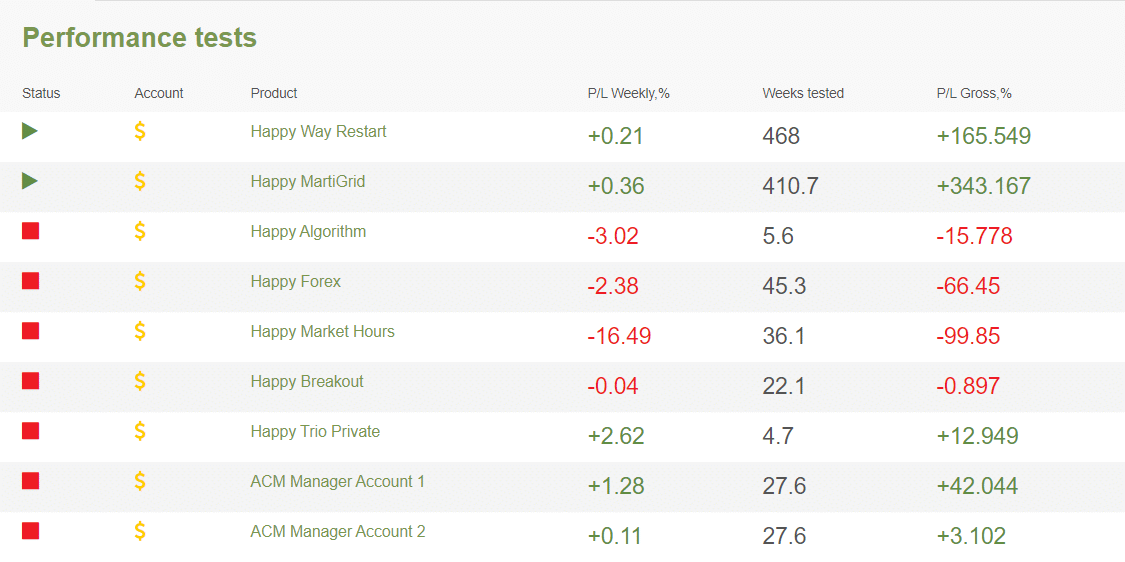 There are many accounts, but only two of them are live. There's no Happy Trend account connected.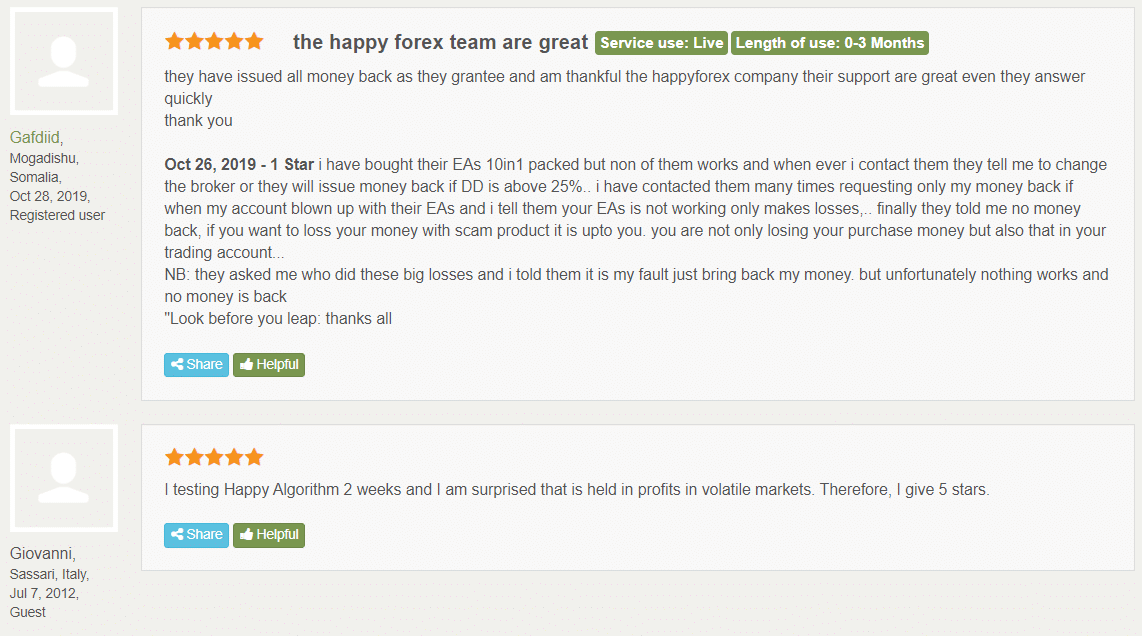 People wrote positive feedback, but not about Happy Trend.
PROS
Happy Trend is a quite known EAs designer
The system works without risky strategies
Backtest reports provided
Trading results provided
CONS
No settings explanations provided
No money-management advice provided
No risks settings advice given
No strategy background explanations provided
A redesigned robot is just several weeks old
The packages include 10 no-one needs old and scam robots
Verdict
Happy Trend was renewed and republished several weeks ago. The system runs on the low-deposited real USD account trading lower than expected. We'd like to note that the all-new version is profitable, but not that much like for a system that costs 299 EUR.