The vendor of Automic Trader wants us to believe that the system can multiply your annual income by 2, 3, 5, or even 9 times and put you on the path to your dream life. This statement sounds too good to be true. Such unrealistic claims are common, especially among scammers. Through this Automic Trader review, you will realize that the EA is not lucrative as alleged and works with many risks that could zero your account if not careful. 
Product offering
The EA has the following features:
Full software access with internal settings optimization system

A detailed setup guide with recommendations

Full customer support

Free lifetime updates

Account protection feature

Beginner friendly

Generates 20%-30% profit monthly on lower risk

Makes 50%-100% profit monthly on higher risk
Automic Trader is the creation of a company called LeapFX, which has been producing manual and automated trading systems for Forex and Crypto since 2018. However, the professionals working behind the scenes are not mentioned. So, it is hard to know if the team is qualified enough to develop efficient tools. 
The robot can be acquired at $497, but you have to renew this license yearly. The other option is a one-time payment of $697. Notably, this is a discounted price that will last for a week after which the price will revert back to $799. The two packs include a 30-day money-back guarantee, best recommendations, and a $100 bonus guarantee, etc.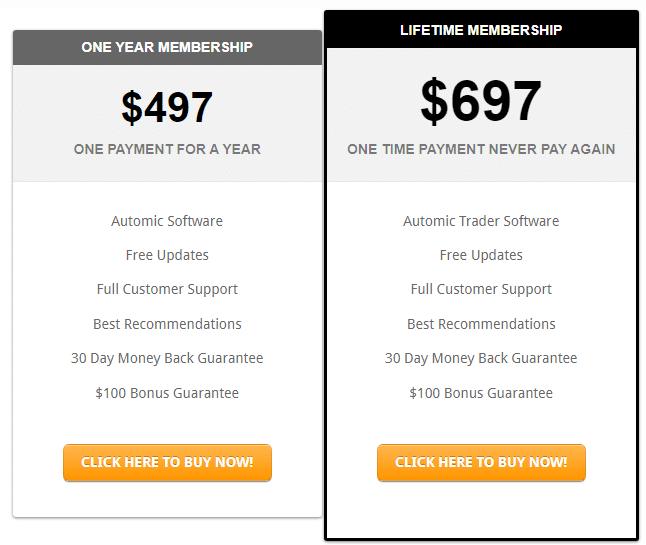 Trading strategy
The devs indicate that this robot mainly trades AUDUSD, EURGBP, EURUSD, GBPJPY, USDCAD, and USDJPY currency pairs because they 'trend' well. The robot spots trends when they begin to form early on each of the aforementioned pairs based on volatility and momentum. It initiates trades after the criteria for entry satisfies its algorithm. The system then uses a dynamic auto adapting trade management system to ensure that the trades generate profits throughout to the very last pip prior to exhaustion.  
Trading results
There are claims that the above strategy was backtested, and the EA's performance was no different from live trading. According to the vendor, the test also revealed slippage and speed execution do not affect the system's ability to spot and implement lucrative trades. Unfortunately, a detailed backtest report is not displayed to prove these allegations. It makes us suspect that the results of the test were not that good. 
The good news is that we have live results, which can be tracked on Myfxbook.com. Let's look at them in detail below: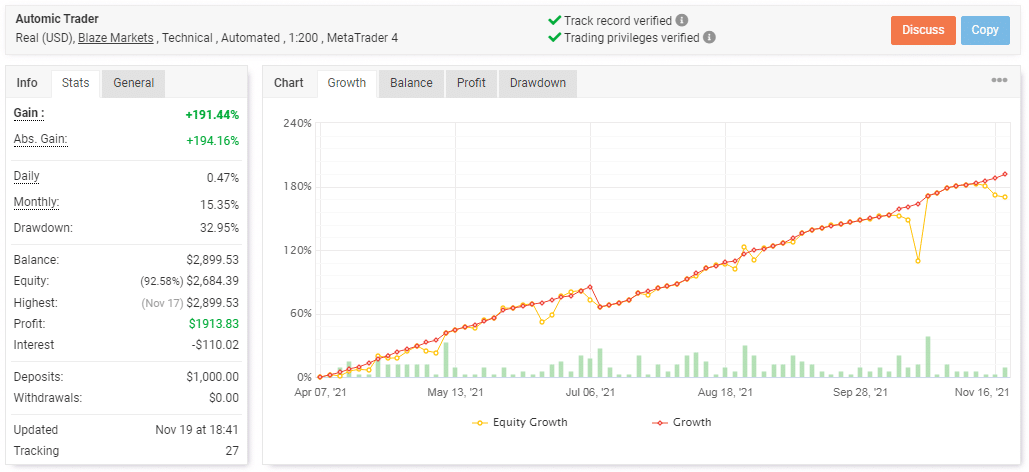 In about 7 months, the EA has made $1913.83 for the account. This is after it used a deposit of $1000 to conduct 241 trades. From a drawdown of 32.95%, it is obvious that the system engages in risky trading activities. The daily and monthly profits presently stand at 0.47% and 15.35%, respectively. 

The stats on the table above indicate that the system has a profit factor of 2.65. The average trade length of 2 days tells us that orders are held for long periods to optimize profits as claimed by the devs. There's an average win of 30.98 pips and an average loss of -42.14 pips. These values prove that the EA is more susceptible to losses. 

So far, Tuesday and Friday are the least active days. 

The survivability rate of this account is quite low. There are higher chances that it will blow up in a few months to come, thanks to the EA's high-risk approach. 
Customer reviews
Automic Trader does not have any credible testimonials. The few reviews on its official site are not trustworthy because there's no way of verifying them. For all we know, the devs could have manufactured them to suit their marketing needs.
PROS
Live trading records are provided
Fully automated
CONS
Unreliable customer feedback
High risk of ruin
Costly
Large drawdown
Verdict
Based on what we found in our review, we doubt if Automic Trader can help you to multiply your income. Even though the system makes profits, they are much lower than the losses. This causes the account it runs to have a huge drawdown, and consequently, a high risk of ruin. So, just avoid this product if you don't want your money to go down the drain.