Gold EAgle is a trading robot with the capability to open and close trades automatically or manually. It is designed mainly for trading on Gold. The trading software uses TrendLine PRO indicator signals and grid strategy.
According to its developer, the mathematical grid strategy allows you to optimize trading by opening new orders to average profits so that a series of positions are closed consistently with profits.
The trading system was published on MQL5 platform on 26th September, 2020 and its latest version is 3.5 updated on 6th April, 2021.
It comprises two versions, one for MT5 (Gold EAgle MT5) and another for MT4 (Gold EAgle MT4).
Product Offering
There is no detailed information on the robot's website that a potential customer can count on before deciding to purchase the trading tool.
The Gold EAgle robot was developed by Evgenii Aksenov, an active user of the MQL5 platform with a star rating of 4.8 out of 5. Besides Gold EAgle, his other products include: TrendLine Grid, Currency Power Meter, TrendLine PRO, TrendLine Optimizer and many more.

Aksenov also provides trading signals.
The trading system has a mobile trading panel for managing auto-trading functions and the ability to open trades manually. According to Aksenov, all trades opened by the trader in manual mode will be closed with a profit using the DD Reduced Functions settings.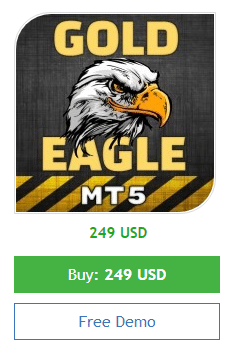 The trading tool costs $299 according to its developer but is currently going for a discounted price of $249 and a free demo version. He claims that right now only two copies are left for the discount before the price is back to regular. There is no money-back guarantee provided.

This alone is a red flag. The mentioning of "only 2 copies left" is a clear indication that the seller is after your money and that's why he wants you to take action now. Why put such pressure on the customers if the software is legitimate?
The vendor does not provide any information on how he can be contacted. He only provides links to his live signals, other programs and telegram channel.
Trading Strategy
The trading system uses TrendLine PRO indicator signals and grid strategy as shown in the screenshot below.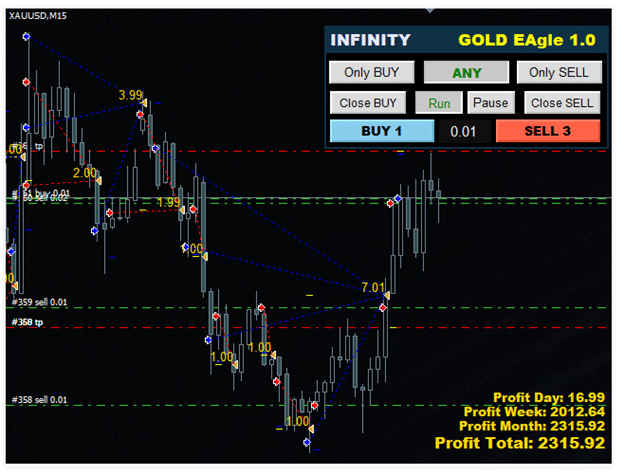 It works on both MetaTrader 4 and MetaTrader 5 with any broker. It trades on Gold with a recommended timeframe of 1 minute – 1 Hour. It runs on a minimum account of $1000.

The developer states that the trader can set aggressive or conservative trade styles using the HTF and the Candle filter parameters in the settings to make profit on a high volatility market.
He asserts that the work of this trading tool is to bring any trade to profit regardless of when and how it was opened.
When you purchase, the package comes with the user's manual for set up instructions.
Trading Results
There are no reports provided on the robot's website, myfxbook, fxblue and fxstat platforms showing live trading and backtesting results that we can analyze to see how this robot is performing in the markets.
This is a major indication that should prove to you that this trading tool is not worth your penny. A good vendor for trading software will at least provide some data to show the performance capability of his robot.
We could only see a video showing how the strategy TrendLine PRO works on the charts.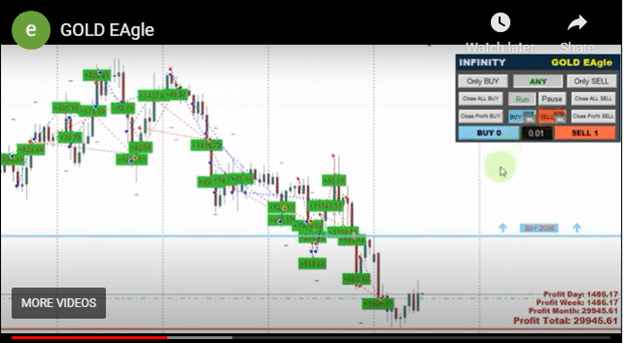 From what we see in the screenshot below, this strategy clearly trades without stop loss, and this can result in a big loss if a series of trades goes against their predicted directions.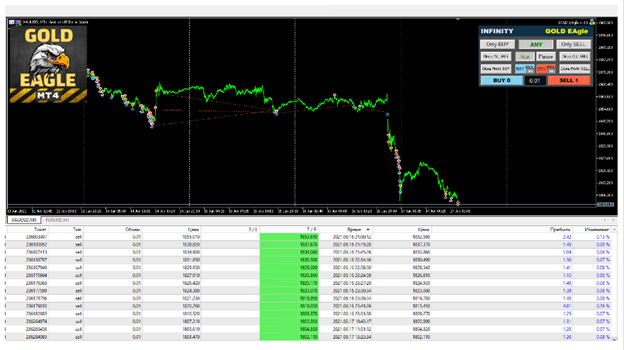 Customer Reviews
There is no customer feedback about this trading software. We couldn't find anything from our searches on ForexPeaceArmy, TrustPilot and Myfxbook platforms.
However, on the mlq5 where this EA is sold, we found some customer reviews which we have attached below. From the reviews, it's better to stay away from this trading tool. For instance, a customer by the name Mr Christopher Michael Tonks in his review stated that he blew his account on the first day of using the robot.

Another customer by the name Alberto Gonzalez Santos also states that the software only had one trade on his account for a whole week and it turned out to be a losing one.


PROS
Package comes with user's manual with set up instructions
Free demo version for trial
Works with any broker
It works with both MT4 and MT5
CONS
It is only limited to one currency pair
It can only run on a hedge account
Not capable of trading the news
There are no trading and backtesting results of current or past performance
Trading strategy has no stop loss and this can cause damage to an account
Verdict
We couldn't find any tangible and enticing information about this trading tool that can prompt one to give it a try, therefore we don't recommend it to any trader.