Belkaglazer EA is a Forex robot that allows you to create your trading schemes for the foreign exchange market. Based on 4 advanced models, this EA is capable of instantaneous execution of orders and promises to enhance the profit factor for your trading account. An objective assessment of its trading performance and other aspects is necessary, however, to determine the trustworthiness of the system.
Product Offering
On the official website of Belkaglazer EA, we have a detailed description of the main features, how the system functions, the strategies used but it, and the models it is based upon. The vendor has also explained the various filters used by the robot while providing a brief overview of the order execution and position management. 
The creator of this robot is a person who goes by the name of Dmitriy Shal and he is a full-time Russian trader with a bachelor's degree in economics. He claims to have started trading back in 2006 and spending more than a decade perfect his trading algorithm based on market research. There is no information available on any other employees of the company, so we assume this person is working alone.
The presentation on the official website looks quite detailed and professional. We can see that the vendor has shared the link to his Myfxbook profile where we can find the live trading results, so we can say that he tries to maintain a certain level of transparency. This definitely increases our expectations for this Forex EA.
Belkaglazer EA is available for $499, which is definitely not a cheap price tag. In fact, most Forex EAs on the market are priced cheaper than this. The vendor has made a rent option available, using which you can rent the EA for 3 months at $149. A free demo version is available for those who wish to test its performance prior to using it for live trading. There is no mention of a refund offer.
Belkaglazer EA
| | |
| --- | --- |
| Type | Fully-automated  |
| Price | $499 |
| Strategy | Breakout, Momentum, Mean Reversion |
| Compatible Platforms | MT4  |
| Currency Pairs | All |
| Timeframe | Not disclosed  |
| Recommended Min. Deposit | Not disclosed |
| Leverage | Not disclosed |
Trading Strategy
Belkaglazer EA is a fully automated system that can trade in all pairs. It uses the Breakout, Momentum, and Mean Reversion strategies. In the first strategy, the robot makes an entry with a pending stop order when the market is highly volatile. This order is then placed at a horizontal level of support and resistance.
The momentum strategy involves buying or selling a pair followed by a large positive or negative price shift. Hence, the market orders are opened in the direction of momentum. Mean Reversion, on the other hand, refers to a group of strategies based on the theory that the price will eventually return to the mean value, following a strong price surge. When the price approaches a level of support or resistance, an entry is made in the opposite direction.
Trading Results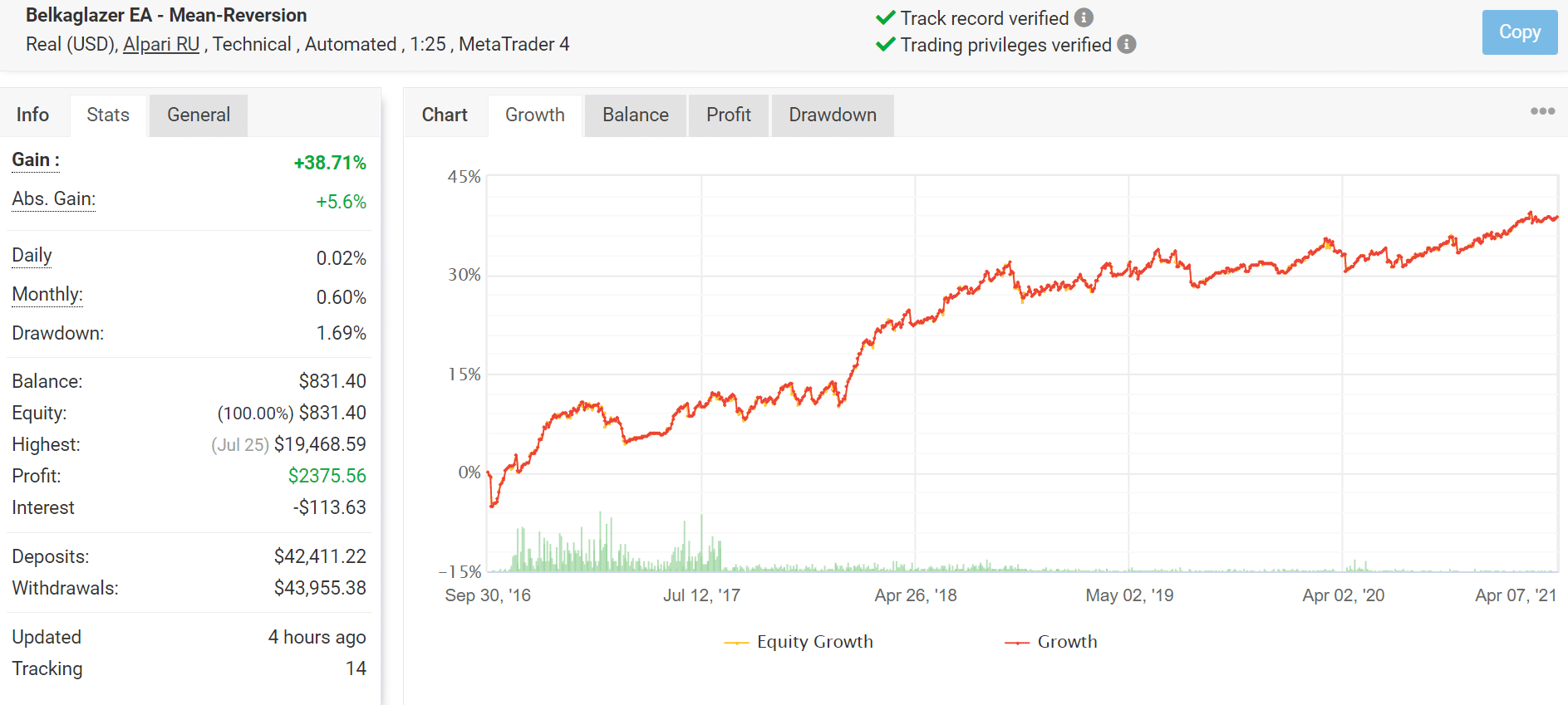 Here we have the live trading results for a Belkaglazer EA account on Myfxbook that uses the Mean Reversion strategy. It was launched on 30th September 2016 and has placed 2073 trades to date, winning 1409 among them. Thus, this account has a win rate of 68%, which is more than decent.
Currently, the daily and monthly gains for this account are 0.02% and 0.60%, respectively, while the drawdown is extremely low at 1.69%. It has accumulated a total profit of $2375.56 and a time-weighted return of 38.71%. The profit factor is 1.30, which can be considered standard since it is higher than 1.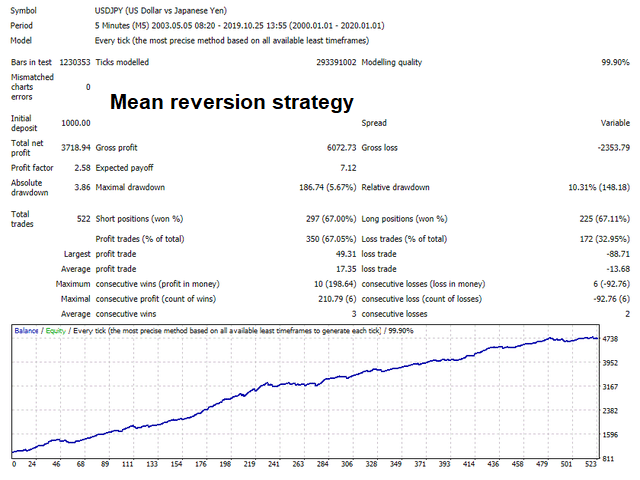 Backtesting data is also available for the same Mean reversion strategy, conducted on the USD/JPY pair. Conducted from 2003 to 2019, this backtest is composed of 522 trades, out of which 350 trades were won by the robot. The win rate of 67.05% is comparable to that of the live trading results, while the profit factor of 2.58 is significantly higher in comparison.
Customer Reviews
We were unable to find any user reviews about Belkaglazer EA on websites like Quora, Myfxbook, Trustpilot, and Forexpeacearmy. This is a bit surprising, because of the fact that the system has been trading live for quite some time now. Some potential investors might be discouraged by the absence of customer reviews.
PROS
Live trading results verified by Myfxbook
Backtesting data available
Trading strategy explanation
CONS
Lack of customer reviews
Expensive product
Verdict
Belkaglazer EA is a system that shows quite a lot of promise through its trading and backtesting results. The vendor has even taken care to explain each of the strategies used by the robot. Although it does not come cheap, investing in this EA might just be worth it.