For all the revolutionary benefits of crypto, it's well-documented that this mode of money isn't remarkably stable for monetary exchange. If you send Bitcoin to a friend, it's possible to have a loss of value by the time they receive it.
A stablecoin is a cryptocurrency maintaining a volatility-free and fixed price by being pegged to another asset on a specific ratio (usually 1:1). This is typically existing fiat money like the euro or US dollar, held in reserves by the issuing company. 
However, other stablecoins may be backed by another digital currency, a commodity, or an algorithmic formula. Stablecoins allow for a digital currency where you have all the benefits of decentralization and fast transactions with the peace of mind of value retention. 
Ever since Tether's introduction in 2014, several more of these tokens have cropped up. According to CryptoSlate, this class of digital currencies dominates about 13% of the entire market (with four being in the top 20 overall). This article will briefly look into the best seven stablecoins.
Tether (USDT)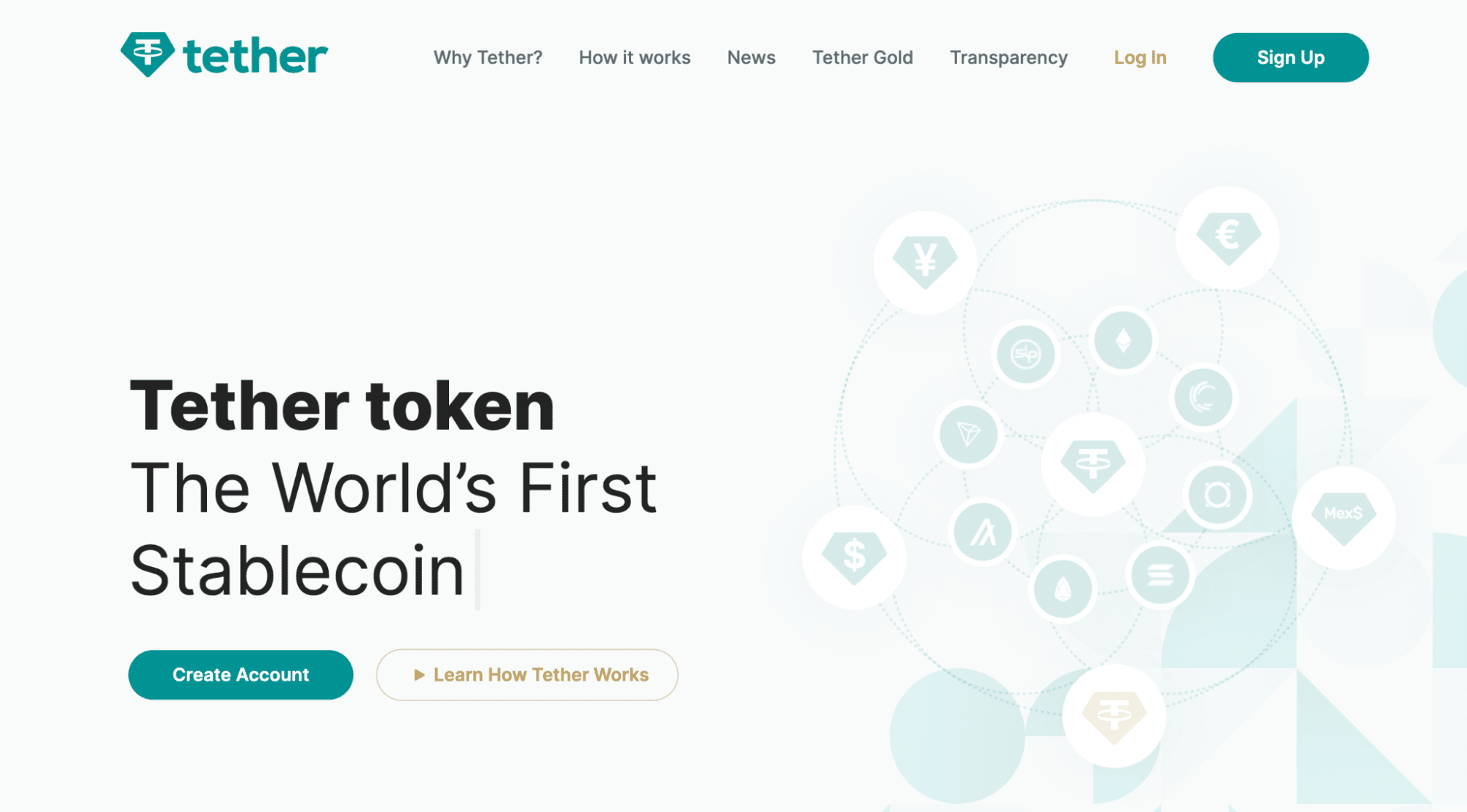 Despite being one of the most controversial cryptocurrencies, Tether's influence in this market is undeniable. USDT has been the most dominant stablecoin and is the third-most traded coin after Bitcoin and Ethereum.
Tether is a USD-backed stablecoin launched in 2014 (originally as Realcoin) by Tether Limited. Initially, it was an Ethereum-based token but is now further secured by the Tron, Solana, BNB Smart Chain, HEGO, and Algorand blockchains.
As a stablecoin pegged to the dollar, Tether is supposed to have dollar reserves for every issued USDT (however, this has been controversially disputed). Despite some substantial concerns of Tether, this coin is pretty much "too big to fail," at least for now.
USD Coin (USDC)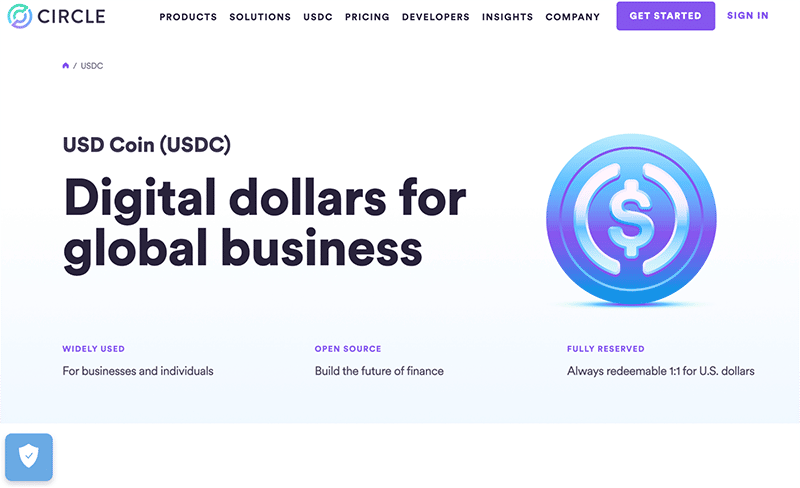 Closely behind the tails of Tether is USDC, the second-largest stablecoin, and fourth-most traded crypto. Like its predecessor, USD Coin is a fiat-collateralized token pegged to the US dollar on a 1:1 basis and powered by several blockchains.
USDC has undoubtedly risen up the ranks and proven as a safer stablecoin than Tether because of fostering higher transparency and governance. The stablecoin was launched in September 2018 by an association called the Centre Consortium, consisting of Circle, Bitmain, and Coinbase.
According to this consortium, USD Coin is reserve-backed by dollars in the form of cash and short-term US Treasury bonds issued by regulated financial organizations.
Binance USD (BUSD)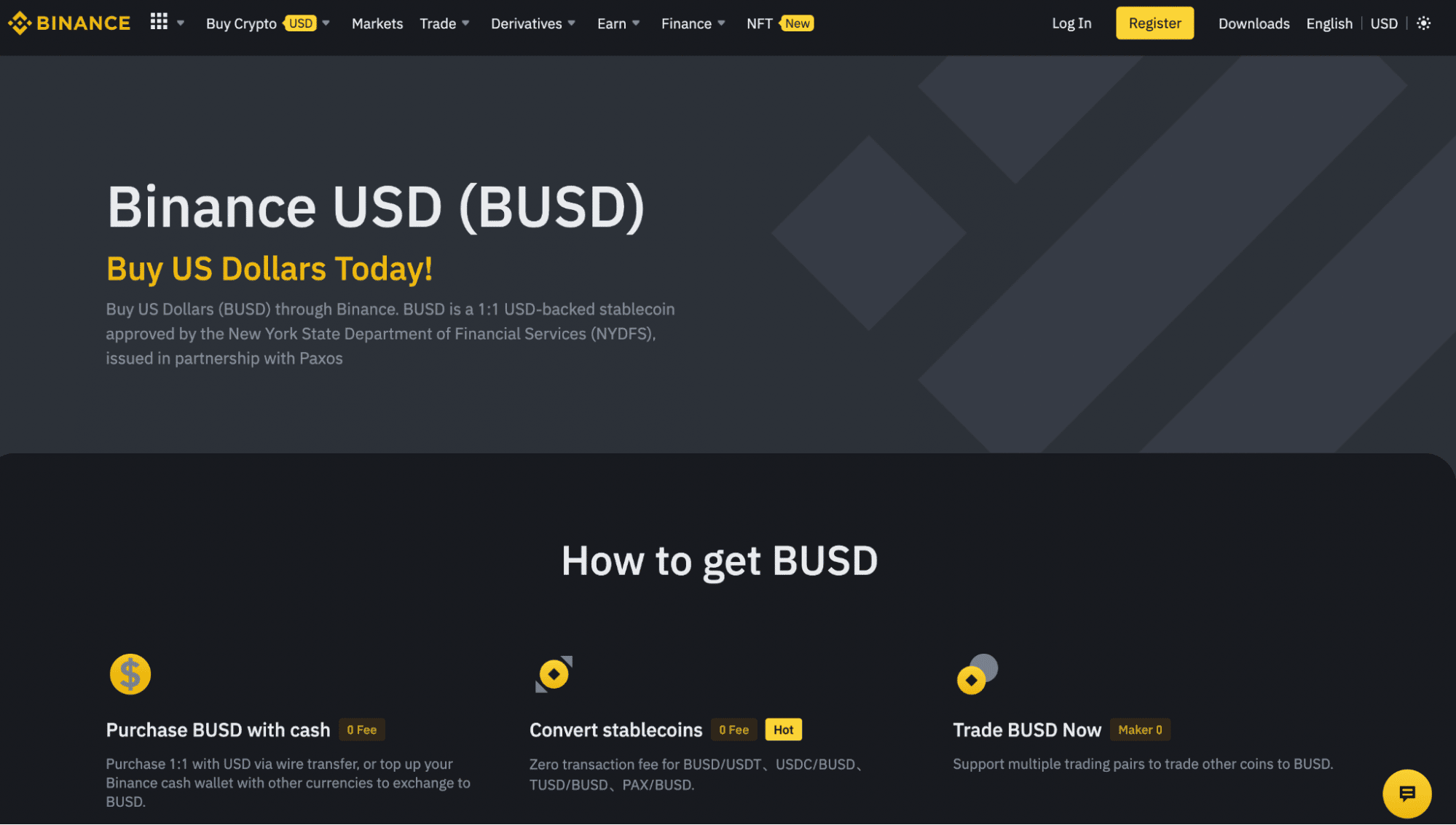 BUSD's dominance in the markets is understandable, given that Binance has been the largest exchange by trading volume for several years. Binance USD is a USD-pegged stablecoin launched by Binance (in partnership with Paxos) in September 2019.
It is the third-largest stablecoin and seventh-most traded crypto overall presently. Similar to USDC, Binance USD is regularly audited and is approved by the New York State Department of Financial Services (NYSFS).
The stable token is 100% backed by USD reserves, a mixture of cash held in US bank-issued omnibus accounts and US Treasury bills. 
If you're a client of Binance, BUSD is essentially for navigating the exchange's ecosystem where you can earn interest on your holdings, pay for goods and services, collateralize a loan, transfer BUSD to other users, etc.
Dai (DAI)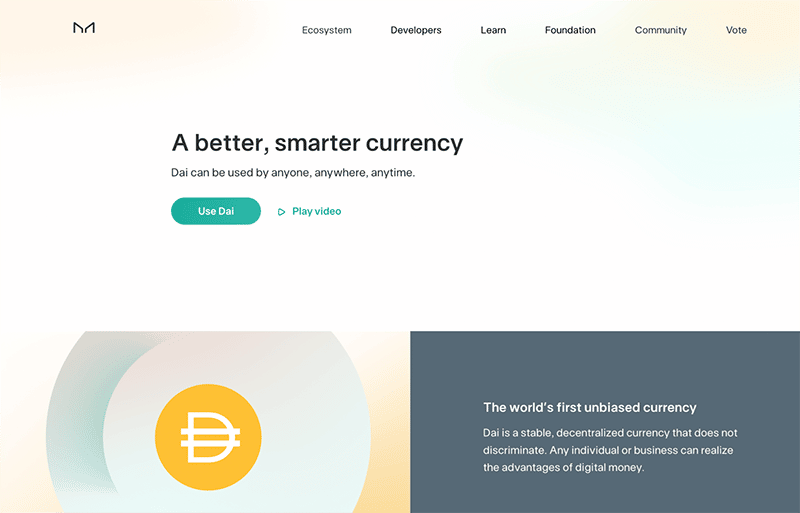 Dai is an interesting stable-price cryptocurrency launched in December 2017 and managed by the MakerDAO. Many experts consider Dai as a genuinely decentralized USD-backed stablecoin. 
This is because the issuance of US dollars is not managed by for-profit companies but rather on the open-source software named Maker Protocol. DAI works on collateralized loans denominated in ETH (Ethereum) through smart contracts
This security allows borrowers to lock Ether and other digital assets that subsequently generate DAI loans.
TrueUSD (TUSD)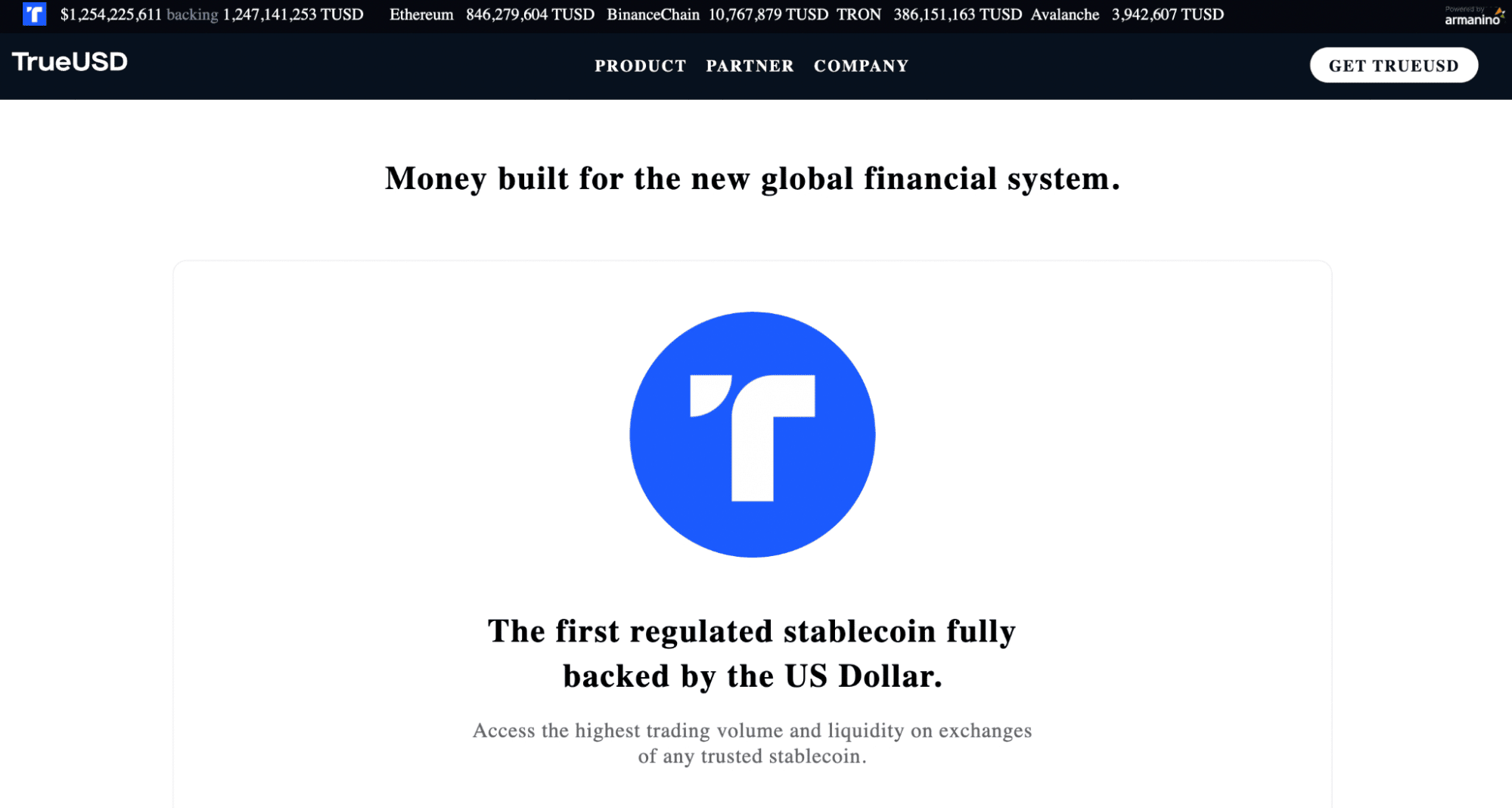 Compared to the previous four tokens, TrueUSD is a less prominent stablecoin which is presently the 44th-most traded digital currency. Nonetheless, there are approximately 1.25 billion TUSD circulating.
As the name suggests, TrueUSD is a USD-collateralized stablecoin released in January 2018. It was issued by a platform called TrustToken, which specializes in creating tokens pegged to real-world assets like fiat currencies and commodities. 
The company behind TrueUSD asserts robust legal and auditory verification for TUSD through multiple escrow accounts and offers holders protection against misappropriation.
Paxos Standard (USDP)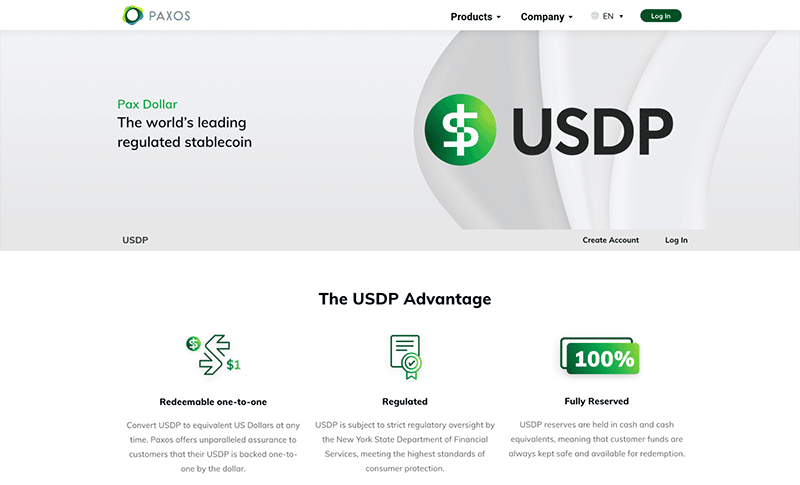 The Paxos Standard or Pax Dollar is a USD-backed stablecoin launched in September 2018 by Paxos, a New York-based financial technology corporation. Overall, it's pretty similar to the other stable tokens we've already mentioned, backed by the USD dollar.
TrustToken affirms that the Pax Dollar is backed by real USD in accounts controlled by them at several American-based depository institutions. The token is powered by the Ethereum and BNB Smart Chain blockchains. Along with Gemini USD and Binance USD, USDP is approved by the NYSFS. 
Neutrino USD (USDN)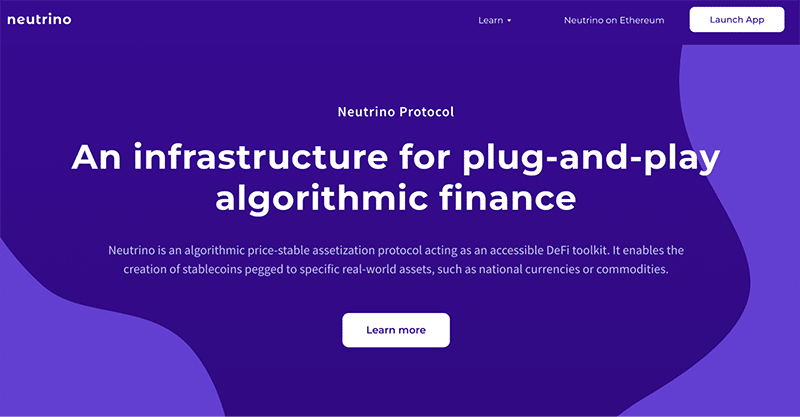 USDN is one of the unique stablecoins compared to those we've already covered. It's an algorithmic-based stable token pegged to USD and backed by WAVES.
USDN was released in 2019 by Neutrino Protocol, a platform describing itself as the 'infrastructure for plug-and-play algorithmic finance." Neutrino is an assetization 'toolkit' for stablecoins using primarily computative mechanisms.
So, how does it work in simple terms? USDN is still pegged to the US dollar on a 1:1 basis (1 USDN = 1 USD). However, rather than keeping dollars in reserves, it keeps WAVES. 
Through arbitration bots, smart contracts, Neutrino's utility token (NSBT), and other liquidation techniques, Neutrino ensures the reserve fund will always maintain the 1:1 ratio regardless of the extent of price increases and decreases with WAVES/USD.
Curtain thoughts
It's not unusual for the average token to fluctuate a few percent daily, making it unstable as an electronic medium of exchange. Hence, stablecoins have certainly given users more trust in digital currencies by shielding them away from the high volatility of the markets. 
Of course, the stability of such coins cannot be fully guaranteed, as we've seen with the massive crash of Terra's UST. After all, crypto is a crazy world! However, as you dive deeper into transacting with digital currencies, using stablecoins becomes inevitable due to the many offered benefits.