EA Smoke is a Forex robot that works with the Metatrader 5 trading software. It is a new EA that was launched on July 2nd, 2021. According to the vendor, it is currently being sold at a discount, and after 3 more copies are sold, the price will increase.
Product Offering 
There is no official website for this Forex robot, so the only source of information is the MQL5 website where it is being sold. Here, the vendor has made a short presentation, detailing the best settings for the EA, and the recommendations. They haven't provided enough information about its features or how it works, which creates some transparency issues.
The creator of this system is a trader by the name of Vitali Vasilenka who is based in Belarus. On the MQL5 website, we can find the link to the Telegram channel for this developer, as well as their phone number. However, we don't know anything about their service history or background. Other EAs developed by this person include EA Web, EA Golden Moon, EA Golden Elephant, EA Prime Trend, and EA Quantum Lab. 
Reliable EA vendors always furnish the maximum amount of information possible and clearly lay out what their systems have to offer. Since this is a new EA for which the vendor does not provide adequate information, our expectations are not too high.
You can purchase EA Smoke on the MQL5 website for the price of $149. This is pretty close to the market average price for Forex automated trading systems. The vendor also offers a free demo version of the software that you can use to test the performance prior to live trading. Unfortunately, there is no money-back guarantee for this expert advisor. 
| | |
| --- | --- |
| Type | Fully-automated EA |
| Price | N$149 |
| Strategy | N/A |
| Compatible Platforms | MT5 |
| Currency Pairs | USD/CAD, EUR/CHF, EUR/USD, USD/CHF, EUR/AUD, AUD/USD, GBP/USD |
| Timeframe | M5 |
| Recommended Min. Deposit | $50 |
| Leverage | 1:500 |
Trading Strategy
EA Smoke is a 100% automated Forex trading system that works on the basis of a trend determination indicator. As per vendor claims, it independently determines the direction of the trend. However, we don't have any information that tells us how the EA determines the trend or what indicators it uses for this purpose. 
The vendor states that the robot does not use strategies like Averaging, Martingale, Doubling, and Grid. But they do not shed any light on the actual trading strategy, and this is quite disappointing. Seasoned Forex traders often look for some strategy insight because it allows them to gauge the robot's profitability. Without knowing what strategy the system uses, most traders will think twice before investing in this EA.
You can use this EA for trading in pairs like GBP/USD, AUD/USD, EUR/AUD, USD/CHF, EUR/USD, EUR/CHF, and USD/CAD. As per vendor recommendation, you should run it on M5 charts. The default server time used by the system is GMT +3. You can get started with $50 per trading pair. The recommended leverage is 1:500.
Trading Results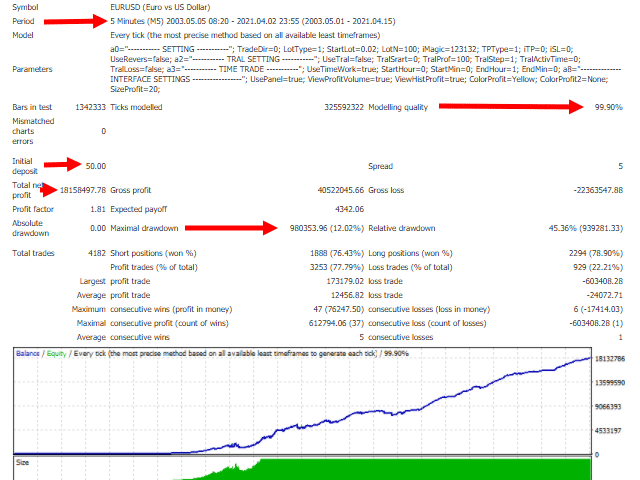 This backtest was conducted on the EUR/USD pair from May 2003 to April 2021. The EA used an initial deposit of $50 for this test, thus generating a net profit of $18158497.78. It placed a total of 4182 trades, winning 77.79% of them, with the largest profitable trade being $173179.02. For this backtest, EA Smoke had a profit factor of 1.81 and a relative drawdown of 45.36%. The relative drawdown is a bit too high, and it tells us that the robot uses a high-risk strategy.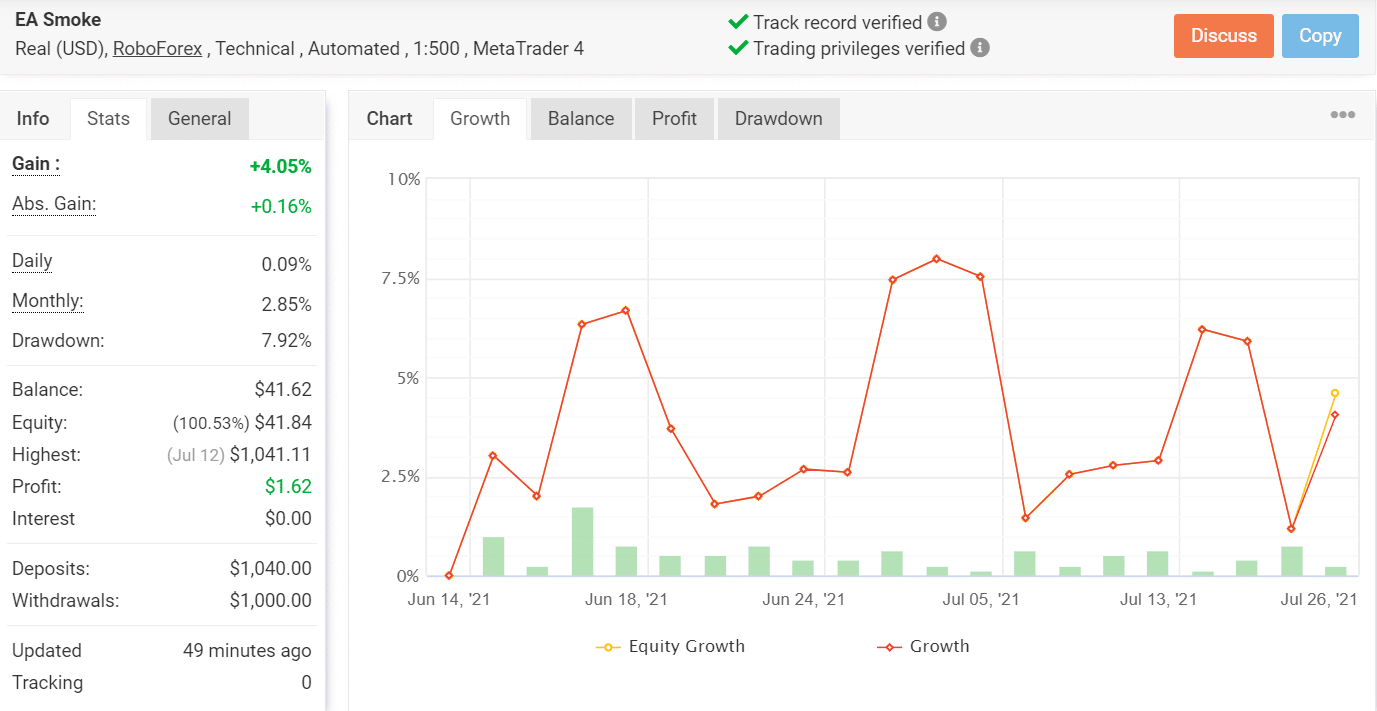 Here we have the live trading results for EA Smoke presented in a verified account on the Myfxbook website. Since this account was launched on June 14, 2021, it doesn't have a long track record, and it becomes difficult for us to assess its profitability based on such a small sample size.
The EA has placed only 86 trades through this account, won 66% of them, and generated a negligible profit of $1.62. As we can see from the trading history, its performance has not been too impressive, and there have been several sizable losses along the way.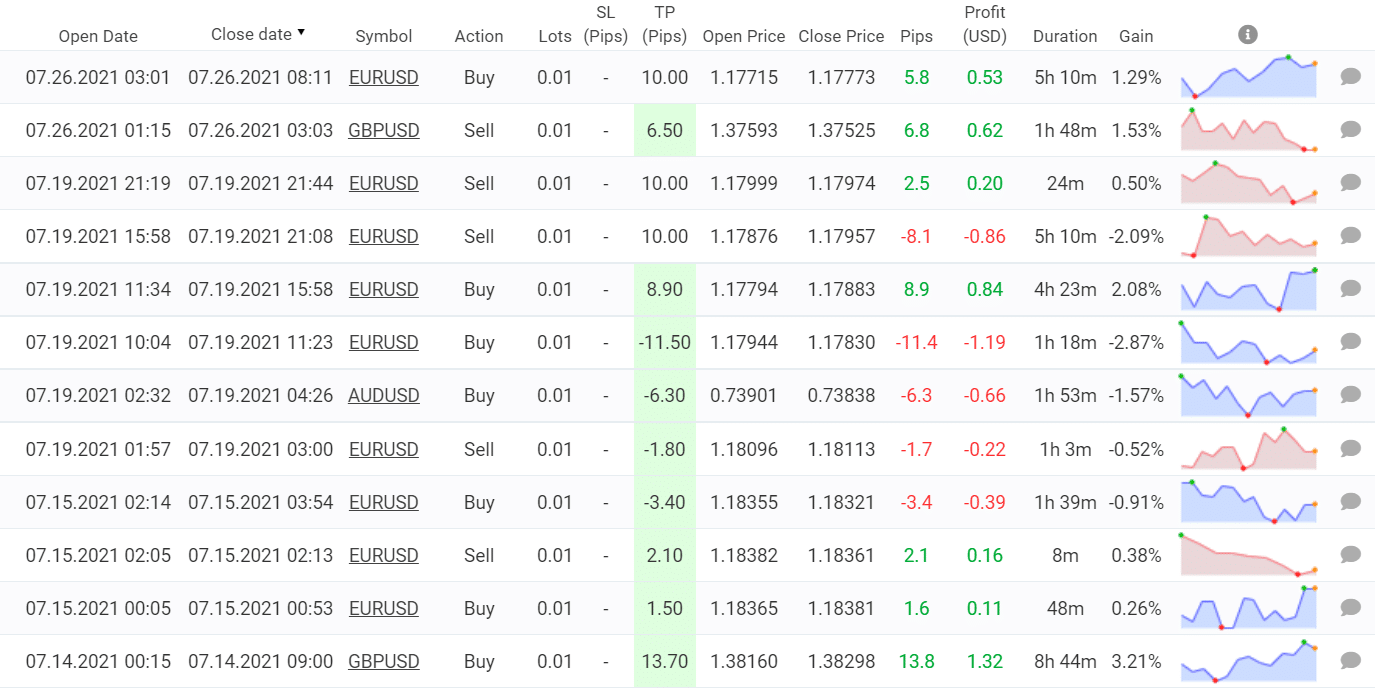 Customer Reviews 
There are no customer reviews for EA Smoke on popular third-party review websites. This hardly comes as a surprise, however, since it is a newly launched EA and unproven that most traders would not consider buying. 
PROS
Verified live trading results available
CONS
Extremely short trading history
Lack of strategy insight
No money-back guarantee
Verdict
It is extremely risky to invest in this Forex EA since it has not been live trading for too long. It doesn't have any reputation in the market, and the vendor does not offer a refund. Thus, you'd be much better off looking for other, more reliable systems.